Often, heading off the beaten path brings wonderful surprises like the public silo trail heading inland from Perth. We had heard about endless driving through Western Australia's Wheatbelt, but instead, the colourful, artistic, and impressively painted silo art captivated our imagination.
Whether motivated to visit Wave Rock, salt lakes, pink lakes, or just seeking a shortcut to Esperance or Albany, there is no longer a reason to have a boring drive through the Wheatbelt. Despite more than doubling our drive time, we are glad we opted to include a portion of the public silo trail in our journey.
What is the public silo trail?
The public silo trail is an impressive example of the use of world-class art to draw people to a community. The seven target cities are Northam, Merredin, Newdegate, Pingrup, Ravensthorpe, Albany, and Katanning.
Painted by well-known national and international artists, each of the sites is nothing short of overwhelming. Massive artworks convert the monotonous landscape into something artistic and creative.
Our road trip route through the public silo trail
There is plenty to do in Perth before starting this adventure. Two of our favourites are Kings Park and a cruise down the Swan River to Fremantle.
We opted not to follow the entire 1000 km public silo trail self-drive, choosing instead to visit only five of the seven cities. However, we found plenty of additional things to see along the way. And we returned via the coastal route from Albany back to Perth, which you can see here.
Here is our route:
Public silo trail day 1: Northam to Hyden
Tree-lined roads started our journey, and at first, we wondered why others had warned us of hour after hour of nothingness.
Northam (public silo trail)
Our first public silo trail stop was Northam, about an hour from Perth. It is home to both the first (March 2015) and the tallest of the painted silos. The first is cartoon-style artwork of London-based artist Phlegm on the 38-metre-tall silos was both unmissable and intriguing. While the second is a colourful contrast, American artist Hense painted the four wheat silos at the opposite end of the row.
These are active grain silos. While I stood mesmerized by the larger-than-life detail of the artwork, a truck pulled up and entered. I ran to the optimal spot to get a perfect photo, only to find a cloud of wheat dust billowing up.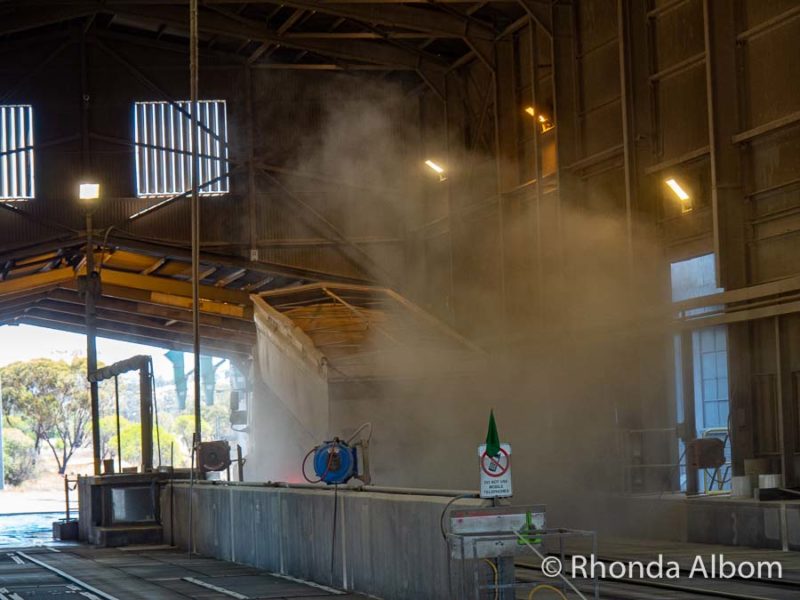 In Northam, allow time to visit the Bilya Koort Boodja: Centre for Nyoongar Culture and Environmental Knowledge for an insight into aboriginal culture. Allocate about an hour here, thus allowing enough time to listen to some of the stories and legends.
While in Northam, we also took time to enjoy a coffee at the Riveredge Café and to walk across Australia's longest pedestrian suspension bridge.
York (Western Australia's oldest inland town)
Although not part of the public silo trail, Western Australia's oldest inland town (settled in 1831) is fascinating in its own right. Architecturally, it took us back to the late 1800s gold rush days. Seemingly out of place but somehow fitting in nicely are several Wara (rice straw) art sculptures by Japanese artist Akira Moriya.
We arrived at 3.30 pm on a Sunday, after the majority of cafes, antique stores, museums, and cultural buildings closed. Fortunately, the IGA grocery store was open. Provisions in hand, we moved on.
Rabbit-proof fence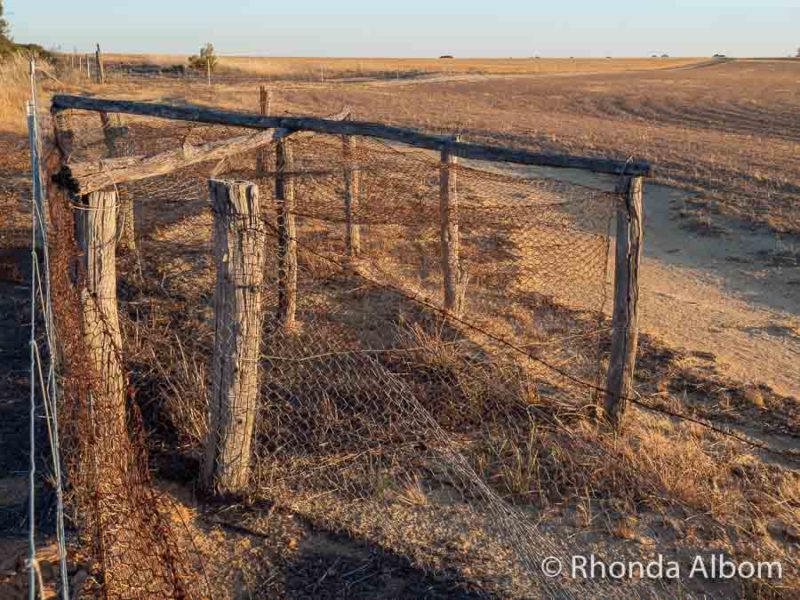 From York to Hyden, there is one main road offering two quick stops. The first of these is the remaining piece of the rabbit-proof fence. Built to keep the invading rabbits out of Western Australia's fields, it was once the world's longest fence.
According to the informational signage, it was actually constructed as three fences totalling 3256 km (2023 miles) of the unbroken fence. The final one was completed in 1907.
Corrigin (Dog Cemetery)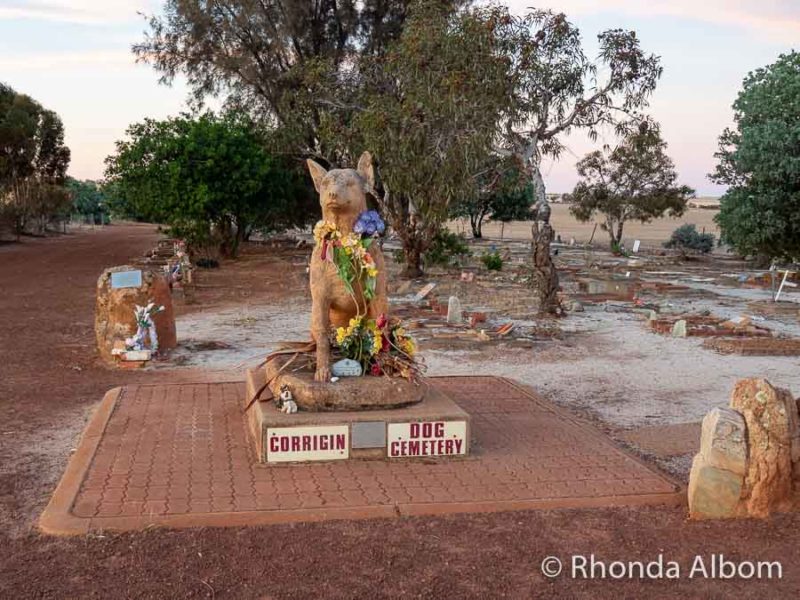 The second stop is the Corrigin dog cemetery, pretty self-explanatory.
Public silo trail day 2: Hyden to Katanning
Hyden (Wave Rock and lace museum)
We spent our first night in Hyden in a small cabin at a campground. We could walk to Wave Rock in the morning.
My thoughts varied as I peered up at the 15-metre (3-story) tall granite outcropping that began forming underground as much as 60 million years ago. This impressive 100-metre-long rock looks like a wave.
It's one of those places that I never thought I would reach. I am not sure I would have taken the four-hour drive without the public silo trail and the other interesting things to see along the way.
If you don't have a car, don't want to drive the trail, but do want to see Wave Rock, you might want to consider this top rated tour from Perth. It's a long 12.5 hour day, but it will bring you to the wave, and then back again, stopping in York for morning tea, passing the dog cemetery, and even the lace museum. Reserve your Wave Rock and York guided cultural tour here.
Pro tip: Wear sturdy walking shoes here, especially if you are going to follow the trail above the wave.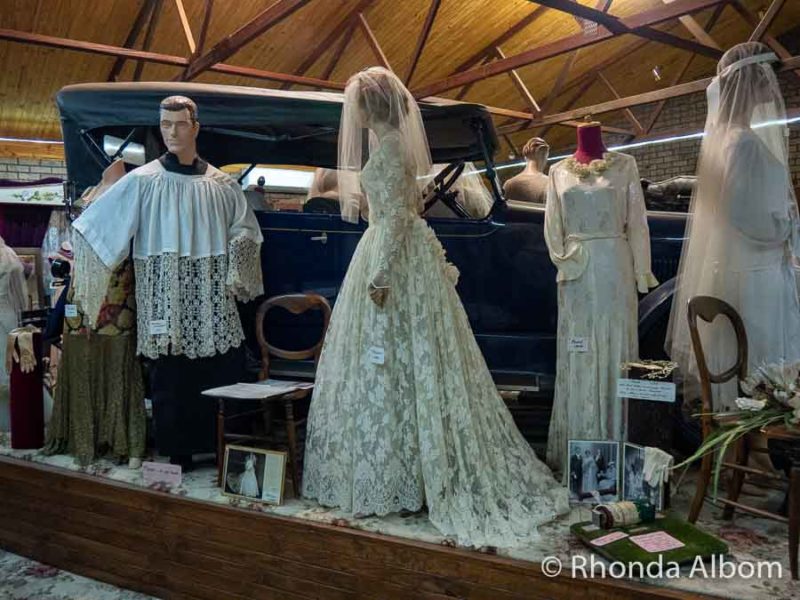 Amongst the other things to do in Hyden, the Lace Place caught our attention. Initially housing the Blackburn Collection, it is now home to the largest collection of lace in Australia. There is a mix of garments and samples dating back to the 17th century. There are also more modern pieces, including some of the lace and thimbles used to make the Princess of Wales' wedding dress.
Kulin (Tin Horse Highway)
Western Australia has an excellent sense of humour. Imagine 20 kilometres of golden wheat blowing gently in the wind against a clear blue sky. As beautiful as nature's creation is, along this section of highway, it is the tin horses that captured our attention.
Pingrup (public silo trail)
Once a town barely noticed as drivers passed through between Albany and Wave Rock, it is now a stopping point. The silos here were painted in 2018 by Miami-based artist Evoca1 and are a tribute to Western Australia's tenacious, resourceful farming communities.
Pingrup considers itself lucky to have been chosen as part of the public silo project. With it, they created the Store Cafe 6343, a volunteer-managed co-op project that serves fabulous food (and even has gluten and lactose-free options), offers a kid's area, and a shop featuring local crafts. Today, about 60% of the traffic to the cafe is tourists.
Newdegate (public silo trail)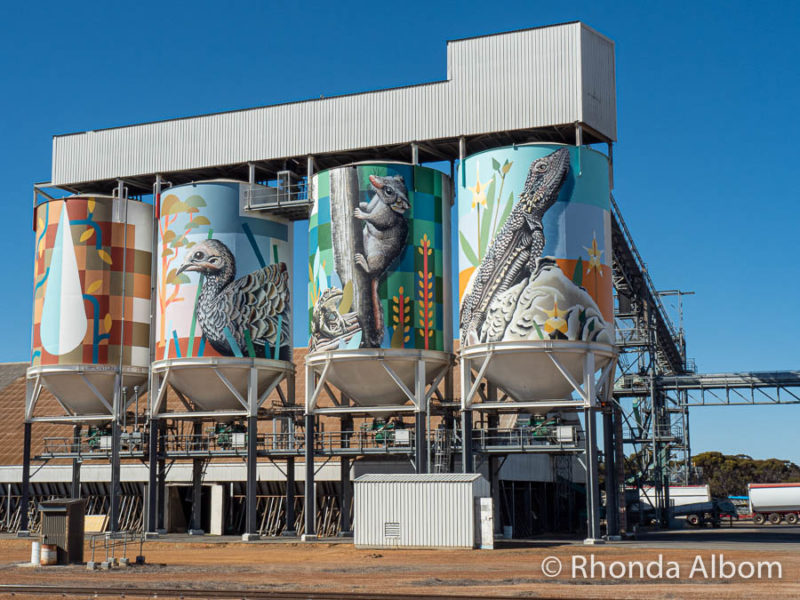 By the time we reached Newdegate, we were ready to see more wonderful silo art of Australia. Painted by renowned Perth artist Brendon See, these silos represent native Western Australian wildlife. They feature the Western Bearded Lizard, Mallee Fowl, Thigh Spotted Tree Frog, and Red-tailed Phascogale.
Lake Grace (salt lake)
Lake Grace is one of the largest salt lakes in Western Australia. It was quite a bit evaporated at its shorelines when we visited. The salty shores make for beautiful scenery, although I imagine this is one place that changes significantly based on the time of year.
Dumbleyung (Blue Bird and Pussy Cat Hill)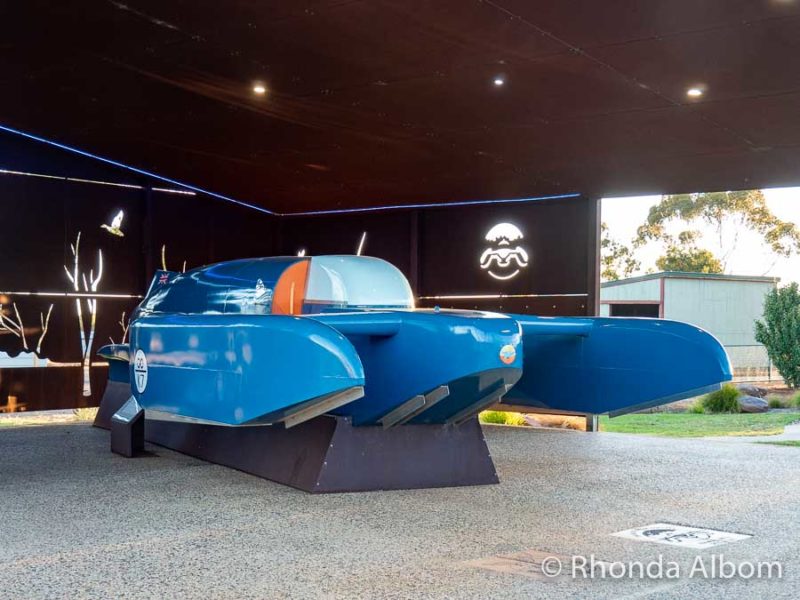 In 1964, Donald Campbell became the first (and still the only person) in the world to break both the land and water speed records in a single year. A replica of Blue Bird, the water vessel he used to break the record on Lake Dumbleyung, stands proudly in the town centre, with an interpretive centre nearby.
Taking in the view of the lake from Pussy Cat Hill is the other key thing to do in Dumbleyung. It's Western Australia's largest lake. We made it to the top just as the sun set beyond the hill.
Public silo trail day 3: Katanning to Albany
Katanning (Premier Mill Hotel and public silo trail)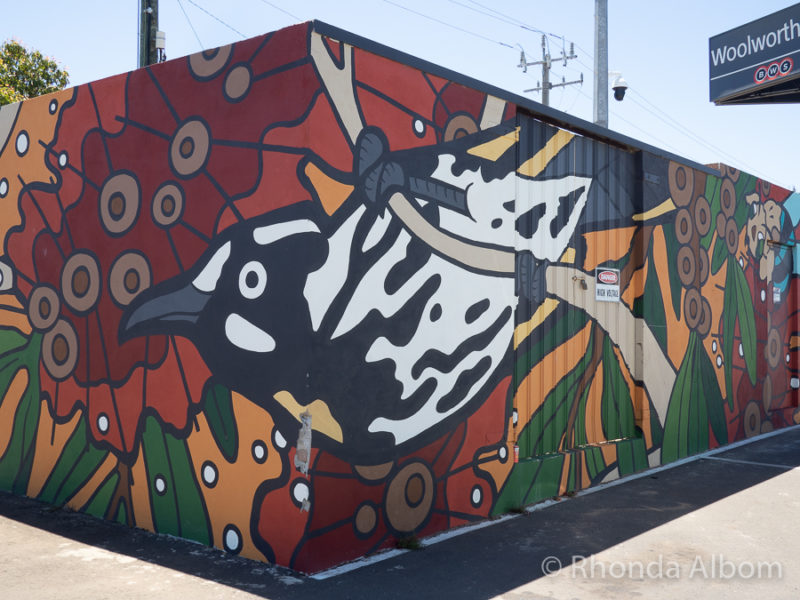 Katanning is Western Australia's first town to have electric street lights, a rural public library, a roller flour mill, and a mains water-supplied swimming pool.
Rather than hand-painted silos, Katanning has public art by renowned artists. We were given a map and had a blast seeking out the artwork. It was like a scavenger hunt or a geocaching adventure. It reminded me of street art in other Australian cities like Melbourne or Perth.
The newly renovated Premier Mill Hotel was once a derelict flour mill and is now the ideal place to spend the night. Everywhere we looked in this modern boutique hotel, we saw remnants of the past. The renovations are brilliant, as is the staff's attention to every detail. Attached to a Dôme Restaurant, the food is also outstanding and able to accommodate my food allergies without issue.
From an accommodation standpoint, this was our highlight of this segment of our travel. Regardless of which stops you choose on the public silo trail, if you are passing through Katanning, this is the place to stay. Reserve your stay at Premier Mill Hotel here.
Cranbrook (a pink lake)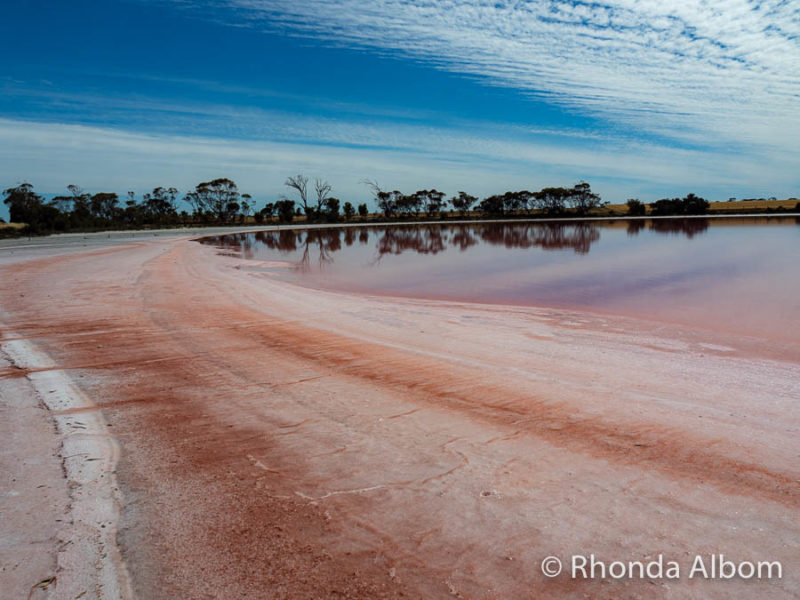 While there are famous pink lakes in Western Australia, we have heard from friends that they are no longer pink. So, imagine our delight on our road trip when Jeff suddenly spotted a pink lake in Cranbrook
Pro tip: Midday is the best time to find the pink cast on some of the salt lakes.
Albany (public silo trail)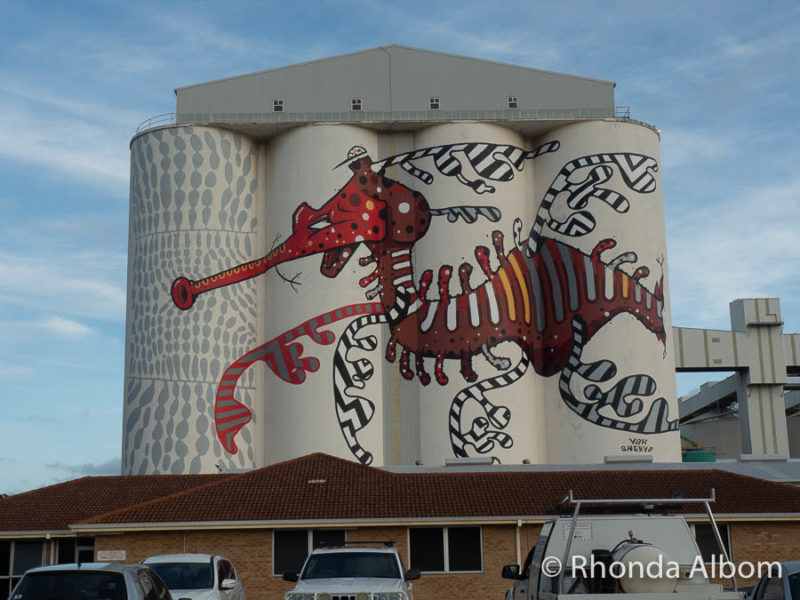 This coastal community was the final stop on our public silo trail and the only one that we saw in which the artist used multiple silos as a single canvas. We stayed only one night, but wish we stayed longer. There is plenty to see and do in Albany.
From here, we did a coastal Albany to Perth road trip to complete the loop.
What to bring on your public silo trail road trip through the Wheatbelt
We always pack light, and layers are the key to our success. Layers were very useful on this road trip, as the weather can change quickly. A few specifics:
Comfortable walking shoes.
Sunscreen and insect repellent (specifically one that works for flies).
A torch (flashlight) if you are planning to go into caves near Wave Rock.
Remember, there are long distances to drive, so have the proper provisions in the car, including drinking water and plenty of snacks.
Tips for driving the public silo trail
Plan your route and allow for extra time. Everywhere we stopped had more to offer than we expected.
The distance between each stop is often quite long.
Sleep well to stay focused on long straight roads surrounded by wheat fields. The interruption of occasional roadside crosses is a stark reminder to stay alert.
In Australia, cars drive on the left. Many roads are unmarked. We often found ourselves as the only car around.
Know the times of sunrise and sunset, and take extra caution (wild animals on the roads) if you must drive after dark.
Cellular service is intermittent at best, often with none between towns. We were told Telstra is the best in the region, and the GO-SIM card I used seemed to choose them the most often.
Before you get started, download a free copy of the silo trail map here.
Rent a car in Perth and plan to do a loop, returning back to Perth for drop-off. We used RentalCars.com and, like our other experiences with them, had no problems. And if we did, it's good to know that their friendly and helpful customer service is always available. Compare rental car prices at RentalCars.com.
Save on your Australia trip with these resources
These are our go-to companies when we travel. We believe this list to be the best in each category. You can't go wrong using them on your trip too.
Flights: we use Expedia for the best and cheapest flight options.
Accommodations: we use Booking.com (hotels), VRBO (self-contained), or Hostelworld (budget).
Cars (gas or electric): we use RentalCars to search for deals and dealer ratings.
Campervans or Motorhomes: we use Campstar where Albom Adventures readers get a 3% discount
Motorcycles: we have heard good things about BikesBooking.
Activity discounts: we check Bookme.com for discounts of up to 70% on activities.
Private guides: we love the private guides at Tours by Locals.
Travel Insurance: while not required, we always opt for travel insurance and start at InsureMyTrip to compare coverage plans.
Check out our travel resources page for more companies that we use when you travel.
Save for your public silo trail adventure
If you enjoyed this article, please share it on social media and save it for later on Pinterest.
Will you enjoy the public silo trail on your next visit to Western Australia?
Disclaimer: We worked with FORM, Western Australia on the public silo trail portion of this article. They provided accommodation and meals to aid in the writing of this article. However, the opinions expressed here are strictly our own.