Fremantle is a delightful coastal community in the shadow of Western Australia's largest city. A must-see for visitors to Perth, locals know that there are plenty of cool things to do in Fremantle.
Tucked along the Indian Ocean, it has a long maritime history. Today, cruise ship passengers know it as their port of entry for Perth.
And, being in Australia, a former British penal colony, there's an interesting convict history. In fact, convicts built many of the architecturally interesting buildings of the last two centuries, including the high-security Fremantle Prison.
But that's not all. Freo, as the locals call it, has a friendly vibe. And with that, there are plenty of opportunities to relax including large grassy parks for picnics, markets to stroll through, a huge city Ferris wheel to ride, plenty of cafes and pubs, and a musical nightlife.
In fact, Freo is home to both a craft beer brewery, as well as an entire street dubbed Cappuccino Strip.
Are you ready to discover some of the key things to do in Fremantle?
Top things to do in Fremantle
Explore the Shipwreck Galleries and the WA Maritime Museum
Relax with fabulous coffee on Cappuccino Strip
Shop at the Fremantle Markets
Take an eerie tour of the Fremantle Prison
Check out WA's oldest building
Sink your teeth into WA's best fish n' chips
Get out on the water with a gentle cruise on the Swan River or whale watching on the Indian Ocean
Hop on a ferry out to Rottnest Island and take a selfie with a quokka
Explore the Shipwreck Galleries
Somewhat unique to what we find in other port cities, the Shipwreck Museum tops my list of things to do in Fremantle. There are hundreds of relics here, from the huge remains of a 1629 shipwreck of the Batavia (photo above) to small finds like coins picked up along the ocean floor.
Entry is free, and donations welcome.
Relax on Cappuccino Strip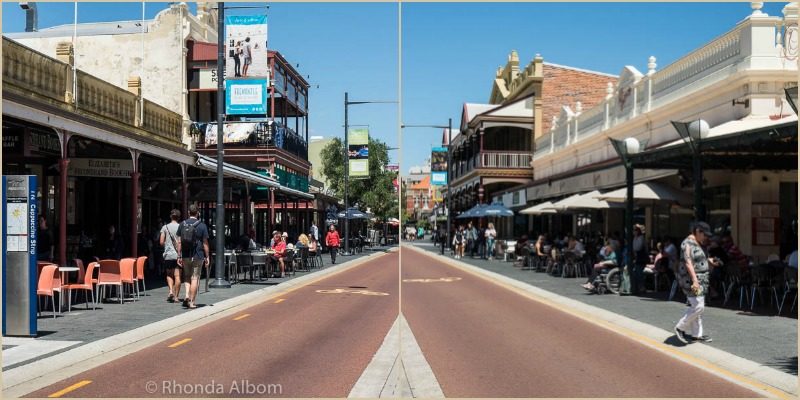 Any place with an official "Cappuccino Strip" is one that I like.
Both sides of the street feature an array of indoor and outdoor options. Even better, nearly all are in shady spots. Therefore, we were limited only by our own body's ability to consume that much caffeine.
Of course, there's more than just coffee. Cappuccino Strip features restaurants, wine bars, and local beer in addition to cafes.
On weekend evenings, this is the place to come for live music.
If food is your thing, be sure to check out this highly rated 3-hour food tour. In addition to trying the speciality dishes and drinks from local restaurants, it will even take you to some of the highlights in Fremantle Markets. Reserve your food tour here.
Fremantle Markets
Shoppers, souvenir hunters, visitors, and anyone who either is either hungry or looking for a bit of entertainment will want to take a bit of time to explore the more than 100-year-old Fremantle Markets. Offering a classic market experience, they support family businesses passed down through the generations as well as emerging talent.
Here you will find over 150 stalls featuring everything from locally grown produce and other fresh or boutique foods to handicrafts and clothes. In addition, there are three areas that often feature talented buskers. The building itself is on the Register of Historic Places.
There are also outdoor markets in the city on the weekends.
Note that the Fremantle Markets are only open Friday to Sunday and on Monday public holidays from 9am to 6pm.
Take a Fremantle Prison tour
Considered one of Western Australia's premier heritage buildings, the prison is a must-see.
There is some irony in the fact that convicts built this high-security prison in 1850. Used for nearly 140 years, it closed in 1991. Think about how recently that is for a place that has had hanging gallows, prisoner floggings, and solitary confinement.
Over the years, more than 50 criminals were hung here, the most recent being in the 1960s. In fact, there is an eerie element to many of the stories told by the guides.
Today, it's one of several Australian convict sites that are UNESCO World Heritage listed.
Getting inside means taking a tour. Three options include the prison day tour, tunnel tour adventure, or a spooky torchlight tour. You can book tours directly with the prison.
Check out the Round House
Western Australia's oldest public building is the purpose-built Round House prison, built in 1831. This 12-sided structure sits up on the hill overlooking Bathers Beach.
Visitors can enter and explore the building and its huge courtyard.
The tunnel below Round House, nicknamed Whaler's tunnel, made it easier to drag whales from Bathers Beach (once called Whaler's Beach) back in the whaling days.
Pro tip: Round House closes at 3.30 pm. Unfortunately, we just missed getting inside.
Discover history at WA Maritime Museum
Fremantle is a working port city. In fact, we arrived here by boat on three of our four visits. Twice via cruise ship, as it is the port for Perth. (Once on Azamara from South East Asia, the other time on Royal Caribbean from Sydney). Once from Perth via a cruise on the Swan River. And once by train.
The Western Australia Maritime Museum sits proudly right at the Fremantle Harbour entrance.
The museum is a place to discover Western Australia's maritime history, including Australia II, the yacht that won the 1983 America's Cup challenge, breaking the New York Yacht Club's 132-year reign (still the world's longest sports winning streak).
For me, one of the most interesting things at the museum is this Hartog dish, as it is proof that Europeans actually reached the shores of Australia back in the 1600s. Engraved on the plate, in Dutch, are words stating that on October 25, 1616, the ship Eendracht arrived here from Amsterdam. The dish was discovered nailed to a tree as a marker.
Have fish n' chips at Cicerello's
Rated as Western Australia's best fish n' chips at the time of our last visit, I didn't need to know any more. I can tell you that Cicerello's lived up to all the hype.
If you are confused as to which fish to order, simply ask for the award winners. They cost a few dollars more than the traditional/cheapest fish n' chips on the menu.
Cruise the Swan River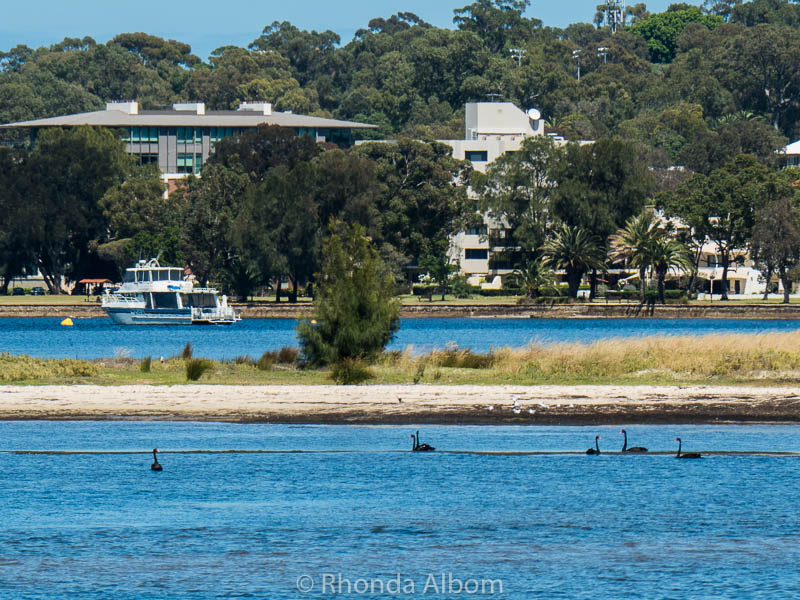 Black swans dot the banks and give the Swan River her name, according to the commentary on board the hour-long Captain Cook cruise from Perth to Fremantle in Western Australia (WA).
While it's a fabulous way to travel from Perth to Fremantle, next time, I want to take the highly rated lunch cruise from either city back to the starting point. It takes 2.5 hours, highlights all the sites, and offers you a delicious buffet lunch featuring local seasonal fresh produce. Reserve your Swan River Lunch Cruise here
Grab a ferry out to Rottnest Island and take a selfie with a quokka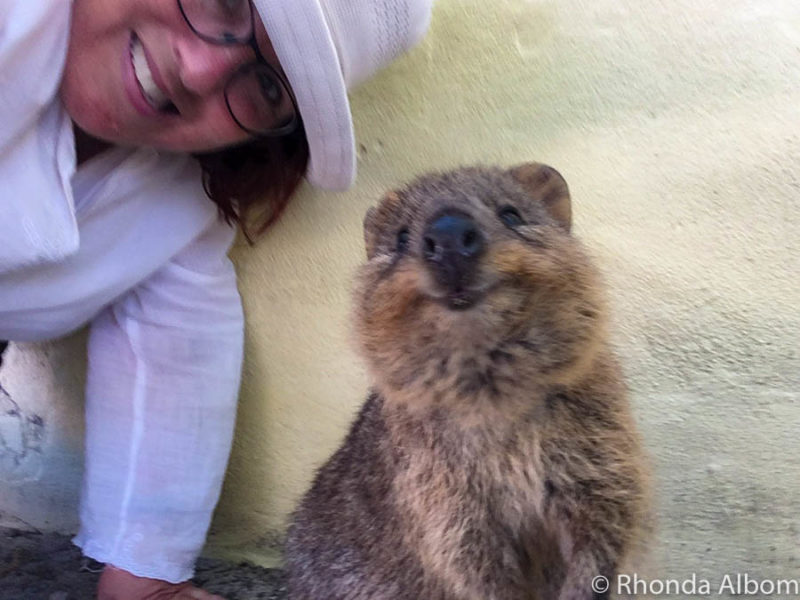 We also hopped on the train out to Fremantle to jump on the ferry to Rottnest Island. Allocate a day for this fascinating adventure. And be ready to meet some of the cutest marsupials you have ever seen.
While I generally believe I can take a photo, selfies still escape me. Sadly, that blurry mess was my best quokka selfie. We loved our day so much that it got its own Rottnest Island review here.
Check out Fremantle's street art
Maybe not the most famous, but certainly the most colourful and most photographed public art in Fremantle, the Rainbow Containers. It was created by Perth artist Marcus Canning, stands 9 metres high and 19 metres long, weighs 66 tonnes, and overlooks the port welcoming visitors with their first Fremantle photo opportunity.
For street art fans, Fremantle is a place to keep your eyes open. Like Perth, the street art is impressive and larger than life.
More things to do in Fremantle
Ride the Tourist Wheel in Esplanade Park
Or, simply have a picnic surrounded by mature Norfolk Island Pines. The Ferris wheel rises 40 metres, offering great views of both Fremantle and out to sea.
Visit the Fremantle Arts Centre
Another convict-built structure, this one was originally a lunatic asylum, today the arts centre hosts free exhibits, art classes, and live music. Be sure to check their website events schedule before heading there to be sure there is an exhibit or event. When we arrived, there was nothing to see other than the gift shop.
Go whale watching
Watching the annual migration of the humpback whales is a seasonal event, from August to the start of December. The best way to see these massive mammals is on a scenic whale-watching cruise with a knowledgeable marine biologist from The Aquarium of Western Australia providing the commentary. Reserve your whale-watching cruise here.
Head to a beach
Dip your feet into the Indian Ocean. And there are plenty of great beaches to choose from such as Bathers Beach right in town or heading to North Fremantle for a long stretch of white sand at either Leighton Beach or Port Beach.
Enjoy a Little Creatures Brewery tour and tasting
Interested in Fremantle's craft beers? No better way to discover the secrets than with a brewery tour, followed by a tasting session of Little Creatures' full range of brews. Reserve your tour and tasting here.
Take a Twilight Sunset Sail
There's no better way to end a busy day than with the sunset over the ocean, sails up, while enjoying a glass of sparkling wine. And if you are visiting between September and November, you might see some whales. Reserve your twilight sail here.
Final thoughts on things to do in Fremantle
Fremantle is the perfect day trip from Perth or a destination on its own. It's a place to relax and explore. To discover the history and to relax with friends.
Best of all, it's an easy city to fit into the budget, with many of the activities above being among the free things to do in Fremantle:
Shipwreck Gallery
Cappuccino Strip (unless you buy some food or drink)
Fremantle Markets
Round House
A few of the buildings at the prison
Street Art
Esplanade Park
Some of the exhibits at the Arts Centre
The Beach
We recommend a visit to Fremantle.
Save on your Australia trip with these resources
These are our go-to companies when we travel. We believe this list to be the best in each category. You can't go wrong using them on your trip too.
Flights: we use Expedia for the best and cheapest flight options.
Accommodations: we use Booking.com (hotels) or VRBO (self-contained).
Cars (gas or electric): we use RentalCars to search for deals and dealer ratings.
Campervans or Motorhomes: we use Campstar where Albom Adventures readers get a 3% discount
Activity discounts: we check Bookme.com for discounts of up to 70% on activities.
Private guides: we love the private guides at Tours by Locals
Travel Insurance: our go-to is World Nomads*.
Check out our travel resources page for more companies that we use when you travel.
*World Nomads provides travel insurance for travellers in over 100 countries. As an affiliate, we receive a fee when you get a quote from World Nomads using this link. We do not represent World Nomads. This is information only and not a recommendation to buy travel insurance.
Save for later
If you enjoyed this article, please share it on social media and save it for later on Pinterest.
Which of these things to do in Fremantle will you try?
Photo Credits:
All photos on this page are either shot by our team and watermarked as such or stock images from Depositphotos.