On our last visit to Australia, Jeff and I spent some time in Adelaide, the capital of South Australia. Nestled between pristine beaches and rolling hills, this vibrant city is not only a hub of culture and history but also a gateway to a plethora of breathtaking Adelaide day trips.
From stunning coastal landscapes to world-renowned wine regions, Adelaide is a treasure trove for adventurous explorers seeking unforgettable experiences. Below we take you on a virtual journey through 12 captivating Adelaide day trips that will leave you enchanted by the beauty and diversity of this remarkable region.
My personal favourite Adelaide day trips are Kangaroo Island, Barossa Valley, and Hahndorf, each offering unique experiences. Whether you're a nature enthusiast, a wine and food connoisseur, or a history buff, these destinations will undoubtedly cater to your interests and provide you with cherished memories.
We also delve into the lesser-known treasures of Adelaide, from the rugged landscapes of Flinders Chase to the picturesque Adelaide Hills.
Overall, we found Adelaide to be the perfect base for exploring some of the most beautiful and unique destinations in the region.
No matter what your interests are, you're sure to find something to enjoy in Adelaide and its surrounding regions. Our recommendations are below.
Best Adelaide day trips
Here are some of the best day trips from Adelaide that we recommend checking out:
Explore Kangaroo Island
Indulge in German delight in Hahndorf
Visit one of the wine regions: Barossa Valley, McLaren Vale, or Clare Valley
Take a horse-drawn tram in Victor Harbor
Play on the beach in Glenelg
Discover history at Moonta, Burra, or Port Adelaide
See wildlife at Monarto Safari Park
Stroll along the Myponga Reservoir
Adelaide day trips map
Click the expand / collapse icon in the upper left corner of the map for the details. The suggested stops in this article are featured on the map in red.
Kangaroo Island is our favourite of the Adelaide day trips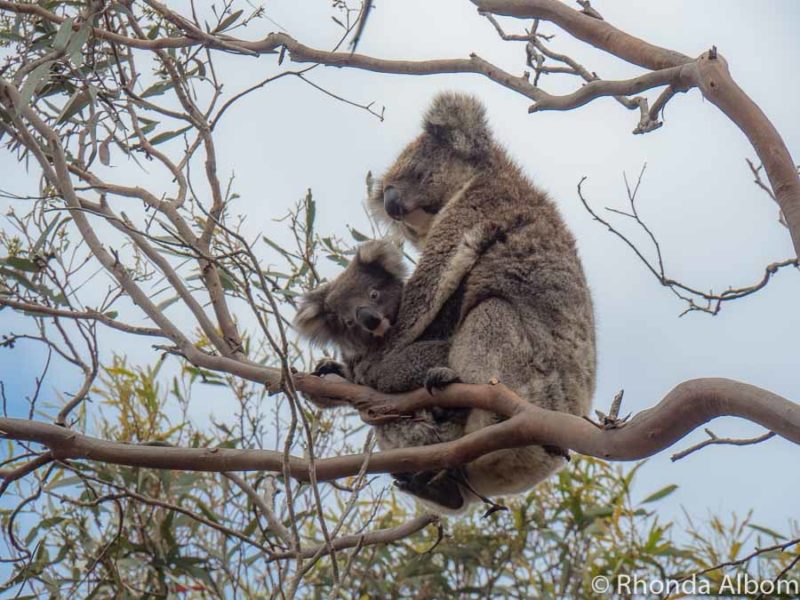 We were amazed by Australia's third-largest island's natural beauty and unique wildlife.
While the impressive scenery captured our attention, it was the endemic wildlife that captured my heart. We spotted several amazing Australian animals, including kangaroos, wallabies, koalas, echidna, seals, and dolphins.
The untouched wilderness of Flinders Chase National Park was a highlight of our trip, where we hiked through the rugged landscape and stood in awe of the stunning rock formations of Admirals Arch and Remarkable Rocks.
Jeff and I visited Kangaroo Island before the devastating fires of 2019-2020. Although the fires have undoubtedly impacted the island, we know that the community worked hard to recover and rebuild.
Kangaroo Island requires both a drive and a short ferry ride from Adelaide.
Hands down, it is my favourite of our recommended Adelaide day trips. In truth, while you can do a Kangaroo Island day trip, we recommend it as a two or three-day adventure if you have the time. If not, it's a long day but well worth the effort. Reserve your day trip to Kangaroo Island here.
Hahndorf in the Adelaide Hills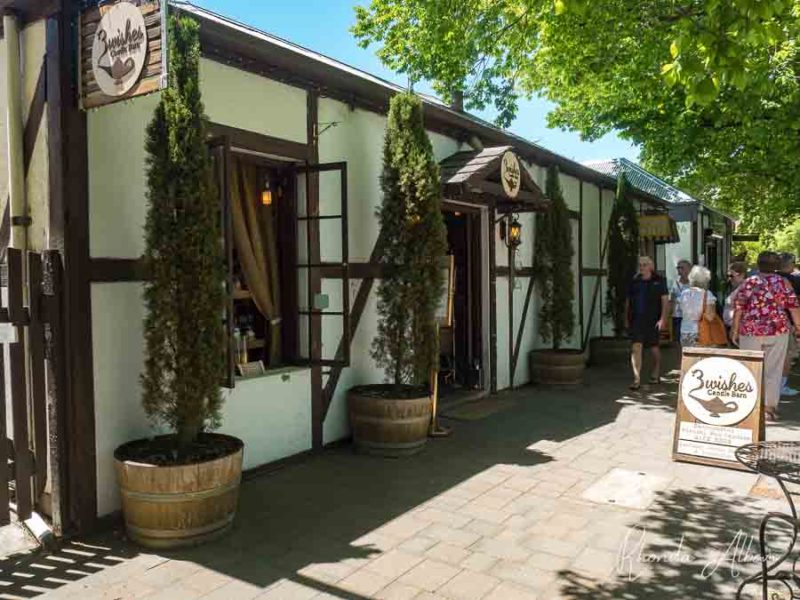 In complete contrast to Kangaroo Island, Hahndorf's quaint streets are lined with historic German buildings. The town has a rich history, being Australia's oldest surviving German settlement.
Located in the Adelaide Hills, Jeff and I were immediately drawn to this unique and charming town and enjoyed our authentic German experience.
As we explored the town, we couldn't resist stopping at one of the many restaurants for a traditional German lunch. The food was delicious, and we enjoyed tasting some of the local specialties like bratwurst, schnitzels, and sauerkraut. The German-style bakeries were also a highlight, offering freshly baked pretzels, pastries, and cakes.
In addition to the delicious food, Hahndorf is known for its handmade crafts and souvenirs. The town is home to many artisanal shops, where we found unique gifts like handcrafted wood carvings, leather goods, and jewellery. We loved browsing the shops and finding souvenirs to take home.
For animal lovers, the Hahndorf Farm Barn is a must-visit attraction. The farm offers visitors the opportunity to interact with friendly farm animals like lambs, goats, and alpacas. Best of all, you can often get a discount entrance to Hahndorf Farm Barn here.
Take a day trip from Adelaide to one of the wine-growing regions
The warm climate and diverse soils of the area make it an ideal location for growing a wide variety of grapes. You'll want to head to the "cellar door". It's the name for the dedicated wine tasting, sampling and purchasing room in Australia and New Zealand.
As an Adelaide day trip, the three main regions are Barossa Valley, McLaren Vale, and Clare Valley. While self-driving is always an option, if you are going to partake in wine-tasting, you might want to consider a tour for your wine-tasting day trips from Adelaide. Not only do you get local knowledge, but you also get a driver.
Barossa Valley
Located just an hour's drive from Adelaide, the Barossa Valley is a world-renowned wine region famous for its Shiraz and Riesling. With more than 80 cellar doors, the Barossa offers wine-tasting experiences to suit all tastes and budgets.
Barossa Valley also offers a range of outdoor activities like hot air balloon rides to see the sunrise over the vineyards or guided cycling tours through the scenic countryside. It's home to a vibrant arts and culture scene, with regular festivals, markets, and exhibitions showcasing local talent. Reserve your Barossa Valley tour here.
McLaren Vale
McLaren Vale is another wine-lovers paradise located just 45 minutes from Adelaide. With over 70 cellar doors, the region is also renowned for producing some of the best wines in Australia, including Shiraz, Cabernet Sauvignon, Chardonnay, and Grenache.
For a fun twist, many of the wineries in the region also offer food and wine pairing experiences, where we can sample local cheeses, chocolates, and other delicious treats alongside our wine.
McLaren Vale is also home to some stunning natural scenery with spectacular views of the ocean and the surrounding countryside. It's easy to see why this region is so popular for day trips from Adelaide. Reserve your McLaren Vale tour here.
Clare Valley
The Clare Valley, located north of Adelaide, is another beautiful wine region that is often overshadowed by its more famous neighbours. The valley is home to some of South Australia's best Riesling wines, as well as a range of other varieties.
Like the other regions, you can take a guided wine tour, explore the historic towns, or simply enjoy the stunning countryside. Reserve your Clare Valley tour here.
Victor Harbor on the Fleurieu Peninsula
Located just an hour's drive south of Adelaide, Victor Harbor is a charming seaside town with plenty of activities.
The town is known for its horse-drawn tram, which takes you from the mainland to Granite Island, where you can see penguins and other wildlife. You can also take a scenic coastal walk, go whale watching, or visit the town's many cafes and galleries.
If you are feeling active, Victor Harbor offers surfing, kayaking, and fishing. In addition, the town hosts several festivals and events throughout the year.
While on the Fleurieu Peninsula, you might want to check out some of South Australia's most stunning beaches, including the popular surf spot of Middleton.
Glenelg Beach
White sand, clear blue waters, and the bustling atmosphere of the oceanfront promenade help make Glenelg Beach one of the most popular beaches in the area. It's just a short tram ride from the heart of Adelaide.
There are endless possibilities here, from swimming, sunbathing, and relaxing on the beach to a variety of water sports, including paddleboarding, kayaking, and jet skiing. The promenade boasts plenty of oceanfront cafes and restaurants, so on lazy days we can simply enjoy a meal or a drink while taking in the stunning coastal views.
One of the most prominent features of Glenelg is its pier that stretches out into the ocean, offering spectacular views of the coastline and the surrounding areas.
There are a number of fascinating heritage sites located in and around Glenelg. The Bay Discovery Centre, located near the pier, offers a glimpse into the history and culture of the area, while the Old Gum Tree, located just a short drive away, is the site where the colony of South Australia was officially proclaimed in 1836.
Moonta
Located on the Yorke Peninsula, Moonta is a historic copper mining town with plenty of attractions. We, however, didn't stop here.
Its main attraction is the Moonta Mines Museum, which tells the story of the town's copper mining history. You can also take a ride on the Moonta Mines Tourist Railway, which runs through the town's historic streets.
Port Adelaide
Established in 1837, Port Adelaide is a historic maritime town located approximately 20 minutes (14 km) northwest of Adelaide. The town is home to some of South Australia's oldest buildings, making it a unique glimpse into South Australia's past.
The Port Adelaide wharf is the perfect place to see old ships or hop on a river cruise. There are several museums in the area that offer a fascinating glimpse into the town's past, including the South Australian Maritime Museum, the National Railway Museum, and the Aviation Museum.
Monarto Safari Park
Monarto Safari Park is a must-visit destination for wildlife enthusiasts and is located just 60 kilometres or approximately a 1-hour drive from Adelaide. The park is home to over 500 animals, including lions, cheetahs, rhinoceroses, giraffes, and many more.
As Australia's largest open-range zoo, Monarto Safari Park offers an opportunity to get up close and personal with the animals in their natural habitats. The park is divided into several regions, each representing a different continent.
Enjoy the park on your own, join a guided tour, or spend the night in one of the park's luxury tents for a truly immersive experience.
Burra
Burra is a historic town located approximately 160 km (about a 2-hour drive) north of Adelaide and is a perfect add-on to an Adelaide day trip to the Clare Valley.
A mid-19th century prosperous mining town, it left behind a rich history and stunning architecture. One of my favourite historic buildings is the Burra Town Hall, which was built in 1857 and is still in use today.
Probably the main attraction is the Burra Mine Heritage Trail. It took us through the remains of the old mine while providing insight into the life of miners during the 1800s. Download a free self-guided heritage walking tour and map here.
Myponga Reservoir
Located just 45 minutes drive south of Adelaide, Myponga Reservoir is a popular destination for locals and visitors alike. The reservoir is surrounded by scenic hills and offers a picturesque backdrop for picnics, hiking, and cycling.
Although there are plenty of restrictions as to what is allowed on or in the water, you can enjoy fishing (permit required) and kayaking on the reservoir's peaceful waters.
The area is known for its abundant birdlife, and visitors may even spot a koala or two. The reservoir opened up to the public (April 2019), with a new trail allowing visitors to walk across the dam wall and take in stunning views of the surrounding landscape.
Final thoughts on Adelaide day trips
While there are loads of things to do in Adelaide, we are glad we allocated time from some day trips. They offered us a range of experiences, from wine tasting to wildlife encounters, and are easily accessible from the city.
Whether you're looking for a relaxing day by the beach or an adventure in the great outdoors, there is something for everyone just a short drive from Adelaide. Or, some can even be the first stops on a longer road trip to Melbourne.
My personal favourite Adelaide day trips are Kangaroo Island, Barossa Valley, and Hahndorf, each offering unique experiences that we recommend.
Read next: Australian Coastal Cities Guide: 17 Beautiful Seaside Gems
Save on your Australia trip with these resources
These are our go-to companies when we travel. We believe this list to be the best in each category. You can't go wrong using them on your trip too.
Flights: we use Expedia for the best and cheapest flight options.
Accommodations: we use Booking.com (hotels), VRBO (self-contained), or Hostelworld (budget).
Cars (gas or electric): we use RentalCars to search for deals and dealer ratings.
Campervans or Motorhomes: we use Campstar where Albom Adventures readers get a 3% discount
Motorcycles: we have heard good things about BikesBooking.
Activity discounts: we check Bookme.com for discounts of up to 70% on activities.
Private guides: we love the private guides at Tours by Locals.
Travel Insurance: while not required, we always opt for travel insurance and start at InsureMyTrip to compare coverage plans.
Check out our travel resources page for more companies that we use when you travel.
Save for later
If you enjoyed this article on Adelaide day trips, please share it on social media and save it for later on Pinterest.
Which do you think will be your favourite of the Adelaide day trips?
Photo Credits:
All photos on this page are either shot by our team and watermarked as such or stock images from Depositphotos.