While there are an endless number of Australian coastal cities, we have our favourites. To us, they represent a symphony of sun, sand, and surf against the backdrop of stunning landscapes.
Jeff and I love Australia and have found each city to boast its own unique charm that beckons us to bask in its splendour. Living in New Zealand, it's a relatively close neighbour, so we have been many times, returning over and over to a few key favourites: Melbourne, Sydney, Brisbane, Cairns, and Perth.
But those are usually the starting points for more exploration of additional coastal cities of Australia. In fact, we have taken long road trips in some areas, flown to others, and once, we even enjoyed circumnavigating Australia via cruise ship.
The more we visited the coastlines of this magnificent country, the more we explored the captivating cities that offer a delightful blend of natural beauty, cultural diversity, and urban sophistication.
We listed the cities below as if we were circumnavigating Australia from Sydney anti-clockwise (counter-clockwise) all the way around to Melbourne.
Australian coastal cities map
Click the expand / collapse icon in the upper left corner of the map for the details and interactive options.
Sydney: Where iconic landmarks meet ocean breezes
I can still remember the magic of my first visit to Sydney, a glittering jewel on the east coast. Staring out at the iconic Sydney Opera House and the Sydney Harbour Bridge standing tall against the horizon, the city welcomed us with open arms. And we took advantage.
Every day here is a new adventure in Sydney. Aside from just gazing out over one of the world's most beautiful city harbours, we also enjoyed incredible food, fascinating convict history, a tour inside the opera house, and a swim at Bondi Beach, where golden sands stretched as far as the eye could see and surfers ride the waves with grace.
While often thought of as an expensive city, we were surprised by how many free things there are to do in Sydney.
Exploring coastal cities of Australia from Sydney to Brisbane
While we have yet to take the drive from Syndey to Brisbane, there are a few lovely Australian coastal cities along the way worth a mention.
Newcastle: Industrial Heritage by the Sea
This New South Wales city currently boasts the largest coal port in the world, and it has transformed itself to a vibrant cultural hub. With lovely panoramic views of the Pacific Ocean, the top thing to do might be Bathers Way coastal walk leading to iconic surf beaches such as Merewether and Nobbys. Nobby's beach and lighthouse are pictured above.
Port Macquarie: Where History Meets Natural Splendor
Port Macquarie, on the New South Wales mid-north coast, is another delightful blend of history and pristine beaches. The Tacking Point Lighthouse provides a spectacular vantage point to observe migrating whales (May-November) and breathtaking sunrises. The image is shot from the lighthouse. The Koala Hospital is another highlight.
Byron Bay: Serenity and Surfing Bliss
Nestled on the easternmost tip of Australia, Byron Bay is a haven for surfers, spiritual seekers, and nature lovers. Its laid-back atmosphere and stunning beaches make it a must-visit coastal destination. We enjoyed the hike up to the Cape Byron Lighthouse, perched atop rugged cliffs offering fabulous panoramic ocean views. On our way up, we stopped for a photo at the easternmost point of Australia's mainland. For us, Byron Bay was a day trip from the Gold Coast.
Brisbane: Where Urban Sophistication Meets Relaxed Vibes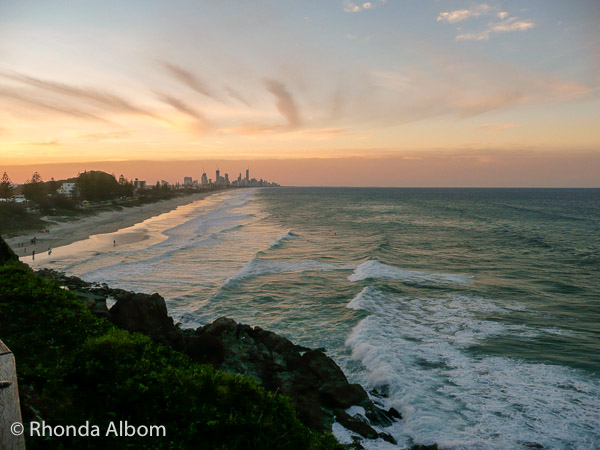 Further north, Brisbane exudes a laid-back yet cosmopolitan charm. On one visit, Jeff and I spent time wandering through the city and immersing ourselves in the vibrant culture. The streets bustled with energy, and the Brisbane River offered a tranquil escape. Reserve your sightseeing river cruise here.
I shot the image just above from the clock tower on a free tour provided by the Brisbane Museum. The elevator to the top was added in 1930 and therefore requires an operator, making it part of the fun. There is plenty more to do in Brisbane City.
On other visits, we opted to stay either north or south.
Gold Coast
To the south, we found the excitement and energy of the Gold Coast. Stunning beaches and amusement parks make it a vacationer's paradise. It's also home to several of our friends, making it an all-around fun place for us to spend some time.
Sunshine Coast
About an hour north of the city is where our real serenity came, in the laid-back sunshine coast. After a six-week stay, we even put our New Zealand home on the market with hopes of moving here for good, but it didn't work out. Amongst the many things to do here is the popular Australia Zoo.
Airlie Beach: Gateway to the Whitsundays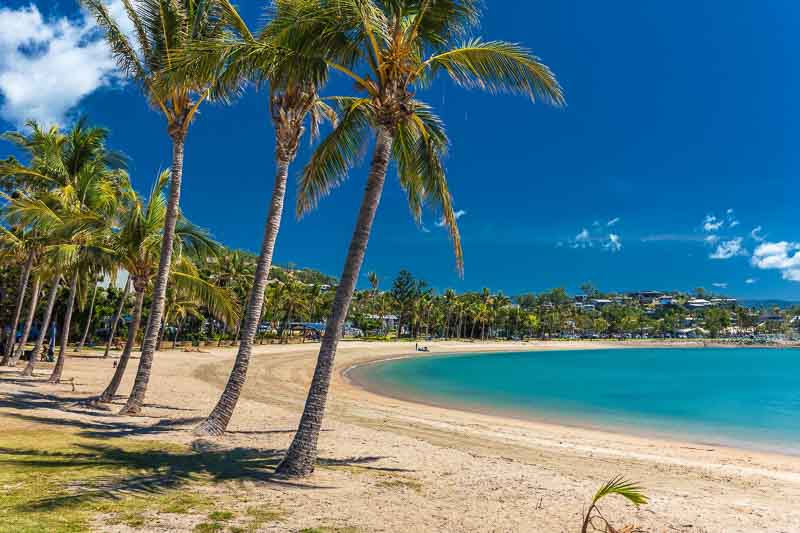 As the gateway to the Whitsunday Islands, Airlie Beach is a paradise for sailors, snorkelers, and beach enthusiasts.
High on our list of things to do (and on the list of nearly all the sailors we know) is to hire a yacht for a week and sail through the beautiful Whitsunday Islands. But until then, there are a few cool things to do in Airlie Beach, the starting point for our future adventure.
We can enjoy the beautiful lagoon, a man-made swimming area that provides a safe and inviting space for relaxation. Then head out on an all-day eco-cruise and snorkelling adventure in the Whitsundays at the Great Barrier Reef's outer fringes. Reserve your Whitehaven Full-Day Eco-Cruise with Lunch here
Cairns: Gateway to the Great Barrier Reef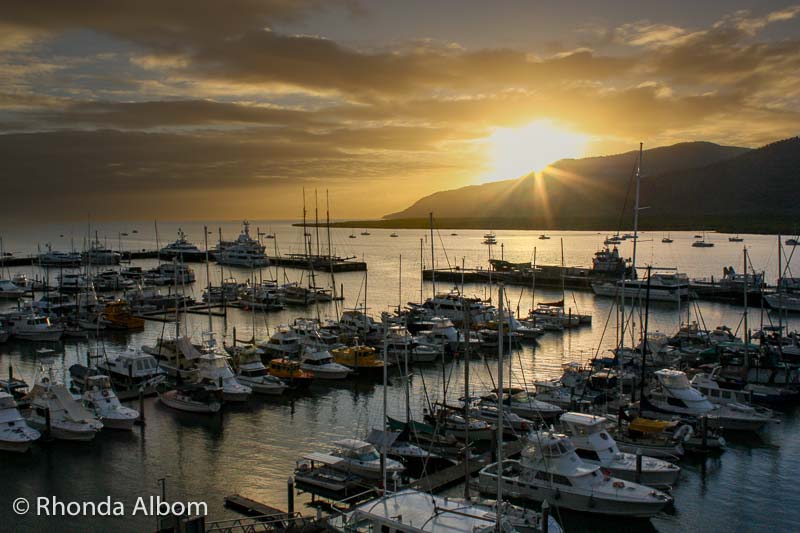 Venturing to the tropical north, Cairns awaited us with its gateway to the Great Barrier Reef. Being not that far from our New Zealand home, each visit, we waited for the perfect weather to head out to the reef, and somehow we haven't made it yet. Next time for sure, and most likely on this boat: Reserve your Great Barrier Reef cruise here.
Don't get me wrong; perfection isn't required to enjoy the Great Barrier Reef; we are just silly sometimes.
There are plenty of other fun things to do in Cairns and the surrounding area, from waterfalls and an old castle to a venomous animal zoo.
Darwin: Where culture and nature converge
Collectively, we have visited Darwin twice. The first time it was a staging site for Jeff as he headed into Kakadu National Park for a week of camping. For a similar (albeit nicer) experience, check out this 5-day Kakadu tour or if time is not your friend, but you just want to experience Kakadu, check out this 1-day wilderness escape.
A cruise circumnavigating Australia brought us on our second visit, and this time we explored the many things to do in Darwin. Our highlights included: the Museum and Art Gallery of the Northern Territory, George Brown Darwin Botanic Gardens, and one of the best sunsets we have seen. We opted not to see the world's largest display of Australian reptiles at Crocosaurus Cove, the famous crocodile farm.
Broome: Pearls, Beaches, and Sunsets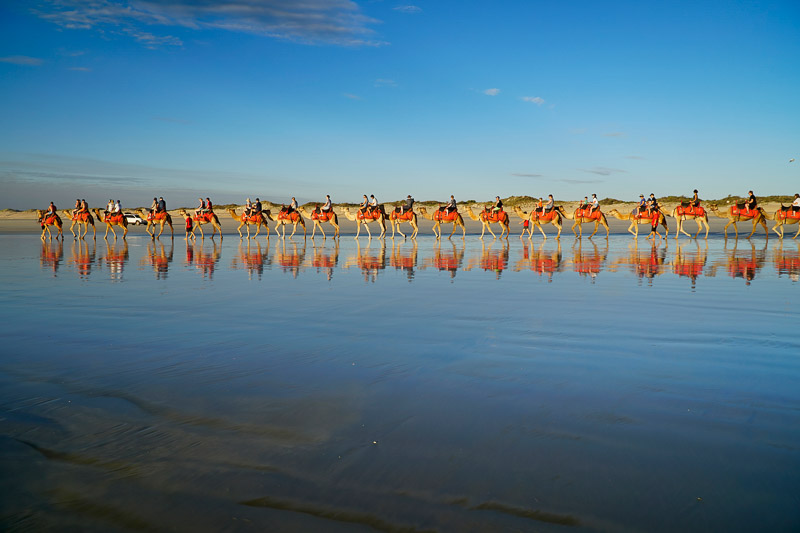 In the Kimberley region of Western Australia lies the charming coastal town of Broome, known for its pearling history and stunning natural beauty. Riding camels at sunset along the golden sand of Cable Beach is one of the more popular touristy things to do. If it's your thing, reserve your sunset camel tour here.
For us, we haven't been here yet, but it's next on our list. We want to stay a day or so to explore things like the Broome Historical Museum. Then we want to head off and enjoy a Kimberly region adventure, like this one that combines 4×4 exploration with a boat cruise. Reserve your 6-day West Kimberly adventure here.
Geraldton: A Hidden Coastal Gem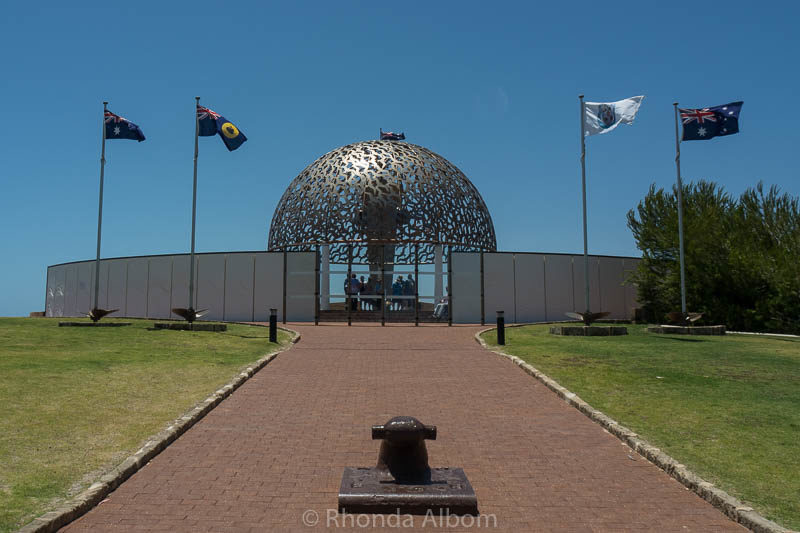 We discovered Geraldton, a coastal treasure on the western edge of Australia, on our cruise circumnavigating Australia. Its laid-back atmosphere made it a hidden gem. But what we found most interesting and unique was the stunning HMAS Sydney II Memorial, commemorating the sailors who lost their lives during World War II.
Also, be sure to take time to go inside the St. Francis Xavier Cathedral, among the many things to do in Geraldton. It will be especially interesting to you if you have been to La Mezquita in Cordoba, Spain.
Perth: Where Urban Splendor Meets Natural Beauty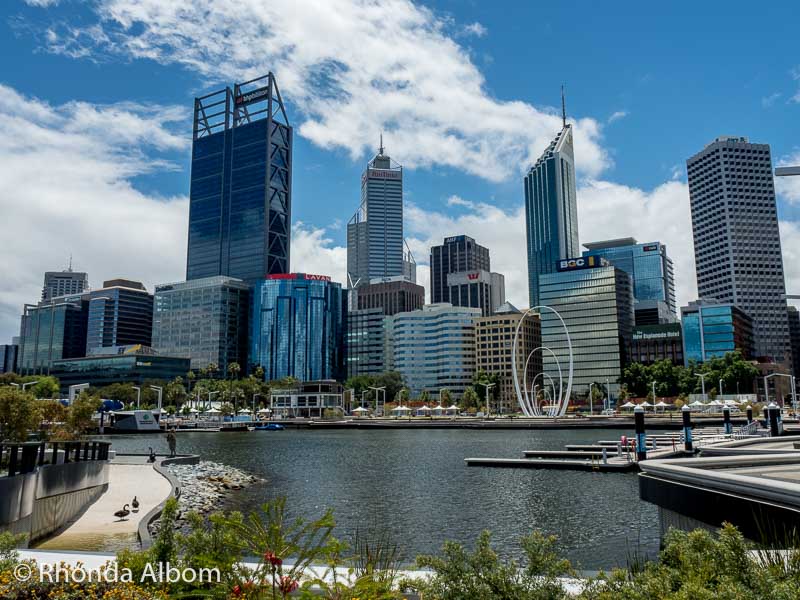 Perth, the sunniest capital city of any state in Australia, radiated with a blend of urban splendour and natural beauty.
Jeff and I love this city. On every visit, we take time to stroll through Kings Park and Botanic Garden, among the many things to do in Perth. Here we see a showcase of the diversity of Australia's flora, providing a peaceful oasis in the heart of the city.
We also find a day to explore nearby Fremantle and another to visit Rottnest Island and capture a selfie with the adorable quokkas, adding a touch of whimsy to our adventure. (My selfie photos just aren't that good yet, a skill I am still working on.)
Our favourite Australian coastal cities from Perth to Adelaide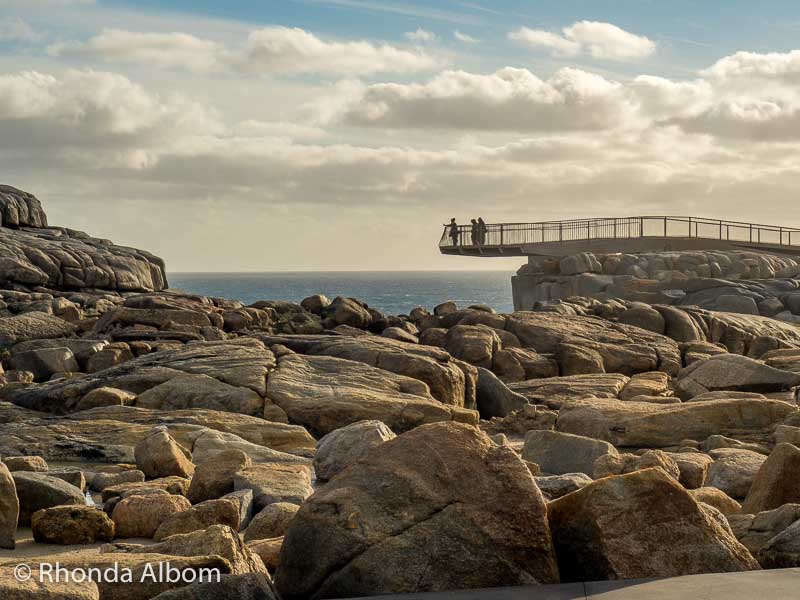 We have visited Perth multiple times, each time taking a different adventure when we left. One of our favourites was a Perth to Albany coastal road trip, stopping at several of the Australian coastal cities along the way. We opted to drive a loop from Albany that included the public silo trail through the Wheatbelt, the inland side of our Perth loop.
Albany: Where History Meets the Southern Ocean
Albany's rugged coastline and historical significance captivated our hearts. There was much more to do in Albany than we first anticipated. Jeff and I were captivated by the rock formations at Torndirrup National Park, and we also ventured out beyond the city to some amazing forest land. Albany is also a place for history, and we spent some time at the National ANZAC Centre.
Esperance: Untamed Beauty on the Southern Coast
Nestled along Western Australia's rugged southern coast, Esperance is a hidden gem renowned for its natural wonders. The turquoise waters of Lucky Bay, where kangaroos often frolic on the sand (see image at top of page), left us in awe. The real highlights here are the famous Pink Lake and the awe-inspiring Cape Le Grand National Park. Take a scenic flight over both here.
Adelaide: A Blend of Elegance and Culture
Arriving in Adelaide, we were enamoured by its elegant boulevards, world-class wineries, lovely suburban beaches and vibrant arts scene. Jeff and I wandered through the Adelaide Central Market, sampling gourmet delights and engaging with local artisans. The Adelaide Botanic Garden offered a serene escape, where we meandered through lush landscapes. There is lots more to do here.
But our real highlight was a two-day side trip to Kangaroo Island, where we saw impressive scenery, rugged coastlines, and plenty of unusual wildlife.
Melbourne: A Melting Pot of Creativity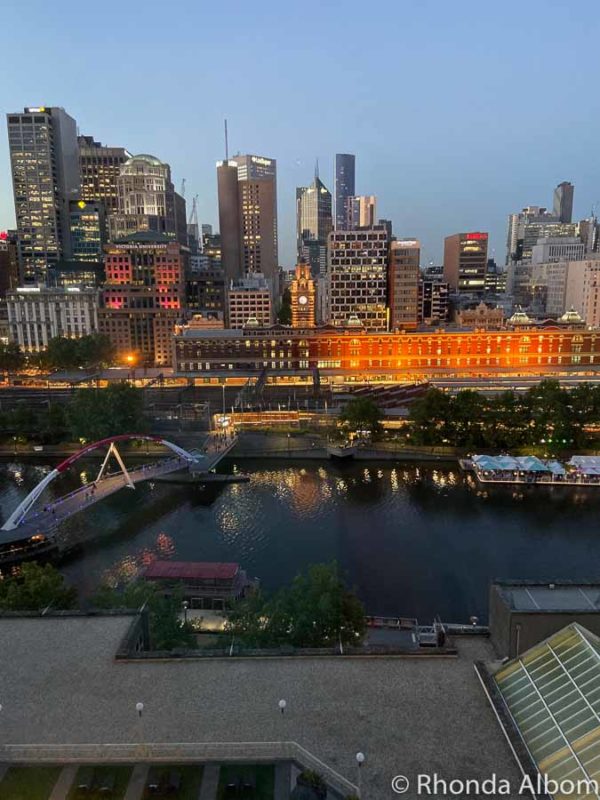 One of my favourite cities for a getaway is Melbourne, a melting pot of creativity, art, and diversity. The street art in Hosier Lane painted a vivid picture of the city's vibrant soul.
Mostly Jeff and I enjoy time with our friends. Plus, we love the quaint cafes of Degraves Street and other laneways, spotting penguins in St Kilda Beach, and shopping. While we love all that there is to do in the heart of Melbourne, we tend to stay in Southbank, where we can relax or enjoy the nightlife.
Save on your Australia trip with these resources
These are our go-to companies when we travel. We believe this list to be the best in each category. You can't go wrong using them on your trip too.
Flights: we use Expedia for the best and cheapest flight options.
Accommodations: we use Booking.com (hotels), VRBO (self-contained), or Hostelworld (budget).
Cars (gas or electric): we use RentalCars to search for deals and dealer ratings.
Campervans or Motorhomes: we use Campstar where Albom Adventures readers get a 3% discount
Motorcycles: we have heard good things about BikesBooking.
Activity discounts: we check Bookme.com for discounts of up to 70% on activities.
Private guides: we love the private guides at Tours by Locals.
Travel Insurance: while not required, we always opt for travel insurance and start at InsureMyTrip to compare coverage plans.
Check out our travel resources page for more companies that we use when you travel.
Save for later
If you enjoyed this article, please share it on social media and save it for later on Pinterest.
What's your favourite of the Australian coastal cities?
Photo Credits:
All photos on this page are either shot by our team and watermarked as such or stock images from Depositphotos.