A city instantly recognizable by its iconic harbour, Sydney Australia is lively, vibrant and exciting. A cosmopolitan city on the bucket list of many travellers, there are a surprising number of things to do in Sydney for free.
Like many travellers, we headed straight to Circular Quay on our first visit. Photos don't do the magnificent harbour justice, and we stood in awe of the scene accentuated by the Sydney Opera House.
Surrounded by restaurants, museums, cafes, and the bay, we were spoilt for choice. Yet without spending a dime, we could begin to enjoy some of the city highlights.
From a close-up inspection of the opera house to free museums, we were creating memories of one of the world's most beautiful cities.
We opted not to have a car here, and while public transportation is both easy and effective, we love to walk. Therefore we have kept this list of recommended free things to do in Sydney mostly to those either in the CBD, Circular Quay, or The Rocks.
In other words, within walking distance of the Opera House.
Top 5 things to do in Sydney for free
Stroll around Circular Quay, watch the boats on the harbour, take an up-close closer look at the Sydney Opera House, and at the other end, start your walk across the Sydney Harbour Bridge,
Take a free walking tour of The Rocks, Australia's oldest (convict) settlement, and if it's the weekend, shop a the Rocks Market.
Visit the Royal Botanic Gardens, or simply enjoy the purple blossoming Jacaranda trees around the city.
Shop in one of the world's most beautiful malls, the Queen Victoria Building.
Relax in Hyde Park on the lush green grass or in front of Archibald Fountain, enjoy the sculptures, and then admire St Mary's Cathedral.
Start with a free city walking tour
We are convinced that there is no better introduction to a city than via a walking tour. And Sydney, like many other cities around the world, offers several free walking tours, both in the morning and afternoon.
Note that while the tour itself is free, tipping is expected at the end but not mandatory. As a result of working for tips, we have always found the guides to put in that bit of extra effort.
We opted to tour with I'm Free Sydney, and loved it so much that we took their Rocks tour as well.
Our guide was interesting, knowledgeable, and fun. By the time we were done, we had a basic feel for the city layout, knew bits of interesting history, and were ready to continue our exploration on our own.
These companies run free tours: I'm Free Sydney (reserve here); Sydney Greeters (reserve here); Locl Tour Sydney (reserve here).
Things to do in Sydney for free at Circular Quay
After your tour, or in its place, you will spend time at Circular Quay. Everyone does.
This popular neighbourhood is home to the iconic Sydney Opera House, plenty of restaurants, parks, shops, the ferry terminal, and it now serves as Sydney's international cruise port. Personally, we cruised out of here at sunset.
Some of the free highlights include:
Take a closer look at the Opera House
Wandering around the Sydney Opera House is a must-do for visitors. You will want to get close enough to see for yourself that the roof is formed from thousands of small, white tiles. We took a tour inside, and it was fascinating but not free.
Walk across the Sydney Harbour Bridge
There is a dedicated pedestrian lane on both sides of the Harbour Bridge, and it's free to walk across. We walked in both directions on opposite sides, enjoying impressive views each way. This is not the famous bridge climb that takes you over the top, as that is NOT free.
Museum of Contemporary Art
This art deco building and its modern add-on host a free-to-enter art museum right along the water. It features over 4,000 works from Australian artists, including work by Aboriginal and Torres Strait Islander artists.
Writers Walk
Follow 60 plaques set in the ground along Circular Quay, each with quotes from famous Australian and overseas writers and those who lived in or visited Australia. The one from Robert Louis Stevenson caught my eye, as we had been in his home in Samoa.
Things to in Sydney for free in The Rocks
Located just to the west of Circular Quay, The Rocks is a jagged peninsula surrounded by water on three sides. Interestingly, today The Rocks is sought-after real estate, yet 200 years ago, it was considered undesirable.
Australia's first European settlement, The Rocks has a fascinating history, filled with intrigue, deception, and mystery. It's pretty much what you would expect from an area founded by criminals.
After all, the first eleven European ships into Sydney Harbour were convict ships filled with mostly petty thieves (England hung its convicted murderers).
And since it's the stories that make this area so interesting, we recommend the free evening walking tour of The Rocks from I'm Free Sydney.
We learned things like while The Rocks are home to Sydney's oldest pub, three establishments there claim the title: Fortune of War, The Lord Nelson, and The Hero of Waterloo. It's also home to Australia's oldest public urinal.
Our guide went on to tell stories like At The Hero of Waterloo, sailors were "friended" with free beers and, once drunk, shoved down a hole where they awoke captive, out at sea, and on a working ship.
Key things to see in The Rocks
Shop for food, crafts, gifts, indigenous art, and more at the weekend Rocks Market.
See the Big Dig located under the YHA. It's the largest archeological site in Sydney, where over 500 cubic metres of animal bones were found, believed to have been left by a butcher who had stolen the animals (according to our guide).
Rocks Discovery Centre is a free museum taking you through the neighbourhood's history.
We ate at Australia Hotel, owned by Richard Branson. It serves crocodile and kangaroo pizza along with a variety of more common foods. (Not free, but delicious)
Things to in Sydney for free in the CBD
The majority of the free things to do in Sydney within walking distance of the Circular Quay area are in the Central Business District (CBD). Here we find interesting architecture, refreshing gardens and parks, and fascinating public art.
Free CBD highlights include:
Customs House
What made the heritage-listed Customs House so cool to me wasn't the fact that it is one of the city's finest examples of Colonial architecture, although it is pretty impressive. It's the 1:500 scale replica of the city under glass. (Our free walking tour brought us here; unfortunately, my photos are too full of glare to share).
Australia Post Office
Another heritage-listed building, the clock tower on the General Post Office, is 73 metres high. The building originally opened in 1874.
Jacaranda trees
If you happen to be in Sydney in October or November, it will be hard to miss the vivid purple flowers of the Jacaranda tree. We feature one in the post office photo above.
Queen Victoria Building
The QVB may just be the world's most beautiful shopping mall. Originally constructed in 1898, its interior has gone through several transitions, including local government offices and even a library. Our free tour brought us in to see the Royal Clock, which chimes hourly (see photo above).
Things to do in Sydney for free near Hyde Park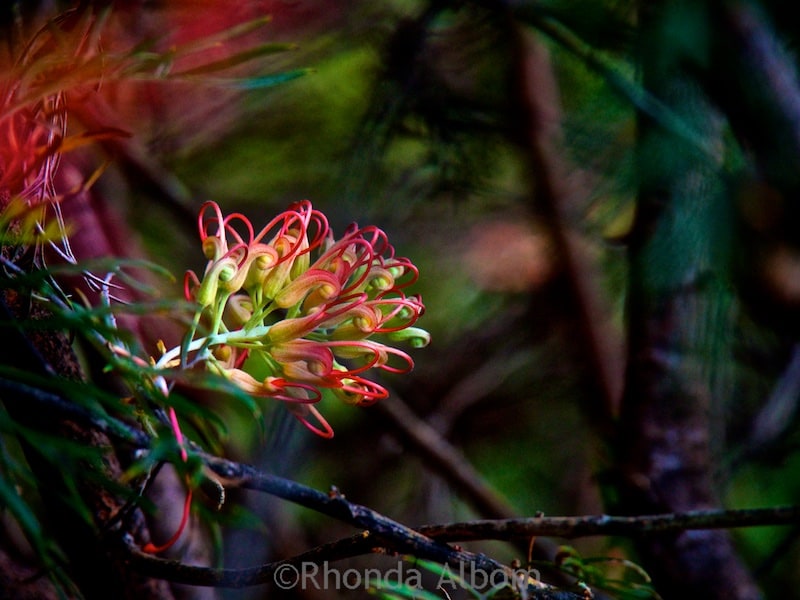 Sydney's oldest park is a beautiful 40-acre lush green city park along Elizabeth Street. (We stayed across the street from the park on our last visit.) The key things to do in the park:
Relax, read a book, and soak in the sun
St Mary's Cathedral
Inside and out, this is a Gothic masterpiece adorned with impressive stained glass and a massive organ. It occupies the site of the oldest Catholic church in Australia, as the original church burnt down in 1865.
Archibald Fountain
Completed in 1930, Archibald Fountain commemorates the cooperation between Australia and France during World War I.
Art Gallery of NSW
Another free art museum, the Art Gallery of New South Wales, features both modern and contemporary works. Special exhibits often have a fee.
Royal Botanic Gardens
Strolling through the Royal Botanic Gardens is the perfect way to unwind. Full of unusual and often vibrant botanicals, it is the country's oldest living scientific institution. Want more? Enjoy a free daily tour from the Visitor Centre.
Admire the public art
There is amazing public art around the city. Three of my personal favourites are featured here.
First Impressions by Bud Dumas is an impressive, three-sided sandstone relief sculpture of settlers to the Rocks. It was commissioned in 1979.
Forgotten Songs by Michael Thomas is an artistic display of 120 suspended bird cages hanging over Angel Place. If you listen, you can hear the sounds of central Sydney's extinct and threatened bird species
Waiting, by Seward Johnson, depicts a businessman reading a newspaper. My daughter couldn't resist interacting with the artwork

.
Best free things to do in Sydney outside CBD are found on the Coogee to Bondi coastal walk
If relaxing at the beach is on your list, there is no shortage of stunning options in Sydney. But, if you really want to enjoy your day, be sure to do the Coogee to Bondi Coastal walk.
This 6km hike is the most popular walk on Sydney's coast for good reason. We found one stunning coastal view after the next.
The walk itself isn't difficult, and there are plenty of rest options along the way. Whether you want to picnic in the grass, indulge at a cafe, swim in gentle waves, relax on a sandy beach, or even surf, there are seemingly endless options.
If you are looking for a more unique alternative, dip into Bronte Baths, a free-to-use natural saltwater pool fed by the sea.
Best of all, if you visit from May to November, you might spot whales. More specifically, from late June to early July, male humpbacks are passing by. Similarly, in October and November, you are more likely to see mothers with calves.
In addition, there are annual events that often take place along the route, like Sculpture by the Sea, which covers the final 2km of this walk between Tamarama and Bondi.
We took a bus to Coogee Beach and back from Bondi Beach after a coffee and a swim. There were plenty of places to refill our water bottles last time we did this walk.
Manly Beach is another great option
Another stunning place to relax. While the beach is free, you will need to take a ferry from Circular Quay to Manly. As a bonus, the ferry is a super cheap way to see the Opera House from the water.
Final thoughts and tips on visiting Sydney
The best and most popular restaurants in Sydney fill up. Therefore, making dinner reservations well in advance is a good idea. Our personal favourite is the iconic Cantonese restaurant, Mr Wong (3 Bridge Lane).
Note that some restaurants charge a per-person "cover charge" on the weekends or holidays.
If you have loads of time here, don't miss these exciting day trips.
And if you are planning to explore more of the city, be sure to check out the Go City Pass. With it, you can save up to 45% on admission to between 3- 7 activities, depending on which pass you choose. Reserve your Go City Sydney Pass here.
Save on your Australia trip with these resources
These are our go-to companies when we travel. We believe this list to be the best in each category. You can't go wrong using them on your trip too.
Flights: we use Expedia for the best and cheapest flight options.
Accommodations: we use Booking.com (hotels) or VRBO (self-contained).
Cars (gas or electric): we use RentalCars to search for deals and dealer ratings.
Campervans or Motorhomes: we use Campstar where Albom Adventures readers get a 3% discount
Activity discounts: we check Bookme.com for discounts of up to 70% on activities.
Private guides: we love the private guides at Tours by Locals
Travel Insurance: we start at InsureMyTrip as they are the best option to compare plans and find the right coverage for you.
Check out our travel resources page for more companies that we use when you travel.
Save for later
If you enjoyed this article, please share it on social media and save it for later on Pinterest.
What are your favourite things to do in Sydney for free?
SaveSave