Public art fascinates me. We often can't resist posing with statues for a bit of fun. It turns out we are not the only ones who like to create interactive statues from what was once simply a city sculpture.
We have lots of friends who do it too. To create this collection, we asked travel bloggers around the world to share their favourite quirky statues and sculptures.
Well, we should have been more specific in what we were looking for. We got so many fun and fabulous quirky statues we had to create two collections.
This page marks the clean-cut funny statues, as well as those in which other travel bloggers and family members are posing with statues.
I separated out the "naughty, but not nasty" sculptures and shared them as Oversized and Undressed. The rest are here. While I took some of the photos, other bloggers contributed the vast majority, providing both captions and images.
Interactive statues from the Americas
Posing with statues in the USA
San Francisco, California
Contributed by Carole Terwilliger Meyers of Weekend Adventures Update
My friend, John Briggs, falls into line with the self-portrait ceramic sculpture–"California Artist" (1982)–by the late California artist Robert Arneson, at the San Francisco Museum of Modern Art.
Milwaukee, Wisconsin USA
Contributed by Hannah of GettingStamped
One of my favourite things to do in Milwaukee is to walk along the riverfront. Right on the river, across from Rock Bottom Brewery, is the bronze Fonz statue, aka Fonzie from the Happy Days TV show airing in the 1970s. Fonzie is wearing his typical outfit, complete with his two-handed thumbs up. Happy Days is about a 1950's family from Milwaukee hence why the statue is in Milwaukee!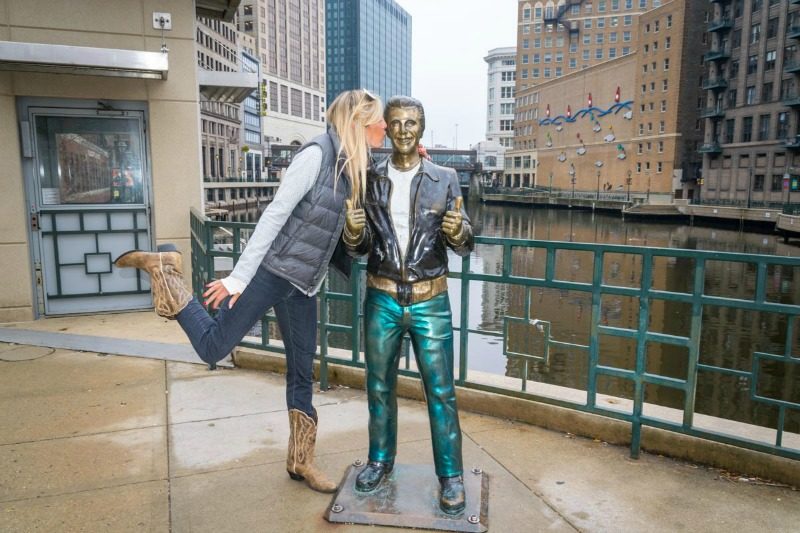 Bareback in Central America
San Juan Del Sur, Nicaragua
Contributed by Dane of Holiday From Where
This is not really the biggest statue, but it was in the middle of nowhere in Nicaragua. It was a dirt road for kilometres to this small secluded beach, and then there was just this majestic white horse standing on its hind legs with the Jesus statue in the background.
Posing with statues in Canada
Churchill, Canada
Contributed by Amanda O'Brian of The Boutique Adventure
Churchill is a very small town in the north of Canada that is known as the Polar Bear Capital of the world. Every year this town receives a huge influx of visitors across October and November to witness the movements of polar bears from their inland hibernation to the shore of the Churchill River.
Visitors go out in giant tundra buggies to witness these animals in their natural environment – an ice and snow safari so to speak! Misbehaving polar bears end up in the nearby Polar Bear prison! Churchill contains all things polar bears such as this statue in the middle of town.
Montreal, Canada
Contributed by Barbara Wagner
The photo portrays a group of 65 statues by Raymond Mason in the city of Montreal, Canada. It is located just outside the main gate of McGill University. The installation is called The Illuminated Crowd, and you can see people of all ages, races, facial expressions, and conditions. The statue illustrates the degradation of the human race and symbolizes the fragility of the human condition.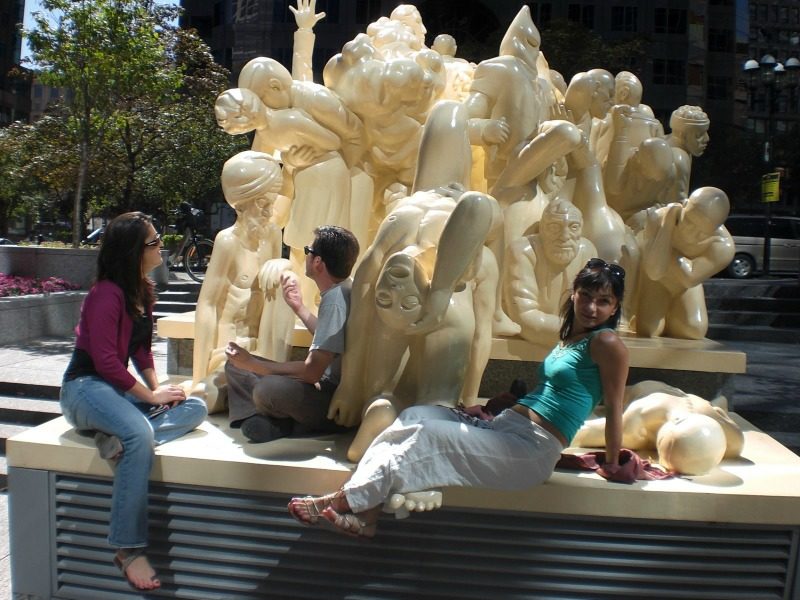 Posing with statues down under
We are a family of people who seem to love posing with statues. Here are two from us whilst in Australia:
The first is shot outside the church in Fremantle. This statue of an artist creating a painting from an invisible model on an empty stool was too tempting for hubby. However, he looks like he belongs. Read more about our day in Fremantle.
Similarly, my daughter Sarah couldn't resist reading over the shoulder of this unidentified man. This one was taken in Sydney just before we sailed out of Sydney Harbour on the Radiance of the Seas.
Interactive statues from Europe
Bratislava, Slovakia
Photo by Jorge Bastos of Couple RTW
Bratislava is a city full of weird statues, some of them notoriously fun and straightforward weird. Our favourite and probably the most famous and unique is the Cumil (The watcher). There are two explanations for the statue: the first says he represents the typical communist-era worker who doesn't work, the second is just looking up women's skirts.
Tallinn Estonia
Contributed by Rohan Cahill-Fleury of Travels of a Bookpacker
"This is my boyfriend in Tallinn, Estonia whilst on a road trip through the Baltics. We saw this bull and couldn't resist stopping for a chat! It's made of bronze and was made in 2011 for the steakhouse it sits in front of in the old town. Its name is 'Black Angus'."

Mostar, Bosnia & Herzegovina
Contributed by Anastasia of Gallivant Girl
Mostar is a bright and beautiful city, but its streets still bear scars of its not so distant war-torn past. One of the city's quirkier attractions is the shiny golden statue of kung fu legend, Bruce Lee, found in the Zrinjski City Park. In a project spearheaded by the youth group Mostar Urban Movement, the unusual monument unveiled in 2005 was the world's first Bruce Lee statue.
Bruce Lee was chosen to symbolise the fight against ethnic divisions in a divided city – beating out the Pope, and even Gandhi. According to Veselin Gatalo from the Mostar Urban Movement, "We will always be Muslims, Serbs or Croats, but one thing we all have in common is Bruce Lee."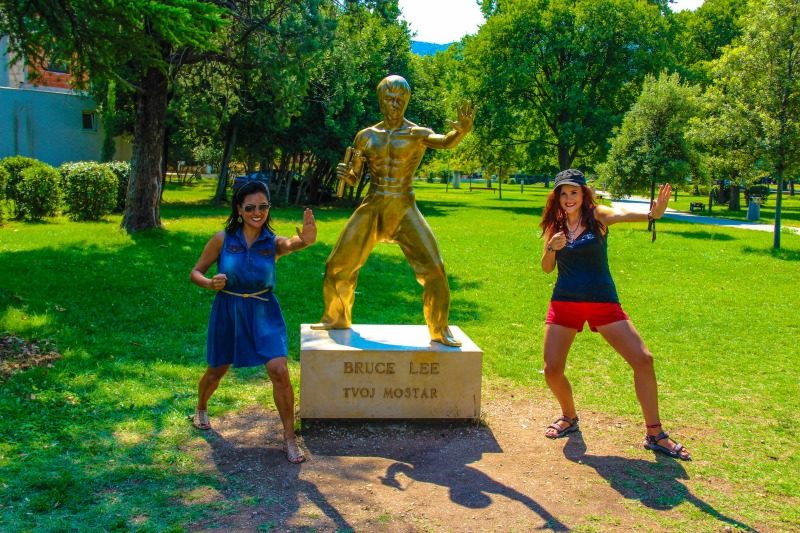 Churt, England
Photographed by Gwendolyn DeSilva of Memories Not Material Things
There is an innate peace and joy in contemplating the curvature and form of outdoor sculpture. My favourite place for relishing shows the varying sizes and colours juxtapose themselves with nature is at The Sculpture Park in Churt, England. Billed as the world's largest all year round sculpture exhibition, the 10 acres of woodland and water gardens feature over 800 modern and contemporary pieces.
It takes several hours to wander through the three designated walking tracks, but there is a cozy pub next door to refuel with some fish n' chips halfway through exploring. Definitely worth the day trip from London.
My family posing with statues in Europe
Ring of Kerry, Ireland
I noticed this statue of Charlie Chaplin as we drove by, and we had to turn around just to get this photo. It's a rare photo of a blond me. Here's more from our road trip driving around Ireland.
Spain
We spent a lot of time in Spain and had two home exchanges. First was in Palamos, second in La Coruña. These two interactive statues / sculpture photos are in the same order.
Oslo, Norway
Our teen poses alongside one of the over 200 sculptures by the famed Norwegian artist Gustav Vigeland. Located in Oslo at Vigeland Park, his various artworks depict the full range of the human life cycle from birth to old age. Vigeland Park is the world's largest sculpture park made by a single artist.
A note of caution on posing with statues:
Be sensitive to cultural norms and religious beliefs.
We were told off and forced to erase photos of a not to be made interactive statue we posed behind in Greece. Our idea was to put one of our heads on top of a headless goddess. This did not go over well.
Quirky statues (sorry, no posing with statues here)
London, England
Contributed by Suze of Luxury Columnist
Would you give this sculpture a thumbs up? "Really Good" by David Shrigley is a 7-metre-high statue on the Fourth Plinth in Leicester Square, London. The sculptor has said that it's about making the world a better place, and it certainly seems popular with passers-by!
Berlin, Germany
Contributed by Barbara Wagner
Famous American graffiti artist Keith Haring had a strong connection to Berlin, especially after illegally painting on the Berlin Wall in 1986. His statue The Boxers is still displayed today. It portrays two steel men fighting, although it looks more like they are embracing each other rather than fighting. You cannot observe any aggression in the statue. One of the characters is red; the other one is blue. The statue is almost 5 meters tall. It is part of the Art in Public Spaces collection in Berlin. Haring created the statue in 1987 in Berlin, and it has been displayed in the city every since.
Pristina, Kosovo
Contributed by Michelle of Cheeky Passports
You may be wondering why Kosovo, Europe's newest country is such a fan of Bill Clinton. The capital city Pristina contains not only a three-metre-high statue of Clinton but also an avenue named after him and a large billboard with his image. All have been created as recognition to the former US president for his help during Kosovo's war towards achieving independence. Clinton travelled to Kosovo in 2009 to deliver a speech at which point the statue was unveiled. Look for a boutique called Hillary close to the statue!
Melbourne, Australia
Sculpture Ophelia by Deborah Halpern is an icon of the trendy Southbank of Melbourne. It's a city filled with exciting and colourful art.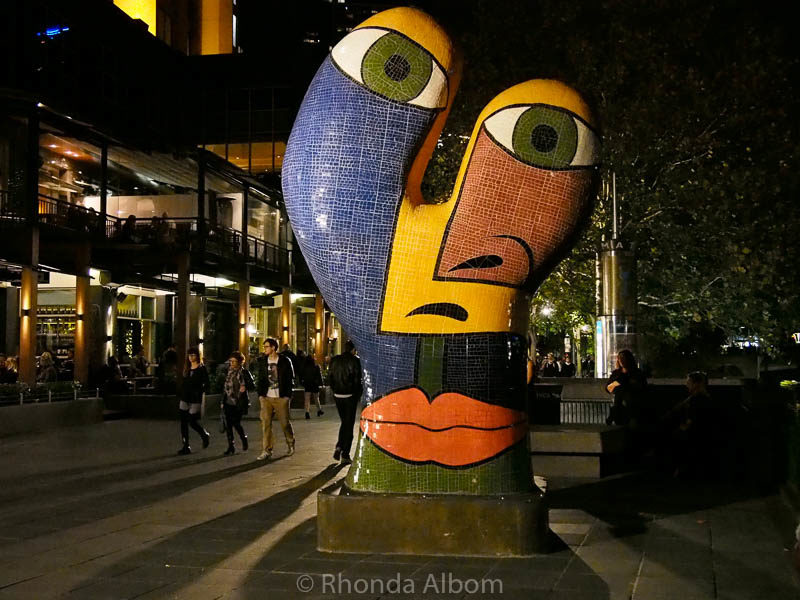 Jaffa, Israel
Contributed by Corinne Vail of Reflections Enroute
We had been traipsing around a very old, established neighbourhood in the city of Jaffa when we happened upon this whimsical statue. It made us smile.
Prague, Czech Republic
Contributed by Luke Marlin of Backstreet Nomad travel
These epic statues guard the entrance of Prague Castle in the Czech Republic, presumably to intimidate all who enter. I love that the statues are so unique in that they are unnecessarily, graphically, and mercilessly violent. A far cry from the valiance often portrayed in historical statues.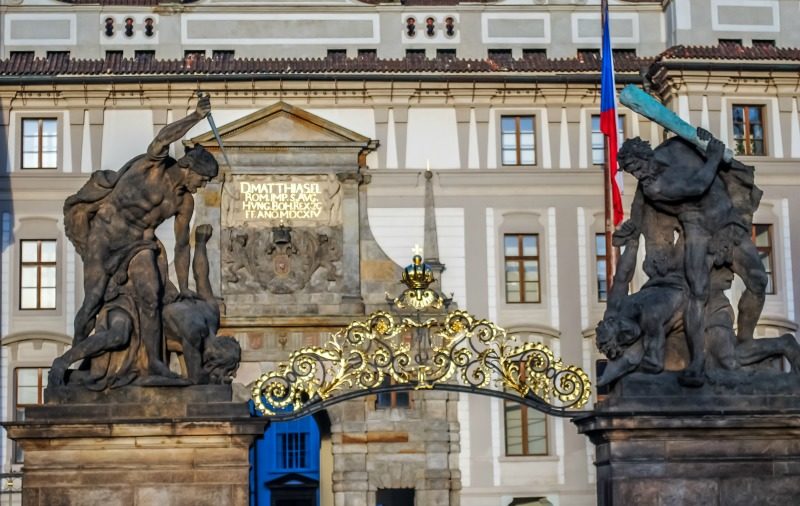 Kep, Cambodia
Contributed by Edwina Dendler of Traveling German
The little seaside town of Kep, Cambodia, is famous for its crabs. The crab market is its main attraction, and both tourists and locals flock there in the mornings to buy the catch of the day, often eating right there at the market, freshly boiled and served with rice and mango salad. So when neighbouring Kampot (whose fresh peppercorns are the perfect accompaniment to Kep's crabs, by the way) adorned its streets with a Durian statue, Kep responded by putting up this giant crab statue – and where better to place a crab statue than in the water?
Barcelona, Spain
Contributed by Gábor Kovács of Surfing the Planet
This statue, situated in the Rambla del Raval is a work by Fernando Botero, the famous Colombian sculptor from Medellín. Botero is well known for creating pieces of exaggerated character, either in size or in some other aspect. The cat sculpture, referred to simply as Gato arrived in Barcelona in 1987, and the sculpture had different locations in the city before finally landing in its present site. This chubby cat sculpture made of bronze has become one of the most known sculptures of Barcelona and a very popular meeting point for young people.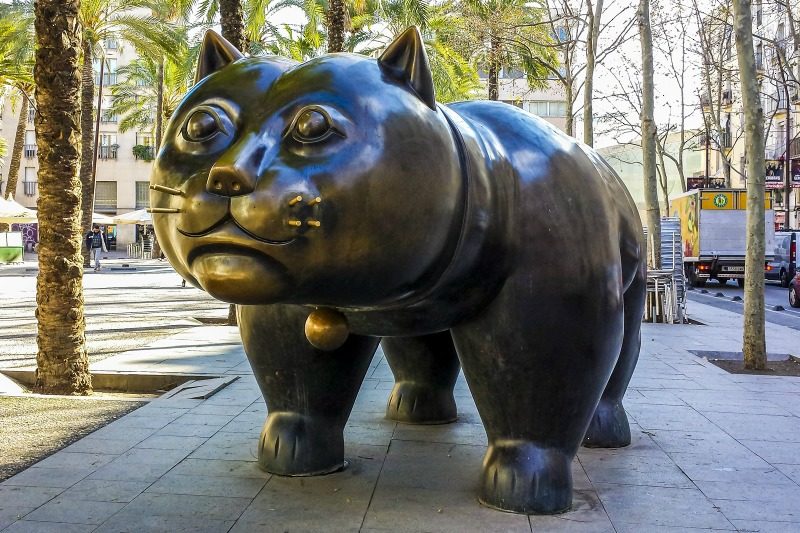 If you love this one, don't miss these oversized statues.
Hong Kong
Contributed by Marianne Rogerson of Mum on the Move
Visiting the Tian Tan Buddha, aka the Big Buddha, frequently features on people's Hong Kong bucket lists. One of the largest seated Buddhas in the world at 34 metres high, the Big Buddha is made entirely of bronze. You have to climb 268 steps to reach the Buddha – but the feeling of being so close to this enormous statue is worth it. Half the fun in visiting the Big Buddha is getting there – via a 25-minute cable car journey aboard the Ngong Ping 360, which offers spectacular views out over the South China Sea.
New York City, New York, USA
I saw this one near Central Park in New York City, but don't know anything about it, other than I liked it.
Jerusalem, Israel
Contributed by Claudia Tavani of My Adventures Across the World
Not a proper statue but a fun art installation, these poppy flowers are found in Jerusalem, the capital of Israel, and they are located right opposite the busy and colourful Mahane Yehuda market. In theory, the petals should open up when people move below them, but when a bunch of friends and I tried to walk, dance or jump under it, hardly anything happened. Either way, they are interesting to see.
Cramahe, Ontario, Canada
Contributed by Danie of Like Riding a Bicycle
This is one of the oldest statues I've found on my travels and is quite simply called the Big Apple. As you cruise down the highway between Toronto and Ottawa, there stands a giant apple luring you and your curiosity in. Next door is actually a shop that sells the most delicious apple pies you've ever tasted, but the apple itself is just a big ol' apple!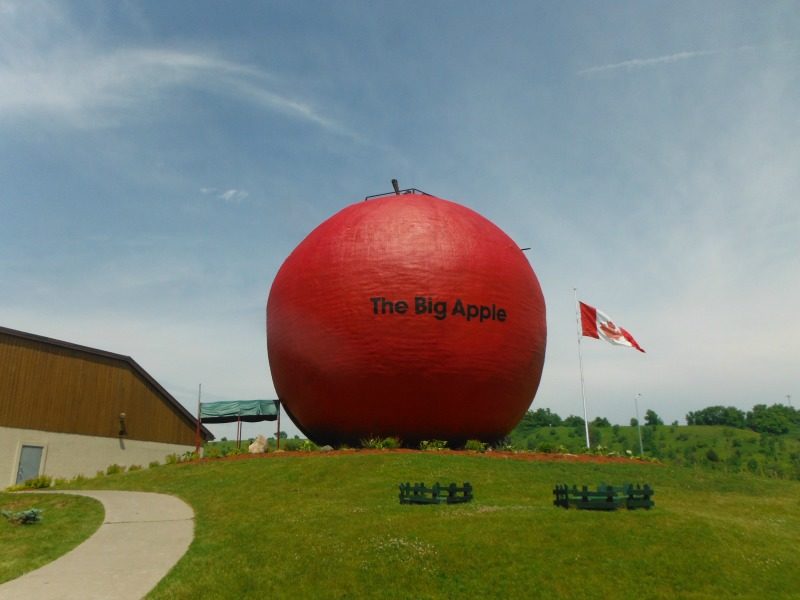 Save for later and share on Pinterest
If you enjoyed these fun and interactive statues, please share this page on social media including Pinterest:
Do you enjoy posing with statues for photos, or do you shoot the object as it was created?
More street art you might enjoy: