La Coruña Spain is located in the northwest corner of Spain, in the Galicia region. A rocky peninsula, it's a section of the country often skipped by tourists. Actually, this city found us when a family offered us a home exchange. As it turns out, there are plenty of things to do in La Coruna.
The city is called La Coruña in Spanish and A Coruña in Galician. Both are official languages of the region, and the names can be used interchangeably.
Situated on the Atlantic coast, the key city beaches run along the more protected Orzán Cover (Ensenada del Orzán). As one would expect, in summer, when we visited, the beaches are a popular spot to go. There is plenty for everyone, from history buffs to outdoor enthusiasts.
We had weeks to explore and took advantage of our time. As a cruise port town, we know many tourists are quite limited in time. If we could only do one thing here, it would probably be a visit to Hercules Tower (the world's oldest working lighthouse), followed by a coastal walk and a visit to whichever museum interests you the most.
Or, if this will be your only time in the region, you might want to take the day as an excursion, skipping all the fabulous things to do in La Coruna and heading straight to Santiago de Compostela for the day.
Things to do in La Coruña: Relax at one of the beaches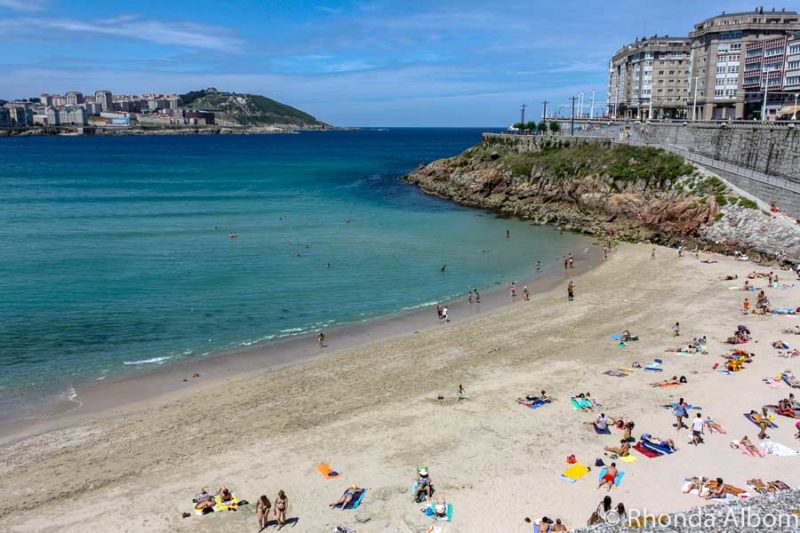 We spent part of nearly every day of our two weeks in La Coruña at the beach or walking by it. There were several lovely beaches within a few minutes walk from our home exchange house.
Looking at the crowds on the beach, I would have expected more people in the water, that is until I stuck in my toes and discovered very cold water. There are a variety of beaches, from family-friendly to surf beaches. Many have lifeguard stations.
Historic sites in La Coruña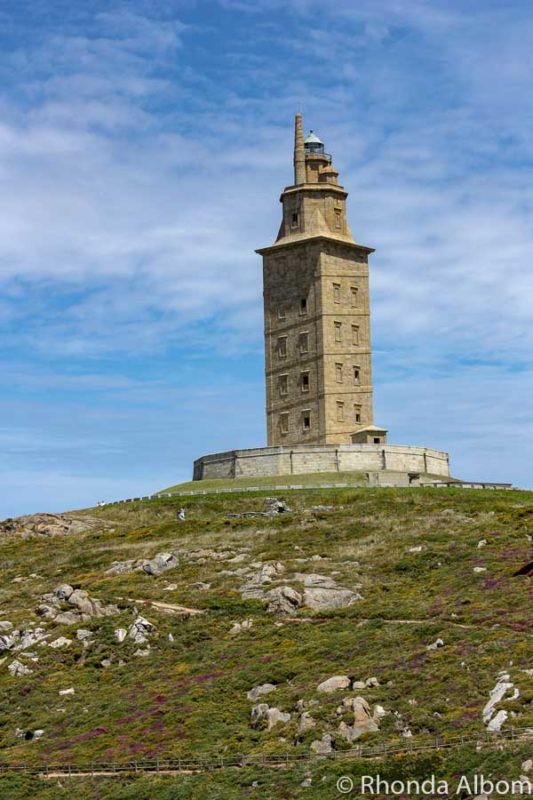 Hercules Tower (Torre de Hércules)
Hercules Tower is the world's oldest working lighthouse and a UNESCO World Heritage Site.
It's also the number one tourist site in La Coruña. Like many visitors, we opted to climb the 234 steps to the top to experience a very windy panoramic view of the city.
Torre de Hércules was built in the 1st century by the Romans. It gets its name from a legend suggesting that Hercules constructed the 59-metre-high stone tower to celebrate his victory over the Giant Geryon.
Pro tip: Walking to the top of Hercules Tower tops our recommended things to do in La Coruña list. Note that timed tickets are sold to limit the number of people inside at a time. Get there early if possible for a shorter queue and to not miss out on the day.
Town Hall
The Town Hall is located in Plaza de María Pita.
Inside the Town Hall are an interesting clock museum, a few huge mosaic artworks, and some impressive stained glass.
The plaza itself is named for national hero María Pita. She prevented a British invasion in the 16th century when she killed a British soldier and encouraged a counterattack against an imminent British invasion. Her statue stands prominently in the square.
Castillo de San Anton
The San Anton Castle and Fort is located at the water's edge. Technically, it is an island unto itself that has been attached to the mainland.
Today, it is an archaeological museum with a huge cistern underneath it.
Pro tip: Be sure to go down the stairs to see the cistern.
Things to do in La Coruña: Museums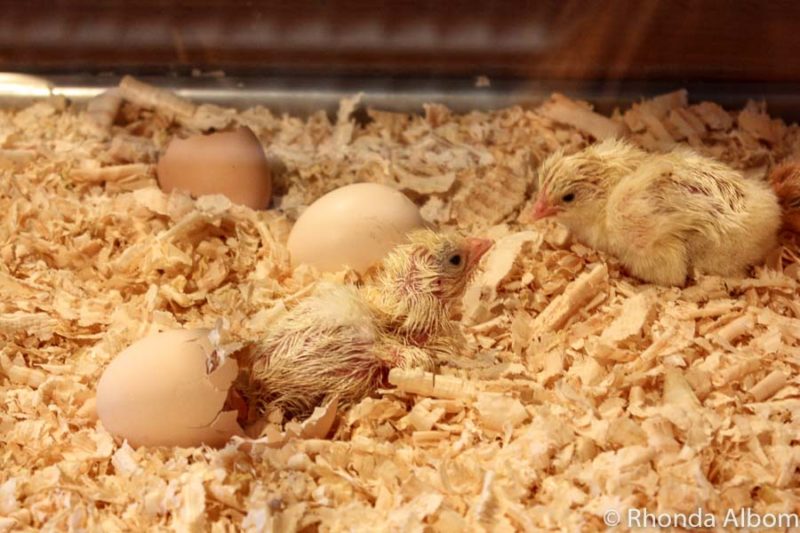 Planetarium and Science Museum
Like so many places in La Coruna, very little was in English. However, with a large number of interactive exhibits, and our daily improving Spanish, we were able to enjoy the day. The planetarium show was easier to follow, as it was mostly visual. For the girls, the highlight was the baby chicks hatching. There were several eggs and chicks in the incubator. We had perfect timing for one chick as it had broken through the shell and was ready to come out into the world.
Military Museum
The museum takes us through La Coruña's interesting military history. Best of all, Museo Histórico Militar de Coruña is free to enter. Of course, little is in English, so we went through it pretty quickly, just enjoying the visual exhibits.
Domus – A Human Body Museum
Fascinating, but mostly in Spanish, this is the world's first museum dedicated entirely to the human species. From our evolution to our cells, the human body museum explores what makes us all alike or different.
Aquarium Finisterrae
The seal colony is one of the highlights at this aquarium. With a local focus, Finisterrae Aquarium is a bit different from others we have been to around the world.
Picasso Museum
The Picasso Museum is in the actual home that Pablo Picasso and his family lived in beginning in 1891. He spent four years of his childhood in A Coruna.
More fun things to do in La Coruña
Coastal walkways and artwork
We found ourselves strolling along the Paso Maritimo on more than one occasion. This coastal pedestrian promenade runs 9 kilometres (5.6 miles) from the main beaches to the Torre de Hércules and through the Old Town.
It passes modern buildings as well as historical ones, as well as bringing visitors to the aquarium and human body museum.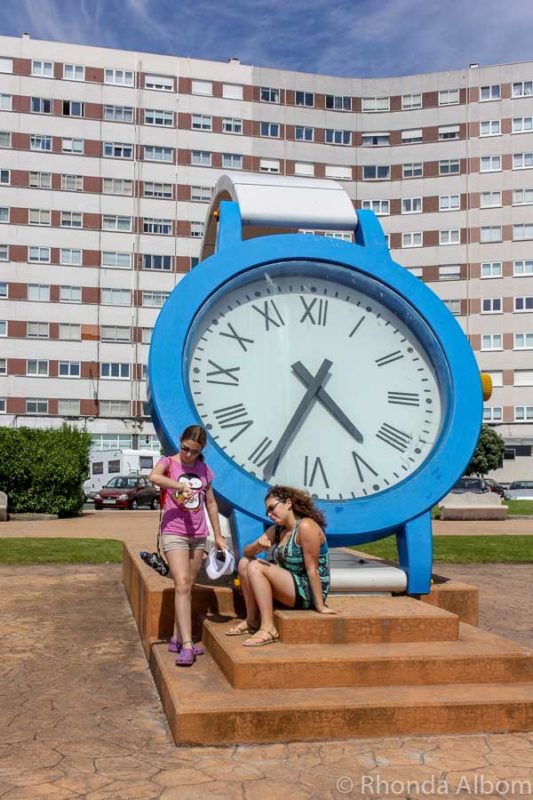 La Coruña marina
Some of the more unique buildings are found along Avenida Marina and are built with enclosed balconies. Called galerías, they are responsible for A Coruña's nickname of the 'Glass City'.
Plaza del Humor
As the name implies, this is a fun place. A small plaza with ground carvings of older cartoons like Pedro and Pablo (Fred Flinstone and Barney Rubble), the Pink Panther, or artists like William Shakespear and Bernard Shaw.
Monte de San Pedro
San Pedro Hill is another spot to get fabulous views, and the best way to get up here is in a huge spherical glass funicular. One can enjoy the views all the way from the bottom to top in this panoramic lift.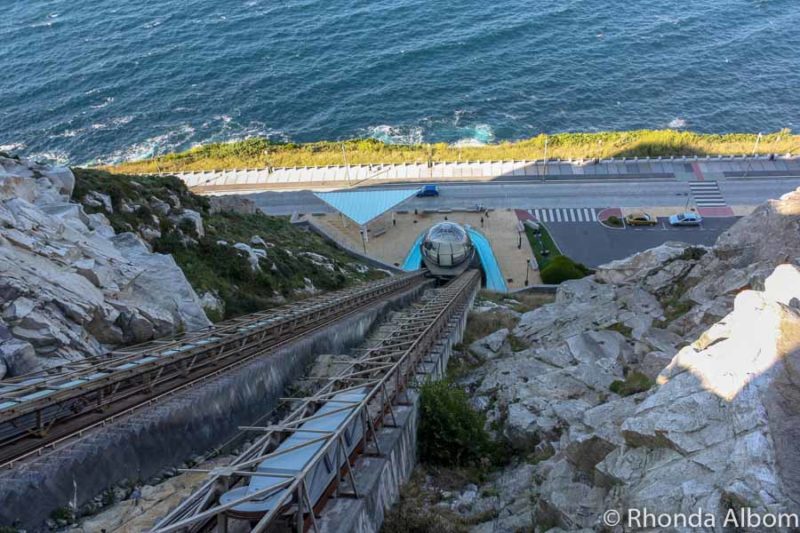 Check out the old town
We walked through the Old Town admiring many of the churches.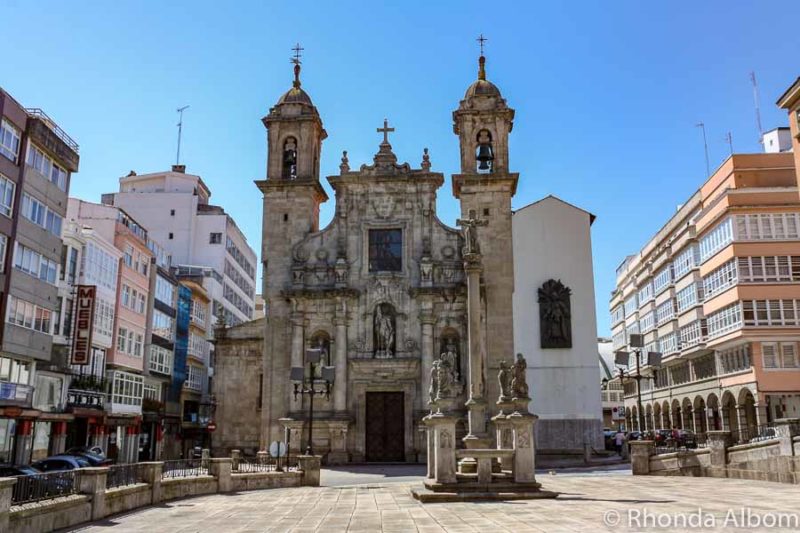 Take a walking tour of La Coruña
(in Spanish or English)
This is a town made for walking and exploring.
City sponsored tours of the old town (In Spanish)
The city offered tours of the Old Town during the Medieval Fair. While they marketed them as multilingual, we were the only English speakers in our group. In the beginning, our guide would speak in Spanish for a while, and then give us a shorter explanation in English. As the tour progressed, it was nearly all in Spanish. I only recommend this tour to people who understand Spanish.
Group Tours of Both the Old and New Towns (In English)
This two-hour walking tour starts in Maria Pita Square and covers the key sites of the city, including the Old Town and local markets. The tour is available at multiple start times in either English or Spanish.
Street fairs and festivals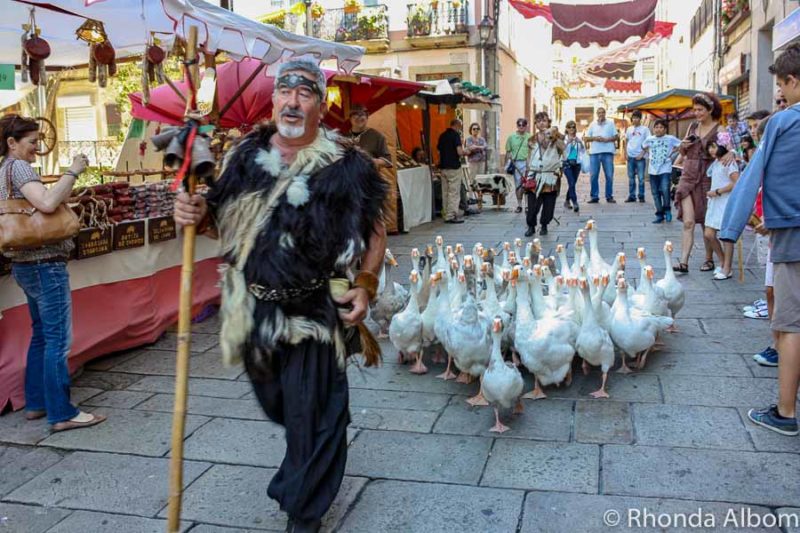 A Coruna is the place to be in the summer if you are a fan of festivals. There is one nearly every weekend.
Two that we really enjoyed were the Medieval fair in the old town and a regional food fair along the water.
We loved everything about the Medieval fair, including the aire of wonderment created by the hosting it in the old town, therefore surrounded by medieval buildings. We highly recommend it if you are in town while it is going on.
Also quite fun, we stumbled upon a festival as we were walking along the waterfront in La Coruna one evening. While my conversational ability in "Spanish" is certainly acceptable, my ability to speak anywhere in the Galicia region is non-existent, which is why I never learned the name of this August festival. Each booth offered a different food and we opted to try the octopus, a local treat.
More on visiting La Coruña
Go on a road trip from La Coruña to Santiago de Compostela or Lugo
Save on your trip with these resources
These are our go-to companies when we travel. We believe this list to be the best in each category. You can't go wrong using them on your trip too.
Flights: we use Expedia for the best and cheapest flight options.
Accommodations: we use Booking.com (hotels), VRBO (self-contained), or Hostelworld (budget).
Cars (gas or electric): we use RentalCars to search for deals and dealer ratings.
Campervans or Motorhomes: we use Campstar where Albom Adventures readers get a 3% discount.
Motorcycles: we have heard good things about BikesBooking.
Private guides: we love the private guides at Tours by Locals.
Travel Insurance: while not required, we always opt for travel insurance and start at InsureMyTrip to compare coverage plans.
Check out our travel resources page for more companies that we use when you travel.
Please share
If you enjoyed this article on things to do in La Coruña, please share it on social media, including Pinterest.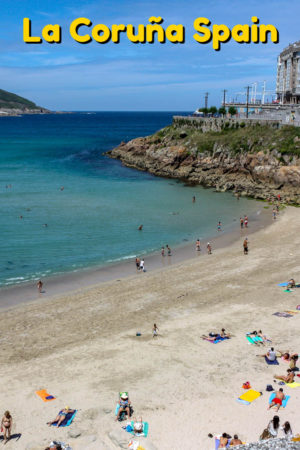 What will you do first in La Coruña?