The palaces and castles of Sintra are magical. Once the playground for the rich and royal, the remnants left for us to discover make this a fun and exciting town to explore.
Sintra is a 40-minute drive from the hustle and bustle of Lisbon, Portugal's capital city, yet entering Sintra was like turning a page in a childhood fantasy book and stepping into an enchanted village.
Prominently visible, we highlighted six palaces and castles of Sintra, each an unexpected delight.
The cultural landscape of Sintra is a UNESCO World Heritage Site, as it is the first centre of European Romantic architecture. It is home to 10 national monuments, ancient ruins, hours of hiking trails, beaches, and impressive architecture. There is no shortage of things to do in Sintra.
We had only a day in Sintra. Our highlight, Palácio Nacional da Pena (National Palace of Pena), is not the only place to visit, but clearly the most popular. One glance at the striking mix of colourful terraces, ornamental battlements, and mythological statues and this castle will pull you in like a magnet.
Palaces and Castles of Sintra
Pena Palace (Palácio Nacional da Pena)
National Palace of Sintra (Palácio Nacional)
Moorish Castle (Castelon dos Mouros)
Quinta da Regaleira
Monserrate Palace and Park (Parque e Palácio de Monserrate)
Queluz National Palace (Palácio Nacional de Queluz)
Pena Palace (Palácio Nacional da Pena)
Palácio Nacional da Pena exemplifies the the19th-century Romanticism style of architecture. It is the quintessential fairytale palace, brightly painted to complete the effect.
A must-see for any visitor to Portugal, we loved it despite the crowds.
Originally a monastery, it was destroyed by an earthquake in the mid-1700s.
Almost 100 years later, King Ferdinand II chose it as his summer playground, a residence for the Portuguese royalty in a town they were already familiar with.
It is Ferdinand that brought the whimsical quality to Pena.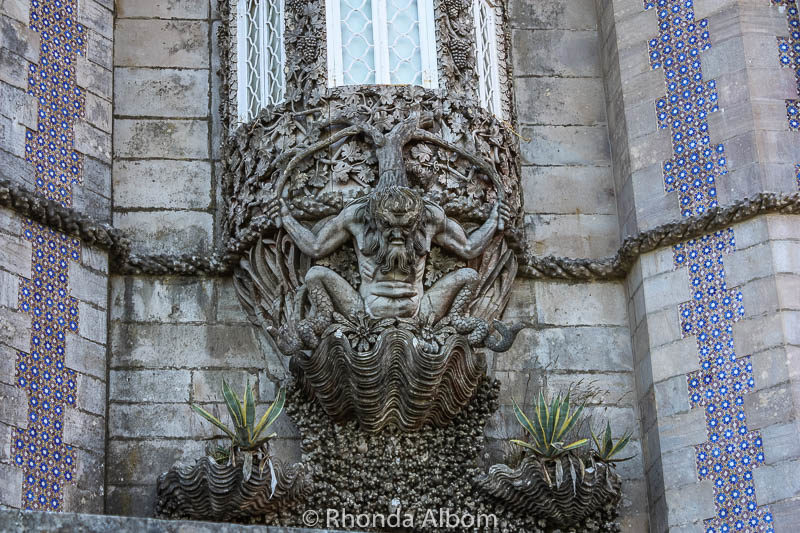 Aside from the element of fantasy, it's the attention to detail that really captivated us. Two of my favourites are the mythological Triton symbolising the story of the creation of the world holding up one of Pena's windows or the twisted columns of this neo-Manueline entrance inside the palace.
Pena gardens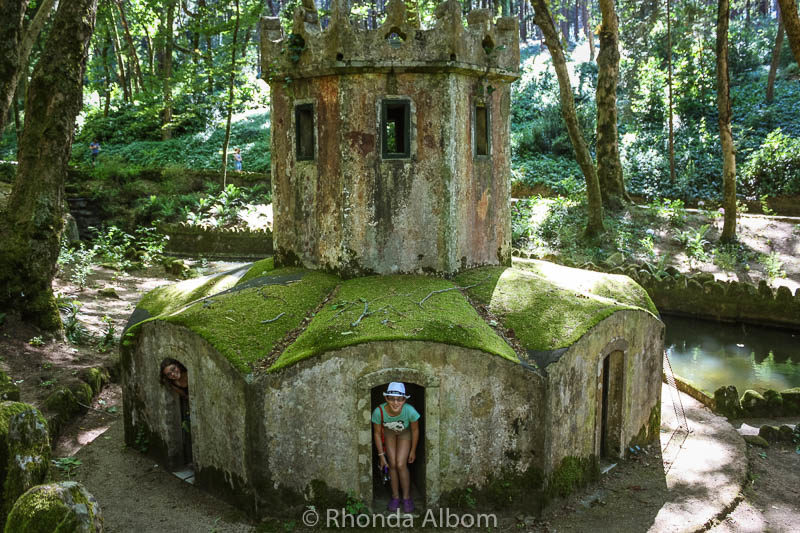 Now the downside. Pena is the most popular of the palaces and castles of Sintra, and with that comes crowds, especially in summer. As a result, there are long queues to buy tickets and get in. The best option is to get tickets online in advance. You can reserve your Pena tickets here.
Similarly, parking is difficult at the palace. There is a low-cost shuttle bus that runs from the entrance of Pena Park to the palace and back down. Otherwise, it's a 20-minute easy but uphill walk.
We opted to walk up the hill to reach this masterpiece standing out amongst the palaces and castles of Sintra as a favourite of visitors.
Through the 200 hectares of lush green forested park, we got occasional glimpses of the colourful palace. Bright and cheerful, it feels welcoming and inviting.
Note that tickets to Pena have timed entry. Reserve tickets for Pena Palace here.
Tickets to the other castles on this page can be reserved here.
National Palace of Sintra (Palácio Nacional)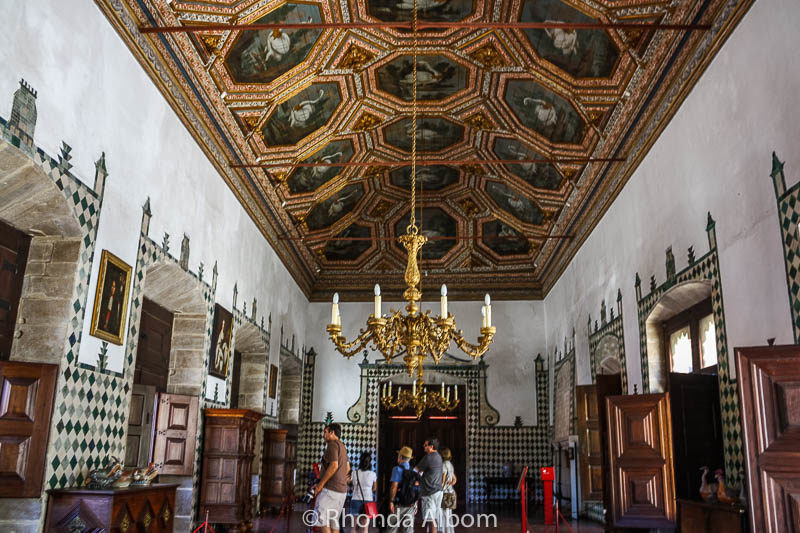 The Palacio National de Sintra (National Palace) is in the centre of the historic district.
You can't miss it along the cobblestone streets that also lead to shops, restaurants, and other tourist destinations, intermixed with old homes and businesses.
It is one of two Moorish palaces / castles of Sintra, the other being the ruins of the Moorish Castle (see below). In addition, the National Palace has Gothic, Mudéjar, and Manueline elements.
Originally built in the 10th or 11th century on this spot, it is Portugal's oldest palace. Although the current construction has none of the original architecture.
While neither the most exciting nor the most elaborate of the Sintra Palaces, it is considered to be the best preserved medieval royal residence in Portugal.
We enjoyed a self-guided tour, being impressed by the Swan room (Great Hall), and overwhelmed by the giant kitchen.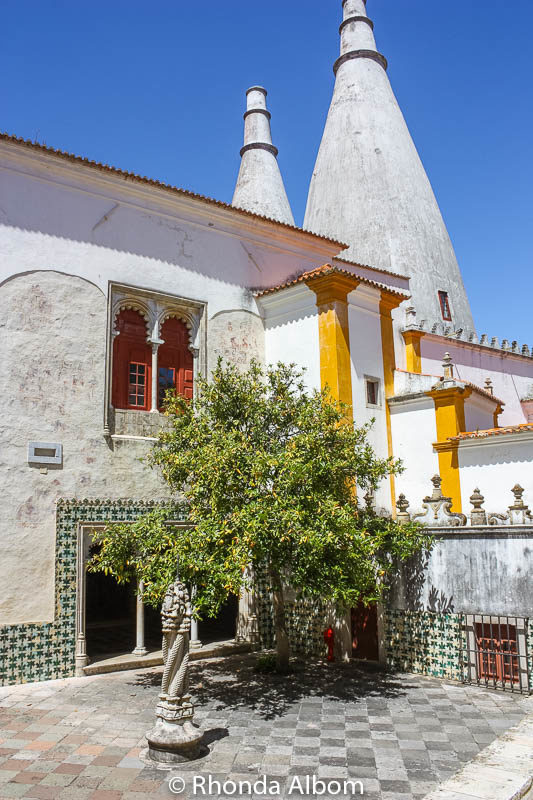 The two massive conical chimneys standing tall over the royal kitchen are the most noted characteristic of the Palácio Nacional.
Moorish Castle (Castelo dos Mouros)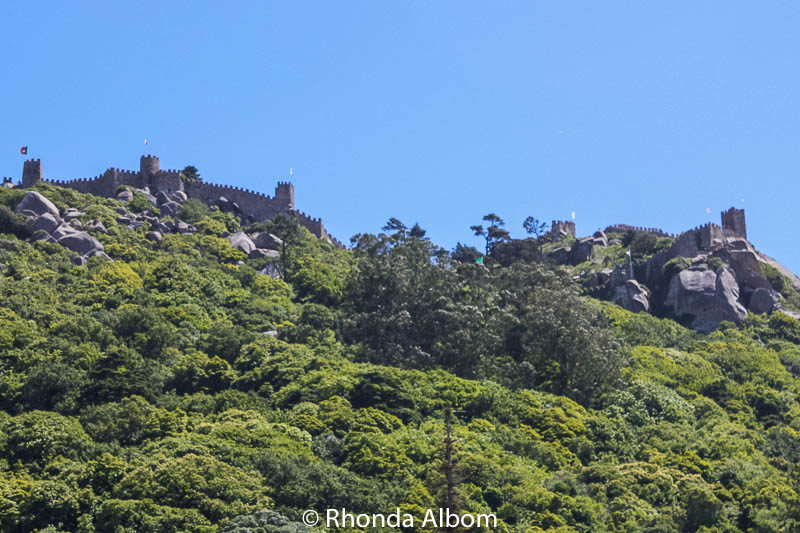 Unlike the first two castles on our list, there are only ruins remaining at the medieval Castelo dos Mouros.
That, and impressive, seemingly endless views over the town and of Pena Palace from the top of the castle wall. In fact, the first image of the Moorish Castle here was shot from Pena.
Quinta da Regaleira
Explore the palace, climb up the tower, wander the gardens, and ponder the Initiation Well of this majestic and mysterious house built in the early 1900s by Viscondessa da Regaleira.
Keep your eyes open for hidden symbols related to alchemy, Masonry, the Knights Templar, and the Rosicrucians.
Eerie and a bit mysterious, the most famous site at Quinta da Regaleira is the Initiation Well.
Circling 9 floors below ground and representing Dante's 9 circles of hell, there is a secret tunnel at the bottom. Although, it's not secret anymore as you will need to pass through it to get out.
What it was used for remains a mystery. What we know is that Instagram made it rather famous in recent years. Note that the stairs are narrow, slippery, dark, uneven, and one-way only. Therefore, be committed to finishing if you start.
Monserrate palace and park
With limited time, we had to choose, and unfortunately, we didn't get to the beautiful Monserrate palace and park.
This palace of Sintra seamlessly blends Gothic, Indian and Moorish styles into a masterpiece that we have been told is equally as stunning on the inside as it is on its exterior.
Initially built by Sir Francis Cook, it was never occupied by royalty but was rather Cook's summer home. Monserrate's extensive gardens are also worth exploring.
Queluz National Palace
The home of three generations of the Portuguese Royal Family, Queluz is another of the palaces of Sintra with a sordid past. For it was here that "mad queen Dom Maria" was hidden away.
Unlike the older palaces, Queluz represents Baroque, Rococo and Neoclassicism styles.
Lovely manicured gardens and an impressive fountain complete the visit.
We did not stop here.
Getting to Sintra
Tips for seeing the palaces of Sintra
Seeing all six castles in one day is nearly impossible. If you were to attempt it, be sure to have advanced tickets, a packed lunch, and excellent walking shoes. We enjoyed three and were exhausted by the end.
Wear comfortable shoes as you will be doing more walking than you anticipate (at least we did).
Bring a sun hat and sun protection. Despite all of the manicured gardens, there is somehow a lack of shade and plenty of sun if you hit the right days.
Consider spending the night in one of the many local hotels in Sintra.
The old town area is crowded with limited parking. While we had a car, we didn't use it. We parked once, then either walked or took a bus.
The Hop-on Hop-off Sintra bus is an ideal option. Its seven stops include: Estação de Caminhos de Ferro, Palácio Nacional de Sintra, Portão dos Lagos, Castelo dos Mouros, Palácio Nacional da Pena, Igreja de S. Pedro de Penaferrim, and Volta do Duche. Reserve your Hop-on Hop-off Bus tickets here.
Want more fairytale castles? Don't miss: 13 Fairytale Castles in Europe: Exploring Enchanting Realms
Neighbouring regions – our itinerary
We think Sintra is one of the best seaside towns in Europe. We visited Sintra amongst a handful of cities in Portugal as we drove up the coast. We started this journey as we drove south from our Costa Brava home exchange house through the centre of Spain, then headed west to Seville before entering Portugal, where our first stop was Evora.
From there, we bypassed Lisbon and headed straight to Sintra before travelling north first to Obidos and then to Alcobaca.
Save on your trip with these resources
These are our go-to companies when we travel. We believe this list to be the best in each category. You can't go wrong using them on your trip too.
Flights: we use Expedia for the best and cheapest flight options.
Accommodations: we use Booking.com (hotels), VRBO (self-contained), or Hostelworld (budget).
Cars (gas or electric): we use RentalCars to search for deals and dealer ratings.
Campervans or Motorhomes: we use Campstar where Albom Adventures readers get a 3% discount.
Motorcycles: we have heard good things about BikesBooking.
Private guides: we love the private guides at Tours by Locals.
Travel Insurance: while not required, we always opt for travel insurance and start at InsureMyTrip to compare coverage plans.
Check out our travel resources page for more companies that we use when you travel.
Save for later
If you enjoyed this article, please share it on social media and save it for later on Pinterest.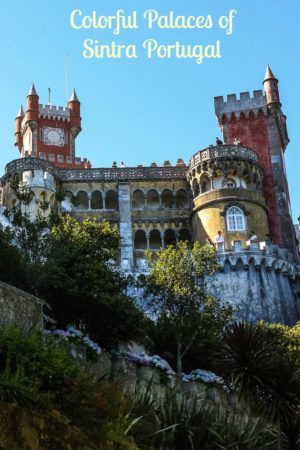 Which of the palaces and castles of Sintra is your favourite?
You might also like …
Photo Credits:
All photos on this page are either shot by our team and watermarked as such or stock images from Depositphotos.