Portugal is a treasure trove of small, picturesque medieval towns like Obidos. It's a charming walled city whose highlights can be seen in just a few hours. At only an hour's drive from the capital, it is ideal for a day trip from Lisbon.
While a day tour from Lisbon to Obidos would have spared us from a bit of confusion, we would have sacrificed our story: The sun was nearing the horizon as we drove up the narrow, windy, cliff edge dirt road that leads to the walled city of Obidos. The road was a bit nerve-racking, but when we reached the top, the real problem was staring us in the face. The closed Obidos city gates had a padlock and chain holding them tight. The sign plastered across the former entrance informed us of an upcoming Medieval Fair that starts in four days.
Our pre-paid apartment was inside those gates, the ability to turn around was difficult, and darkness was descending. However, we made our way back down, parked the car outside a pedestrian gate, and found our apartment. We shared a laugh with the proprietor, and he shared a Ginja with us. Then he went with hubby to move the car just outside a nearby walk-in entrance.
It was a long day. We opted for dinner and an early night.
Things to do in Obidos Portugal:
Study the Porta da Vila
Inside the main (south) gate into Obidos is Porta da Vila, a small Baroque chapel decorated with traditional azulejos tiles that depict the Passion of Christ.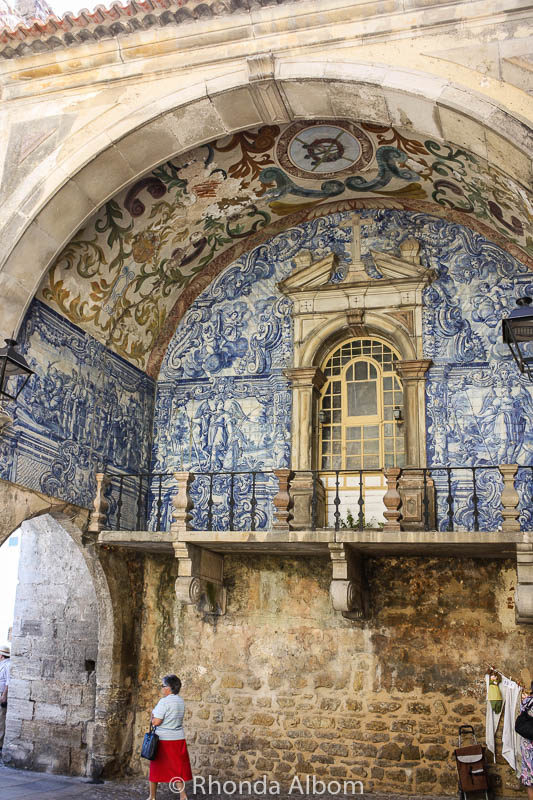 Walk the cobblestone streets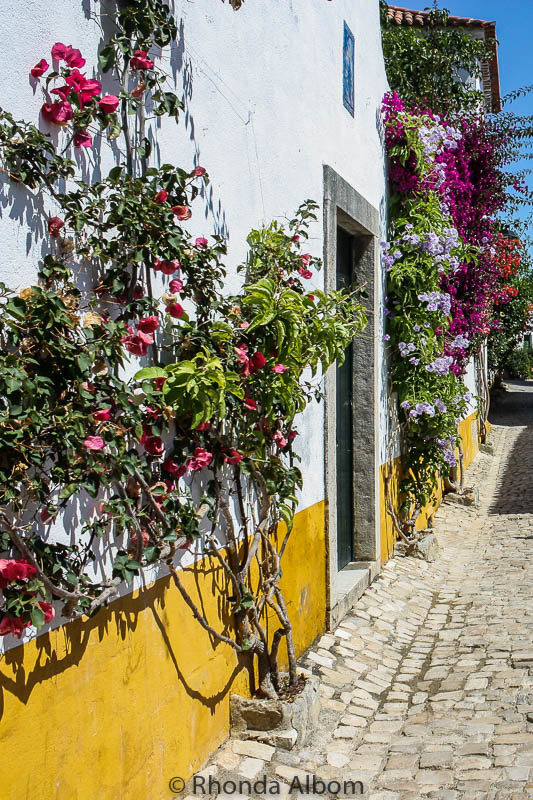 Climb the steps to the city wall and walk the perimeter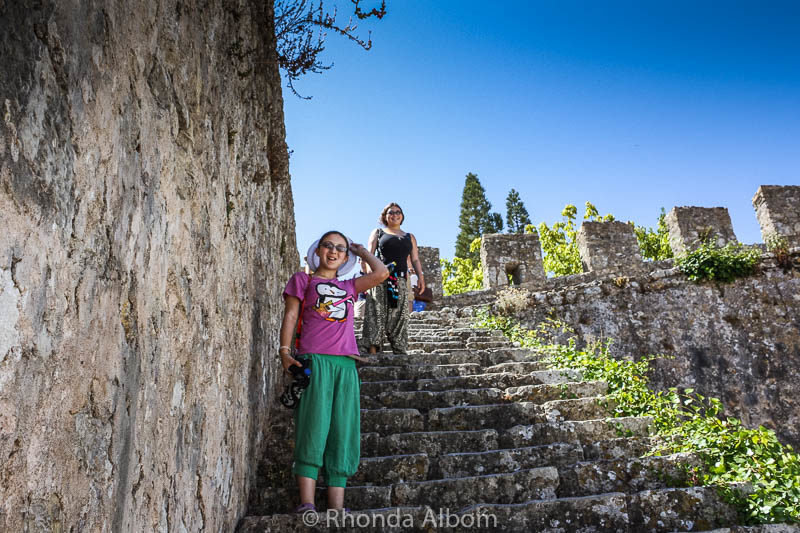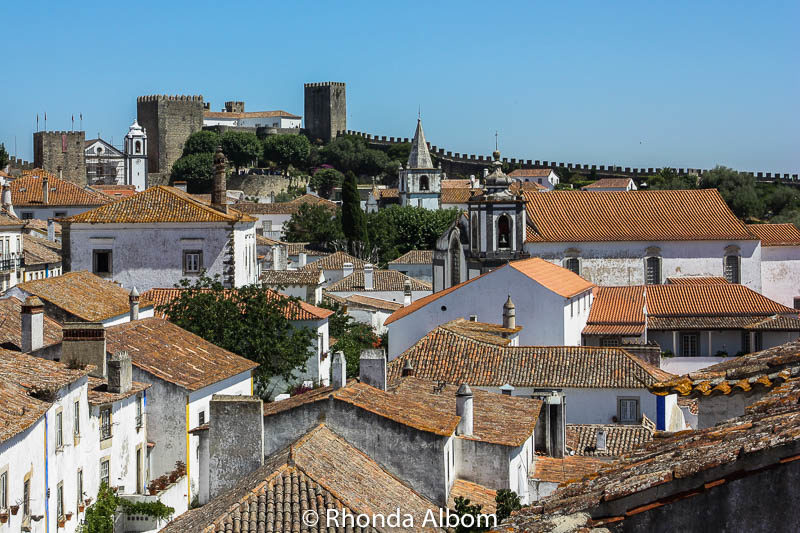 Partake in a Ginja in a chocolate cup
Ginja is a local speciality sour cherry liqueur that was initially made by Benedictine monks. For hundreds of years, the recipe remained secret until the 20th century. Ginja (more officially called Ginjinha) is now made only in the Obidos region.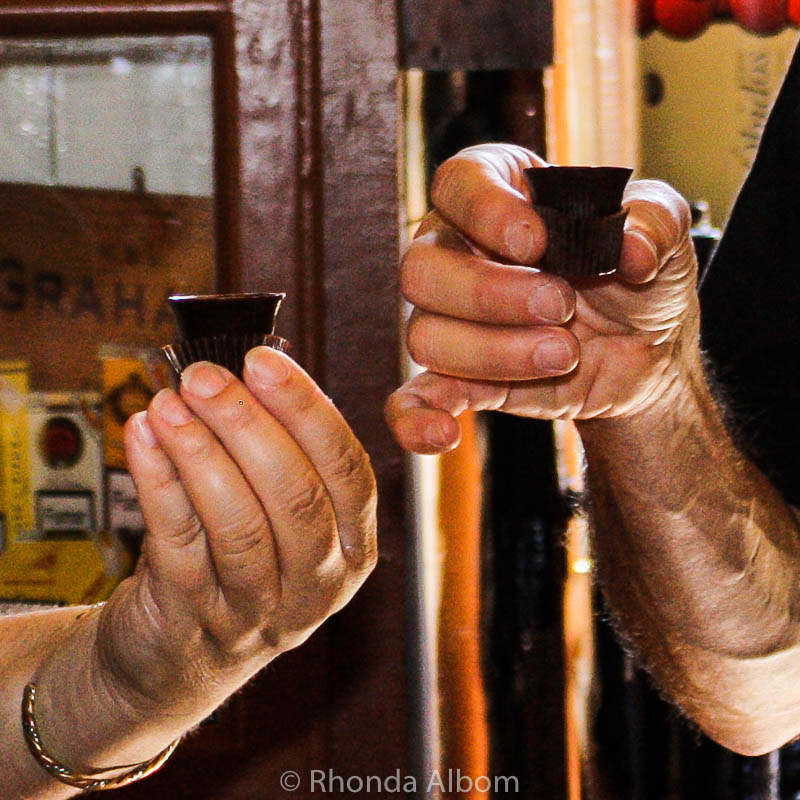 Medieval churches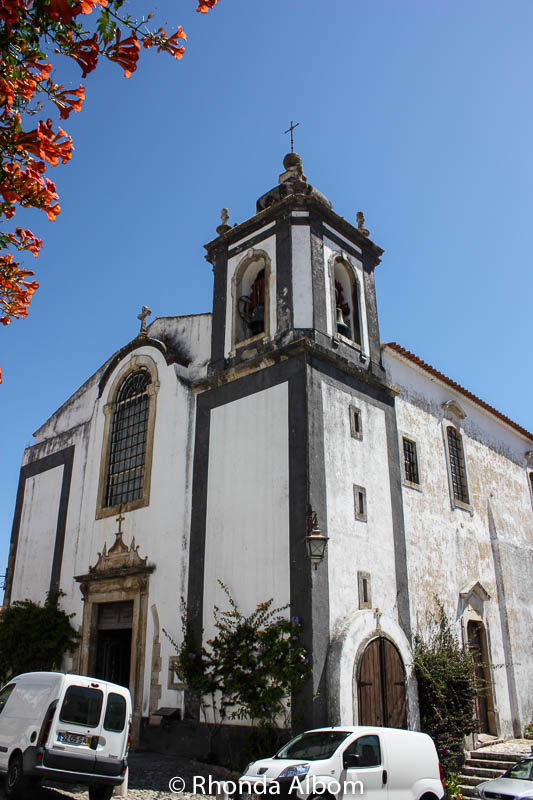 Admire the flowers that seem to grow everywhere
Stand under the Aqueduto of Óbidos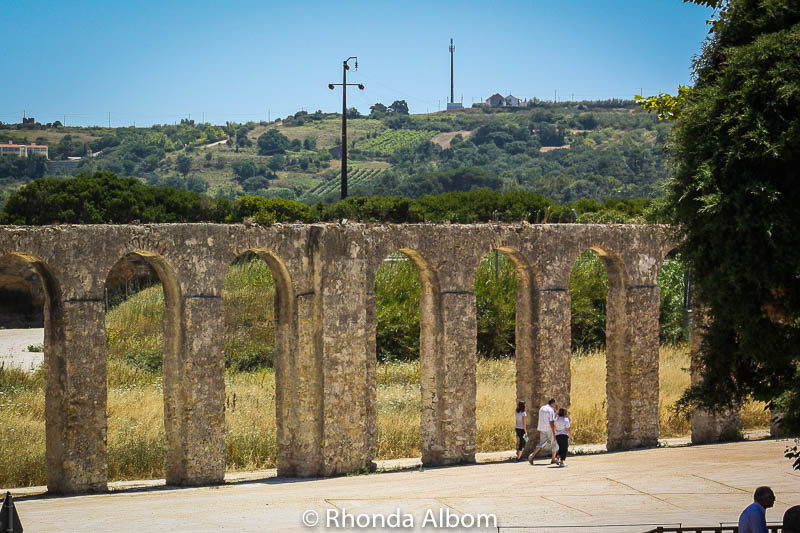 More things to do in Obidos Portugal
Fantastic and far off views will reward your efforts if you climb the stairs in the tower along the wall.
Visit the Obidos Castle (any time of year other than the few days before the Medieval festival).
If you plan well in advance, you can stay at the castle as it is now a hotel.
Enjoy the Museu Municipal de Óbidos, the local art and municipal museum.
Play golf at one of the two nearby courses.
Note: there is no Obidos parking (or driving) inside the city walls. In fact, there is only one car park, and it sits outside of the main gate to the south.
There are two festivals in this town worth note
Mercado Medieval de Óbidos
The Medieval Market and Festival takes place at the castle for three weeks each July. The next Obidos Medieval Festival takes place from July 12 to Aug 5, 2018.
The Obidos Castle closes for a time before the event, so we didn't get a chance to enter. We did enjoy a medieval festival in the medieval portion of La Coruna Spain.
The International Chocolate Festival
This delicious event takes place in April or May each year. The 2019 dates are not yet announced. Check their website for details.
Take a Tour of Obidos
Obidos is a town that can be enjoyed in just a few hours which is what makes it such a popular day trip option from Lisbon. Not only is a guide interesting, but you can also avoid the hassle of parking in Obidos.
Where to Stay in Obidos Portugal:
If you choose to spend the night, there are plenty of options. If you are planning on attending either of the festivals be sure to book early, as Obidos accommodations fill up. Here are our recommended places to stay in Obidos:
Casal Da Eira Branca – this is where we stayed and where we recommend. There are hotel rooms as well as apartments, all rustic, decorated with local wood, natural stones and tiles. Modern amenities and a shared kitchen for those who want to use it. We stayed in a huge two bedroom apartment with our own kitchen.
⇒ Check availability at Casal Da Eira Branca
Pousada Castelo de Obidos – this is the castle and generally requires booking well in advance. With modern facilities, castle room features, and breakfast included, it is your chance to stay in one of the seven wonders of Portugal.
⇒ Check availability at Pousada Castelo de Obidos
We entered Portugal from the west, our first stop being Evora followed by Sintra, Obidos, and Alcobaca before driving north and returning to Spain.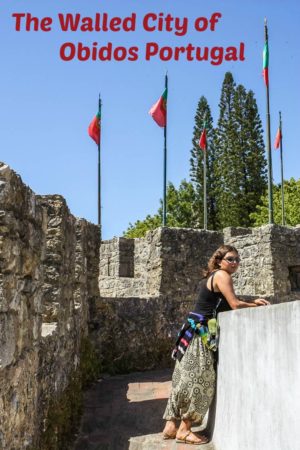 If you enjoyed this virtual tour of Obidos, please share this article on social media including Pinterest:

Have you been to Obidos?