Portugal is a treasure trove of small, picturesque medieval towns, yet Obidos stands out in the crowd. Its medieval fairytale-like old walled city and old castle attract tourists, us included.
Portions of the town's history even read like something out of a child's fantasy book. After all, the charming town was a wedding gift from King Dinis of Portugal to his new Queen in the late 1200s.
At only an hour's drive from the capital, it is ideal for a day trip from Lisbon. After all, it only takes a few hours to discover the highlights of this enchanting town.
Some of these include the cobblestone streets, terracotta roofs on top of whitewashed buildings, friendly locals, souvenir shops, and churches, all encased in a seemingly happy atmosphere.
Less prepared than we normally are when we arrive somewhere new, we had a rough start to our mini-adventure, but it all turned out great. Just one missed fact followed by an incorrect turn, and we found ourselves on the wrong side of a padlocked gate. (see below if you want the details)
Things to do in Obidos Portugal
Spend the majority of your time in the walled Medieval city
Admire the artwork at the main gate
Stroll along the cobblestone streets
Walk the city wall perimeter
Sample Ginja in a chocolate cup
Check out the medieval churches
Stay at the Obidos Castle
Join the fun at a festival
Stand in awe under the ancient aqueduct
Admire the artwork at the main gate
As you pass through the main (south) gate into the old city of Obidos, be sure to look up. Here you will find Porta da Vila, a small, intricate 18th-century Baroque tiled chapel depicting the passion of Christ.
The classic blue-on-white tin-glazed ceramic tiles, called azulejo, are commonly seen in Portugal as well as in former Spanish and Portuguese colonies. While predominantly decorative, some say they aid in interior temperature control.
In addition to admiring the Porta da Vila from the ground, you can also look down on it if you walk the wall perimeter, as seen in the second image.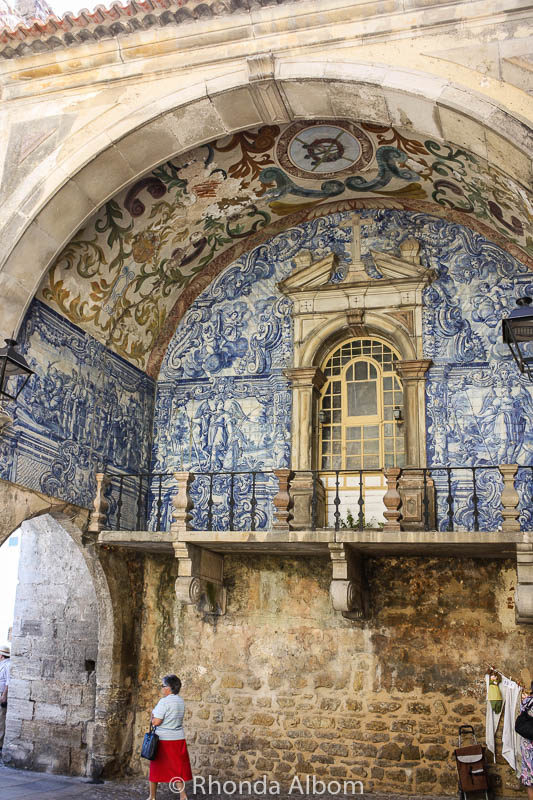 Stroll along the cobblestone streets
Once inside the old city, we were enchanted by the cobblestone roads lined with whitewashed homes. Fragrant, colourful flowers enhance the mesmerizing atmosphere. They climb the walls or fill planters on decks and balconies.
Rua Direita is the main street in the old town, and the atmosphere here is friendly and welcoming.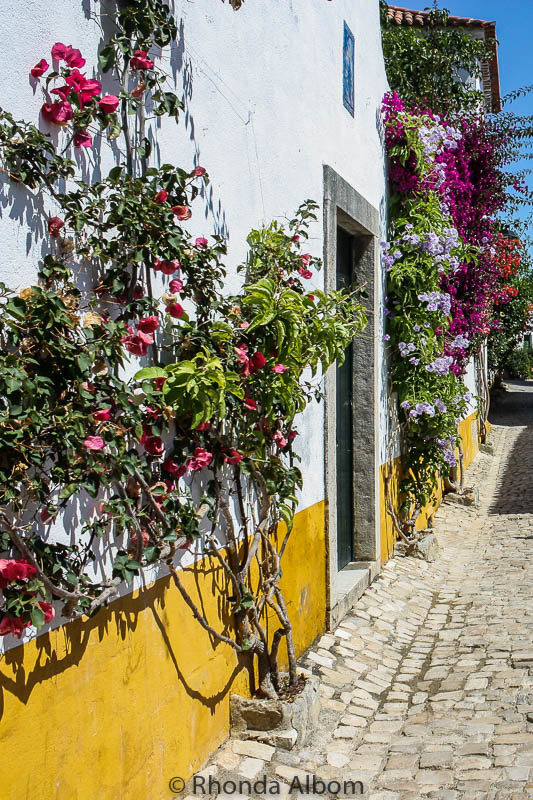 Walk the city wall perimeter
There are multiple sets of steps that lead from the ground level to the intact wall. From the rim, we got a better feel for the layout of the old city, including the sea of terracotta tiled roofs, the castle, and several churches.
Looking the other way, we also got endless views of the more spread out areas outside of the old city. The lush green gentle hills seem to define many of the regions of Portugal that we visited. From the top, we could see the imposing Santuário do Senhor Jesus da Pedra (see below for a description) outside the wall.
Some sections of the rim are a bit unnerving. The perimeter often changed as we walked, with some areas feeling very narrow, while others were missing safety rails. As a result, we slowed in areas, and it took us about an hour to walk the perimeter.
We also climbed additional steps inside one of the towers along the wall. Our efforts were instantly rewarded with fantastic and far-off views.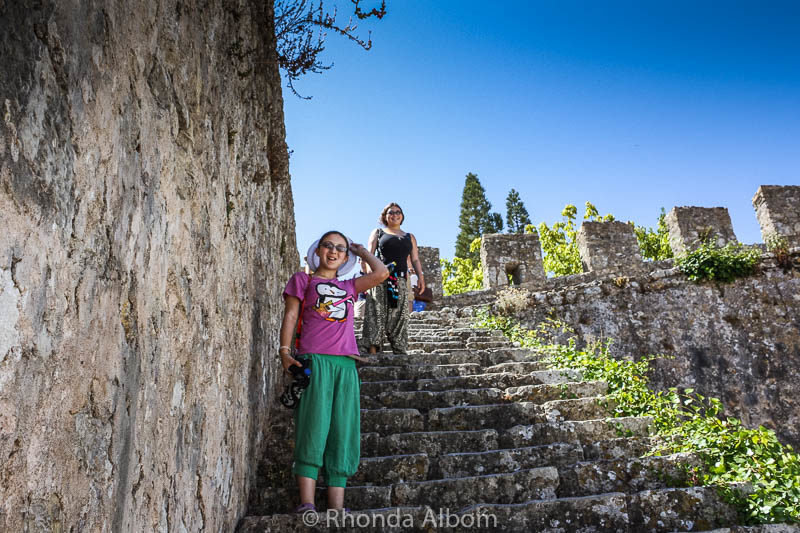 Sample Ginja in a chocolate cup
Ginja is a local specialty sour cherry liqueur that Benedictine monks initially made. For hundreds of years, the recipe remained secret until the 20th century. Ginja (officially 'Ginjinha') is made only in the Obidos region.
Ginja is even better when served in chocolate cups. Not only does it bring out and sweeten the flavour of the Ginja, but after drinking the cherry liqueur, we ate our cups.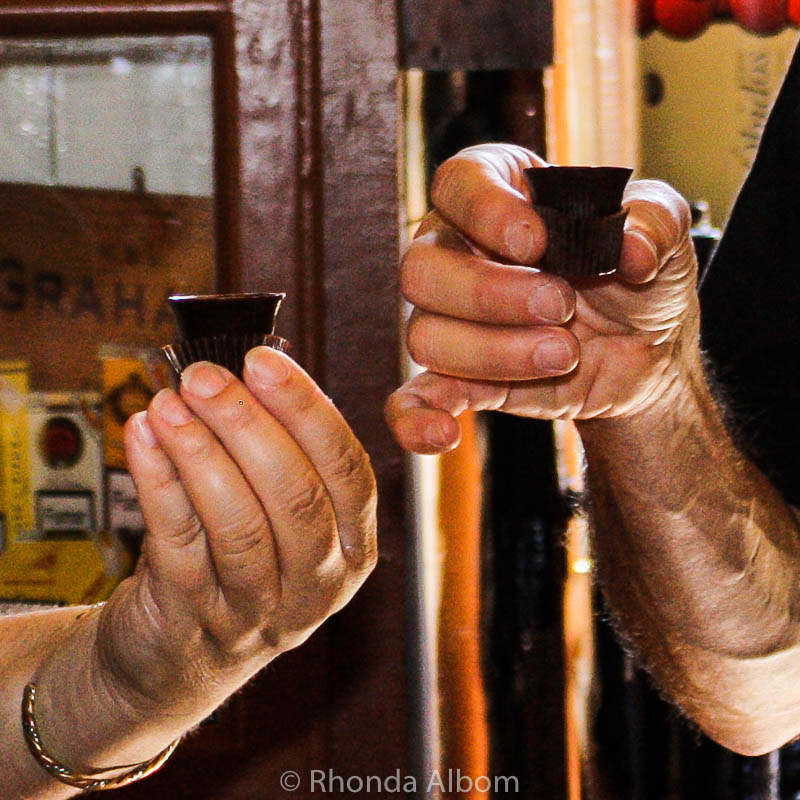 Check out one of the medieval churches
There are several medieval churches in the old city. Highlights:
St Mary's church (Igreja de Santa Maria)
Erected in 1148, it is in the main square of Obidos (Praça de Santa Maria). The church is best known for a wedding in 1441 between 10-year-old King Afonso V to his 9-year-old cousin, Princess Isabella of Coimbra.
Church of Saint Peter (Igreja de São Pedro)
Originally built in the late 13th century, it was rebuilt in 1755 after being destroyed by an earthquake.
Igreja de São Tiago
Once a medieval church here in Obidos, is now an interesting bookstore.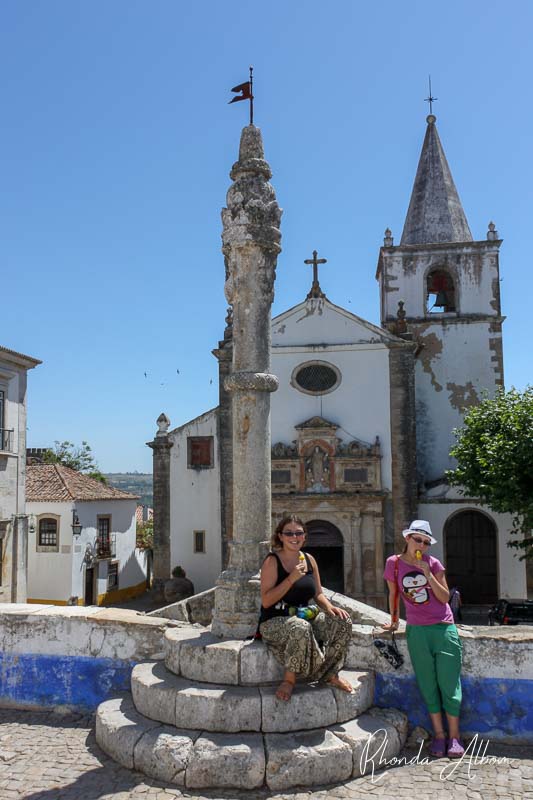 Stay at the Obidos Castle
Originally built by the Moors in the 700s, the castle was redesigned in the late 1200s by King Dinis. It has virtually looked the same since then and is listed as one of the seven wonders of Portugal.
Portions of the interior have been modernized as it now serves as one of the pousadas (heritage hotels). Staying here is the only way to get inside and requires planning well in advance. Plus, it would be pretty cool. Book your stay at the Obidos Castle here.
Even if you can't get in, you won't miss it from town. The fairytale exterior is alluring in its own right.
Join the fun at a festival
While there are plenty of weekend festivals that take place all year long, there are two festivals in this town worth mentioning, as they draw large crowds and require a bit of planning.
Mercado Medieval de Óbidos
The Medieval Market and Festival takes place at the castle for three weeks each July. We didn't plan well, arriving just before the festival. You will want to plan ahead for this event. Get the medieval festival details here.
The International Chocolate Festival
This delicious event takes place in March or April each year. Check the chocolate festival website for details, and arrive hungry!
Stand in awe of the aqueduct
On the outskirts of the city is a 16th-century, fully intact aqueduct, the Aqueduto of Óbidos, built under the order of Catherine of Austria.
Walk alongside it for a while, although it originally extended about six kilometres. Imagine the work that went into building it so long ago and take a few snapshots. While not nearly as dramatic as the Segovia aqueduct that we saw in Spain, it is still quite impressive.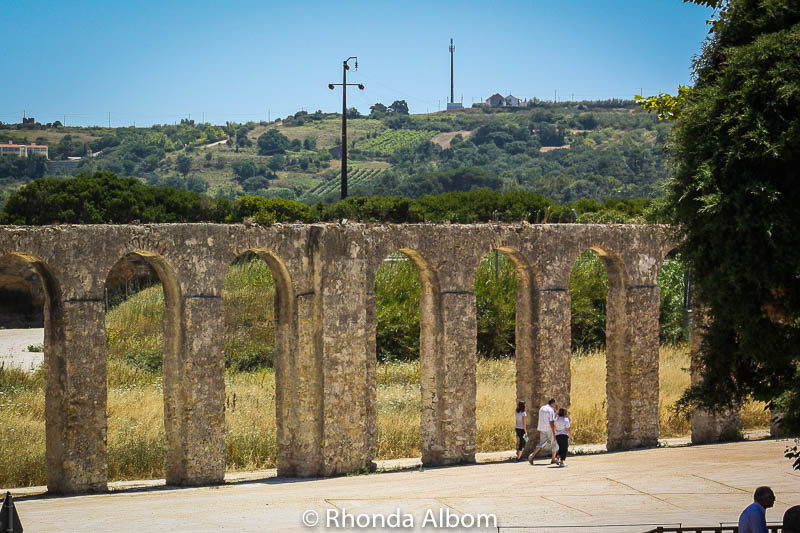 More things to do in Obidos
Visit the Obidos Museum
Museu Municipal de Óbidos is a local art and municipal museum featuring works from the 16th to 18th centuries.
Check out the old Pillory
Located in Praça de Santa Maria, the main square in old Obidos, the pillory is a reminder of public punishments in days past. Today it stands as a monument to the town's autonomy.
Santuário do Senhor Jesus da Pedra
Outside the old city, you can see Santuário do Senhor Jesus da Pedra prominently in our photo from the rim of the city wall. This imposing hexagonal Baroque church was constructed around 1750. Although its history is much longer, as legend tells us, it was built to honour an old stone crucifix placed here in the 2nd century.
Golf
Play golf at one of the two nearby courses
The Beach
Relax at one of the nearby beaches
Take a tour of Obidos
Obidos is a town that can be enjoyed in just a few hours, making it a popular day trip option from Lisbon. We love a guide for the value added through history, culture and anecdotes. Another big advantage is that parking is a huge hassle in Obidos, and having a guide means you can personally avoid it.
Our amusing adventure getting to Obidos
While often a day tour from Lisbon, Obidos is only about an hour north of the capital city and only 2 hours from our previous night's stay in Evora. It's an easy drive as long as you know in advance that the old city is pedestrian only. How we missed that key fact is beyond me.
Here's our story: The sun was nearing the horizon as we drove up the narrow, windy, cliff-edge dirt road that leads to the walled city of Obidos. The road was a bit nerve-racking, but when we reached the top, the real problem was staring us in the face.
The closed Obidos city gates had a padlock and chain holding them tight. The sign plastered across the former entrance informed us of an upcoming Medieval Fair that starts in four days but gave us no indication of how to get into the city.
Our pre-paid apartment was inside those gates, as was just about everything we came to see.
Turning around on this narrow dirt road was challenging, even for Jeff. And the descending darkness only added to the difficulty of navigating away from the cliff edge.
Of course, we did make our way back down, parked the car outside a pedestrian gate, and found our apartment. We shared a laugh with the proprietor, and he shared a Ginja with us. So, all in all, a win as we walked away with both Ginja and a good story.
Note: There is only one car park for the old city, and it sits outside of the main gate to the south.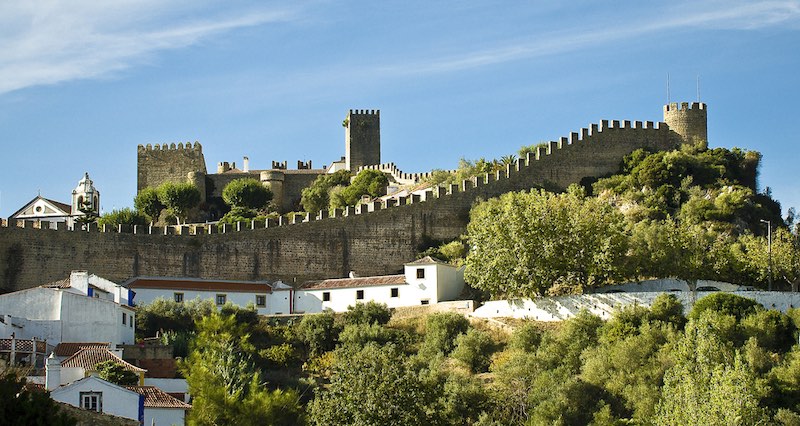 Where to stay in Obidos Portugal:
If you choose to spend the night, there are plenty of options. If you are planning on attending either of the major festivals, be sure to book early, as Obidos' accommodations fill up. Here are our recommended places to stay in Obidos:
Casal Da Eira Branca – this is where we stayed and where we recommend. There are hotel rooms as well as apartments, all rustic, decorated with local wood, natural stones and tiles: modern amenities and a shared kitchen for those who want to use it. We stayed in a huge two-bedroom apartment with our own kitchen. Reserve your stay at Casal Da Eira Branca here.
Pousada Castelo de Obidos – this is the castle, and it generally requires booking well in advance. With modern facilities, castle room features, and breakfast included, it is your chance to stay in one of the seven wonders of Portugal. Note that accommodations in the days during the medieval festival will book well in advance. Reserve your stay at the Obidos Castle here.
Save on your trip with these resources
These are our go-to companies when we travel. We believe this list to be the best in each category. You can't go wrong using them on your trip too.
Flights: we use Expedia for the best and cheapest flight options.
Accommodations: we use Booking.com (hotels), VRBO (self-contained), or Hostelworld (budget).
Cars (gas or electric): we use RentalCars to search for deals and dealer ratings.
Campervans or Motorhomes: we use Campstar where Albom Adventures readers get a 3% discount.
Motorcycles: we have heard good things about BikesBooking.
Private guides: we love the private guides at Tours by Locals.
Travel Insurance: while not required, we always opt for travel insurance and start at InsureMyTrip to compare coverage plans.
Check out our travel resources page for more companies that we use when you travel.
Save for later
If you enjoyed this article, please share it on social media and save it for later on Pinterest.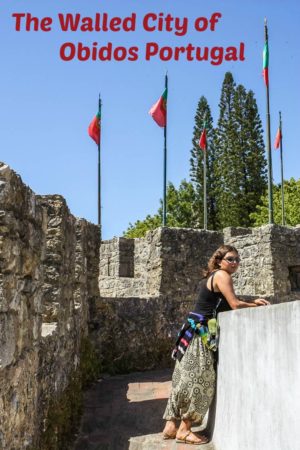 Have you been to Obidos?
Photo Credits:
All photos on this page are either shot by our team and watermarked as such or stock images from Depositphotos.