Portugal is a treasure trove of charming medieval towns like Obidos. Only an hours drive from the capital, Obidos is one of several frequently recommended day trips from Lisbon. For us, it was a destination as we passed through this lush green country.
After leaving Evora, we bypassed Lisbon and spent the afternoon in Sintra before driving up the narrow, windy, cliff edge, dirt road that leads to the walled city of Obidos. Up until this point, we had loved every moment of our time in Portugal. Now the road was a bit nerve wracking, but the real problem was staring us in the face. It was the closed gates to the city of Obidos. And they were not just shut. A padlock and chain held the gates tight. The sign plastered across the former entrance informed us of an upcoming Medieval Fair which starts in four days.
Our pre-paid apartment was inside those gates, the ability to turn around was difficult, and darkness was descending. However, we made our way back down, parked the car outside a pedestrian gate, and found our apartment. We shared a laugh with the proprietor, and he shared a Ginja with us.  Ginja is a local speciality sour cherry liquor that is made only in the Obidos region.  Then he went with hubby to move the car just outside a nearby walk-in entrance.
It was a long day. We opted for dinner and an early night. Here is what we found the next morning.
More Information:
We stayed in a huge two bedroom apartment of Casal Da Eira Branca. I could have stayed here a week. I loved it.
Fantastic and far off views will reward your efforts if you climb the stairs in the tower along the wall.
The Medieval Market takes place at the Obidos Castle for two weeks each July. Unfortunately, the castle closes for a time before the event, so we didn't get a chance to enter. We also missed a medieval fair in Sintra due to time constraints, but finally got to enjoy one in the medieval portion of La Coruna.
Have you been to Obidos?
If you enjoyed this virtual tour of Obidos, please share this article on social media including Pinterest: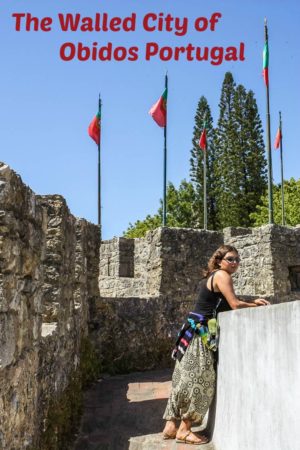 Grammarly proofread this article. (Try it for free)
Seven ridiculously simple tips that WILL improve your photos
Whether you shoot with a phone or a DSLR, let me share my secrets.
Subscribe to Albom Adventure's Travel Tips newsletter and download our free ebook: Take Better Travel Photos By Rhonda Albom