Energy levels were high as our ship pulled into the port of Istanbul. Exotic, yet familiar, it's a city filled with an extensive history, intricate architecture, gastronomic delights, and culture. Our Istanbul must-see list whittled down to seven key sites, we were ready.
Istanbul is a city that deserves more than one day, but as a cruise port, that was what we had and we made the most of it. Opting to hire a driver at the port, we presented our Istanbul must-see list, negotiated a price, and we were on our way. We are flexible and comfortable with this style of travel.
Had we been nervous travellers, a tour would have been a better option for Istanbul sightseeing. Both private or group tours offer a cushion of safety. See below for our recommendations.
Istanbul must see #1: Blue Mosque
The Sultan Ahmed Mosque (Blue Mosque) was number one on our must see in Istanbul list. We are not alone; the Blue Mosque is one of the top Istanbul attractions. One look at the over 20,000 handmade blue Iznik tiles intricately decorating the interior, and we knew it was worth the long wait to get inside. Entrance to the mosque is free, and donations are accepted.
Istanbul must see #2: Hagia Sophia
Hagia Sophia is a 6th-century masterpiece. As the world's largest place of worship, it has been a Greek Orthodox Christian basilica, an Ottoman imperial mosque, and is now a national museum. It was important to both the Byzantine and Ottoman empires. It really should be tied for #1 on this list.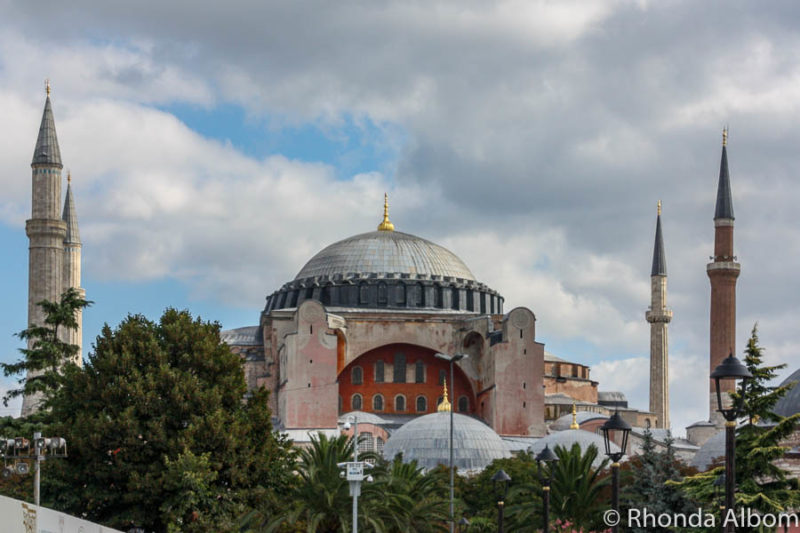 Istanbul must see #3: Basilica Cistern
Storing up to 80,000 cubic meters of water, the underground Basilica Cistern was originally built in the 4th century AD, and then enlarged in 532 AD. The four-metre thick walls and soft lighting add to the mystery created by the two giant heads of Medusa at the waterline. Basilica Cistern is a short walk from the Blue Mosque and the Hagia Sophia.
Istanbul must see #4: Hippodrome of Constantinople
Today called the Sultan Ahmet Square, the Hippodrome was once the sport and social centre of the Byzantium empire's capital city, then called Constantinople (now Istanbul). Two of the interesting features are:
Istanbul must see #5: Taksim Square
Modern Turkey's gathering place is Taksim Square, and the surrounding streets are filled with shops, restaurants, cafes, bars, and entertainment. The Republic Monument stands in the centre of Taksim Square.
Istanbul must see #6: Galata Bridge
They say sunset is the best time to walk across the Galata Bridge, but if you're like us and in Istanbul as a one day cruise port, then this might not be possible. Either way, Galata Bridge is an opportunity to get a taste of local life. The bridge spans the two sides of the Golden Horn. Its lower level is lined with restaurants and cafes.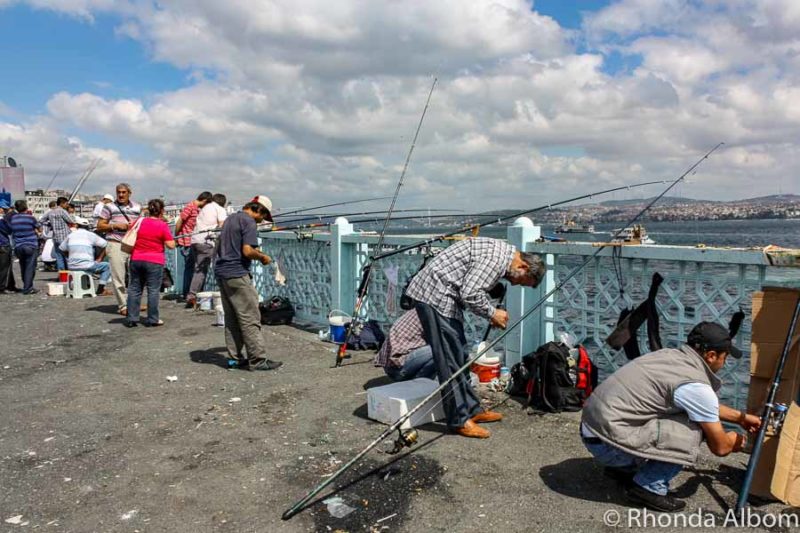 Istanbul must see #7: Grand Bazaar and Spice Market
We were in Istanbul on a Sunday, the only day of the week the Grand Bazaar is closed. However, the spice market was open, and in addition to spices, they sell clothes, water pipes (nargile), and even ice cream.
Don't forget to try something new
Carpet shopping
When we accepted the gracious offer from our guide for a cup of authentic Turkish apple tea at his cousin's shop, we hadn't realized we were about to have a carpet shopping experience. "No one comes to Istanbul to buy a carpet, but everyone leaves with one."
This said, we were made to feel welcome. They are experts at sizing us up. We were shown carpets and rugs in our price range, while others we know from the ship were shown substantially more expensive items.
The workmanship is impressive, the apple tea divine, and the overall experience interesting. It gave us another insight into the culture, something that we lack an opportunity to get when cruising as we don't spend enough time in any one spot.
Street vendors
We may not have spent long in Istanbul, but we sure ate well. For starters, I am a big fan of Turkish-style food and Turkish coffee. I had my list and then added to it. The first photo is of a street vendor near Hagia Sophia and the second is an ice cream vendor near Taksim Square. (Yes, that white creation is handmade ice cream and experiencing it should be on any Istanbul must-see list!)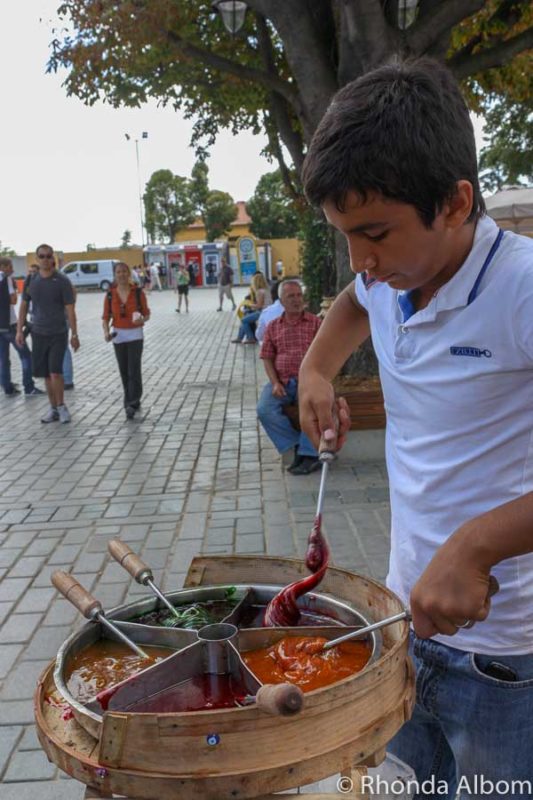 Istanbul city tours
We earn from qualifying purchases through partnerships or affiliate programs.
We were happy to find a guide at the port and explore parts of Istanbul on our own. However, if we hadn't been, we would have opted for one of these tours to show us our Istanbul must-see list.
Small-Group Istanbul in One Day Tour
This highly rated 8-hour tour hits all the highlights. In a group no larger than 14 people, you will visit the Blue Mosque, Hagia Sophia, the Basilica Cistern, Hippodrome, Topkapi Palace, and the Grand Bazaar.
⇒ Check price and reviews
Istanbul Old City Full-Day Tour
This eight-hour tour will visit most of the Istanbul must see venues. Highlights include the Blue Mosque, Hagia Sophia, Hippodrome, the Grand Bazaar, five tombs of the Ottoman Sultans, and the imperial residence of the former sultans. (Note: it does not visit the Basilica Cistern except on Monday when Hagia Sophia is closed.)
⇒ Check price and reviews
Big Bus Istanbul: Hop-On Hop-Off & Bosphorus Boat Tour
An opportunity to do it all on your own, while travelling between venues on a bus providing commentary in eight optional languages including English. In addition to the key sites listed on this page, the bus crosses the Bosphorus Bridge into Aisa to see the Beylerbeyi Palace. It also includes a boat tour on the Bosphorus River.
⇒ Check price and reviews
Or, skip-the-line entrance tickets
Know before you visit Istanbul
Ephesus is the only other city we have visited in Turkey. Both are amongst the most picturesque cruise ports we have visited.
Best deals and discounts for your travel planning needs
We earn from qualifying purchases through partnerships or affiliate programs.
Flights: When it comes to flights, we always start with Expedia.

Hotels: We use Booking.com to compare and book accommodations. Don't miss Booking.com's Late Escape 2022 Deals that save 15% or more on selected accommodations. (T&Cs apply)

Other accommodations: If you prefer B&B or self-contained type lodging, check out VRBO.

Vehicle hire: RentalCars is like a rental car search engine with no hidden costs, that lets us find the best deals on car rentals worldwide.

Private Tours: We are big fans of ToursByLocals, and use them for nearly all cities where we want a private guide.

Packing Tips: Get a free copy of our packing light checklist when you sign up for our mailing list. (We pack light, yet have everything we need.)
Find more money-saving resources and T&Cs on some of the above, check our Travel Resources page.
Please Share
If you enjoyed this quick tour of Istanbul, please share this article on social media including Pinterest:
What is on your Istanbul must see list?
You might also enjoy …