Barcelona, the cosmopolitan capital of the Catalonia region, is a city famous for its history, culture, art, and impressive architecture. Lucky for us, it was just 80km from our long-term home exchange house. While it was close enough for a day trip, we tended to delve into all the things and including the free things to do in Barcelona on multi-day getaways.
This lively Catalan gem has something for everyone. We found it an easy city to explore on foot or public transportation and rarely used our own car once we arrived. From enjoying amazing meals to relaxing at the beach or strolling through the ancient city, we love Barcelona.
While it is easy to spend money here, the city also offers a variety of free activities that can keep any traveller entertained and engaged without breaking the bank. Below is our list of some of the best things to do in Barcelona for free.
Free things to do in Barcelona
Tour the Gothic Quarter
Visit the Santa Maria del Mar Church
Enjoy free days at some of the museums
Discovering Gaudí architecture, including Sagrada Família and Park Güell
Stroll down La Rambla or Passeig de Gracia
Experience Mercat de la Boqueria
Explore El Raval
Picnic at Parc de la Ciutadella
Soak in the sun at Barceloneta Beach
Hike up to Bunkers del Carmel
Wander through Park de Joan Miró
Attend free cultural events
Enjoy the Magic Fountain show
Where to find these free things to do in Barcelona
Click the expand / collapse icon in the upper left corner of the map for the details and interactive options.
Cultural and historical things to do in Barcelona for free
While the city has an overall modern feel, there is history all around. Also, we found many of the more hidden secrets were brought alive with a guide, and we are pleased to share a few of the fabulous free tours we enjoyed.
Tour the Gothic Quarter
Wandering through the winding medieval streets of the Gothic Quarter is where I first fell in love with Barcelona, as this is where we started our exploration.
One of our better decisions, we were introduced to the old town through a free Gothic Quarter walking tour with Runner Bean. Our knowledgeable guide brought the history alive as we wandered through the winding medieval streets exploring remnants from both the Roman and medieval times, as well as the old Jewish Quarter.
Of course, today, the Gothic Quarter is also a fantastic spot for a leisurely stroll, with plenty of cafes, bars, and shops to stop and take in the atmosphere.
Visit the Santa Maria del Mar Church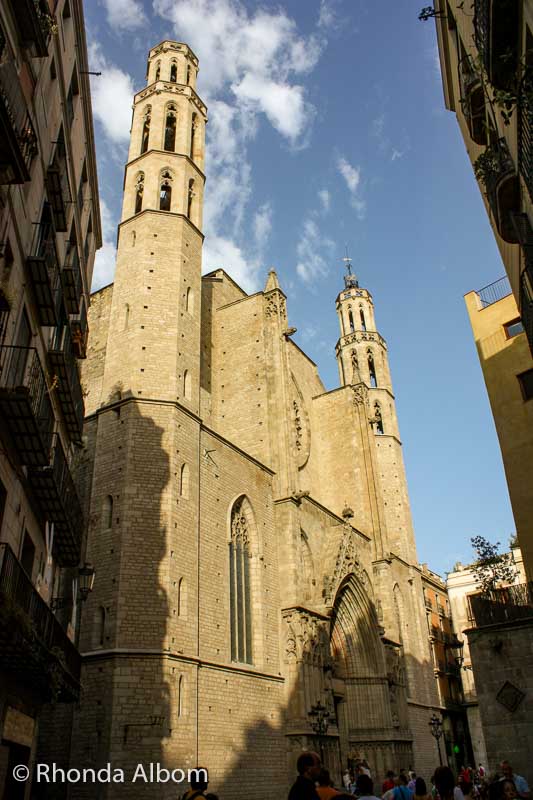 Santa Maria del Mar is a beautiful gothic church located in the Born neighbourhood, right down the street from our weekend apartment. It was also the ending point to the Gothic Quarter tour that we took, bringing us back home in time for a tasty burger lunch at our favourite spot located just around the corner, Bacoa Kiosko.
The church's construction took 55 years, and its design and architecture are a testament to the medieval period. The church's interior is breathtaking, with towering columns and stunning stained glass windows. It's changed since we have been last, and they now charge for entry and/or a tour.
Take advantage of free days at some of the museums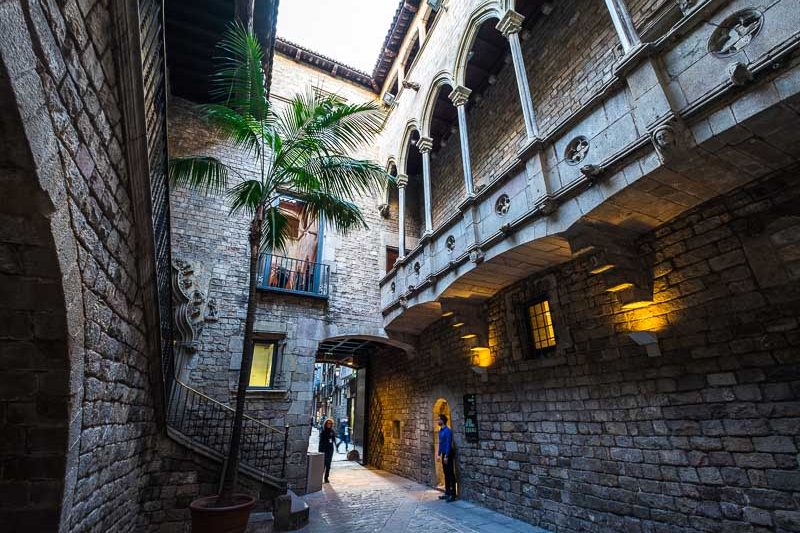 Many of Barcelona's museums and other locations offer free entry on certain days of the month or during specific hours. Plan your visit accordingly to take advantage of this opportunity to delve into art, history, and culture. Three of our favourites are:
Picasso Museum
Home to over 4,000 of Pablo Picasso's works, including some of his most famous paintings. The museum offers an insight into the life and work of one of the greatest artists of the 20th century. Free admission on every Thursday afternoon from 6pm to 9.30pm and the first Sunday of every month from 9 am to 7 pm.
Montjuic Castle
Perched on the picturesque Montjuic Hill, Montjuic Castle is a historic fortress where we enjoyed stunning panoramic views of Barcelona. Steeped in centuries of history, the castle served various purposes, including as a military fortress and a symbol of the city's resilience. Today, it stands as a popular attraction, enticing visitors with its impressive architecture and intriguing past. While access to Montjuic Castle usually requires an entry fee, there is free admission on Sundays after 3:00 pm.
National Art Museum of Catalonia
Dedicated to Catalan art from the Romanesque period to the 20th century, the museum offers a comprehensive collection of art, including paintings, sculptures, and decorative arts. The museum's building is also a work of art, with a stunning view of Montjuïc mountain. Admission to the museum is free every Saturday from 3 pm, every first Sunday of the month, and open doors days, but early online admission must be reserved for better control of capacity.
Discovering Gaudí architecture is one of the best things to do in Barcelona
We opted for and recommend the free Gaudí tour from Runner Bean as an introduction to the stunning architecture and general impact made by Antoni Gaudí (1852-1926).
The fascinating tour covers everything from his first commissioned public installation (a streetlamp in Plaça Reial) to the still-unfinished masterpiece of Sagrada Familia (see next section).
While the tour is free, tipping the guide is encouraged, advanced booking is required, and you will need to pay for two trips on the metro.
Two must-see Gaudi projects are Sagrada Familia and Park Güell, with more on both just below.
Marvel at Sagrada Família
While entry to the Sagrada Família basilica requires a fee, the exterior of Antoni Gaudí's masterpiece is a work of art in itself. Once you admire the intricate facades and unique architecture from the outside, if you have the time and budget, we recommend going inside. Either way, you can visit the crypt for free during mass.
Construction on this masterpiece began in 1882, and it should be completed by 2026. Even unfinished, the exterior is amazing, and the interior is so impressive. The only downside for us was the well over an hour wait out in the sun. So if you are going in, we recommend that you reserve your timed entry and audio tour to Sagrada Família here.
Be enchanted by Park Güell
Another Gaudí gem, Park Güell, offers free access to its stunning public areas but not its Monumental Zone. (You can reserve your skip-the-line entrance to the full park here)
It was all free when we visited. And the area now called the Monumental Zone is where we saw some of Gaudí's most innovative and creative work, including the iconic multi-coloured mosaic lizard, the stunning Hypostyle Room, and the Terrace.
Wander through the vibrant mosaic-tiled terraces and enjoy panoramic views of the city. The park's design and landscaping are inspired by nature and are a perfect example of Gaudi's unique artistic style. Park Guell offers breathtaking views of Barcelona, and it's an excellent spot to watch the sunset over the city (see our photo at the top of this page).
(We see many similarities between the works of Gaudí and the works of Austrian-born artist Hundertwasser. Do you?)
Free things to do in Barcelona: exploring neighbourhoods
A few of the must-see areas include the famous streets (La Rambla and Passeig de Gracia) and neighbourhoods (city centre and Ravel).
Stroll down La Rambla
A leisurely walk along Barcelona's most famous boulevard, La Rambla, was high on our list of free things to do in Barcelona, although for us a bit of a letdown. We started at one end, spending some time at Plaça de Catalunya, a bustling square known for its lively atmosphere and beautiful fountains, before venturing down the bustling tree-lined pedestrian walkway that is La Rambla.
We took our time to explore the various sections of La Rambla, each offering something different. The middle section had a picturesque flower market, where the aroma of blooms filled the air. Further down, we encountered quaint cafes and restaurants, tempting us with their delectable displays of local cuisine, but the one we chose did not live up to our expectations.
Our typically late-night Spanish dinner was surrounded by twinkling lights and the bustling night market, but the food lacked any originality, and to add to our disappointment, there were no street performers on that night as we have seen in similar areas in Madrid and other Spanish cities.
Experience Mercat de la Boqueria – just off of La Rambla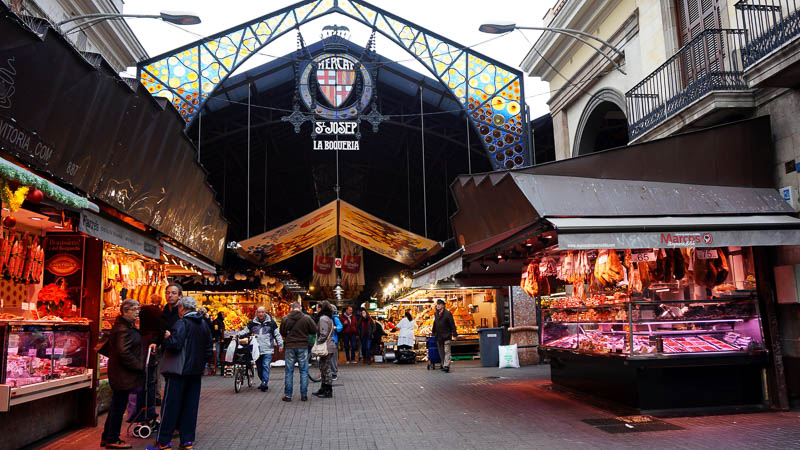 One highlight of the area was La Boqueria Market, a vibrant market located in the heart of Barcelona's city centre. The market is a foodie's paradise, with an array of fresh produce, meats, cheeses, and seafood on offer.
We love the market's lively atmosphere, varied aromas and colourful stalls, and it is a great place to enjoy a cheap lunch, with plenty of food stalls selling delicious tapas and local cuisine.
Explore El Raval and search for the Raval Cat
This eclectic Ravel neighbourhood is home to an artsy atmosphere, diverse street art, and an array of unique cafes and bars.
For us, like many people, one of the highlights was our easy search for the Raval Cat, a giant feline sculpture by Fernando Botero. It has become a symbol of the neighbourhood and a popular spot for photos.
Personally, I love the art by Botero, and we have seen other giant pieces by him in La Coruna (Spain), in New York (USA) and in Cartegena (Columbia),
Walk along Passeig de Gracia
Passeig de Gracia is one of the most elegant avenues in Barcelona, known for its high-end boutiques, cafes, and luxury apartments. The avenue is also home to some of the most impressive modernist buildings, including Casa Batlló and Casa Milà (see images above), designed by Antoni Gaudi.
The modernist buildings are a testament to Barcelona's artistic heritage and are a must-see for any architecture lover.
Relaxing free things to do in Barcelona
Sometimes, we just need to slow down, have a picnic, a swim, or a casual stroll.
Picnic at Parc de la Ciutadella and see the fountain
When we needed to escape the urban hustle and bustle, we headed to Parc de la Ciutadella, Barcelona's green oasis. It's a great spot for a picnic on the lush lawns, jogging, practising yoga, renting a rowboat on the lake, or unwind amid the beauty.
The lovely Parc de la Ciutadella Fountain was designed by Josep Fontsere and Antoni Gaudi and was built for the Universal Exhibition in 1888. The park is also home to the Barcelona Zoo (not free) and the Catalan Parlament building (reserve a free Parlament tour here).
Soak in the sun at Barceloneta Beach
Barcelona's coastline boasts several beautiful beaches, with Barceloneta Beach being the most popular. Sometimes the best of the free things to do in Barcelona include a day sunbathing, swimming, or simply people-watching by the shimmering Mediterranean Sea.
There are plenty of beach bars and cafes to grab a drink or a bite to eat or enjoy a leisurely walk along the promenade that offers fantastic views of the Mediterranean sea and often offers a bit of sea breeze.
A few more free things to do in Barcelona
Hike up to Bunkers del Carmel
For panoramic vistas of Barcelona, head to Bunkers del Carmel. This former anti-aircraft battery offers breathtaking city views and is a perfect spot to catch the sunset.
Wander through Park de Joan Miró
This park pays homage to the renowned artist Joan Miró with sculptures and art installations. It's a tranquil space to relax and admire the creative works.
Enjoy the Magic Fountain show (closed during draught restrictions)
Witness a mesmerizing display of light, music, and water at the Magic Fountain of Montjuïc. The fountain comes alive with a dazzling show every evening, creating a magical experience for all ages.
Attend free cultural events
Keep an eye out for free concerts, performances, and cultural events happening around the city. From live music to dance festivals, Barcelona's cultural scene is thriving.
Explore the nearby medieval towns
One of our favourite days was a road trip exploring several of the city's nearby medieval towns. You can follow our day trip path here. Or, if you want a slightly longer drive, head from Barcelona to the Dali Museum in Figures.
Tips for visiting Barcelona
Barcelona's public transport system is efficient and affordable. Invest in a T10 ticket, which allows ten journeys on buses, metro, and trams, making it a cost-effective way to get around.
Save money on bottled water by carrying a refillable bottle and using tap water. The tap water in Barcelona is safe and of excellent quality.
Note that the primary language of the city is Catalan, but nearly everyone also speaks Castilian (what we call Spanish), and in tourist areas, we also found plenty of English speakers.
Be aware of pickpockets in crowded tourist areas and keep your valuables secure.
Visit popular attractions early in the morning to avoid crowds and long lines. Although, if you are budget conscious, as mentioned earlier, several museums and attractions offer free entry on specific days or times. Plan your itinerary around these opportunities to make the most of your visit.
Barcelona's street food scene is delightful and often cheaper than restaurant dining. Try local favourites like churros, empanadas, or bocadillos from food stalls and markets.
Check local event listings for festivals, markets, and street fairs happening during your visit. These events often showcase Barcelona's cultural heritage and are free to attend.
Be prepared for hot and humid summers or cooler winters with occasional rain.
Final thoughts
Barcelona is a vibrant and culturally rich city, and there are plenty of free things to do for those on a budget. From exploring the Gothic Quarter to strolling along the beach promenade, there is something for everyone.
As a visitor to the city, I was amazed by Barcelona's artistic heritage and the city's unique blend of modern and historic charm. We highly recommend exploring the city on foot, taking in the sights and sounds of the city, and experiencing Barcelona's cultural richness firsthand.
Save on your trip with these resources
These are our go-to companies when we travel. We believe this list to be the best in each category. You can't go wrong using them on your trip too.
Flights: we use Expedia for the best and cheapest flight options.
Accommodations: we use Booking.com (hotels) or VRBO (self-contained).
Cars (gas or electric): we use RentalCars to search for deals and dealer ratings.
Campervans or Motorhomes: we use Campstar where Albom Adventures readers get a 3% discount
Private guides: we love the private guides at Tours by Locals
Travel Insurance: we start at InsureMyTrip as they are the best option to compare plans and find the right coverage for you.
Check out our travel resources page for more companies that we use when you travel.
Save for later
If you enjoyed this article, please share it on social media and save it for later on Pinterest.
Which are your favourite free things to do in Barcelona?
If you are touring Spain, don't miss our Northern Spain Road Trip: From the Atlantic to the Mediterranean
Photo Credits:
All photos on this page are either shot by our team and watermarked as such or stock images from Depositphotos.