Cartagena Colombia is rich in history, yet one of the most colourful and romantic cities we have visited. Whether you are here to explore, relax, or just to drink the coffee, there are plenty of things to do in Cartagena.
If you have a week or just one day in Cartagena, we want to maximise your time in this delightful city.
Cartagena is a city with a sordid and colourful history, from the pre-Colombian settlement to the Spanish conquistadors who capitalised on the gold, silver, and slave trade thus attracting pirates.
While the forts and tall city walls built to protect the city remain, architecturally, it is the Spanish colonial houses with flower-covered balconies that captured my attention.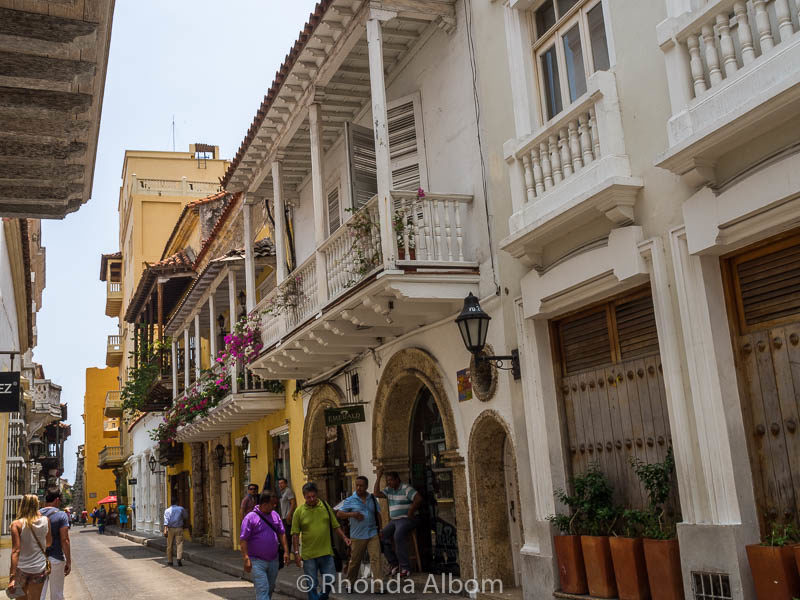 We had a wish list of top sites and hired a private driver at the port, as our visit to Colombia was a stop on our way to cruise through the Panama Canal.
Our driver's command of English was good, but not great. His slow, deliberate manner, mixed with my basic understanding of Spanish made him a fairly good choice.
While it all worked out well for us, if we could do it again, we would have prearranged a private guide.
Trending on Albom Adventures
Things to do in Cartagena Colombia
Cartagena is an eclectic mix of contemporary and old. We spent the majority of our time in the old town Cartagena often looking out at the modern city.
Fort de San Felipe De Barajas
Fort (Castillo) de San Felipe De Barajas is the largest Spanish fort built in the New World. It took 150 years to complete, with construction starting in 1639.
Visiting here is one of the best things to do in Cartagena.
Fascinating just to walk the grounds, you'll want to be sure to get into some of the old tunnels and passageways.
Sitting up on a hill, it towers over the city offering impressive views of Cartagena and the high rises in the posh Boca Grande across the bay.
While there are tours available, we recommend the guided headset tour.
Pro tip: Tickets to the Castillo de San Felipe De Barajas (the fort) are priced individually, but if you ask, they will give two tickets for the price of one.
Botas Viejas (Old Boots)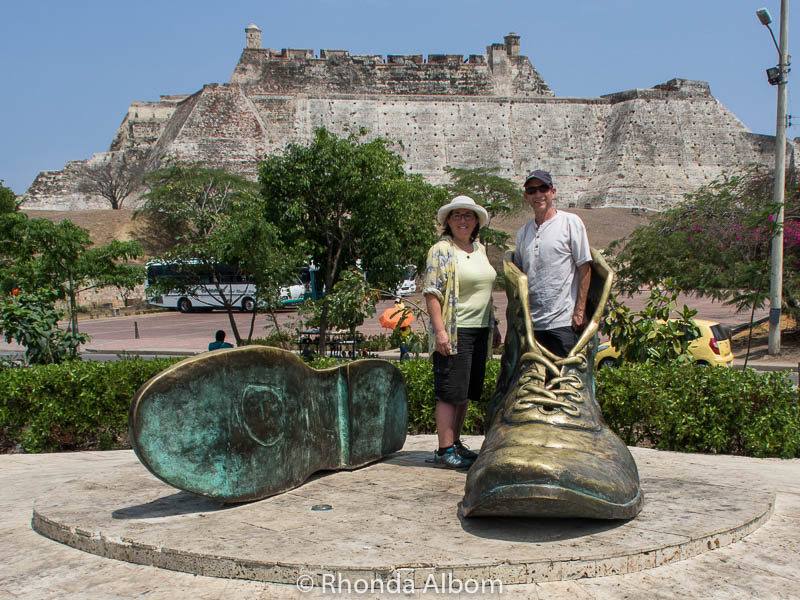 Some things are just fun, like this bronze sculpture of giant boots.
They are an icon of the city, probably made even more famous by their location, just behind Castillo de San Felipe De Barajas.
The name Botas Viejas translates to "old boots," and they were cast as a tribute to poet Luis Carlos Lopez and his poem, "To my native city".
Our guide suggested one of us get in the boot for the photo.
Cerro de la Popa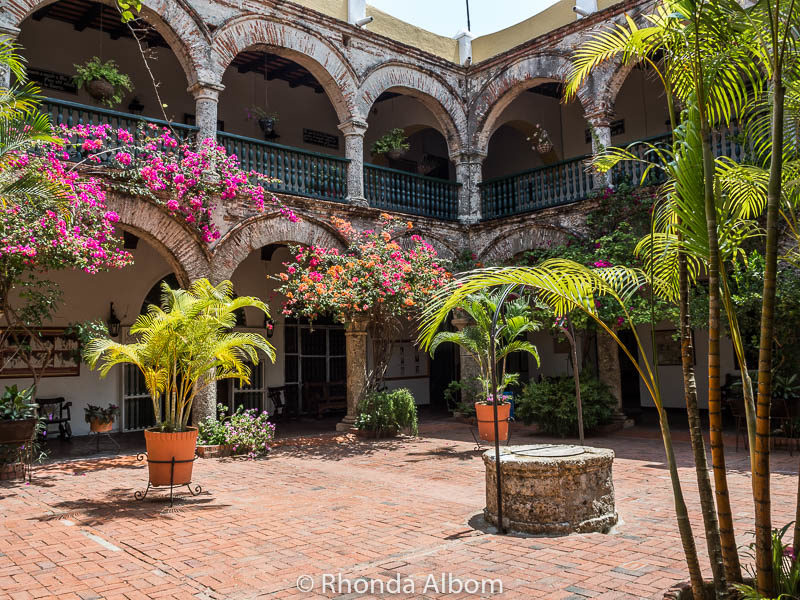 La Popa is an active monastery 150 metres above sea level. This is a must-see on any list of things to do in Cartagena.
We took a tour through this 400-year old convent (Convento de Nuestra Señora de La Candelaria).
It was built in the early seventeenth century, and the colourful courtyard was a highlight.
It's another place to get lovely views of the city below, although this time intermixed with some of the more impoverished areas.
Discover the history with a small group half-day tour that includes both Fort San Felipe de Barajas and La Popa Monastery. In addition, you will see the old shoes and take a guided walk around the historic centre. Reserve your small group tour here.
The Fort San Sebastian del Pastelillo wall
Fort San Sebastian del Pastelillo was built in the 16th century.
The sea wall is lined with old cannons, and for me, it was an instant flashback to the movie: Romancing the Stone, and the scene where Micheal Douglas escapes by diving off the cliff wall into the sea.
Las Bovedas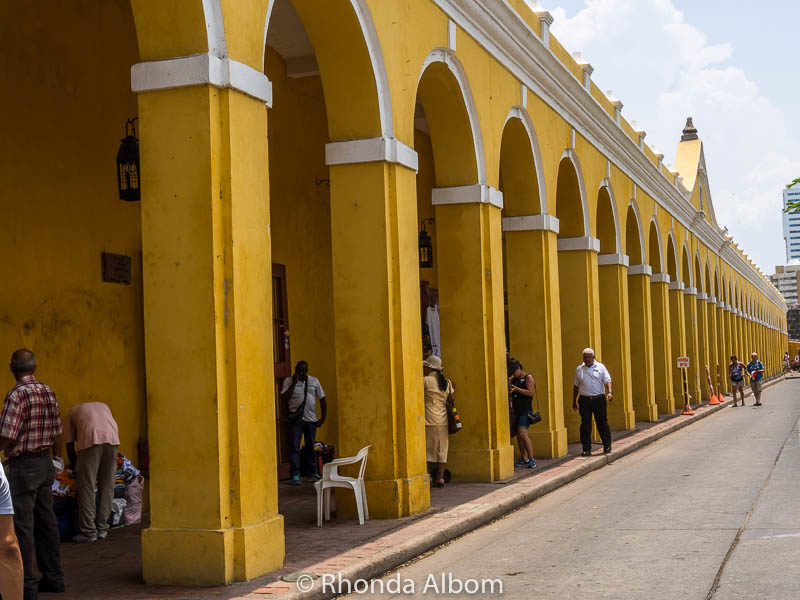 Once a prison, Las Bovedas is now the place to find whatever you are looking for. Even if shopping isn't your thing, you'll want to check out this tourist area with 24 shops.
Old town Cartagena
It's fitting that we pass through the gate under Torre del Reloj, the clock tower, to enter the old town. After all, it is inside these old city walls that time seems to slow down.
Walking the streets, we enjoyed the Colonial architecture and the details of structures built hundreds of years ago.
Some of the highlights in the old town include: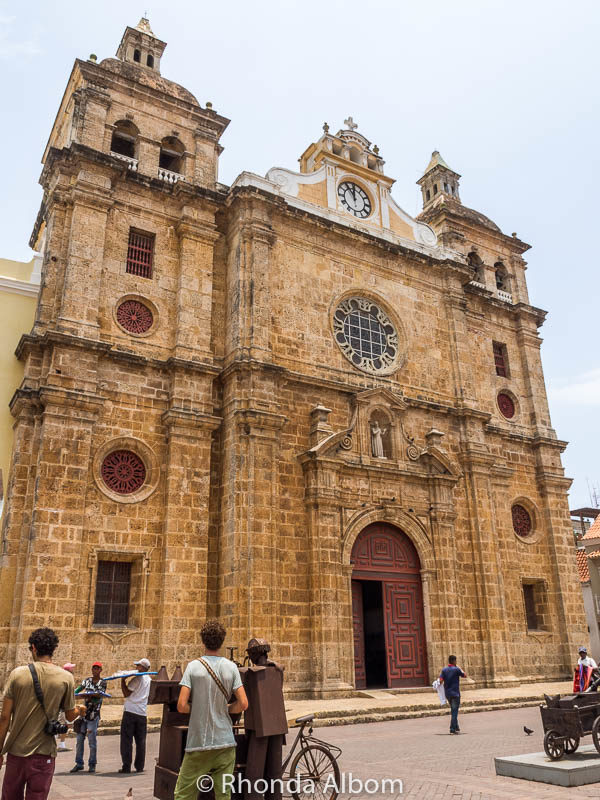 Plaza de la Aduana
A visit to the main plaza of the old town should be high on your list of things to do in Cartagena. Here you will find the city's government buildings, including City Hall which houses the mayor's office.
A protest on the day we were there was highlighted by several men who had chained themselves to a column on the mayor's office building. While this seemed dramatic to us, our guide assured us protests were common here, although not usually as massive as the ones we saw in Buenos Aires.
Statue of Christopher Columbus
It's hard to miss this 25-foot tall monument topped with an 8-foot tall statue of Christopher Columbus. He is the namesake for the country, having explored the coast on his fourth voyage in the early 1500s.
The statue is located in Plaza de la Aduana.
St Peter Claver church
The patron saint of slaves, St. Peter Claver dedicated his life to making their conditions more humane and working towards both abolishing slavery and baptising them. His remains lie in the church.
Inside, there is also a museum of colonial period religious artworks.
See Gordita in Plaza Santo Domingo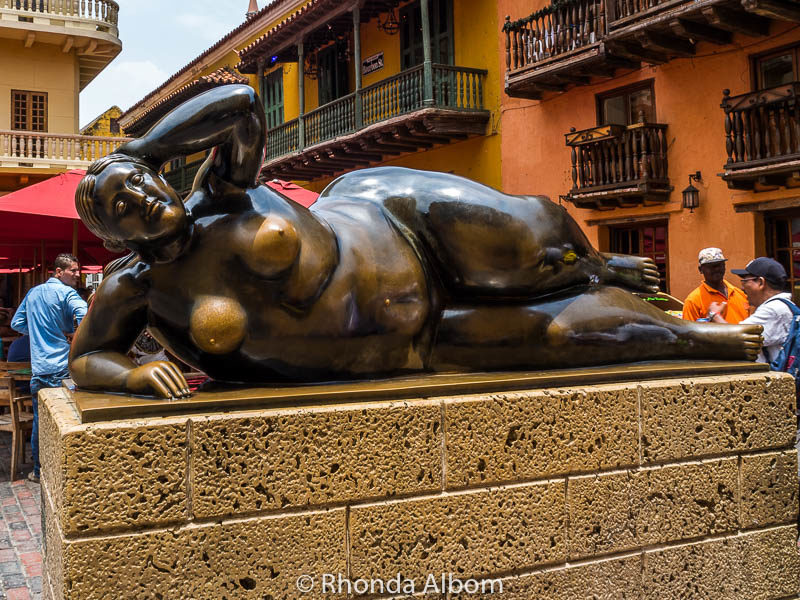 While still in the old town, we stopped for some Colombian coffee in Plaza Santo Domingo.
Here, we also found the bronze "La Gordita" (the Fat Lady) statue. Her "shiny bits" are those that are most often touched by those passing by. The statue was a gift to the city in 2000.
More things to do in Cartagena
Check out street art
While there is plenty of beautiful street art painted on the walls, it was this carving that caught my eye.
If you are like me, and a fan of street art, you can check out this collection of our favourite South American street art.
Take time to look up birdlife
We also saw toucans, peacocks, Grackles, and other interesting birds at the port oasis outside the cruise port in Cartagena.
Save time for the beach
A coastal city, you know there are plenty of beach options, ranging from popular to near empty.
If you have more than one day in Cartagena, you might want to check out its most famous beach. In fact, Playa Blanca is often listed amongst Colombia's most beautiful beaches.
About an hour from Cartagena, it's often best to go with a guide. We haven't been, but took time to read reviews. Our next visit to Cartagena will include this highly rated tour to Playa Blanca that includes transport and lunch.
Pablo Escobar's former house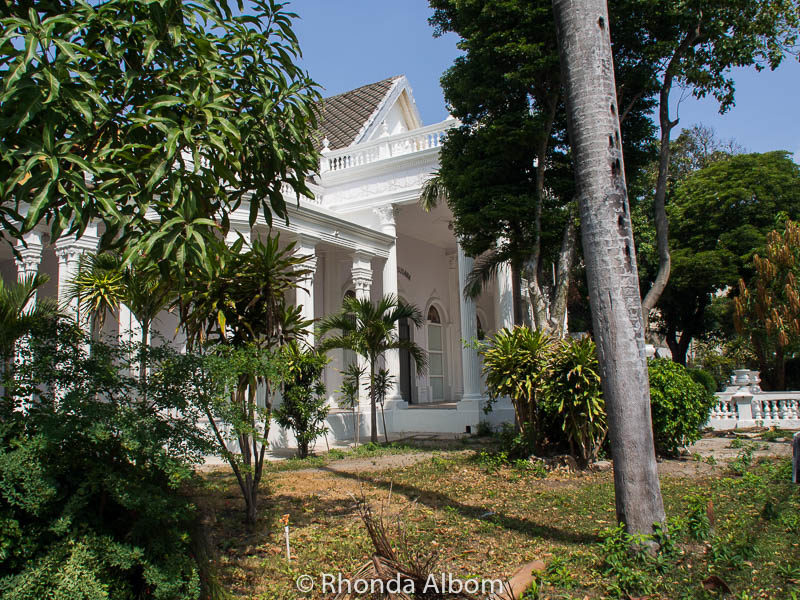 While I don't think Pablo Escobar's former house is really a tourist attraction, our driver made it one.
In reality, I think he was just setting us up for a joke: He began by making a point about the lack of drug cartels in Cartagena. But, as our car turned a corner, the driver identified Pablo Escobar's old house. Giggling, he added he now lives in a much smaller space – in the cemetery.
Don't miss our basic South America safety guidelines here.
Tips for visiting Cartagena
American dollars are in demand and accepted just about everywhere we visited.
Colombian coffee is some of the best in the world.
Tipping in restaurants and coffee shops is customary and "done from the heart." We couldn't get a straight answer as to the percentage, but we have found 10% to be customary in other South American cities and used that as our guideline.
Check out these general tips for visiting Colombia.
If you arrive via cruise ship, allocate time to enjoy the birds and other animals at the port oasis at the Cartagena cruise port grounds.
We hired a driver for the day from inside the dock. The prices appear regulated, and our driver had us pay his "boss" when we returned. Importantly, we pre-selected what we wanted to see.
Cartegena is one of my favourite cities to cruise into as it is one of the more picturesque ports around the world.
Read Next: 25 Tips for Cruising that Everyone Should Know
Save on your trip with these resources
These are our go-to companies when we travel. We believe this list to be the best in each category. You can't go wrong using them on your trip too.
Check out our travel resources page for more companies that we use when you travel.
*World Nomads provides travel insurance for travellers in over 100 countries. As an affiliate, we receive a fee when you get a quote from World Nomads using this link. We do not represent World Nomads. This is information only and not a recommendation to buy travel insurance.
Save for later
If you enjoyed this article, please share it on social media including pinning this on Pinterest:
Have you been to Cartagena? Is this how you imagined the city?