Iglesia Capuchinos (Church of the Capuchins) captivated us on our first night in Cordoba Argentina. Bold and reaching up to the heavens, it is a masterpiece against a black sky. Staring at it in wonder, I didn't realise that in less than 24 hours I would be on top of one of those towers.
By day, the Capuchinos Church was even more impressive. Pastel bricks, elaborate decor, and the huge statues seemed to welcome us.
Although we arrived near the end of the siesta (fabulous custom of an afternoon rest.), we could see a small group inside the locked gate. Their guide invited us into the group as he was about to lead them on a tour into the towers, out under the buttresses, and along gargoyle-protected rails.
Despite the tour being in Spanish, we never pass up opportunities like this. While Sarah is fluent in Spanish, I am barely conversational. Therefore, we believe all the information below is accurate, although some of our translated interpretation is a bit loose.
First, be inspired …
Note: Based on world conditions, we advise checking official channels including cancellation policies prior to booking. Also, with often reduced capacity, booking ahead becomes more important.
Courtyard and exterior of Iglesia Capuchinos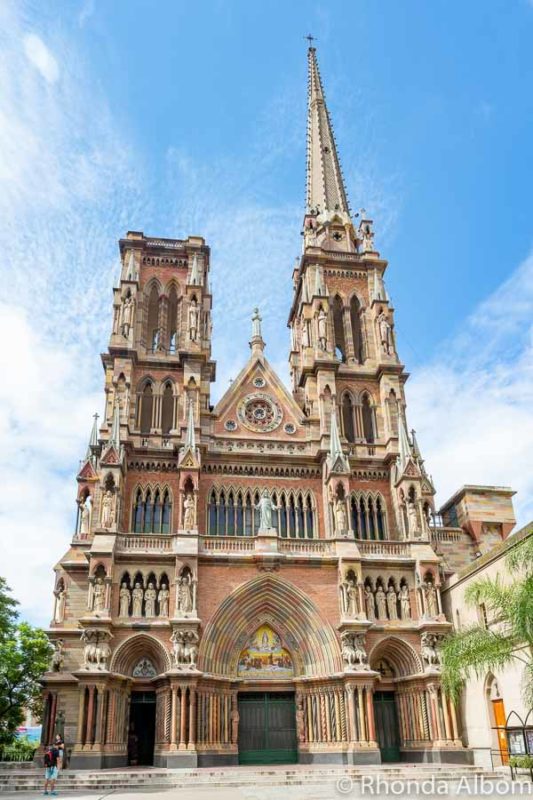 With locked gates behind us, our tour began in the courtyard, looking up at the massive church and discovering the symbolism of the intricate decor on its faces.
Our guide started at the bottom. Of the 70 pastel columns, 24 are smooth to represent strength and faith. Statues of both Moses and Jesus stand next to the main door of Iglesia Capuchinos.
In the next tier, we find Atlas on each column, holding up the building. Above that are the twelve apostles, followed by twelve windows, one for each of the apostles. Next are the four virtues: prudence, justice, fortitude, and temperance. Continuing up, we see four windows for four of the archangels: Gabriel, Raphael, Uriel, and Miguel, who are in charge of the earth's four cardinal points.
The dramatically different towers are also symbolic: one representing man, the other god. The truncated tower reminds us of our mortality, while the 53-metre tall tower represents the souls that ascend to the heavens.
Iglesia Capuchinos nave
Next, we entered the building and found ourselves standing at the back of the nave. Its intricate details are reminiscent of older cathedrals, although this one was built in the 20th-century. Interestingly, each of the twelve ceiling panels depicts the stars in the sky on the first of each consecutive month in 1930, the year the artist painted it.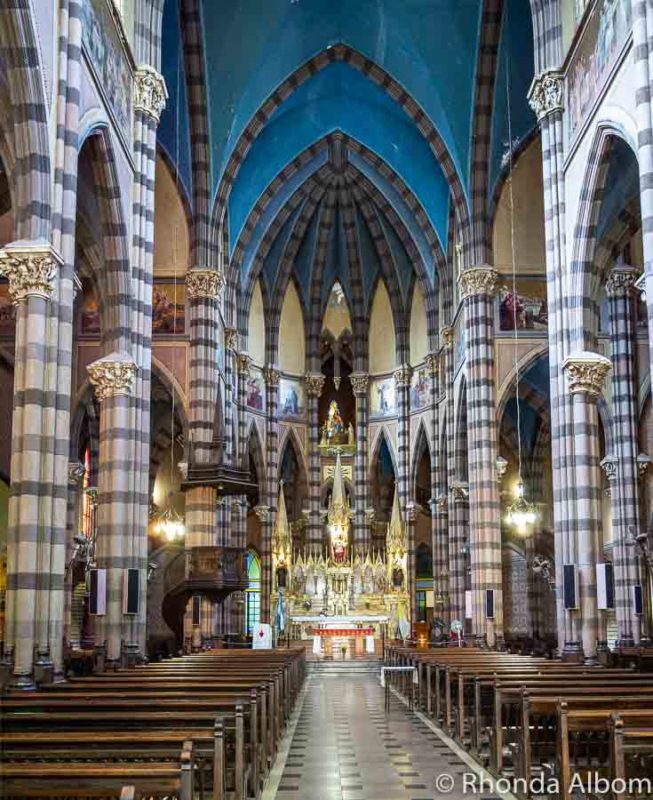 There are animals at the base of the various columns, which if I understood our guide correctly, represent hell. However, the animals higher on the columns have nicer meanings. There are elephants for power and strength, lions for protection, and ravens for good.
Outside beneath the buttresses
Our Capuchinos Church tour brought us up a flight of stairs to a triforium, then through a normally locked door to the catwalks outside along the rails. First, we passed the archangels and the statue of Jesus in the centre. Then, we walked under buttresses and could look back at one of the towers.
Still outside, we walked along a catwalk-type path that had a name we couldn't translate. Around the corner, we found the gargoyles and a huge stained glass window. Each gargoyle had a different face, and all faced outward, protecting the church. As they are normally a feature of medieval cathedrals, I was delighted to see them here.
Climbing up the Iglesia Capuchinos tower
Next, after making a donation, our guide took us through another locked door, this one leading to three consecutive narrow spiral flights of stairs up into the tower.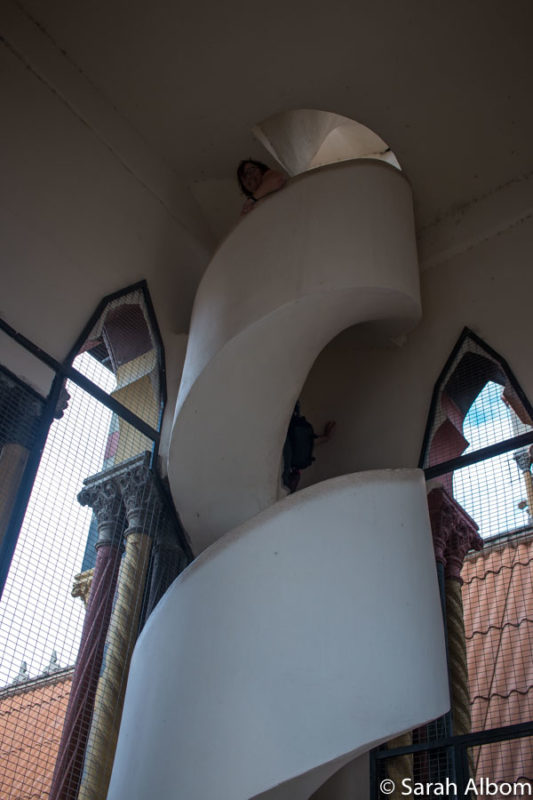 The last flight of stairs had only a single narrow rail. Once at the top, we crouched through a small door and instantly knew it was worth the effort. Tall office buildings, apartments, and the main community centre (Paseo del Buen Pastor) dominate this modern section of town, but the highlight of our view was the other tower.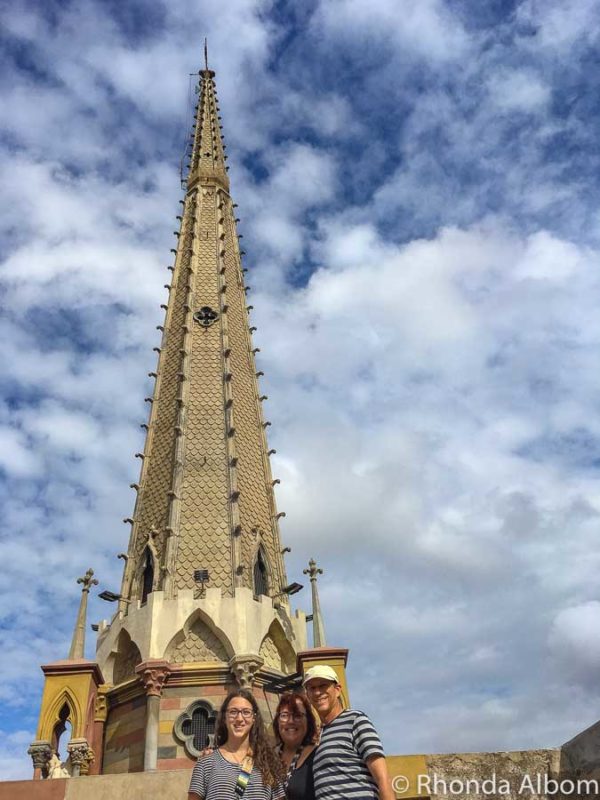 It seemed as though we stayed up here quite a long time. By this point in our tour, I think there were only seven of us remaining. Perhaps the donation scared off the others, but it wasn't very much (about $4.50 USD). When our tour ended, the guide suggested one more area to explore.
A radiating chapel in a triforium behind the Capuchinos Church nave
Up another massive staircase, we found a beautiful golden radiating chapel above the main ambulatory.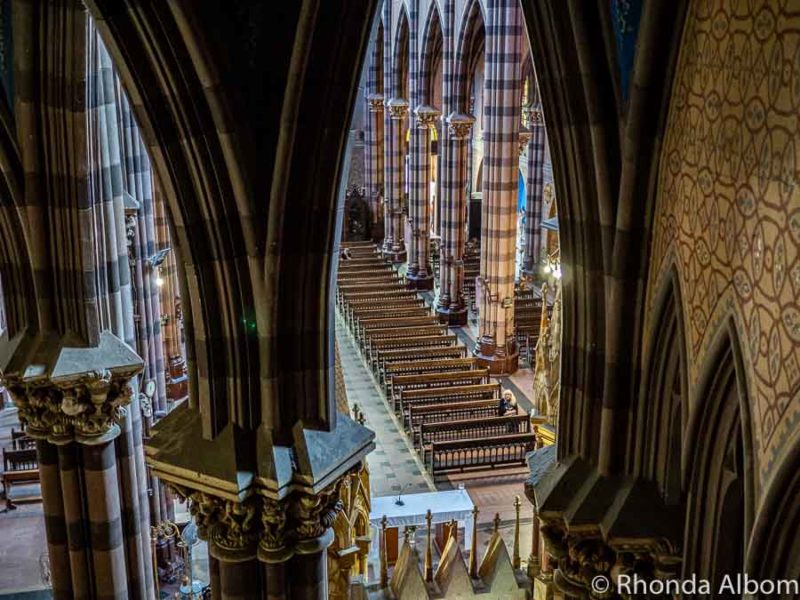 Who are the Capuchins?
We earn from qualifying purchases through partnerships or affiliate programs.
Capuchins are Franciscans. Inspired by St Francis of Assisi, they strive to serve the poor and preach the Gospel. They live a simple life of prayer, brotherhood, and ministry, actively engaging in the world. The order was first established in 1525 in Italy, and today there are over 11,000 members worldwide, making it one of the largest segments of the Catholic Church.

Read more about the Capuchin lifestyle from The Life of St Veronica Giuliani, Capuchin Nun or Saint Padre Pio: In the Footsteps of Saint Francis.

There is a famous Capuchin crypt in Rome.
What does this have to do with my coffee or those adorable Capuchin monkeys?
It turns out, both the names for my daily cappuccino latte and the adorable capuchin monkey are derived from the shade of brown used in the Capuchin cloak worn by the friars.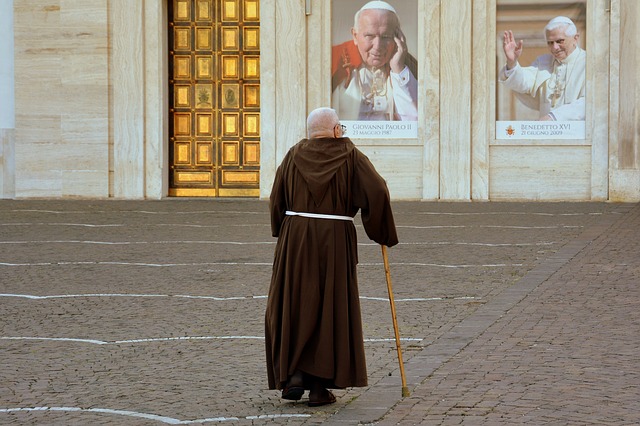 More on Iglesia de los Capuchinos Cordoba
Construction of this elaborately detailed neo-Gothic church began in 1926. Although Iglesia Capuchinos opened in 1933, the addition of its final tower was in 1980. More recently, a restoration project took place in 2016-2017.
Architect Augusto Ferrari designed and built the church using elements of both Gothic and Romanesque styles.
Touring Iglesia Capuchinos in English
Our tour was in Spanish.
If you are looking for an English-speaking tour in Cordoba that includes the Iglesia Capuchino, the only one we have found is a private tour with the option of going inside the Capuchin Church towers. It also visits many of Cordoba's key sites. Check prices for a Private Cordoba City Tour
Practical information on visiting the Iglesia Capuchinos
Iglesia Capuchinos stands at the corner of Obispo Oro and Buenos Aires Street in Cordoba Argentina.
This section of town is New Cordoba.
The Church of the Sacred Heart of Jesus is the original name of this Capuchin Church.
For the most current information, you can follow the church's Facebook page; however, it is in Spanish.
This tour is just one of many interesting things to do in Cordoba, Argentina's second-largest city by population, and one of its oldest. We visited as part of our nine-week South American adventure.
Best deals and discounts for your travel planning needs
We earn from qualifying purchases through partnerships or affiliate programs.
Flights: When it comes to flights, we always start with Expedia.

Hotels: We use Booking.com to compare and book accommodations. Don't miss Booking.com's Getaway 2022 Deals that save 15% or more on selected accommodations. (T&Cs apply)

Other accommodations: If you prefer B&B or self-contained type lodging, check out VRBO.

Vehicle hire: RentalCars is like a rental car search engine with no hidden costs, that lets us find the best deals on car rentals worldwide.

Private Tours: We are big fans of ToursByLocals, and use them for nearly all cities where we want a private guide.

Packing Tips: Get a free copy of our packing light checklist when you sign up for our mailing list. (We pack light, yet have everything we need.)
Find more money-saving resources and T&Cs on some of the above, check our Travel Resources page.
Please share
If you enjoyed this article, please share it on social media including Pinterest.
Have you visited Iglesia Capuchinos in Cordoba Argentina?