Chiloe is a rugged, windswept Chilean Island defined by ancient myths and traditions. South America's second-largest island boasts old fishing villages intermixed with incredible nature. Sixteen of its over 100 island churches have been declared UNESCO World Heritage sites that draw visitors from around the world. However, it was the penguins and palafitos (stilt houses) that inspired us to tour Chiloe Island.
It's not a huge island. However, the highlights are a good distance from each other. Generally, if you are trying to tour Chiloe as a day trip, you need to pick between penguins at Puñihuil or stilted houses in Castro.
Trying to do it all had us in transit for over eight hours of a long fifteen-hour day. Was it worth it? Read on, and you decide.
Let Chile inspire you …
Things to do in Chiloe
Take a boat to see the Chiloe penguins
The three tiny volcanic islands just off the west coast of Puñihuil are the only known shared breeding place in the world for Humbolt and Magellan penguins. And, getting there is half the fun, the process comparable to our penguin visit in Isla Damas.
After purchasing boat tickets, we were fitted with lifejackets and given ponchos. Anchored near the shore, the boats wait as we are pulled to them upon a metal cart that holds up to 10 people. There is no best spot to sit, as the captain turns the boat for penguin viewing. TIP: Step off quickly just before a wave crashes over the base of the cart, or like me, you will have wet shoes, socks, and pant legs.
Despite the choppy water and pelting rain, the boat was surprisingly smooth. Waddling uphill, jumping down, or diving into the sea, they are adorable birds.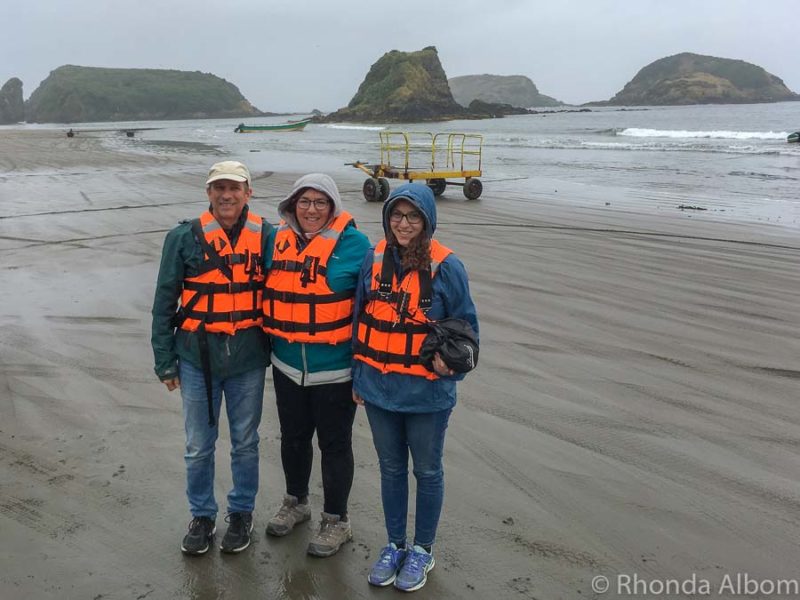 Tour Chiloe churches
The colourful small wooden churches that dot the island were often built by fishermen and shipbuilders and served as navigational aids for them. They represent the fusion of European Christian architecture and Chilean coastal traditions. Interestingly, like their boats, the churches are built without nails utilizing various kinds of wooden joints. Built on high ground, the majority of churches have south-facing entrances to keep the rain out. Sixteen churches on Chiloe Island have been declared World heritage sites.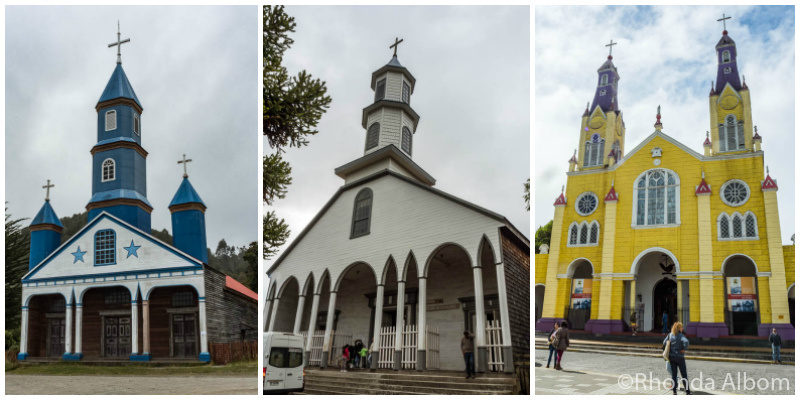 View the Chiloe Palafitos (stilted houses) in Castro
Called palafitos, these waterside houses are built on cypress pillars in the Gamboa neighbourhood. They were originally built during the logging boom in the late 1800s. Most are homes, although there are now hotels and restaurants that are in palafitos.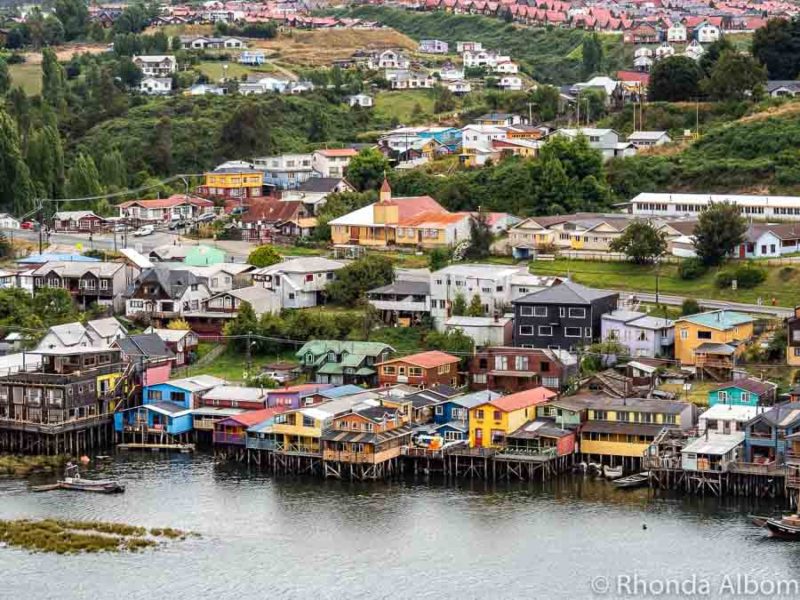 Shop handcrafts at the artisanal markets
There are several artisan markets on the island, the most famous being the Sunday Handicraft Fair in Dalcahue. We visited several markets and consistently discovered incredibly talented weavers and knitters. From sweaters and ponchos to socks and hats, the locals really know what they are doing.
Keep an eye out for nature and wildlife
Reminding us a bit of home (New Zealand), Chiloe has a densely populated coastal birdlife, especially near the fishing ports and mussel farms. Aside from the penguins at Puñihuil, we saw black vultures, cormorants, steamer ducks, hawks, and swans. In fact, the name Chiloe means "land of seagulls" in the Mapuche language.
Inland, the island is home to pudú, the world's smallest deer. Sarah was lucky enough to see one as we drove past on a part of the road that didn't allow for stopping.
What to see at key stops as you tour Chiloe Island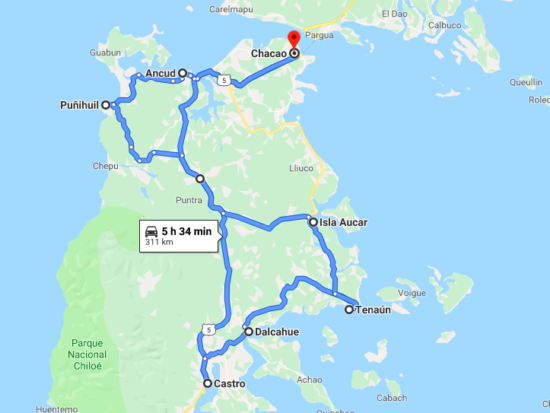 Chacao
We entered from the ferry in Chacao, one of the oldest villages on the island, established in 1567. Most tours stop here, and key sites include:
Chacao's church.
The main square, where we spotted a Monkey Puzzle Tree.
Colourful homes.
Ancud
We had to skip Ancud in order to visit both the penguins and stilted houses in a day. What we missed includes:
Plaza de Armas (the main square), where there is a church, a gazebo featuring mythological Chilote sculptures, and the central craft market.
Regional Museum of Ancud.
Fort San Antonio, is one of the last Spanish fortifications in Chile.
Visitor centre featuring history and information on the island's churches.
Puñihuil
If you are headed to see the penguins, this small fishing village and beach is your first stop. Take the boat to see:
Penguins in the spring and summer seasons (October to March)
Other wildlife including cormorants, vultures, sea lions, and blue whales.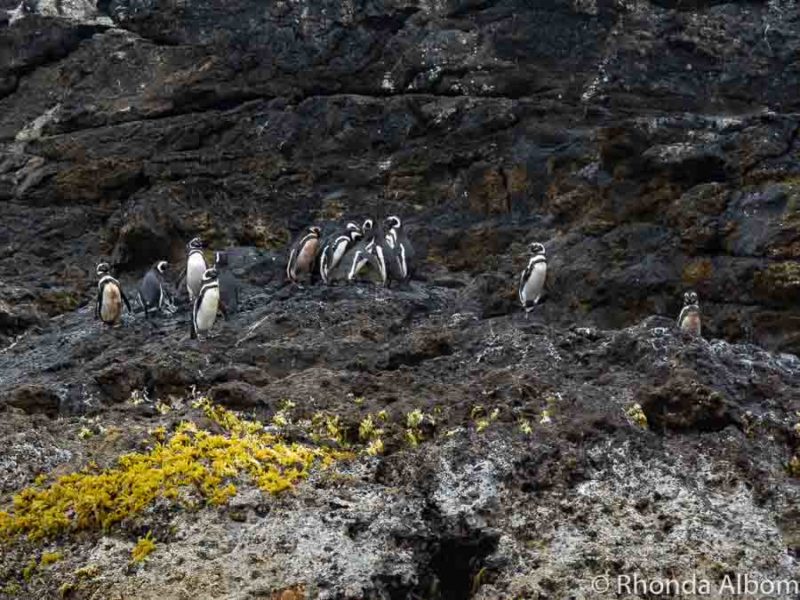 Castro
Castro is home to the palafitos (stilted houses) as well as being the capital of the Chiloe archipelago. Here you will find:
Colourful palafitos.
Wood, wool, and stone souvenirs at the indoor handcraft fair of Castro.
Iglesia San Francisco (World Heritage Sites).
Nercón Church, built in 1890 and recently restored and now a national monument.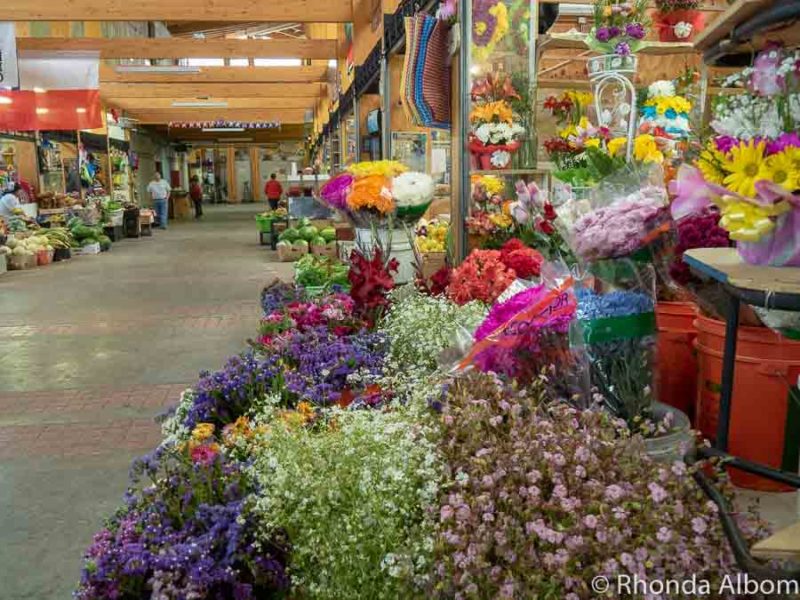 Dalcahue
This port city was one of our key stops. Here we enjoyed:
Traditional woollen handcraft fair.
Church of Our Lady of Sorrows, a national monument and World Heritage Site.
History Museum (we did not have time to visit here).
Small towns of San Juan, Tenaun, Colo, and Isla Aucar
Rather than taking the direct route of highway 5 straight back, we drove through several small towns on the way to Aucar, where we walked across the bridge to Isla Aucar (The Island of Sailors). The small island is believed to be the resting place for the souls of those lost at sea.
How to tour Chiloe Island
Chiloe Island is often a day trip beginning with a 30-minute drive from Puerto Varas or a 50-minute drive from Puerto Montt to Pargua. From here, the Chiloe ferry brings cars and passengers to the island. The three ways to tour Chiloe are on a group tour, with a private guide, or on your own.
Here are the key advantages and disadvantages of each:
Group tour
Group tours are perfect for those who don't want to drive and want the added knowledge that comes from having a guide. The downside is the more rigid schedule and the occasional need to wait for other tour members.
Initially, we searched for tours to the penguins and the palafitos but found none. It is too long of a day. Here are our top recommendations for each site:
Full day at Chiloé Island, Castro and Dalcahue: This tour is for those who want to see the stilted houses. A small group tour that picks up from Puerto Montt. This 14-hour tour includes:
Transportation to the island including the ferry.
Chacao for the church and historic square.
Castro for stilted houses, the main square, San Francisco church (World Heritage site), and Nercón Church (national monument).
Optional lunch in Castro.
Dalcahue for the waterfront and the local artisan market, museum, and church.
The Island of Chiloe and The Penguins of Puñihuil: This tour is for those who want to see the penguins and also picks up from most Puerto Varas or Puerto Montt hotels. This 10-hour tour includes:
Transportation to the island, including the ferry.
Chacao to see the church and the historic square.
Caulín Beach, famous for oysters and rich marine fauna. (In the winter, the flamingos we saw in the Atacama desert migrate here.)
Puñihuil, where your guide will join you on the boat out to see the penguins (extra fee)
Two stops in Ancud: San Antonio Fort and Plaza de Armas where you can see the main square and craft markets.
Reserve your Island of Chiloe and The Penguins of Puñihuil tour here: either starting from Puerto Varas or starting in Puerto Montt
Private guide
The three main advantages of a private guide are flexibility, a focus on what you care about most, and a timeline that fits your needs. The downside is the cost.
We hired a certified professional private guide that allowed us to design our basic programme, which was to include both the penguins and palafitos. His proposed schedule added even more. While we paid for this luxury and very long day, for us, it was worth every penny. Reserve your private guide from Puerto Montt to Chiloe here.
Self-drive
The main advantage of self-driving is complete flexibility and the ability to stay for multiple nights. For Chiloe, the disadvantages include the cost of the car and transporting it on the Chiloe ferry, the need to drive rather than enjoy the details of the scenery, and the loss of fascinating stories that surround this island. Also, while the Panamerican highway (highway 5) running through the island is fine, many of the back roads are unpaved and not well signposted.
We allocated one day for our visit and opted not to have a car, choosing to hire the private guide above. However, had we understood the distance and time to travel between the Chiloe Island penguins and Castro palafitos, we might have scheduled our time to allow for at least one night on the island.
If we chose to drive, we would have rented a car through RentalCars.com, as we had in Santiago, Salta, and Buenos Aires. Their online system is easy to use. They provide a conglomerate listing of local dealers. Rather than working with Spanish-speaking companies directly, we had English-speaking customer service. Plus, when one of the companies accidentally overcharged us, Rental Cars effortlessly (on our part) got us our refund. ⇒ Compare rental car pricing at RentalCars.com
Where to stay in Castro Chiloe
If we had stayed the night, it would have been at one of these two options:
Enjoy Chiloé – Hotel De La Isla: If we were to do this again, we would have spent more time at every stop, relaxed a bit, and spent the night in Castro, ideally at the five-star Enjoy hotel and casino. Located seaside, many of the rooms have stunning views; however, everyone can relax at the spa, sauna, hot tubs, restaurants or bar. Or, energize at the gym or in the casino. ⇒ Reserve your stay at Enjoy Chiloé
Palafito Azul: If we wanted an authentic Chiloe experience, we would stay at this aparthotel with sea views and a kitchen. A great location right on the water, it has extremely good reviews and customer ratings.⇒ Reserve your stay at Palafito Azul
Things to know before you tour Chiloe Island
Wear layers, and bring a rain jacket.
Eat seafood or fish on the island.
There are bathrooms and a tiny cafeteria on the ferry to Chiloe.
There are few other public bathrooms on the island. Use them when you see them. It might be a while before the next one appears.
Bring toilet paper (this goes for everywhere in South America).
Save on your trip with these resources
These are our go-to companies when we travel. We believe this list to be the best in each category. You can't go wrong using them on your trip too.
Flights: we use Expedia for the best and cheapest flight options.
Accommodations: we use Booking.com (hotels) or VRBO (self-contained).
Cars (gas or electric): we use RentalCars to search for deals and dealer ratings.
Campervans or Motorhomes: we use Campstar where Albom Adventures readers get a 3% discount
Private guides: we love the private guides at Tours by Locals
Travel Insurance: we start at InsureMyTrip as they are the best option to compare plans and find the right coverage for you.
Check out our travel resources page for more companies that we use when you travel.
Please Share
If you enjoyed this article, please share it on social media, including Pinterest.
Our day on Chiloe Island was part of our larger South American itinerary
Penguins, stilted house, churches, or nature, what will bring you to Chiloe Island?