Mysterious and enchanting, Chile's Atacama desert is captivating. The high elevation and ultra-dry climate create endless unusual landscapes and salt flats, while its main town is a lush desert oasis. There seems no limit to the unique things to do in San Pedro de Atacama and its surrounding desert, the driest non-polar desert in the world.
First, let Chile inspire you …
We earn from qualifying purchases through partnerships or affiliate programs.
Note: Based on world conditions, we advise checking official channels including cancellation policies prior to booking. Also, with often reduced capacity, booking ahead becomes more important.
Best Things to Do in San Pedro de Atacama Region
We spent six nights in the Atacama desert, and while San Pedro de Atacama is an interesting town, the real magic happens in the surrounding desert. Below are the highlights grouped in suggested daily itineraries.
(Atacama Desert Itinerary – Day 1)
Valle del Arcoiris – Rainbow Valley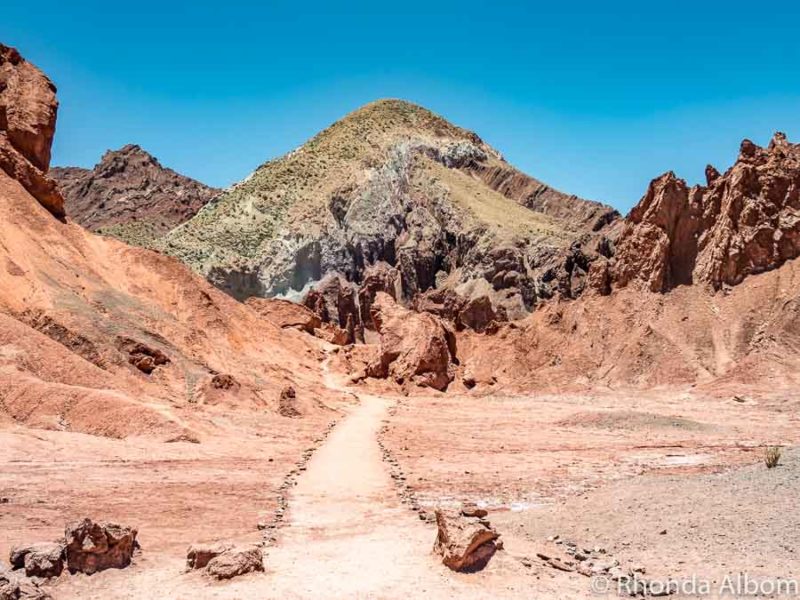 Rainbow Valley is a striking example of colours in nature. The valley's mineral and rock formations display in red, orange, yellow, green, and purple. This, along with the white salt and blue sky, makes a "rainbow" of colours that appear even more vibrant in person.
PRO TIP: If you are driving, our advice is to ignore the washboard dirt road suggested by the Google maps GPS navigator. Instead, stay on the paved road towards Hierbas Buenas, and then continue on to Rainbow Valley.
⇒ Check availability of this Rainbow Valley Tour
Hierbas Buenas – Petroglyphs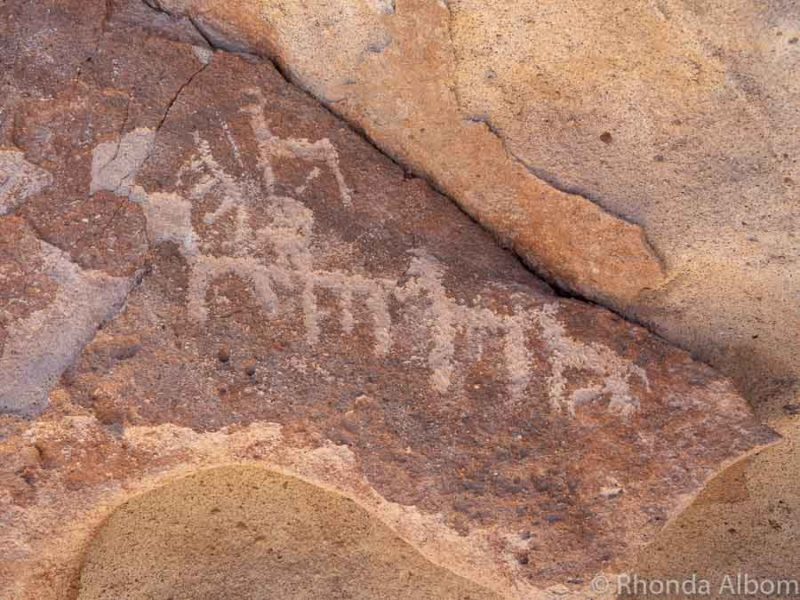 Hierbas Buenas (often spelt Yerba Buenas) is home to 11,000-year-old petroglyphs on various rock outcroppings. It has the largest concentration of rock art in the region. (We have also seen interesting petroglyphs south of the Atacama desert in Valle del Encanto.
PRO TIP: Drive between the rock groupings, as the last one is quite a distance to walk on a hot day.
(Atacama Desert Itinerary – Day 2)
Valle de Jere – Quarry and oasis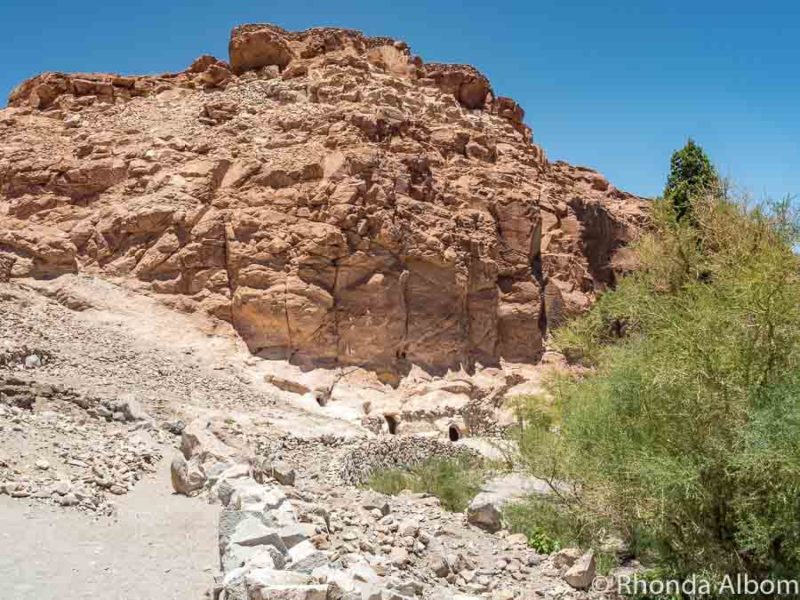 Valle de Jere is a centuries-old settlement with a manmade irrigation system fed by a river running through the gorge. There are gardens, a quarry, petroglyphs, and cave-type dwellings once inhabited by the Likan-Antay people. Blocks created from the quarry rock have been used in local building construction.
PRO TIP: According to a local, it is okay to enter the cave dwellings. As Sarah quickly discovered, many have a small tunnel to crawl through before entering the large room.
Laguna Chaxa – Atacama salt flats and flamingoes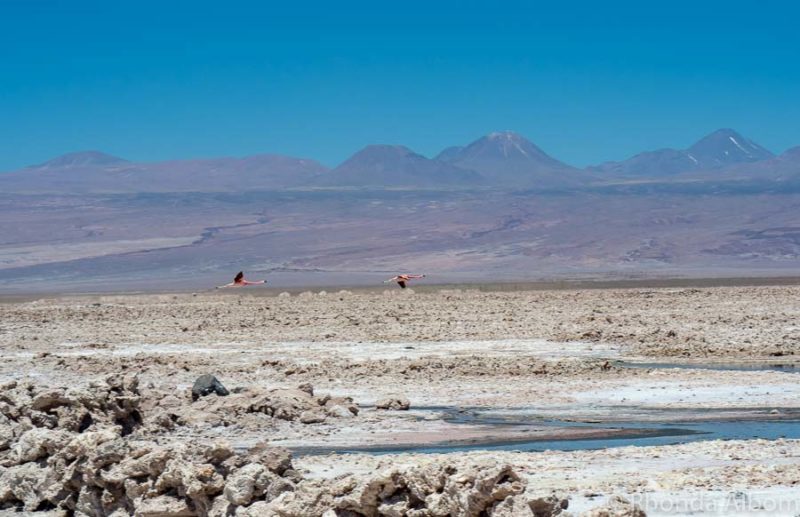 Laguna Chaxa is located in the Salar de Atacama (salt flats) and is the best place in the region to see flamingos. A park ranger guided us through the information centre behind the ticket booth before we headed down the boardwalk to the large salt lake where the flamingos seemed to concentrate. As the path loops through the salt flats you pass several interpretive panels.
PRO TIP: It's best to visit early, as the birds have often flown away for the day by 2 pm.
If you prefer to take a tour, check out this option that includes Los Flamencos National Reserve and Socaire Village.
⇒ Check availability of the Atacama Salt Flat Day Trip
Socaire – Inca-style terraces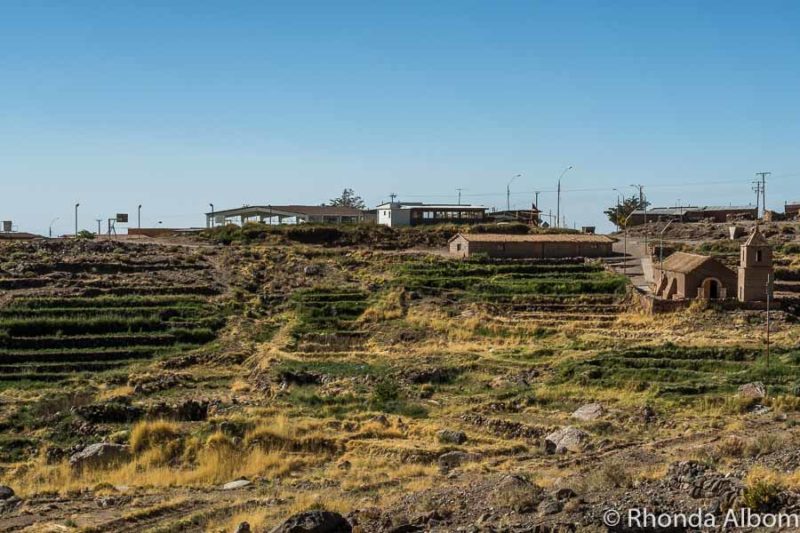 We stopped here to see the Inca-style terraces. In this tiny village, we also found a charming church, saguaros (a type of cactus), a school, and several small shops and cafes.
Laguna Miscanti – High altitude lake
This deep blue lake is located in the altiplano (high altitude tableland). It's a mix of fresh and saltwater that is renewed by the seepage of both rain and groundwater. It freezes in winter. There are often wild vicuña (a relative of the alpaca) at the water's edge. As a result of the high altitude, I had a massive headache that went away once we descended.
PRO TIP: Allow a bit of extra time to get here. The speed limit on the road to Laguna Miscanti is 20 km/hour.
We have only found one tour that includes Laguna Miscanti:
⇒ Check availability of this Full-Day Piedras Rojas, Altiplanics lagoons, and Salar de Talar Tour
(Atacama Desert Itinerary – Day 3)
Valle de la Luna – Moon Valley
Valley of the Moon is one place that lives up to its reputation. Once inside the park, the rugged views no longer look earthlike. It's known for the resemblance to the surface of the moon as well as its dunes, mountains, and unique rock formations. You will want your camera here. (More on Moon Valley coming soon.)
Pukará de Quitor – Pre-Columbian archaeological site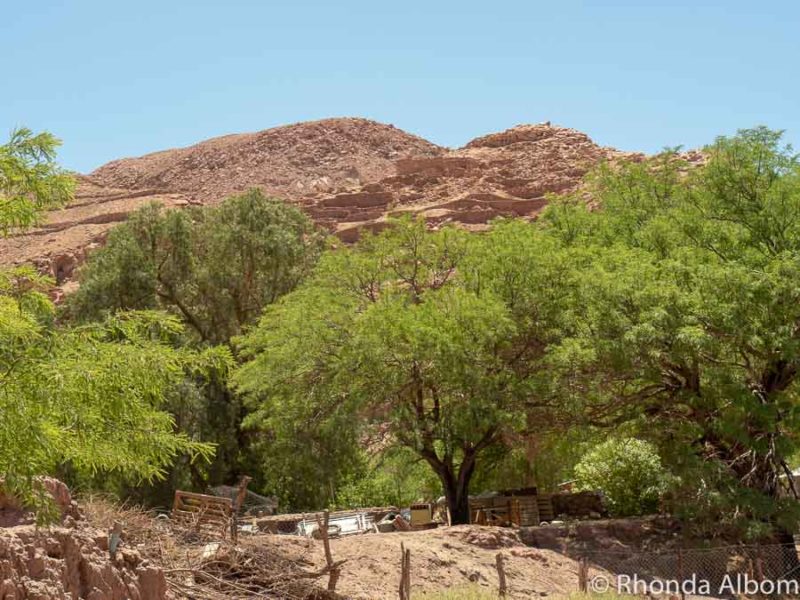 Pukará de Quitor is a pre-Columbian archaeological site. When we arrived, we were told it is an uphill climb to reach the site, it takes at least two hours to explore, and should not be done in the heat of the day. It was highly recommended that we return when it was cooler, but we ran out of time, and that never happened. Our only shot is from the ground, looking up at the site.
Valle de Marte or Valle de la Muerte – Valley of Death or Mars Valley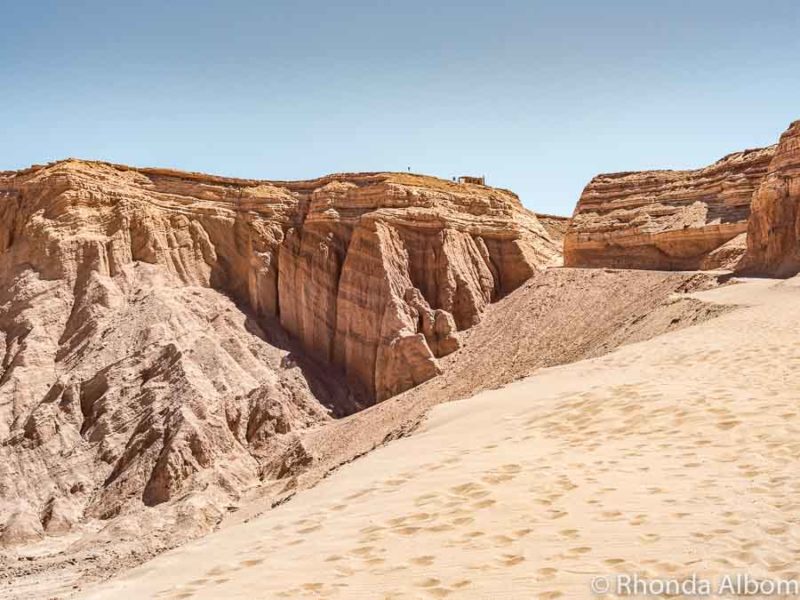 Called either Valle de Marte (Mars Valley) or Valle de la Muerte (Death Valley), it's an otherworldly area with two names. Vehicles can drive 4km into the park, but the final kilometre is walked as there is quite a bit of sand on the road beyond the parking area. For us, however, the highlight of this valley is the landscape during the first two kilometres of driving.
PRO TIP: Sandboarders love this place, as there is a huge dune towards the beginning often used for the sport.
Atacama Desert stargazing
Claiming the clearest skies in the world, the Atacama desert is well known by stargazers. We visited during the full moon, and therefore none of the stargazing tours took place. Before the bright moon rose, there were more stars than we see in most spots in the world.
⇒ Click here to check availability on this Desert Stargazing Tour
(Atacama Desert Itinerary – Day 4)
El Tatio – Geyser field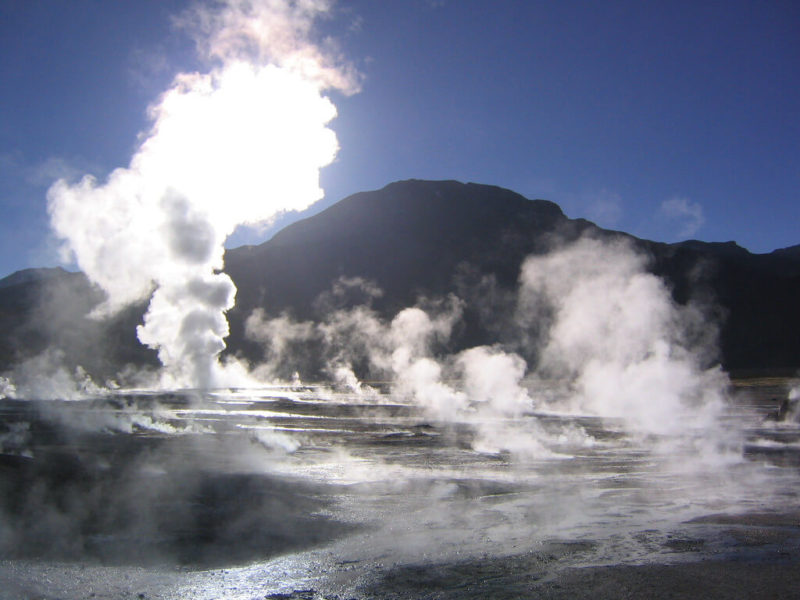 El Tatio is the third-largest geyser field in the world and the largest in the Southern Hemisphere. Having just been to Rotorua New Zealand recently, we opted not to visit the geysers, although seeing sunrise here is a popular road trip amongst tourists who are willing to get up early and start driving in the dark by 5 am.
⇒ Click here to check availability on Taito Geysers and Machuca Tour
(Atacama Desert Itinerary – Day 5)
Aldea de Tulor – Archeological site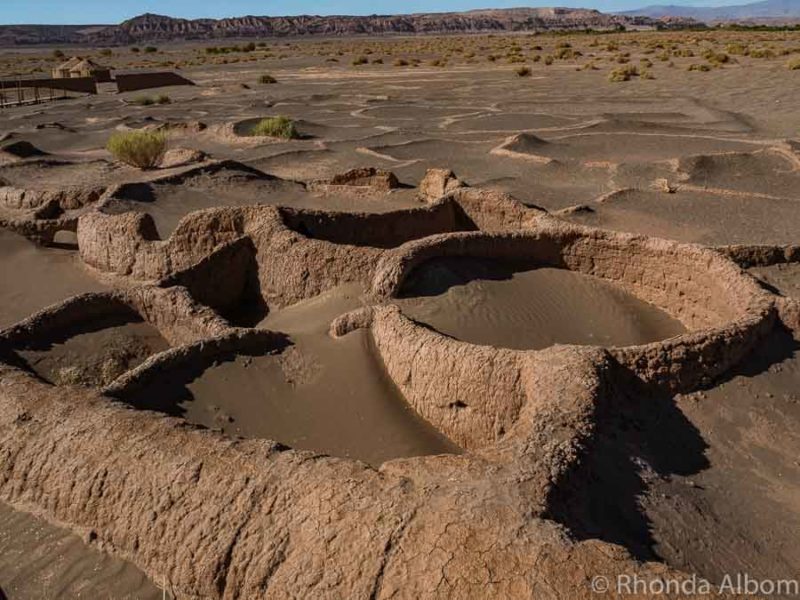 Before heading out to the archaeological site, a guide took us to the interpretive centre and offered us samples of some of the edible plants and seeds used by the people who once lived here. Here I tried chañar seeds, a flavour used in the local ice cream.
At the site, we found a lifesize replica of one of the huts and the archaeological remains of what has been discovered. Some of the earliest houses to be uncovered have begun to collapse. As a result, much of the site is not unearthed, just uncovered.
PRO TIP: There are two car parks; one at the entrance, the other at the site.
Archaeology fans may want more. If this is you, check out this tour:
⇒ Check availability of this 4-Hour Archaeological Tour
Pukara Lasana – Pre-Columbian archaeological site
The ruins of this 12th-century fortress located to the east of Calama are a maze of rooms, homes, buildings, entranceways, and rubble. Well worth a visit, especially if you are spending a night in Calama.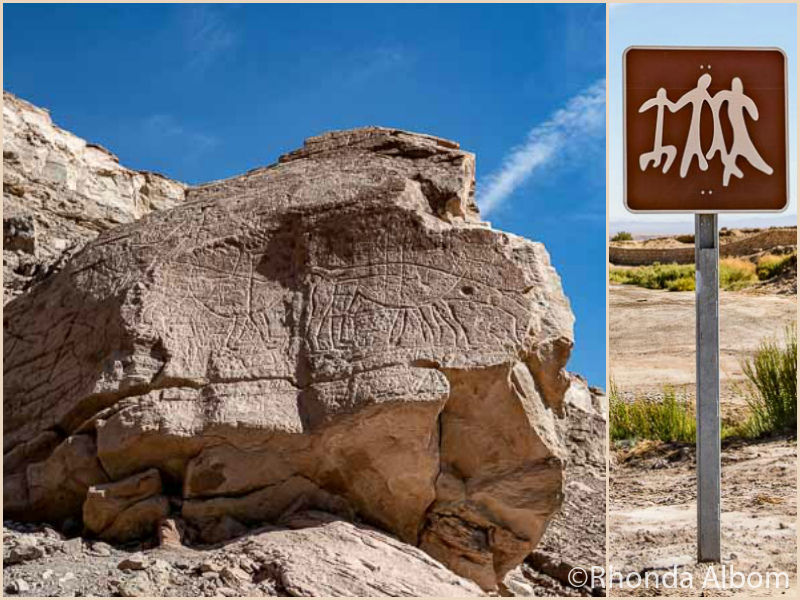 Things to Do in San Pedro de Atacama Town
Elevation: 2,408 metres (7,900 feet)
The historical section of San Pedro de Atacama is most likely where you will be staying, and interesting in its own right. We enjoyed a free city tour with Tours4Tips, however, the company has discontinued the tours in this area. Here are some of our highlights of San Pedro de Atacama:
Caracoles is the main street in the historic district
All buildings in the historic district are adobe, and none can exceed 6 metres. (The modern section of town has concrete buildings). Interestingly, there is only one licensed bar in town, and it's on Caracoles Street. Therefore, tourists need to order food in a restaurant if they are drinking. However, it's rumoured that if locals just want to drink, the staff will place dirty dishes on their table.
Church of San Pedro de Atacama
Whether or not you choose to enter the church, be sure to notice the pattern on the fence. It features two common symbols in the region. The triangle symbolises the volcano, and the other shape represents the Andean (Inca) cross.
Markets of San Pedro de Atacama
The artisanal market, as well as the produce market (not shown here), are open daily.
Enjoy one of the San Pedro de Atacama restaurants
Chilean food is a flavourful journey for the senses. We enjoyed just about every meal we ate as we travelled through the country, so much so we took a cooking class in Valparaiso. San Pedro de Atacama restaurants were no exception. Here are our favourite options:
If you want to feel like a local, eat a meal el Huerta. After your meal, lie on one of the hammocks in the back and relax.
Lured in off the street with a free drink, we ate dinner at Agua Loca. I enjoyed the live music and my perfectly prepared steak.
There are several ice cream shops in town, pick one and try a flavour called Chañar. It's made from a tree nut of the same name and has a similar flavour to manjar (Chile) or dulce de leche (Argentina).
Regardless of where you eat, if you drink alcohol, try a Pisco Sour with Rico Rico.
San Pedro de Atacama Tours
If you don't have a car, or even if you do and the desert roads intimidate you a bit, the best way to enjoy some of the more difficult to get to sites is with a tour. We have used Get Your Guide successfully in other parts of the world, and always enjoy their range of options.
Practical Information and Tips on Visiting the Atacama Desert
If you are heading to high altitude, spend a few days acclimatizing first.
A tea made from coca leaves is helpful both to prevent and reduce the symptoms of mild altitude sickness. It's widely available in the region.
Bring bottled water with you on any desert walk or long car drive.
Don't drink the local tap water as it has too many minerals.
The summertime Atacama desert temperature is hot during the days, and cold in the mornings and at night. Bring a jacket if you are heading into the desert, even if you plan to be back early.
Most of the parks have a nominal entry fee and will provide a park map. If you ask someone will highlight the key stops.
Valle de la Luna, Valle del Marte, and several other parks offer an early entry discount for entry before noon.
According to our city tour guide, desert parties often turn dangerous late a night. He recommends leaving when other people start to go.
We flew from Santiago to Atacama and picked up a rental car in Calama (we recommend RentalCars.com). It's an easy one hour drive to San Pedro de Atacama, the main base town for exploring the region.
There is only one petrol (gas) station in San Pedro de Atacama, and while many blogs we read said it was hard to find, we felt it was well sign-posted, albeit out of the way.
After exploring the Atacama desert, we flew to La Serena and headed north to Isla Damas to see penguins, an opposite sort of experience to the desert that quickly highlighted for us the diversity of Chile.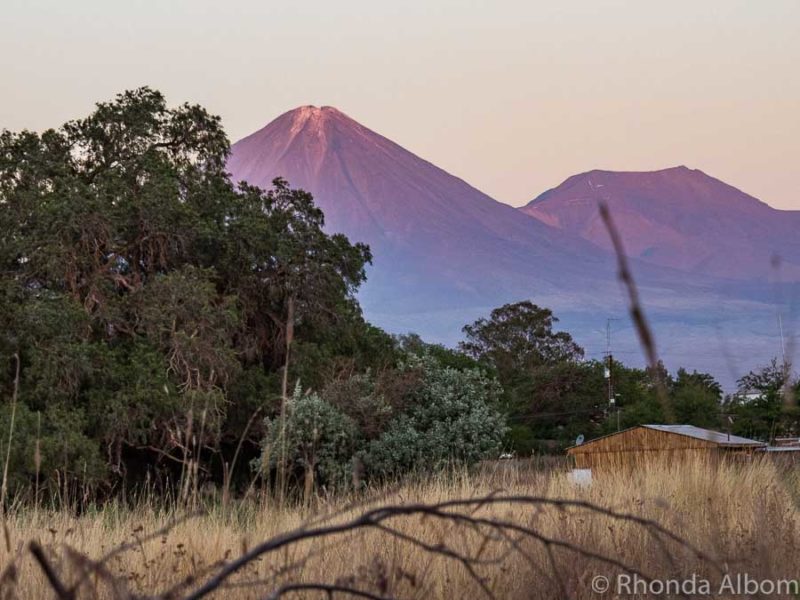 San Pedro de Atacama Hotels
The options range from five-star luxury to just a bed in a backpackers dormitory. We opted for a mid-range accommodation and stayed at Hard Road Atacama in a 100-year-old converted adobe house. The rooms were clean but small and the bathroom, which was added much later, was tiny. However, the pool was welcoming, the breakfast delicious, and the staff super friendly and helpful. While the price seemed high, it appears to be normal for the region.
⇒ Click here to check availability at Hard Road Atacama
If we were to return, I think I would upscale quite a bit. We believe the best hotels in San Pedro de Atacama are:
Best deals and discounts for your travel planning needs
We earn from qualifying purchases through partnerships or affiliate programs.
Flights: When it comes to flights, we always start with Expedia.

Hotels: We use Booking.com to compare and book accommodations. Don't miss Booking.com's Getaway 2022 Deals that save 15% or more on selected accommodations. (T&Cs apply)

Other accommodations: If you prefer B&B or self-contained type lodging, check out VRBO.

Vehicle hire: RentalCars is like a rental car search engine with no hidden costs, that lets us find the best deals on car rentals worldwide.

Private Tours: We are big fans of ToursByLocals, and use them for nearly all cities where we want a private guide.

Packing Tips: Get a free copy of our packing light checklist when you sign up for our mailing list. (We pack light, yet have everything we need.)
Find more money-saving resources and T&Cs on some of the above, check our Travel Resources page.
Save for later
enjoyed this list of the things to do in San Pedro de Atacama, then please share it on social media including Pinterest.
Click here to follow more of our South American itinerary or to see our South America travel safety tips.
Which of the things to do in San Pedro de Atacama will make it onto your bucket list?
You might also like
Disclaimer: We are frequently provided with complimentary entrances, tour, or sample items to aid in the writing of Albom Adventures. However, the opinions expressed here are strictly our own.