While stargazing in the nearby Elqui Valley seems to be the drawing card bringing international tourists into the region, it is the exquisite beaches that call to the Chileans. Regardless of the initial motivation, visitors find plenty of interesting things to do in La Serena. In fact, Chile's second-oldest city offered us more fascinating options than we could cram into four days.
La Serena's Zona Típica (Traditional district) reflects its Spanish colonial roots and is now a Chilean National Monument filled with beautiful historic architecture.
Where is La Serena?
Click the expand / collapse icon in the upper left corner of the map for the details and interactive options.
The suggested stops in this article are featured on the map either in red (on the main road/itinerary) or orange (requires extra driving).
Top things to do in La Serena, Coquimbo and Elqui Valley
La Recova Market
El Parque Jardín del Corazón (Japanese garden)
El Faro (lighthouse) and the beautiful beaches along Avenida del Mar
Plaza de Armas
Any of the 29 churches
Museums
Active military compound (Mirador Santa Lucia)
Public and street art
Cross of the Third Millenium
International Dark Sky Sanctuary
Nearby National Humboldt Penguin Reserve and Valley del Encanto
Be inspired …
Things to do in La Serena: City
Lively and colourful, La Serena city is home to South America's largest Japanese garden, an active military base, a traditional colonial market, and 29 churches. Of course, it also has government buildings, museums, shopping, and plenty of places to eat.
La Recova Market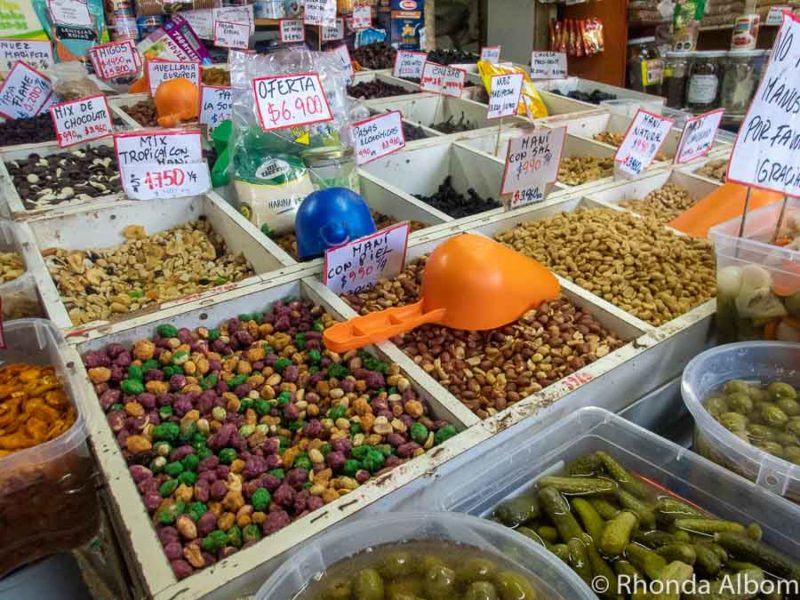 La Recova (Mercado La Recova) is a traditional colonial market. This two-story artisanal market was originally built in 1886 and then restored after a 1975 earthquake.
Busy and a bit hectic, it is a must-see in La Serena. It is the perfect stop to find those Chilean gifts, as well as a place to eat.
Shoppers include a mix of souvenir hunters and grocery shopping locals. There is a heavy presence of touts targeting tourists.
At one point, we stopped to talk with a restauranteur. Suddenly, another who had handed us menus earlier cut in to lay claim to us as their customers. They argued, in Spanish, a language our daughter speaks fluently, therefore, understanding every word. In the end, we ignored them both and enjoyed fabulous empanadas from a small vendor.
Japanese garden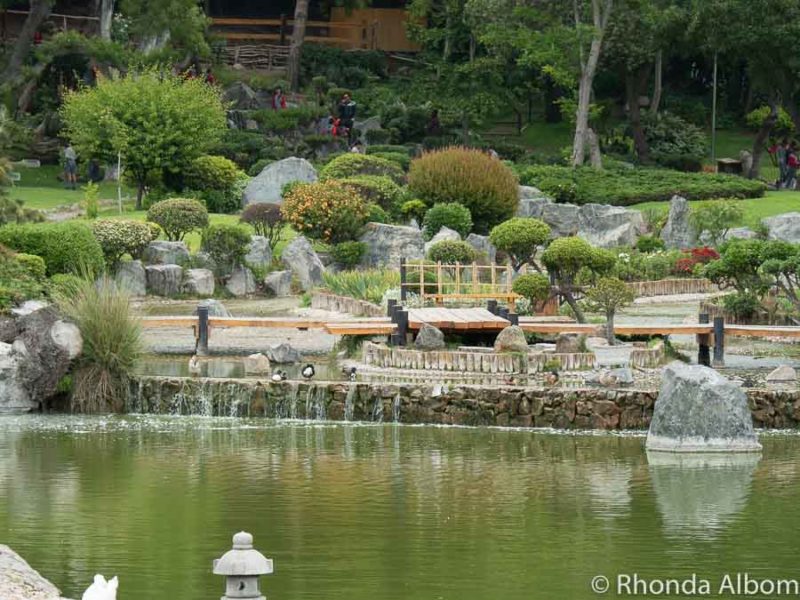 Garden of the Heart (El Parque Jardín del Corazón) is the largest Japanese garden in South America. Entering the garden, we crossed into a peaceful existence in the heart of the city, quite the opposite of our visit to La Recova.
This exquisite park highlights impeccable gardening with attention paid to every detail. It opened in 1994 and is worth a visit.
Plaza de Armas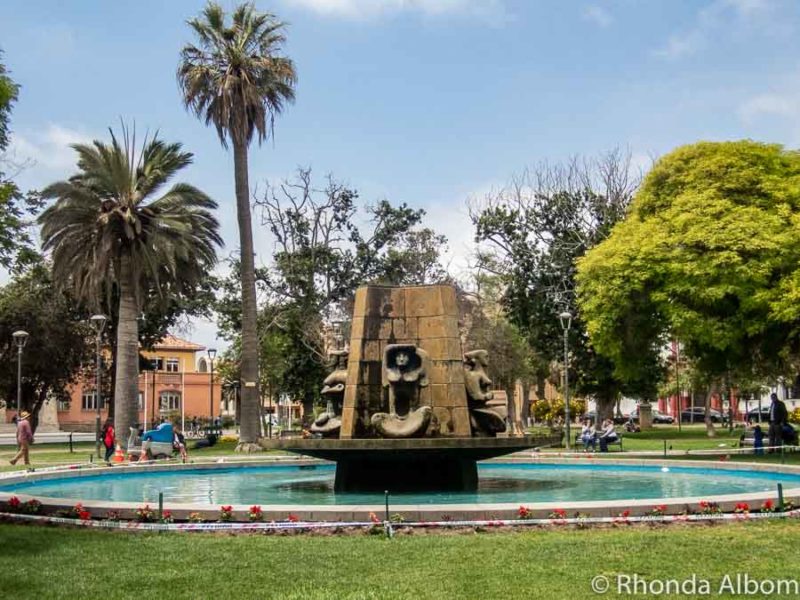 Like nearly every city we visited in Chile, the town centre is the Plaza de Armas.
It is here we find both government buildings and the central cathedral. In La Serena, it all surrounds an interestingly carved fountain. Plaza de Armas is a place to meet friends, relax, or start your exploration.
A city with 29 churches
We set out on a walk to find as many of the city's 29 churches as we could in a short amount of time. Compared to the population, this is a high number of churches, many of which are built from stone.
The main cathedral on Plaza de Armas was closed, as were most of the others. La Serena's oldest church is Iglesia San Francisco, dating back to the 1600s.
La Serena museums
Two museums featured prominently on our things to do in La Serena list. Unfortunately, luck alluded us. A protest strike closed both and many other venues during our four days in the region. On our wish list for a future visit:
Archaeological Museum (Museo Arqueológico): An Easter Island Moai and an Atacameña mummy are amongst the pre-Columbian artefacts at this free-to-enter museum.
History Museum (Museo Histórico Casa Gabriel González Videla): A museum dedicated to Gabriel González, the Chilean president from 1946-52. Born in La Serena, he was the first Chilean president to reach Antarctica. Also free entry to this museum.
Mirador Santa Lucia
This active military base situated at the top of a hill took us by surprise. For some reason, we expected Mirador Santa Lucia to be an old colonial home.
However, the armed men protecting the entrance clarified our mistake. Fortunately, with proper ID (our passports), they allowed us on the base.
The main rule was no photos of anything military.
Enjoy Casino
Hotel Enjoy is home to the casino, a popular nighttime activity. Although we opted not to enter as we don't gamble, the concept of an entrance fee for a casino surprised us.
Things to do in La Serena: public and street art
Sometimes it's the little things that make a city great, and taking it slow is the only way to discover them. Walking through the city, we frequently stopped to admire street art or try something new from a street vendor. One of my favourites was homemade empanadas sold out of a styrofoam box.
Statue park along Avenue Francisco de Aguirre
Replicas of famous Italian classic masterpieces line Avenue Francisco Aguirre, one of the main roads in La Serena. After the third time we drove past, we parked to stroll along on foot. We recognized nearly all of the artwork.
Street art
True to character, I enjoyed the street art in La Serena, although there didn't seem to be as much as in other cities. Certainly nowhere near the amount of street art we saw in Valparaiso.
Things to do in La Serena: coastal
Being a coastal city, we hit the beach at least once.
Lighthouse (El Faro Monumental)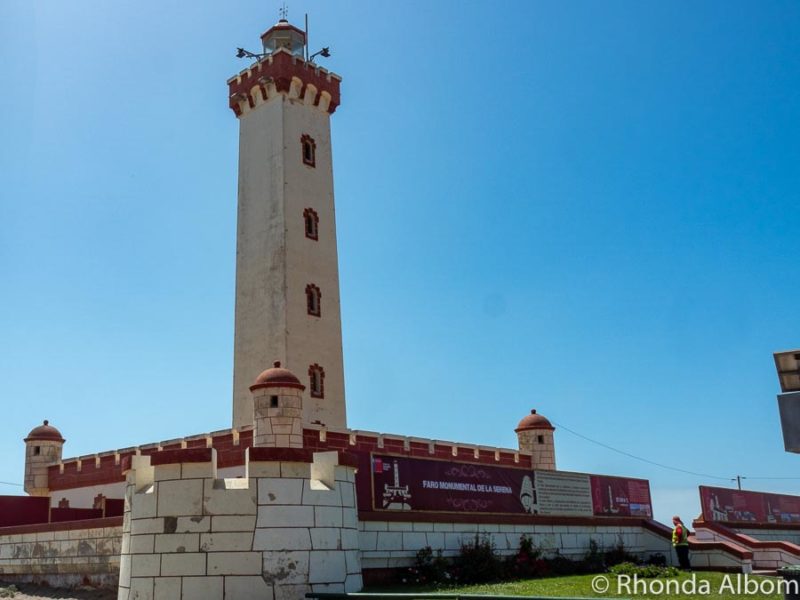 No longer operational, El Faro still stands proudly at one end of Avenida del Mar. It was built in the early 1950s.
We read that visitors can climb to the top and enjoy views from the lighthouse tower. However, not on the day we visited. We wonder if the locked doors were related to the city-wide strike.
Regardless, it didn't stop one of the locals from asking us for money to park on the public road.
La Serena beach
Miles of coastline covered in gorgeous beaches line the Avenida del Mar, the coastal road connecting La Serena and Coquimbo. Along with sand and sea is a mix of beachfront bars, upscale restaurants, and takeaway shops.
The empty beach reflects the unseasonably windy and cool day. Plus, we visited during what is traditionally siesta or afternoon rest time.
Things to do in Coquimbo
Coquimbo, the fishing town just south along the coast from La Serena, is also a must-see. Its stand-out attractions are the Cross of the Third Millenium and the beach. If La Serena or Elqui Valley is on your cruise port itinerary, it's actually Coquimbo where you will dock.
Cross of the Third Millenium above Coquimbo
Ten kilometres to the south sits the colourful beach town of Coquimbo.
This fishing town hosts the region's cruise port. Upon its highest hill stands the 83-metre Third Millenium Cross (Cruz del Tercer Milenio). It is a memorial to the Christian Faith.
We had every intention of driving up to the top of the hill to see the Cruz del Tercer Milenio, but traffic in Coquimbo was hideous. Driving through the streets of Coquimbo on our way to the hill, we made a quick decision.
What we missed was the opportunity to take an elevator to the top of the cross with epic views overlooking the Coquimbo and La Serena coasts. However, we did get to silhouetted at sunset from across the water.
Tour La Serena and Coquimbo
La Serena and Coquimbo private city tour including lunch and archeological museum: This seven-hour tour is perfect for anyone without a car, with limited time, or for those who just prefer to have a guide. Starting from Coquimbo, it picks up from hotels or the cruise port. The tour hits all the key sites in both La Serena and Coquimbo. It also includes lunch. ⇒ Reserve your private city tour here.
Things to do in Elqui Valley (Valle del Elqui)
Elqui Valley Chile is the site of the world's first designated International Dark Sky Sanctuary. Located at the southern end of the Atacama Desert, it is known for its clear skies. It's also a Pisco distilling region. Pisco is a popular brandy made from grapes grown in the Elqui Valley. Both Chile and Peru claim to have originated it.
Elqui Valley Stargazing
There are several huge telescopes and observatories in the Elqui Valley. Most are used for scientific research, only a few allow visitors.
We chose the Observatorio Turístico Collowara, the less technical of the two main stargazing options in the Elqui Valley. (The other is Observatorio del Pangue.)
Designed for tourists, we looked through massive telescopes after watching a short film. We even got to see the seven stars referred to as Las Pléyades in Chile, the Pleiades in the USA, and Matariki in New Zealand. Click here for more information on Observatorio Turístico Collowara
Tours and Pisco Tasting in Elqui Valley
If we didn't have a car, or if we had more time, these are the tours that interested us the most. All are well rated by prior customers.
Mamalluca Observatory Including Transfers: Without a vehicle, it is difficult to get to any of the observatories. This tour will pick you up and bring you back to your La Serena hotel after listening to a talk and viewing the stars. ⇒ Reserve your Mamalluca Observatory tour here
Elqui Valley Small Group Tour: This 10-hour daytime tour includes a visit to a pisco production plant and the Gabriela Mistral museum. It is perfect for those who want to explore the valley during the day and discover the pisco process. Lunch is included. ⇒ Reserve your Elqui Valley small group tour here
Elqui Valley and Vicuña Private Tour Including Lunch: A six-hour private tour customizable for cruise passengers. It visits the Elqui Valley, including the Gabriela Mistral museum in Vicuña. Lunch is included. ⇒ Reserve your Elqui Valley and Vicuña private tour here
Things to do in La Serena: day trips
Two of our favourite nearby adventures are seeing the penguins on Isla Damas and discovering the petroglyphs at Valle del Encanto.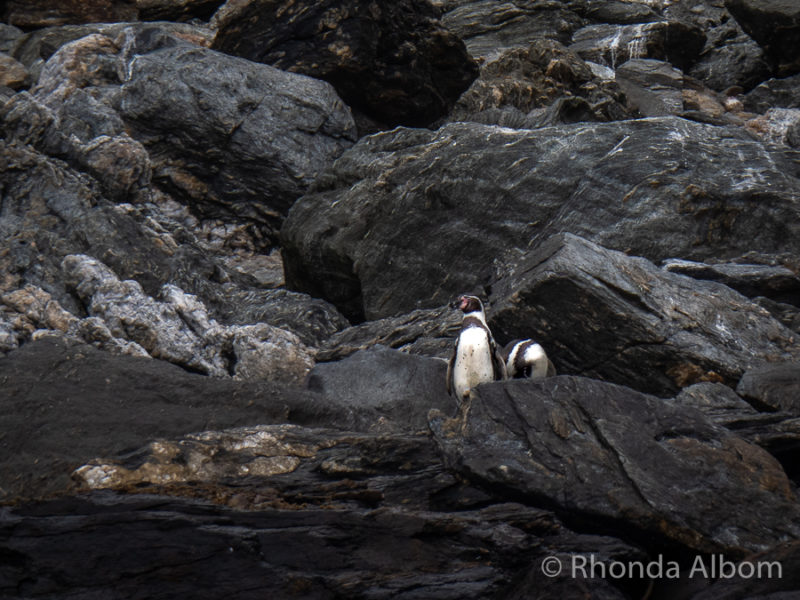 National Humboldt Penguin Reserve (Isla Damas)
The opportunity to view Humboldt penguins is what initially brought us to the region. The National Humboldt Penguin Reserve is less than two hours by car from La Serena. It is home to 80% of the world's Humboldt penguins. Boats take a limited number of daily visitors to Isla Damas while slowly passing and viewing penguins on Isla Choros and Isla Chañaral. The guide on our boat spoke only Spanish. As I am conversational, and my daughter is fluent in Spanish, we were fine. However, the other option is to take a tour with an English-speaking guide. ⇒ Reserve your tour to Isla Damas and Punta Choros from La Serena here
Enchanted Valley (Valle del Encanto)
One of the more interesting places we have been, Monumento Arqueológico Valle del Encanto is a rocky tributary canyon near Ovalle. It's a 90-minute drive from La Serena. We came here to see the extensive petroglyphs and pictographs, and we were not disappointed.
How to get to La Serena
Working our way down the country, we started in Calama and the Atacama desert. After a week of exploration, we flew from Calama to La Serena. There are also direct flights from Santiago to La Serena.
The other main transportation option is the bus. Valparaiso to La Serena or starting in Santiago are popular routes. Importantly, Chile's long-haul bus service is excellent (although many people we have talked to prefer the buses in Argentina).
In total, we spent nine weeks in South America on this trip, but our daughter spent a prior year in Argentina as an exchange student.
Renting a car in Chile
La Serena airport proved to be an easy location for picking up the car that we had previously booked through rentalcars.com. By providing options, Rental Cars made it easy for us to choose an affordable vehicle from a top-rated local car dealer. Since our first rental with them, we have been using Rental Cars exclusively when we travel. ⇒ Search for your rental cars here
La Serena, Coquimbo hotels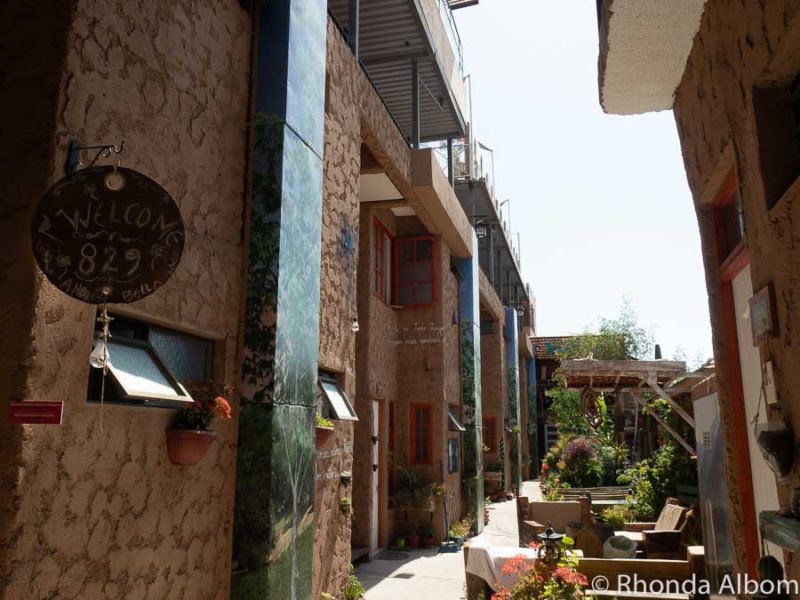 Hotel La Fuente: We opted for a charming coastal apartment-style hotel in Coquimbo. With the beach just across the road, we had sea views from the second-floor gabled windows of our two-bedroom unit, complete with a small kitchen. ⇒ Reserve your room at Hotel La Fuente here
Enjoy Coquimbo – Hotel de la Bahía: For those who are looking for luxury and plenty to do, the Enjoy casino hotel has it all. This five-star option is part of the Enjoy chain and pampers its clientele with a spa and wellness centre, casino, multiple bars, restaurants, and sea views. ⇒ Reserve your room at Enjoy Coquimbo here
Hostal Valle Mistral: This lower-cost option in La Serena caught my attention after an urgent visit to the loo. Bunk rooms, twins, doubles, and triples, it is the rooftop bar and eclectic artwork that will capture your heart. Clean and tidy, it looks like a great choice, especially for people who like an opportunity to meet fellow travellers. ⇒ Reserve your room at Hostal Valle Mistral
More on La Serena
La Serena to Santiago is an easy 470 km drive along Ruta 44.
We opted to drive from La Serena to Valparaiso (432 km), mostly along the Panamerican Highway/Ruta 5, although we detoured through Valle del Encanto.
La Serena to San Pedro de Atacama is 1160 km via driving, beyond our personal daily driving limit. We took a 1 hour and 20-minute flight instead.
Personally, I always felt safe in La Serena. I did, however, follow these general safety tips for travel in South America.
Don't miss our travel tips for visitors to Chile.
Save on your trip with these resources
These are our go-to companies when we travel. We believe this list to be the best in each category. You can't go wrong using them on your trip too.
Check out our travel resources page for more companies that we use when you travel.
Save for later
If you enjoyed this article on things to do in La Serena, please save it for later on Pinterest.
Which of these things to do in La Serena will you try first?