We were instantly captivated by Valparaiso and nearby Vina del Mar. While we found amazing things to do in Valparaiso Chile, it was the vibrant, colourful atmosphere that captured our hearts.
From unique street art and graffiti to exceptional views created by a city built on so many steep hills, we were hooked. Combine that with beaches, and you have two cities that effortlessly blend history, art, and natural beauty.
Staying in a neighbourhood apartment in Vina del Mar, we also got a taste of local culture. Jeff and I met plenty of locals, took free city tours, and did our best to explore as much as we could. Every corner seemed to hold a story waiting to be discovered.
Our only regret, a common one for us, was not having more time for our Valparaiso Chile travel.
Join us as we take you through the 17 unmissable things to do in Valparaiso and Vina del Mar, ensuring that you make the most of your visit to this vibrant coastal gem.
Top things to do in Valparaiso or Viña del Mar
Stroll through the hills of Valparaiso: Cerro Concepción and Cerro Alegre
Take a trip on a 100-year-old funicular
Visit Pablo Neruda's La Sebastiana, the Cultural Centre, and a cemetery
Take a cooking class
Wander through the Mercado Cardonal
Relax at Plaza del Descanso
Explore Castle Hill in Viña del Mar
Relax at one of the beaches in Valparaiso Chile (or Viña del Mar)
Take an Instagram shot at the Flower Clock in Viña del Mar
Viña del Mar and Valparaiso Chile travel map
The suggested stops in Viña del Mar and Valparaiso Chile are featured on the map in red. Click the expand / collapse icon in the upper left corner of the map for the details.
Let Chile inspire you
Things to do in Valparaiso Chile
A colourful city set on multiple hills, what really sets it apart from anywhere we have been before is the street art. Talented artists come from all over the world and mix with locals creating a living mural that we found so fascinating that we had to write an entire article just about the Valparaiso street art.
And if you don't have time to hike around all 42 hills in the city or just want to hit the boldest first, head up Cerro Concepción. It's one of several highlights among the things to do in Valparaiso we are recommending below.
Stroll through Cerro Concepción
A Bohemian Delight
Nestled in the hills, Cerro Concepción (Conception Hill) is a captivating blend of colour, creativity, and history. Cobbled streets adorned with vivid murals and vibrant houses were this photographer's paradise.
It seemed that every wall tells a story, and we could have spent weeks exploring all the street art and possibly never finished. Cafés and boutiques line the alleys, providing the perfect backdrop for our leisurely exploration.
It was a treat for us, as a couple as well as for families with curious children.
Take a trip on a 100-year-old funicular
A Ride to Remember
We took this vintage funicular up the hill and were rewarded with the street art you saw just above.
This is Ascensor El Peral, what we were told at the time was the oldest elevator in Valparaiso. However, our current research shows that it is only one of the oldest, and that title belongs to the nearby Ascensor Concepción.
Either one, however, would be a treat as we rose up to the panorama of Valparaiso's colourful rooftops and the shimmering Pacific Ocean.
Hang on as you take the public bus up Cerro Alegre
A Hilly Adventure
A unique and memorable moment on our visit, we took a roller coaster ride on a public bus as it expertly wound its way up the often steep, sometimes narrow, and always winding roads to the top of Cerro Alegre.
To be honest, it's not that far, as we walked back down, but the bus itself is an adventure we won't soon forget.
Cerro Alegre is another haven for art enthusiasts. According to our guide, the mosaics at the top were completed in 2015 by volunteers. Behind it, we found another fabulous view.
From there, we slowly walked down the hill as part of our free city tour of Valparaiso.
Pablo Neruda's La Sebastiana
Poetic Reverie
One of the things we didn't do was to delve into the world of Nobel laureate Pablo Neruda at La Sebastiana, his Valparaiso home.
It's been described to us as a place where every nook exudes the poet's eccentricity and charm. The house is a treasure trove of curiosities, each room a reflection of Neruda's unique personality.
As it sits on Cerro Alegre, we were not surprised to read that the vista from the terrace is mesmerising – the vast expanse of the ocean contrasts with the city's intricate details.
Cultural Centre, cemetery, and views as we strolled down Cerro Alegre
Creative Haven
Walking down the hill wasn't nearly as dramatic as our nerve-wracking bus ride up to the top. In fact, we were better able to enjoy the ever-changing views at a slower pace. Some of the highlights on the way down included:
Parque Cultural de Valparaiso
This cultural centre hosts exhibitions, performances, and artistic events in a historic prison complex.
Cemetery
We saw three historic cemeteries on the way down but only entered one. Simply named N°1 and N°2, these two cemeteries were for Catholics only, whereas the Cementerio de Disidentes was built for all faiths.
Views
Varied spectacular views of the city seemed to appear around every corner.
Take a cooking class
Taste the Culture
One of my favourite things we did in Valparaiso was to take a Chilean cooking class. After choosing our menu and then shopping for the ingredients (see section below), we prepared several traditional dishes, creating a complete meal.
Not only was the class fun, but we also learned about some of the unique ingredients that define the local flavours. If you want to take the same great class we did, you can reserve your cooking class here.
Wander through the Mercado Cardonal
Culinary Delights
In addition to learning to cook delicious local treats, we also got a chance to explore Mercado Cardonal, a fresh foods market ranging from freshly caught seafood to vibrant produce. Here, our chef instructor became our guide, pointing out different local fruits and vegetables, shopping for our class based on the dishes we had chosen, and offering basic safety advice.
Similar to the reminders we have heard almost daily since arriving in Chile (and general safety tips for travelling in South America): Keep your bags close, camera and mobile phone out of sight except when you are using them, and always be aware of your surroundings.
Relax at Plaza del Descanso
Serene Respite
Covered in mosaic tiles and a bit of street art, Plaza del Descanso (translated: the Resting Square) offers a peaceful respite in the midst of Valparaiso's lively streets. That is, during the day. In the evening, according to our guide, it's a major young people's hang-out.
We are not sure exactly what goes on here, but as a result, the city now empties the square and closes the gate at 9 pm, which is quite early in Latin America.
Nearby Viña del Mar, Chile
Coastal Excursion
We opted to stay in Viña del Mar and rented what looked like a lovely apartment in a tall building with stunning views of the city. While the height and views were there, our love for the place pretty much ended beyond this point.
Without too much detail, we will just say that we needed a flashlight to move through the dark hallways, and on the day we were leaving, luggage in hand, the elevators were all out, and we had to hike down way too many stairs. It was one of many moments we were glad we travelled carry on only!
Despite that, we loved Viña del Mar and didn't regret our choice. The beautiful coastal drive between Valparaiso and Viña del Mar takes less than 15 minutes, and every minute is enjoyable.
Explore Castle Hill in Viña del Mar
Majestic Overlook
Castle Hill (Cerro Castillo) in Viña del Mar stands as a testament to the town's rich history. We walked up here on a free city tour of Viña del Mar, and our guide pointed out three main highlights (Note: our free tour no longer runs, we know little about the one we linked here):
Palacio Presidential (Presidential Palace), where foreign dignitaries stay when they come to Chile. The palace was not open for tours when we were there, so we could only get as far as the pink gate. Tours are currently available on Thursdays at 3 and 4 pm, and visitors must register.
We viewed a historic castle atop a nearby part of the hill with an interesting political history. It is now used by Carabineros de Chile.
For me, the highlight is the breathtaking panoramic view encompassing the sea, the city, and beyond.
Relax at Playa Acapulco (one of the best beaches in Valparaiso Chile area)
Sun-Kissed Serenity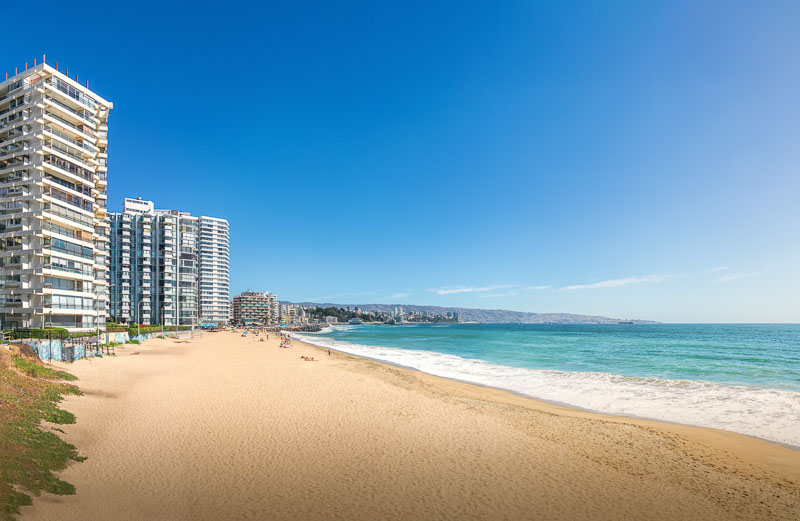 If you have come here for a little sun and sand, you won't be disappointed.
Playa Acapulco in Viña del Mar is the perfect place to relax on golden sands, take a refreshing dip, stroll along the pier, or simply unwind with a good book. The inviting waves and serene atmosphere make it ideal for families or anyone looking for a tranquil escape.
From what we saw, we believe it's the nicest beach in Valparaiso or Viña del Mar. It's a quick retreat into relaxation
Take an Instagram shot at the Flower Clock in Viña del Mar
Floral Splendour
The Viña del Mar Flower Clock is a delightful creation that blends nature and artistry. This living clock is adorned with a variety of flowers, transforming timekeeping into a colourful spectacle.
While it's a serene spot to enjoy a leisurely stroll and appreciate the natural beauty that graces the town, I think it's more often used as an Instagram spot. I know we couldn't resist taking our photos in front of it, even though our selfie isn't good enough to share.
A few more things to do in Vina del Mar
Cultural Exploration
A culture hub, the Municipal Theatre in the city's main square hosts artistic theatre from classic musicals to ballet. Plaza Vergara is also home to the annual Festival de Viña del Mar.
The Museo Fonck is a window into Chile's indigenous past. Explore fascinating exhibits that showcase artefacts, mummies, and insights into the country's pre-Columbian cultures.
Temporarily closed, we found the Parroquia Nuestra Señora de Dolores to be a lovely photo opportunity. While construction began in the late 1800s, it wasn't completed until 1912.
Quito Vergara is the place to go for outdoor concerts, and it was being set up for one when we stopped by in the daytime. Capacity is 6,000 people.
Which is better: Valparaiso or Viña del Mar?
Comparing my visits to Valparaiso and Viña del Mar was like stepping into two distinct worlds.
Valparaiso's bohemian streets, adorned with vibrant murals, felt like wandering through a dynamic art gallery. Exploring Cerro Alegre and Concepción was a journey into history and creativity, with each corner revealing unique stories.
On the other hand, Viña del Mar's charm rested in its serene beaches and elegant architecture. Its well-kept parks were perfect for leisurely strolls, and the coastal ambience was incredibly calming.
Valparaiso embraced urban vibrancy and artistic energy, while Viña del Mar offered coastal tranquillity and refined beauty – a contrast that enriched our journey with diverse experiences.
Tips for exploring Valparaiso or Viña del Mar
If you are not comfortable driving on steep, narrow, winding streets, you might want to avoid self-driving in much of Valparaiso. You can do this with public transportation, a private guide, or a day tour from Santiago.
Consider using local buses and trams for an authentic experience while moving around the cities. And don't miss the adventure of a public bus ride up Cerro Alegre.
Learning a few basic Spanish phrases can go a long way in enhancing your interactions with locals.
Try traditional Chilean dishes like empanadas, ceviche, and seafood. Explore local markets for fresh produce and street food. Or better still, take a cooking class like we did.
While Valparaiso or Viña del Mar are generally safe for tourists, exercise standard safety precautions, such as keeping an eye on your belongings and avoiding poorly lit areas at night.
If you haven't been to Chile before, be sure to start with these Chilean travel tips.
Save on your trip with these resources
These are our go-to companies when we travel. We believe this list to be the best in each category. You can't go wrong using them on your trip too.
Flights: we use Expedia for the best and cheapest flight options.
Accommodations: we use Booking.com (hotels) or VRBO (self-contained).
Cars (gas or electric): we use RentalCars to search for deals and dealer ratings.
Campervans or Motorhomes: we use Campstar where Albom Adventures readers get a 3% discount
Private guides: we love the private guides at Tours by Locals
Travel Insurance: we start at InsureMyTrip as they are the best option to compare plans and find the right coverage for you.
Check out our travel resources page for more companies that we use when you travel.
Save for later
If you enjoyed this article on the best things to do in Valparaiso Chile, please share it on social media and save it for later on Pinterest.
Which of these things to do in Valparaiso Chile will you do first?
Photo Credits:
All photos on this page are either shot by our team and watermarked as such or stock images from Depositphotos.