Rosario is home to the first Argentinian flag, a claim to fame that put it on the map and one which draws thousands of visitors. While there are plenty of other things to do in Rosario, a visit to the Monumento a la Bandera (flag monument) is a must-do.
It's Argentina's third-largest city after Buenos Aires and Córdoba.
Rosario is the birthplace of Che Guevara (Argentine Marxist revolutionary and major figure of the Cuban Revolution) and Lionel Messi (footballer and captain of both the Spanish club Barcelona and the Argentina national team).
For us, we found it to be a city for walking, people-watching, and hanging out with friends.
There are several pedestrian-only roads. While not well marked at the intersections, most people understand not to drive here. We only made the mistake once and then quickly learned the rules.
Be inspired . . .
Best things to do in Rosario: Historic centre and flag monument
Like so many visitors to the city, our first stop was the Monumento a la Bandera.
History tells us that Manuel Belgrano created Argentina's national flag in 1872. The blue and white stripes represent the sky and clouds, while the sun is the sol de mayo. Interestingly, there are actually two official versions of the Argentinian flag – one with the sol de mayo (the sun) and one without it.
Belgrano hoisted the flag on Rosario's cliffs overlooking the Paraná River. Monumento a la Bandera commemorates this event and provides a look at history, a memorial to the fallen, and fabulous views of the city from the top of the tower.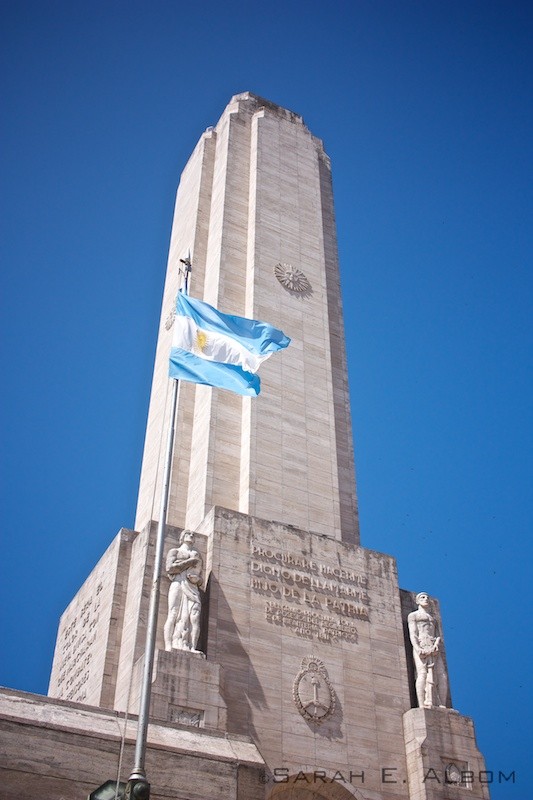 What you will see at the historic centre and flag monument
There is a large courtyard, a reflecting pool (empty when we visited), many statues, plaques, and several other memorials at the site. The courtyard, as well as the stairs, seem to be a meeting and hang-out place for friends.
At the top of the stairs at one end of the courtyard is El Propileo, an eternal flame burning as a tribute to those who gave their lives for Argentina.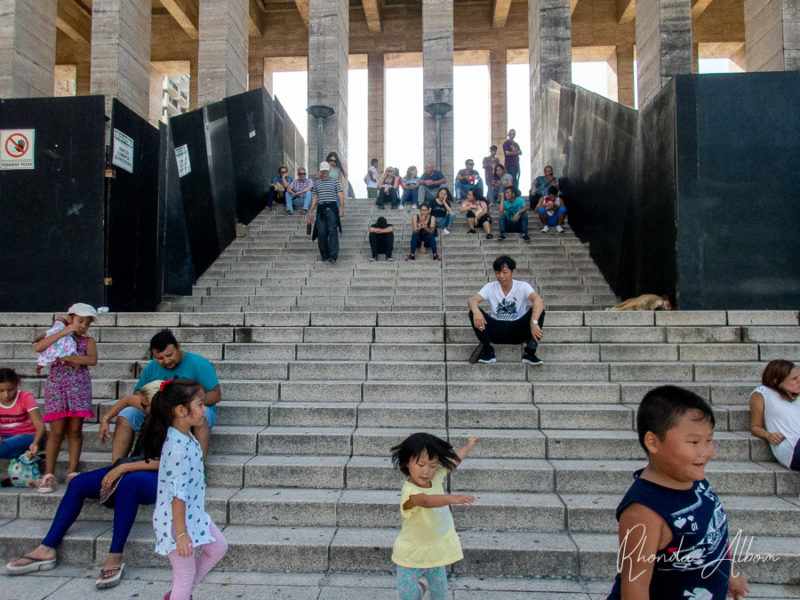 Views from the top of the monument
Our top recommendation is to enjoy the views from the top of the monument. The cost was only 50 pesos (1 USD), and this includes an elevator.
After entering through a turnstile, we walked up a short flight of stairs, turned a corner, and there was another. By the fourth flight, I questioned the elevator's existence. However, just one more turn and there it was.
At the top, there are four small viewing areas, one on each side. They don't feel overcrowded as they limit the number of people allowed up at a time.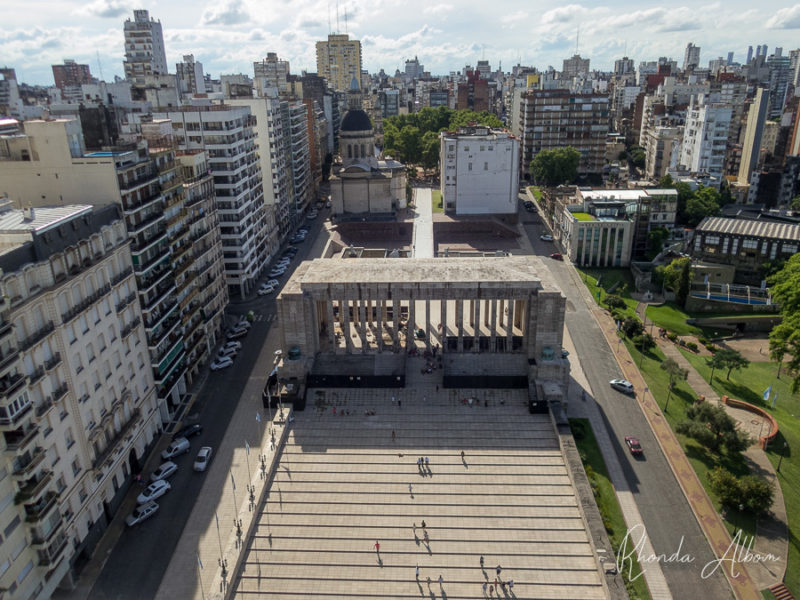 More things to do in Rosario Argentina
If you have limited time in the city, in addition to the flag monument, there are several other top things to do in Rosario.
Plaza 25 de Mayo
Just beyond the flag monument, we walked through the historic Plaza 25 de Mayo, the oldest part of the city. Here there are several historic buildings.
The city's central cathedral, Basílica Santuario, dates back to the late 19th century. As we were there in the afternoon, the cathedral was closed for siesta. Therefore, we missed the ornate interior with its carved marble columns, frescoes painted on the ceiling, and stained-glass windows.
Sarah attended an Easter mass here a few years earlier and was able to capture a bit of the interior.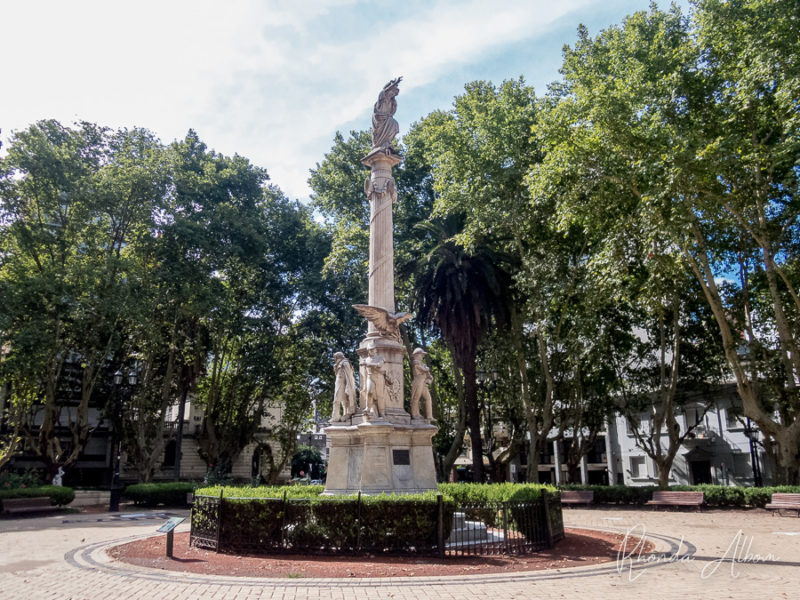 Costanera – waterfront walk
Walking along the waterfront didn't seem as popular as I would have thought. We had read that both cycling and kayaking are popular here, but we saw almost no one doing either. There were plenty of people, but most of them were fishing or sharing maté with friends.
Perhaps we were in the wrong spot, as it's a long river, or maybe it was the heat.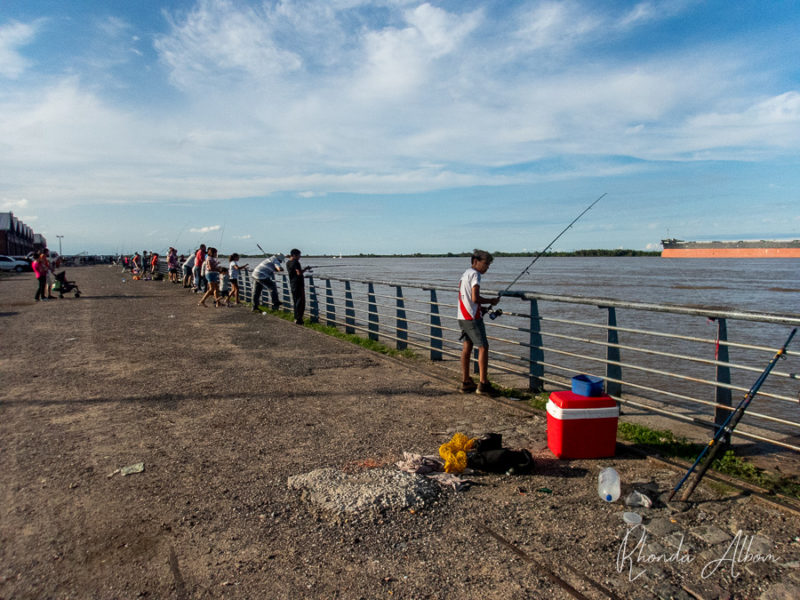 The market in Parque de España
The artisan craft market itself was smaller than we had expected, with only one strip of booths. What made this adventure great was the rest of Parque de España.
Here, we discovered the Memorial Islas Malvinas. The sign in front reads "Malvinas por siepre Argentinas" (Malvinas forever Argentinas). Best advice, never mention the Falklands (called Malvinas in Argentina) to an Argentinian.
Also, in the park, children's playgrounds roared with laughter while street vendors touted their wares. We couldn't resist a "super pancho", a giant hot dog on a bun with mustard, mayonnaise, ketchup and potato chip slivers.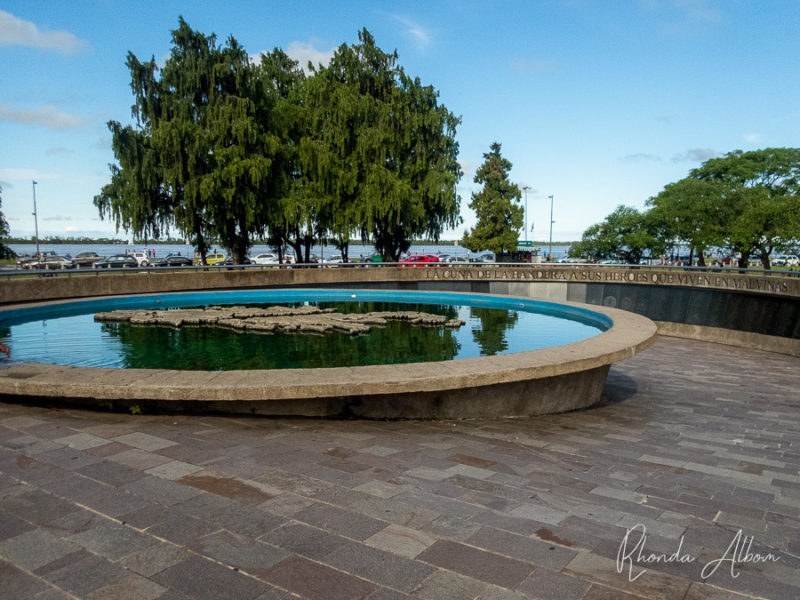 Enjoy the architecture
We stayed in downtown Rosario at Hotel De La Cite and opted to walk just about everywhere we went, even though we had a vehicle. It was a fabulous opportunity to enjoy some of the city's eclectic architecture and statues. Here are a few of my favourites:
Even more things to do in Rosario Argentina
This section represents recommended things to do in Rosario that we didn't get to.
Independence Park (Parque Independencia) is the city's largest park. It is home to the football stadium and History Museum as well as being a great place for relaxing or picnicking around a lovely lake.
History Museum (Museo Histórico Provincial) is a regional history museum with exhibits from indigenous to modern-day.
La Florida Beach is often thought of as the best riverside beach in Rosario, and October to May features lovely beach weather. The second choice would be Catalunya Beach.
Modern Art Museum (Museo de Arte Contemporáneo) is filled with art, mostly from local young people. If you visit, don't miss the city views from the deck at the top. It is often referred to as MACRO.
Fine Arts Museum (Museo Municipal de Bellas Artes), with over 4,000 works in the collection, is one of Argentina's top fine arts museums.
Entre Ríos 480 is the birthplace of famous revolutionary Che Guevara. Although you can't go in, you can snap a photo from outside.
Where to eat
We weren't here long, but we didn't have a bad meal. The generally recommended place to go is anywhere on Avenida Carlos Pellegrini or Avenida Pichincha. We didn't make it to either, as we didn't want to wait until 8 pm when most of the restaurants opened.
Ice cream fans won't want to miss Touche de Creme. This more than 100-year-old artisanal ice cream place is also a coeliac's dream. This ice creamery is 100% coeliac friendly and delicious.
If you are looking for a fun and casual meal, check out Rock and Feller. We had lunch here on our way through Rosario the first time. It's a wanna-be Hard Rock cafe, complete with posters, music memorabilia and videos, although it was mostly the Rolling Stones, Beatles, Bob Marley and about four others. The burgers were great, and the atmosphere lively, so no complaints from us.
El Cairo is a fairly big cafe, filled with locals even at off-hours. There were several round tables in the back where groups were playing cards or Rummikub. There was a variety of food options at affordable prices, and it was good, as one would expect from a large place filled with locals. We had selected it because it can do gluten-free meals and they were open at 6 pm when we were suddenly hungry. It turned out to be a great choice.
Our daughter visited Rosario while on an AFS student exchange
At the time of our most recent visit to Rosario, our then-18-year-old daughter, Sarah, travelled with us. Lucky for us, she is fluent in Spanish This was Sarah's third visit to Rosario.
A few years earlier, Sarah participated in a year-long high school student exchange programme that had her living in Sante Fe City, the capital of Sante Fe province. Her host family took her to Rosario for Easter weekend. She also visited another AFS friend who was living in Rosario on a soybean farm.
Sarah's story
Here is what Sarah originally wrote about her visit with the family:
I visited Rosario with my host family on Easter weekend for a family gathering. The first day we went to a quinta, a small house in a more rural area. They're quite common throughout Argentina to rent for a day or so, for a gathering.
This weekend was with my host father's extended family. I love how large and close-knit the families are here in Argentina. We had a more traditional asado – outside, with an open fire. It was the first time I'd had a rib at an asado, and it was so good!
Asado meat isn't cooked by directly touching the flames but rather by the cinders, so there was an open fire, and the cinders were then pushed underneath the metal grille beside it. The ribs were cooked by hanging off of a metal pole in the shape of a 'T' near the fire.
We stayed at the quinta until past dinner, and by the end, I was really tired. I, along with many of my host cousins, took naps throughout the day. Siestas are an amazing part of the culture!
How to get to Rosario
We rented a car in Buenos Aires and drove a triangle, first to Santa Fe, then to Cordoba, before returning to the nation's capital.
If you are driving from Buenos Aires to either of these cities, you will pass through Rosario. If you don't allocate time to stay here, visit the Flag Monument as you pass.
Note that the roads are not that great, so if you want a smooth ride, we recommend upgrading to a better car than you normally get. With one exception, we used Rentalcars.com throughout South America and consistently had hassle-free transactions with them. (You can see our entire South American itinerary)
Tips for visiting Rosario Argentina
This is a town that takes a siesta. It locks up pretty tightly from about 1 pm to 5 pm. Plan your day accordingly.
The currency in Argentina is the Argentinean Paseo, and credit cards are widely accepted.
As we found throughout Argentina, dinner is eaten very late, with restaurants reaching their peak traffic at about 9.30 or 10 pm.
While many restaurants don't open until 8 pm, there are a few good ones like Rock and Feller or El Cairo that are open through siesta and early evening.
If you're planning your first visit to the country, don't miss our travel guide for first-time visitors to Argentina.
Save on your trip with these resources
These are our go-to companies when we travel. We believe this list to be the best in each category. You can't go wrong using them on your trip too.
Flights: we use Expedia for the best and cheapest flight options.
Accommodations: we use Booking.com (hotels), VRBO (self-contained), or Hostelworld (budget).
Cars (gas or electric): we use RentalCars to search for deals and dealer ratings.
Campervans or Motorhomes: we use Campstar where Albom Adventures readers get a 3% discount.
Motorcycles: we have heard good things about BikesBooking.
Private guides: we love the private guides at Tours by Locals.
Travel Insurance: while not required, we always opt for travel insurance and start at InsureMyTrip to compare coverage plans.
Check out our travel resources page for more companies that we use when you travel.
Save for later
If you enjoyed this article, please share it on social media and save it for later on Pinterest.
Which of the things to do in Rosario will you try?