When she was just 15 years old, our daughter went on an AFS student exchange that had her living in Argentina with a host family for a year. During that time she increased her cultural awareness and sensitivity, became fluent in a second language, and had loads of fun.

She periodically wrote short anecdotes about her life. Follow below through her transition from being new to becoming fluent in Spanish and fitting in.

All stories below written by Sarah Albom at age 15/16, while living in Argentina.
Living in Argentina – at 1 week – 'my adventure begins'
It's been a week since I arrived in Argentina, and in that time I've eaten at least 10 Bon O Bons, an Argentinian sweet with a chocolate-coated outside and a filling that reminds me of cream or peanut butter. They're definitely my new favourite food.
So, Argentina…
I am just starting my year-long AFS student exchange in Argentina. I'm living with an Argentinian family and I'll go to school when it begins in early March.
We live in Santa Fe city, which was about a six-hour bus ride northwest of Buenos Aires, where I arrived.
My new family consists of my mamá, my older sister, and three extremely cuddly dogs. They've welcomed me with open arms and have made me feel so at home. I've been loving every second I've spent with them so far.
I'm loving it here. My family is amazing, I've already made a few friends, and the food including the meat exceeded my expectations.
Aside from the fact that everything is in rapid-fire Spanish, it's already started to settle down and feel normal.
Argentina is hot. Very hot. Most days, it's above 30°C and it doesn't normally cool down below 20°C at night. Or at least it feels like it.
There are quite a few mosquitoes along with other insects like spiders and cucaracha (water cockroaches that bite like mosquitoes. I see them quite often in the pool, and I already hate them). Even with layers and layers of bug spray, they all seem to love me.
Noticing the little things
The strangest parts so far of living in Argentina are the little things like…
The button for the toilet is off to the side or on the wall.
Looking across the table at your nine-year-old cousin at two in the morning.
That quick hand wave through the air to make sure you're not walking through a spider web that could have appeared in the last ten minutes or so.
Putting on shoes to walk through the house.
Everyone wears jeans.
The big differences don't bother me, but I'm finding new little things every day. Those are the ones that jolt my brain and whisper, "Hey. You're not in New Zealand anymore."
Yesterday, I experienced my first summer storm. What's interesting about storms here is that the electric companies turn off the power to ensure there won't be a power surge or electrical damage if something happens.
Living in Argentina – at 2.5 months – settling into daily life
I've been here in Argentina on my AFS student exchange for about 2.5 months now, and life is starting to settle down. Living in Argentina is more relaxed than in New Zealand, and food is very important.
Maté (pronounced maht-tae) is a common drink here. It's hot water poured over a cup full of a yerba leaf (pronounced 'sher-ba'). It's drunk through a metal straw called a bombilla, and passed around the group.
An alternative is tereré, where the hot water is replaced with juice.
It's very common to see people walking around with a thermos and a cup full of yerba. I've become a huge fan of maté.
Celebrating my birthday
Recently, I had my 16th birthday! I had a small day party with a few of my friends from school and nearby, and it was really fun. I made a New Zealand pavlova for it, plus a few other dishes from New Zealand.
Mostly, I'm learning how to cook Argentinian recipes. One of my favourites is milanesa, a type of meat covered in a layer of bread crumbs.
In Argentina, parties normally occur from about 11pm till dawn, but I decided to have an afternoon party as I didn't feel up to hosting an all-night party just yet.
On weekends, everyone stays up late. It's common to see 6 and 7-year-olds awake at 2 or 3am.
More on daily life
It's autumn here, and quickly getting colder. The leaves are all changing as well, which is new to me as it's not something that normally occurs in the part of New Zealand where we live.
It's also colder here than I'm used to in NZ. In winter here, it's normally around 5°C or 6°C.
Along with being relaxed, living in Argentina is about family and friends. Public places around the city have been made for people to be able to gather, whether to drink mate or just talk.
While siestas are beginning to lose their influence as Latin America starts to take on more of Western Culture, most stores close between about 1pm and 5pm, and the streets are also deserted around this time.
Dinner is eaten around 10pm, and lunch is the largest meal of the day.
Argentina is also very catholic, which influences the culture in a variety of ways.
Living in Argentina – at 3 months – attending public high school
I was homeschooled in New Zealand. Therefore, going to school is a new concept for me.
My school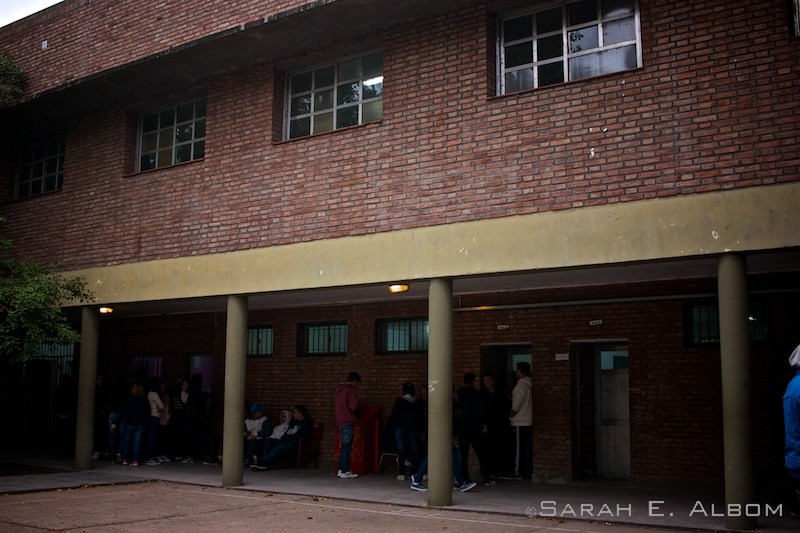 School in Argentina occurs in two segments – morning or afternoon. Some students have to go to both segments, but this doesn't occur in my school. At my school, the students in 3rd, 4th, and 5th grade go in the morning from 7:45am to 12:45pm, and the students in 1st and 2nd grade go in the afternoon from 1pm to 6pm.
We also have gym class for an hour in the afternoon on Tuesday and Thursday.
I'm in 4th grade, or Cuarto, with kids between 16 and 17 years old. Fifth grade, Quinto, is the last year of school.
School starts at 7:45am when everyone gathers in the courtyard to raise the Argentinian flag. The school doors close while this happens. Anyone arriving late needs to wait till after the flag has been raised to enter. If it's cold or raining, we normally stand in the hall inside and face the courtyard while someone outside raises the flag.
The Argentinian school day is divided into three parts of 1 hour and 15 minutes, 1 hour and 20 minutes, and 2 hours. Between them are 10-15 minute breaks. Since school is in the morning, we don't have a lunch break. Normally, we buy snacks like biscuits, alfajores, or small candies from the school kiosk.
There is one movie room in the school, which we use when we need to watch something for class. The power does cut out quite often, but the longest it's been off for any one time is half an hour. It more commonly cuts off when there's bad weather, as the power grid shuts it off to stop any electrical surges from happening.
My classroom
Students stay in one classroom, and the teachers move to each class.
I'm in public school, and it's quite relaxed. I'm in a Humanistic course, with subjects like Physiology and Science of Communications. I have 11 subjects.
My class has 25 students. Seats aren't assigned, but we sit in the same general spot throughout the year.
The grading system is based on numbers from 1-10. A passing grade is above 5.
Small exams are taken in each subject throughout the year to determine the grade, and if a student is failing a subject, they have to take a large exam in February. Students can fail up to 2 classes before having to repeat the year.
Our school doesn't have heating, making it quite cold in winter, but it does have fans for the summer months. The teachers are really friendly with the students, and we'll often all have large conversations once we've finished our work.
There's a lot of graffiti at school, both on the walls and on the desks. It's very common to find English phrases scrawled next to you, as well as on shirts and jackets.
At school in Argentina, we use blackboards. There are few or no school computers. We don't use subject books – rather, we buy photocopies from the school kiosk when we move on to a new subject in the class. Everyone has a single folder for all our classes.
My biggest difficulty is the teachers' handwriting. Everyone here writes in cursive, which I've never used before, so it's tricky for me to read.
Living in Argentina – a story at 4 months – La Redonda in Santa Fe
My host sister works at a local community centre that I've visited multiple times. An old converted train station, La Redonda is now an art and public centre that's open on the weekends and during holidays.
It's great for kids, with plenty of arts and crafts activities located along the walls, and also serves as an awesome place for teens and adults to come to hang out and drink maté.
The centre is shaped like a giant U with the main entrance at the bottom. The place is massive, and most days is packed. My host sister said that during the winter, they can have up to 20,000 people there every day.
The amount of effort that goes into the activities and decorations for La Redonda is impressive. My favourites are the Leonardo Da Vinci displays, including massive wooden boards about his inventions and discoveries, interactive exhibits like the flying machine, quill and ink writing, and even being able to make your own wings with sticks and fabric.
I've been there enough times and am unique with my New Zealand accent that a lot of the employees recognise me when I sit down at their activities, which is fun. I've also had small kids come and talk to me about New Zealand and about why I'm here in Argentina.
The people at La Redonda are exceedingly interesting. I'm always seeing break dancers there, as well as the odd musician and people on professional photo shoots.
Reflections at 4 months
This post marks exactly 4 months since the start of my exchange. It's been going amazingly so far, although my Spanish is coming along slower than I would have liked. I'm starting to feel very comfortable in my host family's home, and days feel like normal life now.
I don't miss New Zealand very much, or at least a lot less than I thought I would. I talk to my family in New Zealand every week, and I keep them updated on what I've been doing. The food here is absolutely delicious!
Living in Argentina – at 5.5 months – visiting a soybean farm in Rosario
Recently, I visited another exchange student in Rosario City. We went to her host family's soybean farm outside of the city.
It was harvest time on the soybean farm. At one of the fields, called el campo in Spanish, the harvesting machine collected all the beans.
We got to sit inside the harvesting machine for a few minutes while one of the farm workers was harvesting, and it was really fun to watch.
After they're harvested, the beans are bagged and exported to China.
We found animal bones under the tree in the soybean field.
Reflections at 5.5 months
I am at 5 1/2 months in Argentina, just about halfway. I've been loving it here, from my wonderful host family to my new friends to the delicious food that's making my jeans uncomfortably tight.
I'm very happy with where my Spanish is at right now. I hope it'll get a whole lot better in the next few months, but at the moment, I am able to carry on conversations with ease and think in Spanglish.
I've even begun to have dreams in Spanish! I won't lie, though; they normally involve food. While here, I've learnt some new activities, such as knitting and Tae Kwando.
Living in Argentina – at 7 months – the Santa Fe Riverside
Santa Fe City is situated between two rivers, one being a branch of the most important river in Argentina called Río Parana. The river actually comes all the way down from Brazil and Paraguay (under a few different names) and empties into the Atlantic Ocean.
The Santa Fe riverside (or as they say in Spanish, the costanera) is quite prominent. We spend plenty of time there, whether it's for drinking maté in the grass or having a jog along the river walk. The lighthouse, or el faro as it's called here, is a popular spot to meet and hang out with people.
In the late afternoon, it can get very busy. During the siesta hours (approximately 2pm-5pm), however, it's as deserted as everywhere else.
The rivers also cause the climate to be much more humid. When I first arrived in Argentina, the river level was quite high, although not as much as in previous years when it took out the hanging bridge that crosses it.
Now, it's down enough that you can see the beach of the Santa Fe riverside. The murky water doesn't prevent people from swimming, and activities such as windsurfing, paragliding, and boating are a common sight.
Due to safety concerns, I don't normally take my camera out of the house, which is why I don't have any photos on here of friends and why I'm currently struggling to write more blog posts.
Living in Argentina – a story at 9.5 months – side trip to Buenos Aires
Argentina's capital, Buenos Aires, is a bustling city with new, interesting things to do at every turn. It has about 3 million people, while the province contains over 60% of Argentina's population.
I was able to visit Buenos Aires for a few days as part of a trip for my AFS student exchange, and it certainly didn't disappoint!
We were really lucky to get some beautiful, sunny days in an otherwise rainy week, and it wasn't overwhelmingly hot yet. As I went with my exchange program, I got to meet some other exchange students from around the country and after only a week together, we became close.
A few of the highlights:
La Casa Rosada, or the Pink House, is a government house and one of the most famous buildings in the city.
We stayed in a hotel not far from Boulevard Florida, and came back many times to buy souvenirs, food, and to watch the street performers which included tango dancers. Obviously, every time we saw them, I didn't have my camera on me.
We went inside the Catedral Metropolitana, the main Catholic church in Argentina. The majority of Argentina is Catholic. Its influence on art and culture is everywhere.
The Obelisk, an iconic Buenos Aires monument, commemorates the fourth centenary of the first foundation of the city. If you follow the road, you will end up in Plaza de Mayo and, ultimately La Casa Rosada.
Reflections at 9.5 months
I've now been in Argentina for more than 9 1/2 months and I'm loving every second. It truly feels like home to me, from a wonderful family that matches my crazy to some very close friends.
The school year recently ended and I've had some more spare time to do activities and get to know Argentina even better.
What do you think would have been the most difficult transition if you were living in Argentina for a year?
More on Argentina