We visited the travelling Leonardo da Vinci Machines exhibit when it was at MOTAT in New Zealand. It's a fascinating exhibit offering both visual and hands-on amazement. We comfortably recommend it, should it come to a town near you. Although it's not currently in New Zealand, we have left this page here as a historical reference.
Leonardo da Vinci was a genius who was hundreds of years ahead of his time. Whether you know of him as an artist, an inventor, a designer, an anatomy expert, or a renaissance man, you will probably discover another facet of his brilliance at the Leonardo da Vinci Machines exhibit.
Travelling around the world, it is now in Auckland at MOTAT (the Museum of Transport and Technology) and is well worth a visit.
It is an exhibit designed for everyone. His technical sketches and built-to-scale machines appeal to adults while the opportunity to touch and try out many of the machines keeps younger children interested. Each machine is clearly marked with a green checkmark allowing visitors to "use with care", or a red x for "do not touch".
Here are some highlights of the da Vinci Machines exhibit
Hydraulic and aquatic
This hydraulic saw is a great example of how Leonardo used water to power many of his inventions, creating useful tools.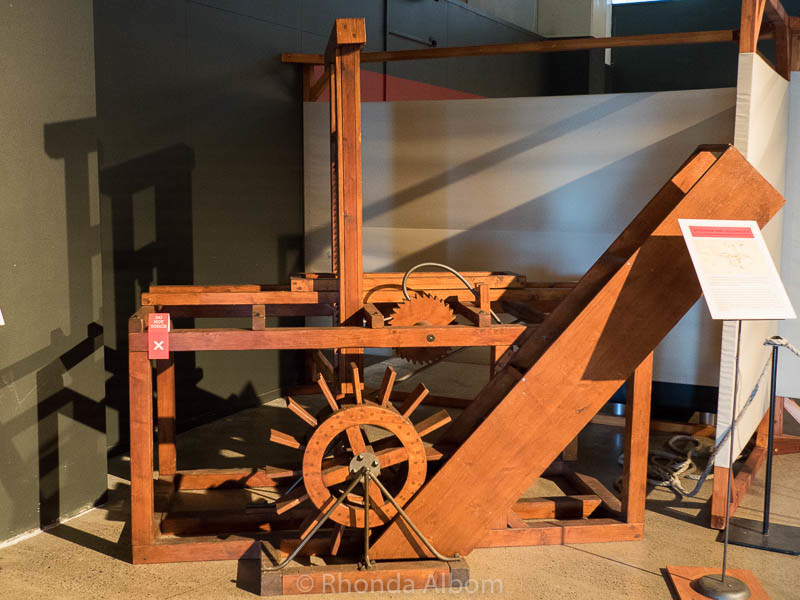 Leonardo da Vinci made improvements to the Archimedes' Screw, a device used for pumping water. It is one of the many machines on display that visitors can try. There is even a footstool so smaller children can reach.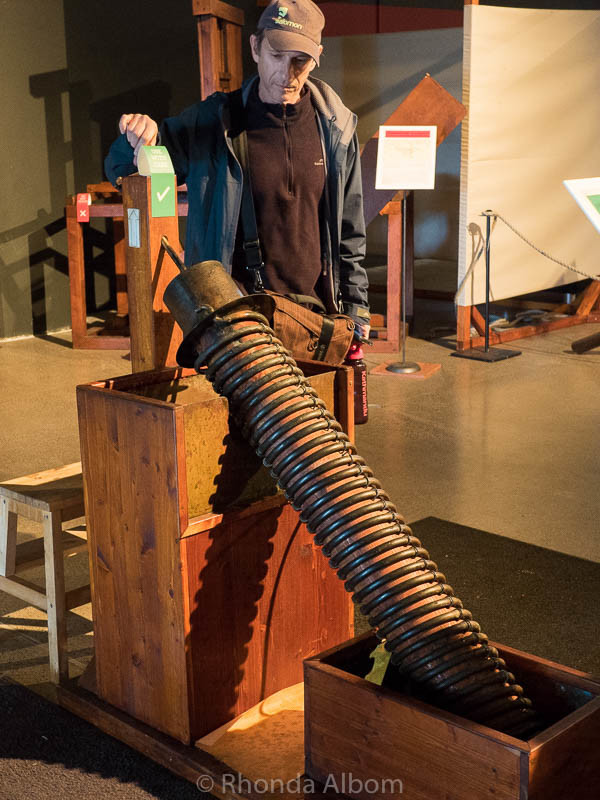 Military engineering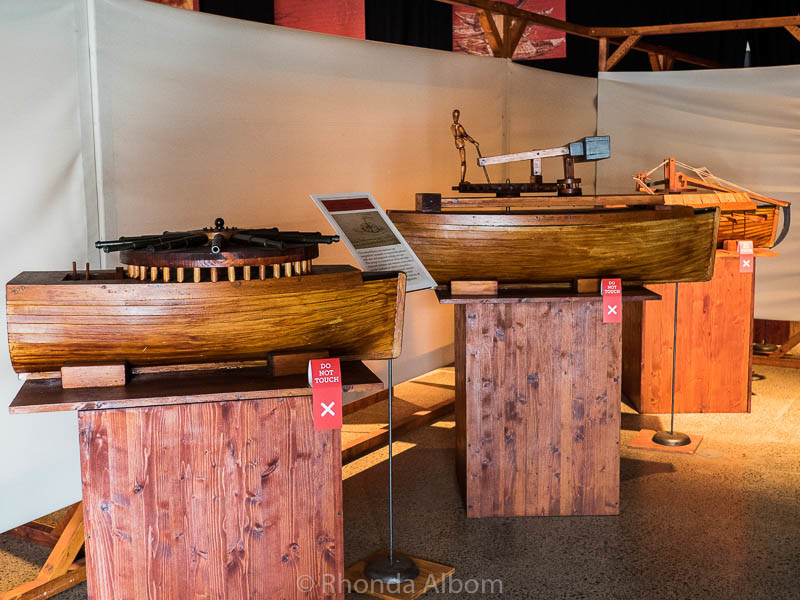 Flight
Sarah (our daughter on an AFS exchange) also visited a travelling Leonardo da Vinci flight exhibit in Argentina.
Leonardo used this model to verify experimentally if a rapidly flapped wing can support the body of a man in flight. He developed his hypothesis from the study of birds.
Don't forget to look up while at the exhibit as that's where you will find many of the flying machines.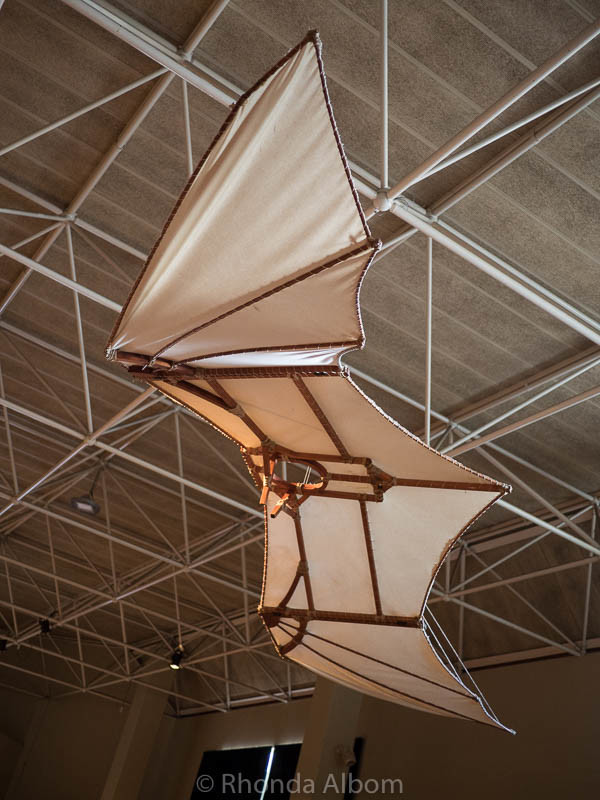 Physics and mechanics
The signage is one of the reasons I think this exhibit appeals to everyone. The other is that most of the physics and mechanics machines allowed hands-on trials.
Alongside each built-to-scale invention is a sign featuring a copy of his sketches and drawings along with an easy to understand explanation.
Overall, It's an exhibit for all ages. Teens and adults enjoy and understand it at a different level than younger kids.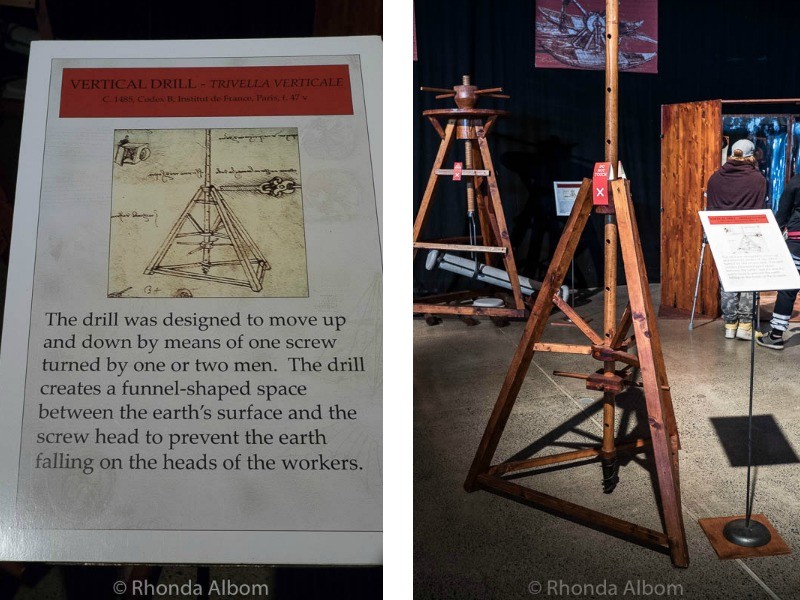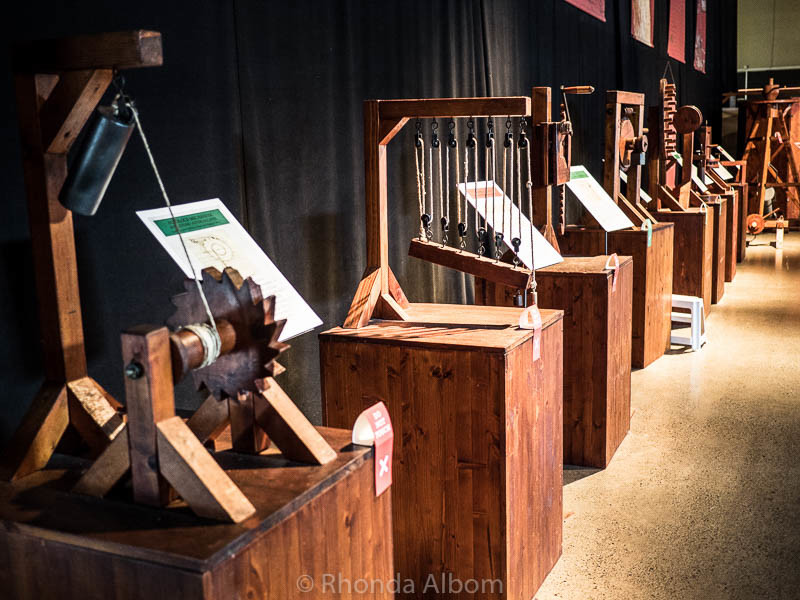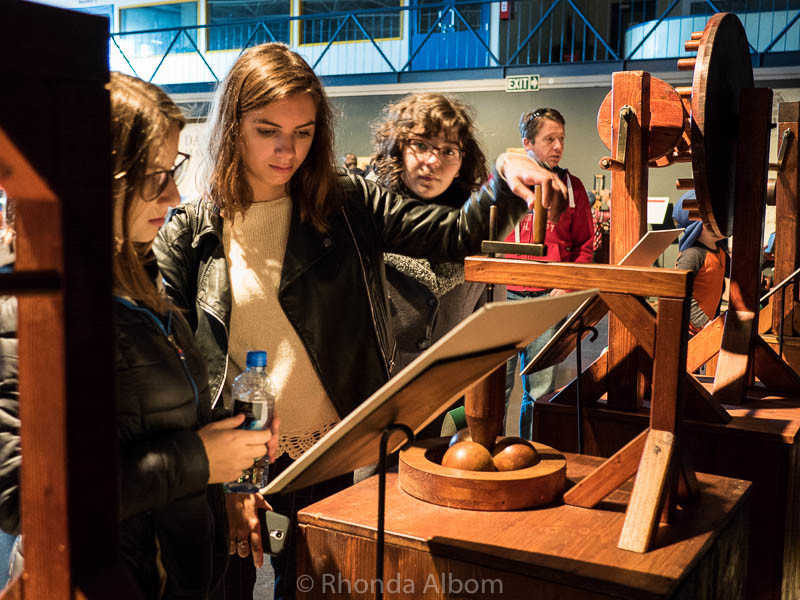 Renaissance art
The de Vinci exhibit included his art as well as his machines.
Annunciation
According to the signage: "Begun when Leonardo was only about 21 years of age, the Annunciation was his first masterpiece. Set in the garden of a wealthy 15th Century Tuscan villa, the painting depicts the moment when the Archangel Gabriel appeared to Mary to announce that She will soon become a mother." This painting is so important that our Italian exchange student studied it at school for a month.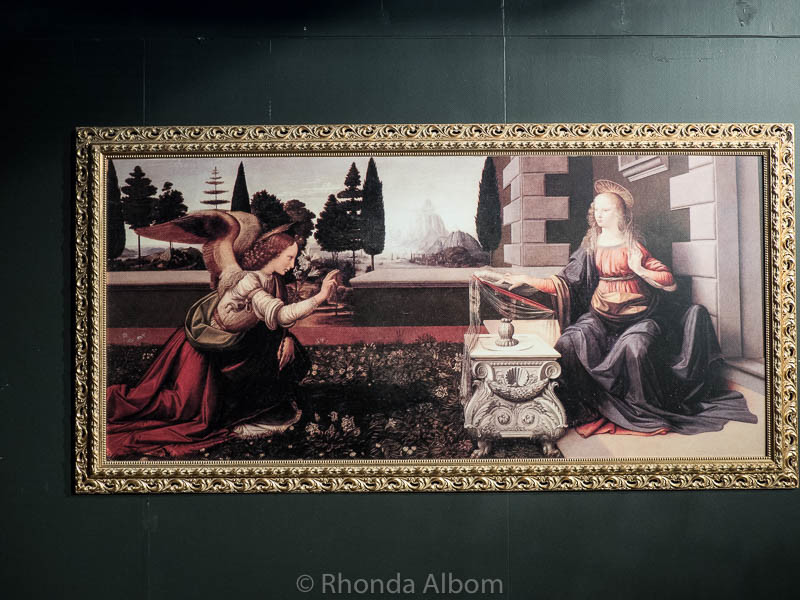 The secrets of the Mona Lisa
Two copies of the Mona Lisa hang side by side. The first represents how this masterpiece looks today; the second is digitally enhanced to return it to its original appearance. The signage offers interesting comparisons, highlighting changes over time.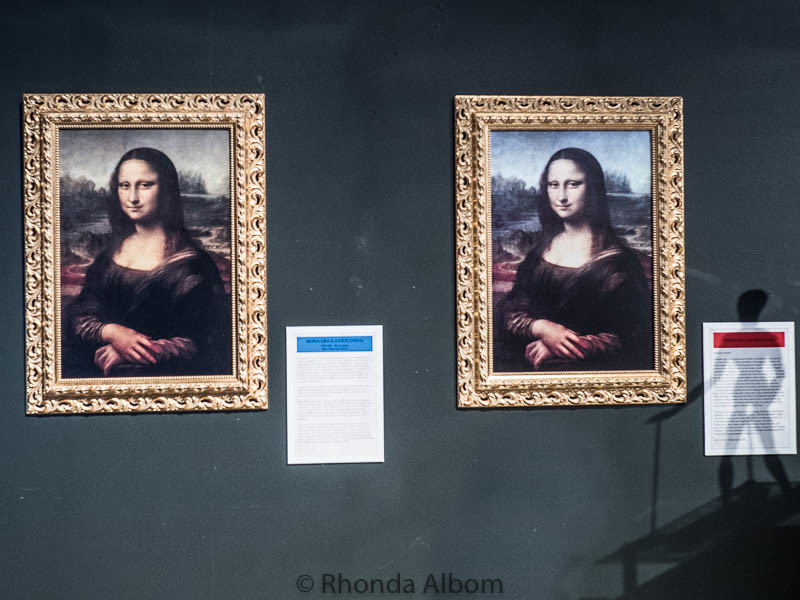 Anatomy – The Vitruvian Man
The Vitruvian Man, drawn by Leonardo around 1490, depicts the proportions of man based on the correlations of ideal human proportions. Italian minted Euro coins feature the Vitruvian Man.
Did you know…
. . . Leonardo's surname is not da Vinci. Translated into English, it means Leonardo from Vinci, the town in which he was born. His full birth name is Leonardo di ser Piero da Vinci meaning "Leonardo, son of Messer Piero from Vinci."
Practical information on the da Vinci Machines exhibit
Leonardo da Vinci Machines was at MOTAT from 30 July to 16 October 2016.
MOTAT is open daily from 10 am to 5 pm.
The main MOTAT museum is located at 805 Great North Road in the Western Springs district of Auckland. The Aviation Display Hall is located nearby, and there is a tram to transport you between the two.
Entry to the da Vinci Machines exhibit is included with museum entry, as is the entry to both MOTAT facilities.
MOTAT is one of my favourite museums. Not only does it offer hands-on family learning, but it also has travelling events throughout the year as well as fun events for Halloween or Matariki, and charitable events in the Christmas season.
Looking for more da Vinci?
If you want to know more about the great man, there are plenty of great books out there.
Save for later
If you enjoyed this article, please share it on social media, including Pinterest:
Have you seen the da Vinci Machine exhibit at MOTAT or in your hometown? If not, don't miss it!
You might also like…
Disclaimer: MOTAT provided a media pass to this event. However, the opinions expressed here are strictly my own.