Soccer fans know Uruguay. For the rest of us, Uruguay often seems elusive and mysterious. A modern agricultural nation exporting both wool and beef, it welcomes visitors from the elite to backpackers. However, if you like to travel, it's easy to visit Uruguay.
It's a progressive country with a sordid history resulting in a skewed demographic balance that is quite different from its neighbouring nations. Yet, they flock here for holiday, drawn by the mild summers, stunning beaches, culinary delights, liberal laws, and the many things to do in Uruguay.
It's a small country filled with windswept beaches, sea lions, fishing villages, horse ranches, five-star resorts, and so much more.
Where is Uruguay?
Nestled between Brazil and Argentina along the Atlantic coast, Uruguay is much smaller than its neighbouring countries. Boasting a population of fewer than 3.5 million residents, Uruguay has a population density of only 19 people per sq km. In comparison, the USA is at 37 per sq km, while Singapore's population density tops 8,000 per sq km, according to World Population Review.
Uruguay travel guide: quick reference
Emergency number: 911
Official Language: Spanish (English is widely spoken in tourist areas)
Currency: Uruguayan peso (UYU)
Credit cards: Mastercard and Visa are widely accepted
ATM Machines: Only found in the larger cities
Electricity: 230V 50Hz Type I connectors (same as used in Australia, Argentina, and New Zealand). Also, C, F, and L connectors may be used
Telephone country code: +598
Water: Tap water is considered safe to drink
Capital city of Uruguay: Montevideo
Best time to visit Uruguay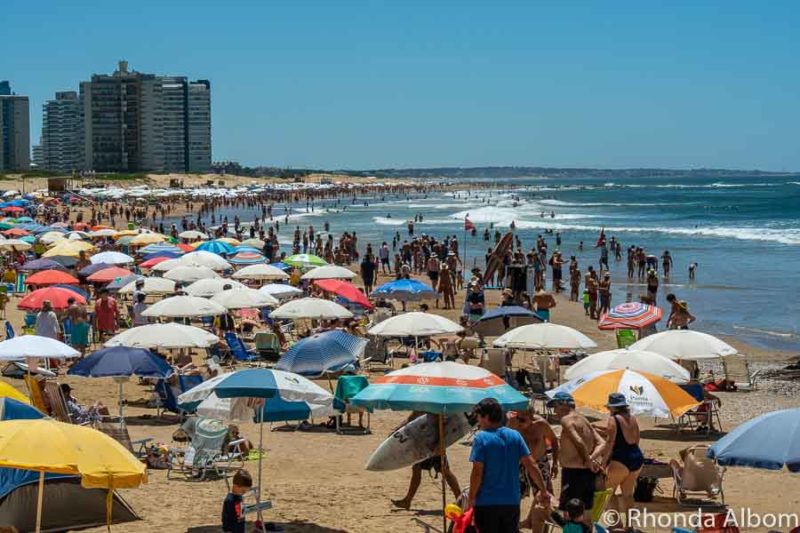 Located in the southern hemisphere, the coastal climate of Uruguay is generally milder than the interior. While spring and summer (October through March) are thought of as the best times to visit, be aware that January is by far the busiest and most expensive month to visit the coastal cities. In fact, many are shuttered for much of the year, coming alive sometime in December, and hibernating again from mid-February.
Uruguay Seasons
December to February – Summer
Warm coastal temperatures. Average temps: 17-28C
Hotter in the Northwest. (33C)
More crowded.
Requires booking ahead.
March to May – Autumn
Autumn is mild.
Average temps: 10–26C
Fewer tourists.
Less planning required.
June to August – Winter
Chilly and damp winters.
Average temps: 6–18C
Cold winds possible.
Shorter days.
September to November – Spring
Springtime is damp and cool.
Average temps: 9-24C
Tends to be windy.
Fewer tourists.
Less planning required.
Uruguay holidays that affect travel
Carnival in Uruguay is a big deal. In fact, Montevideo is home to the world's longest carnival, lasting six weeks each year and boasting as much fun as Rio de Janeiro.
January, while it's not a holiday, is the height of the season, especially in Punta del Este. You need to book early and be aware that prices will be up.
Additional Public Holidays in Uruguay: New Year's Day, Día de los Reyes (Jan 6), Easter (varies), Desembarco de los 33 Orientales (Apr 19), Labor Day (May 1), Batalla de las Piedras (May 18), Natalicio de José Gervasio Artigas (June 19), Jura de la Constitución (July 18), Independence Day (Aug 25), Día de la Raza (Oct 12), Día de los Difuntos (Nov 2), and Christmas (Dec 25).
Travel tips: Know before you visit Uruguay
Visas and entry
Uruguay's visa requirements differ based on the citizenship and residency of visitors. However, citizens (passport holders) of Australia, Canada, Germany, Great Britain, New Zealand, United States, and many other countries can fill out a tourist card at immigration and will automatically be granted a 90-day visitor visa. Check the official government site for information.
Safety in Uruguay
Using the world peace index as a measure, Uruguay is considered the safest South American country. However, this is not an invitation to be careless. Even in Uruguay, we practised basic safety guidelines for travelling in South America.
Travel Insurance
We don't travel without insurance. It's a personal choice that has paid off well for us. Although Uruguay is well-known for having affordable healthcare, I still would carry insurance. You never know what can go wrong, as I learned first-hand when I got dengue fever while in South America. ⇒ Compare travel insurance companies based on your needs.
What to bring to Uruguay
We were always comfortable in Uruguay, as it has an overall casual atmosphere. Like at home, we were sporty for the daytime and smart casual for evenings. You will want a good pair of walking shoes, a sun hat, and swimwear.
We always travel light and include clothes and light jackets that can be layered as needed. Therefore, our basic kit needed nothing extra for Uruguay. You can get a free copy of our packing list when you sign up for our newsletter.
Top places to visit in Uruguay
Travelling within Uruguay
Self-driving – know before you visit Uruguay
In Uruguay, people drive on the right side of the road when they stay in their lane. Driving, we were told, is a bit haphazard and nerve-wracking. And bone-jarring potholes are not uncommon. However, if you are going to drive, there are several things you should know:
The main highways are fine, but other road conditions vary greatly.
The Uruguay speed limits on the open road are up to 110 kph (68 mph).
Importantly, wearing safety belts is compulsory for everyone in the car.
Children aged 0-12 must be in a rear seat.
Uruguay has zero tolerance for drinking and driving.
Dipped headlights are required during the day.
All cars must carry a first aid kit.
We opted not to drive in Uruguay. If you feel differently, renting a car in Uruguay is easy. RentalCars.com offers options from international and local companies, allowing you to compare prices and company ratings. We have been using Rental Cars worldwide since we discovered them.

⇒ Compare prices at RentalCars.com
Go with a guide: Uruguay tours
Tour Montevideo, Punta del Este, & Colonia: If you don't want to drive, and you want the benefits that come with someone else doing the driving and the knowledge provided by a tour guide, this 3-day tour may be perfect for you. Starting and ending each day in Montevideo, it spends one day exploring each of the three cities: Montevideo, Punta del Este, & Colonia del Sacramento.
⇒Check the full itinerary and reviews
Uruguay transportation options
If you don't want a tour and are not brave enough to drive yourself, other transportation options include buses, trains, planes, and ferries. See other options here.
Local foods and drinks to try when you visit Uruguay
Pro tip: Many restaurants offer tax-free dining for tourists; you simply need to ask for it.
If you're going to spend any time in Uruguay, even just a day, there are a few things you will want to try.
What to eat in Uruguay
Chivito: is the national dish of Uruguay, according to Wikipedia. It's a sandwich of thinly-sliced cooked beef steak (churrasco), mozzarella, tomatoes, mayonnaise, and olives. Often, bacon, fried or hard-boiled eggs, and ham are added. It's usually served with French fries.
Asado: A slow-cooked barbeque over hot coals with a selection of different cuts of meat, from steaks to intestines.
Empanada: Savoury pastry, typically filled with meat, ham and cheese, or vegetarian.
What to drink in Uruguay
Share a mate (mah-tā) with friends. It's a bitter-tasting tea-like beverage drunk from an open-top cup through a metal straw called a "bombilla." You will see Uruguayans walking down the street, mate cup in one hand and the hot water thermos wedged firmly under their other arm.
Sample Grappamiel, often referred to as the national drink. It is a sweet wine with honey.
Sip some medio y medio, a combination of equal portions of wine and champagne.
Interesting Uruguayan Laws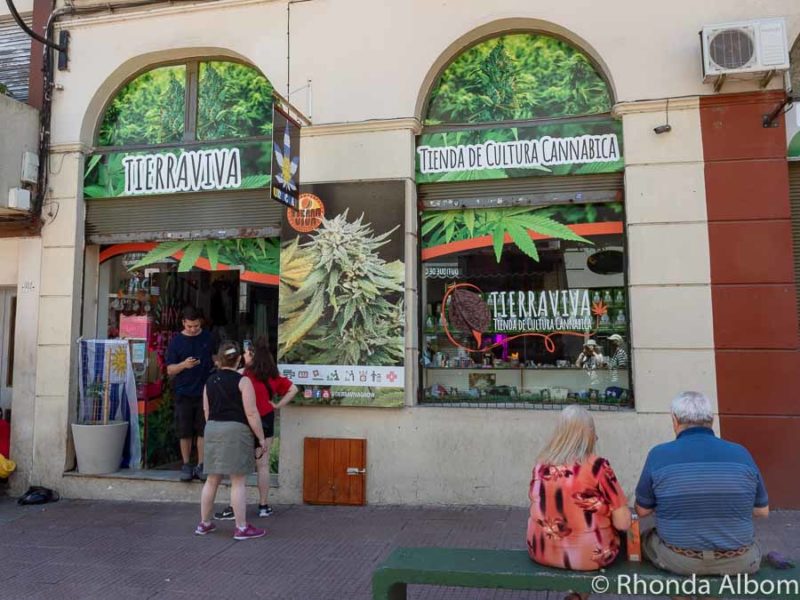 Three laws on the book clearly distinguish Uruguay from other countries in South America. all credited to former sandal-wearing President Jose Mujica.
A first-trimester abortion is legal, but only for Uruguayan citizens and under a set of government guidelines.
The cultivation, sale, and consumption of recreational marijuana is legal with limitations and government control; however, only for Uruguayan citizens.
Marriage equality is on the books.
Uruguay's Shameful Past
One thing you can't help noticing, unlike other South American countries we visited, is the high percentage of white European Uruguayans (88%). This is a direct result of the country wiping out its indigenous Charrúa population in 1831. It's a shameful past that current citizens seem embarrassed by. You can read about it here: Charrúa – Genocide.
More information and tips on visiting Uruguay
A 10% tip in restaurants is customary.
The legal age to purchase alcohol in Uruguay is 18; however, there is no minimum legal age for drinking alcohol.
While it is legal for Uruguayan citizens to smoke marijuana, it is NOT legal for tourists.
If you buy gifts that you are taking out of the country, you may still be able to get the VAT tax (22%) refund near the port terminal. Look for the small blue building, or check it out here. It was originally scheduled to end in April, but has rolled over annually, and was still valid as of April 2022, with no additional information currently available.
The weather is unpredictable, especially in the summer, so bring a rain jacket.
Uruguay is well-known for soccer and has one of the most successful teams in the world. To date, they won 19 official FIFA titles: 2 World Championships, 2 Olympic Games, and 15 Copa América championships. Plus, they were the world's first Soccer World Cup winners (1930) and won again in 1950.
The population of Uruguay is about 3.5 million people and 12 million cows.
Save for your visit to Uruguay
If you enjoyed this article, please share it on social media and save it for later on Pinterest.
Will you visit Uruguay?
Photo Credits
Photos on this page are either shot by our team and watermarked as such, in the public domain, or some stock photos were supplied by DepositPhotos.