We just spent five weeks driving around the UK and Ireland with a teen and a tween. We learned a lot, made many mistakes and discovered some great secrets. Here are my best travel tips for the UK and Ireland:
See London but save most of your time for the rest of country.  Go Slowly – no matter how long we planned for each town, it was never enough.
Look both ways before crossing the street – Locals drive on the left, tourists drive on either side.
If you are hiring (renting) a car, taking the car ferry to and from Ireland (like we did) is a waste of time and money.  Fly and get a car in each country.
Find free walking tours – it's easy, and they are great.  We went on fantastic free tours in London, Oxford, York, Edinburgh, Inverness, Dublin, and Bath. Don't forget to tip your guide. The easy way to find the tours is to Google search for "Free City Tour (City Name)."
Harry Potter fans can find fun everywhere in England. Top three Harry Potter destinations are Alnwick Castle, Oxford, and the new Warner Bros. Harry Potter Studio Tour.
If you are an overseas visitor and love castles and old ruins, get either a 9 or 16 day English Heritage Overseas Visitor Pass

. It will give you unlimited access to over 100 sites across England.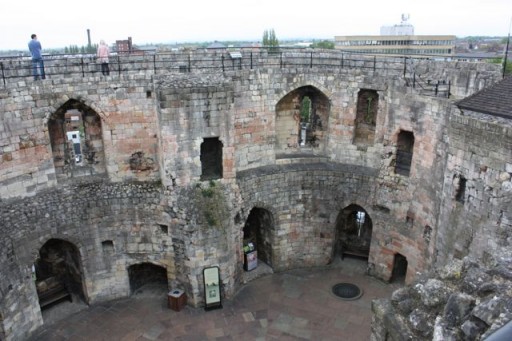 If you want reasonably priced, clean, consistent accommodation, Premier Inns are all over the UK and a few in Ireland and they are all the same.  Nothing to write home about, but if you want a family of four in one room, they are a deal, and kids (under 16) eat free breakfast. We found the best prices at Booking.com.
Opposite travel tip in Ireland. We opted not to book hotels in advance, but rather drive until we found a town we loved (this doesn't take long) and then finding a local B&B. This worked great in May, but may not be as successful in summer.
You can drink the water in the UK, so be sure to ask for tap water at restaurants.
Cheap airline flights may not be that cheap – watch scheduling times.  If you come in too late to take the train into town, the taxi is hideously expensive.
Don't miss the Scottish Highlands. Of course, we were lucky, and the weather for us was fantastic.

This is Dunrobin Castle in the Scottish Highlands

Looking for some less expensive shopping – for groceries, we were advised that Tesco has the best prices.  However, if it is clothing you want, Primark (called Penneys in Ireland) was referred to by a mum we met as the "Yes" store, as mum is more likely to say yes to purchase from there.  Keep in mind; you do get what you pay for so don't go if you are looking for quality.  Also, if you are going to the one on Oxford Street in London, the queue for the women's dressing room is massive so wear leggings and a tank top under your clothes.
A few travel tips just for London:
Enjoy London without a car. The tube/subway is quick, clean, frequent, easy and fun for the kids.  If you are not in a hurry, it is much cheaper to get an off-peak weekday pass which starts at 9.30 but does let you ride all day, even through the evening rush hour.
We purchased a three day London Pass which was a great deal financially.  Be advised that transit passes which are included with the pass don't start until 9.30 on weekdays, which was fine for us as we don't generally get out early.
→ Check pricing for the London Pass
Go early to see the changing of the guards. If you show up at "show time" you will probably be in the back of a crowd and see nothing.
Things to carry around with you – more travel tips for the UK and Ireland:
We purchased one of those insulated food bags (buy the soft ice packs to keep weight down) and a picnic basket.  This allowed us to stop at random beautiful spots and enjoy a sandwich, piece of fruit or whatever else we picked up for the day.
Bring an umbrella or raincoat with you every day, you just don't know which way the weather will go.
If you are an optimist, bring sunscreen.
We carried Lonely Planet's Great Britain Travel Guide.
Did we miss anything? Do you have travel tips for the UK or Ireland to add?