A collection of travel tips for the UK including England, Scotland, Wales, and Northern Ireland. Perfect for first-time visitors, they will also help those who haven't been since the start of the pandemic, as well as seasoned travellers.
Charming, history-laden, and relaxing, the British countryside is one of my favourite places to drive around and explore. However, once I get all the way to England, I want to explore the whole of the United Kingdom.
On our last visit, we had only five weeks. Starting in London, we made our way north through England, then into Scotland, crossed the channel over to Northern Ireland, ducked into Ireland for a moment and crossed back to Wales.
Unlike many places we have visited, we could speak the language. However, there were still plenty of nuances, therefore the need for this page of travel tips when visiting the UK.
Important update: If you are entering the United Kingdom from overseas, your requirements will vary for each of the four countries of the UK, and will also depend on whether you are fully vaccinated and where you have been in the 10 days prior to entry. We recommend always getting the most up to date information from the UK's official government site.

Trending on Albom Adventures
This site contains affiliate links to products and/or services. We may receive a commission for purchases made through these links at no additional cost to you.
Where is the United Kingdom?
The United Kingdom predominantly lies on two islands northwest of mainland Europe. It encompasses the island of Great Britain (home to England, Wales and Scotland) and the northern part of the island of Ireland (Northern Ireland).
UK travel guide: Quick reference
Emergency numbers: 999 or European wide 112 for police, ambulance and fire
Official Language: English
Currency: Pound sterling (GBP). The symbol is £
Credit cards: Visa and Mastercard are widely accepted
ATM Machines: Easy to find in the UK
Electricity: 230V 50Hz Type G connectors (same as those used in the Singapore)
Telephone country code: +44
Water: Tap water is considered safe to drink
Capital city: London
Population: just over 67 million people
Tipping: There is often a 12.5% service charge added at restaurants. Otherwise, tipping 10 to 15% at restaurants is customary. In addition, tipping porters and black cabs (round up to nearest pound) is also customary.
Best time to visit the UK
UK travel guide to the weather
June to August
Summer
Warm and sunny days
Avg temps: 18-21°C
Considered best time to visit
More crowded
Requires booking ahead
September and November
Autumn
Cooler days
Mix of sun and rain
Avg temps: 10-18°C
Fewer tourists
Less planning required
December to February
Winter
Cold and rainy
Avg temps: 7°C
Fewer tourists
Less planning required
March to May
Springtime
Cooler days
Mix of sun and rain
Avg temps: 9-15°C
Fewer tourists
Less planning required
UK road trip planning tips
Here are few general travel tips for the UK visitor.
See London but save most of your time for the rest of the UK (and Ireland if you are making a loop).
Plan your travels to start in London, and discover the city by foot and public transportation. Parking is difficult to find and very expensive in the city. Even if your hotel includes it, a rare find, you won't have anywhere to park at your destination. Similarly, if you end in London, return your car upon arrival to the city.
If you are visititng both islands, we recommend renting a separate car on each island. We opted to take our car across on the car ferry, and the additional cost and limitation clearly were not worth the convenience of having the same vehicle.
Go slowly – no matter how long we planned for each town, it was never enough.
Remember, cars drive on the left. If you are not from Austarlia or New Zealand, you will need to take extra caution when crossing the street, as your instinct will be to look in the wrong direction for traffic.
When first in any city, check for free walking tours by googling "Free City Tour (City Name)." In the UK and Ireland, we enjoyed free tours in London, Oxford, York, Edinburgh, Inverness, Dublin (Ireland), and Bath. They call them "free" but note that tipping your guide is expected.
More UK travel tips
We love road trips and adore the British countryside. While we have driven from London to Edinburgh, through the Scottish highlands, over to Northern Ireland, through Ireland, across to Wales and then back to London, one of our favourite segments is London to York. The countryside from London to Oxford and then from Oxford to York is filled with British charm, old estates, fascinating castles, abbey ruins, and towns filled with history and mystery that you won't want to miss like Sherwood Forest and Stratford Upon Avon.
One of our favourite adventures was inspired by our then tween daughter. On that adventure we explored the country searching for Harry Potter attractions. Harry Potter filming locations are scattered throughout the country. Fans can also visit the Warner Bros. Harry Potter Studio Tour. (I think our Harry Potter highlight was broomstick flying lessons at Alnwick castle.)
If you are an overseas visitor and love castles and old ruins, get either a 9 or 16 day English Heritage Overseas Visitor Pass. It will give you unlimited access to over 100 sites across England.
London travel tips
The tube/subway is quick, clean, frequent, easy, and fun for the kids. If you are not in a hurry, it is much cheaper to get an off-peak weekday pass which starts at 9.30 but does let you ride all day, even during the evening rush hour.
We purchased a three day London Pass which was a great deal financially. You can purchase based on the number of days you want to use the pass. All passes are valid for 2 years from purchase date and only become activated with your first attraction visit. After activation, your pass will be valid for the number of days purchased. Best of all, the London Pass includes access to over 80 attractions, including a 1 day pass for the hop-on-hop-off bus.
Go early to see the changing of the guards. If you show up at "show time," you will probably be in the back of a crowd and see nothing.
If London is your starting destination in the UK, don't make the mistake we did. Once we arrived, we quickly learned that cheap airline flights may not be that cheap. If you come in too late to take the train into town, the taxi is hideously expensive.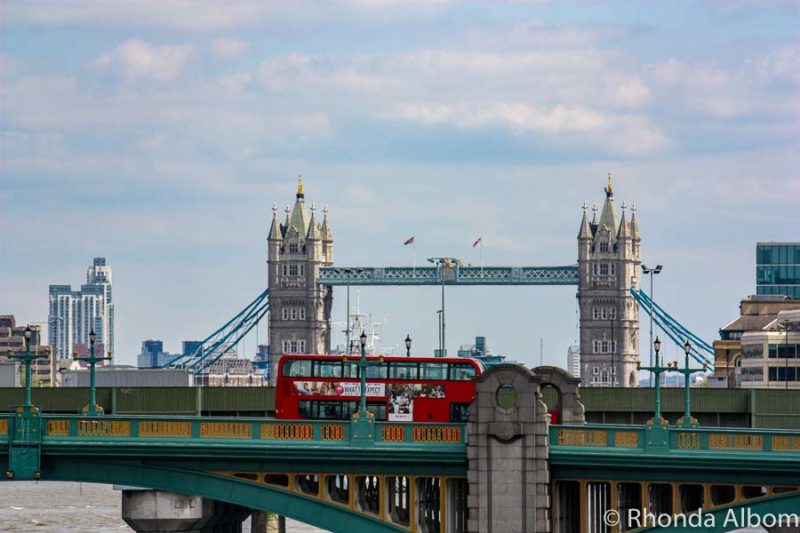 Things to bring: more travel tips for the UK
We always travel light and include clothes and light jackets that can be layered as needed. Therefore, our basic kit needs only a few additions for a road trip in the UK.
We added an insulated food bag and a picnic blanket. This allowed us to stop at random beautiful spots and enjoy a sandwich, piece of fruit, or whatever else we picked up for the day.
Also, if you are an umbrella user, you will want one in the UK, especially if you are not visiting in summer.
Travel planning tips
This site contains affiliate links to products and/or services. We may receive a commission for purchases made through these links at no additional cost to you.
Flights: We use Skyscanner to find all the available flight options at the best prices.

Rental Car: We always use RentalCars.com, a rental car search engine with no hidden costs.

Accommodations: We use Tripadvisor to check ratings and book lodging when we travel.

Travel Insurance: We purchase insurance that covers medical and travel emergencies when we head overseas. We start with Travel Insurance Master, an aggregator that gives us a free and easy-to-read comparison of the inclusions of each policy.

Packing Tips: Get a free copy of our packing light checklist when you sign up for our mailing list. (We pack light, yet have everything we need.)

**Find more money-saving resources on our Travel Resources page.
Did we miss anything? Add your travel tips for the UK below.