Spending five weeks driving around the UK and Ireland with a teen and a tween, we learned a lot. We also made many mistakes and discovered some great secrets. Here are our best travel tips for the UK and Ireland:
General travel tips for the UK and Ireland
See London but save most of your time for the rest of the UK and Ireland.
Go Slowly – no matter how long we planned for each town, it was never enough.
Look both ways before crossing the street – Locals drive on the left, tourists drive on either side.
Find free walking tours – it's easy, and they are great. We went on fantastic free tours in London, Oxford, York, Edinburgh, Inverness, Dublin, and Bath. Don't forget to tip your guide. The easy way to find the tours is to Google search for "Free City Tour (City Name)."
If you want reasonably priced, clean, consistent accommodation, Premier Inns are all over the UK and a few in Ireland and they are all the same. Nothing to write home about, but if you want a family of four in one room, they are a deal, and kids (under 16) eat free breakfast. We found the best prices at Booking.com.
The water in the UK is safe to drink.
If you want tap water in a restaurant, just ask. It's not served automatically.
London travel tips
Cheap airline flights may not be that cheap – watch scheduling times. If you come in too late to take the train into town, the taxi is hideously expensive.
Enjoy London without a car. The tube/subway is quick, clean, frequent, easy and fun for the kids. If you are not in a hurry, it is much cheaper to get an off-peak weekday pass which starts at 9.30 but does let you ride all day, even during the evening rush hour.
We purchased a three day London Pass which was a great deal financially. Be advised that transit passes which are included with the pass don't start until 9.30 on weekdays, which was fine for us as we don't generally get out early.
Go early to see the changing of the guards. If you show up at "show time" you will probably be in the back of a crowd and see nothing.
The rest of England travel tips
Harry Potter fans will be in love with London and much of the British countryside. Harry Potter filming locations are scattered throughout the country, or fans can visit the Warner Bros. Harry Potter Studio Tour. I think our Harry Potter highlight was broomstick flying lessons at Alnwick castle.
The countryside from London to Oxford and then from Oxford to York is filled with British charm, old estates, fascinating castles, abbey ruins, and the towns filled with history and mystery that you won't want to miss like Sherwood Forest and Stratford Upon Avon.
If you are an overseas visitor and love castles and old ruins, get either a 9 or 16 day English Heritage Overseas Visitor Pass

. It will give you unlimited access to over 100 sites across England.
Ireland and Northern Ireland travel tips
Opposite travel tip in Ireland. We opted not to book hotels in advance, but rather drive until we found a town we loved (this doesn't take long) and then finding a local B&B. This worked great in May, but may not be as successful in summer.
Scotland travel tips
Don't miss the Scottish Highlands. Of course, we were lucky, and the weather for us was fantastic. Our best Scotland tips and driving route are found here.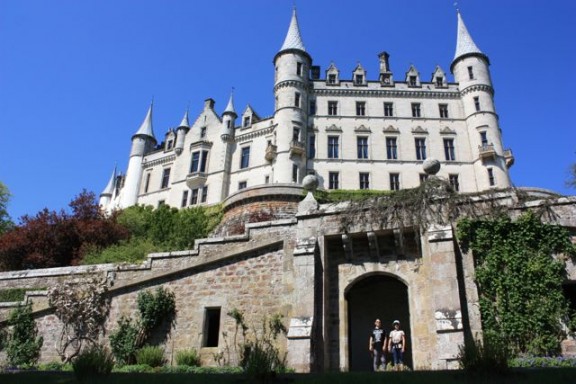 Driving Tips for UK and Ireland
We hired a car in London and drove through England and Scotland before a ferry crossing to Northern Ireland. In retrospect, we should have returned the car in Glasgow and flew to Belfast and rented a second vehicle. It would have saved us both time and money. Either way, we use Rentalcars.com. We have had great success every time with them. As an aggregator, the provide us with options of different vehicles from various local companies. We usually pay less going through Rental Cars than had we purchased on our own.
⇒ Click here to check availability and prices at Rentalcars.com
UK Shopping Tips
Looking for some less expensive shopping – for groceries, we were advised that Tesco has the best prices.
However, if it is clothing you want, Primark (called Penneys in Ireland) was referred to by a mum we met as the "Yes" store, as mum is more likely to say yes to purchase from there. Keep in mind; you do get what you pay for so don't go if you are looking for quality.
Things to bring: More travel tips for the UK and Ireland:
We purchased an insulated food bag and a picnic blanket. This allowed us to stop at random beautiful spots and enjoy a sandwich, piece of fruit or whatever else we picked up for the day.
Bring an umbrella or raincoat with you every day, you just don't know which way the weather will go.
If you are an optimist, bring sunscreen.
Related links:
Did we miss anything? Do you have travel tips for the UK or Ireland to add?