With a teen and tween in tow, we couldn't visit the UK without seeking out Harry Potter Attractions in England and Scotland. We allocated about a week to see London, the classic destinations as well as finding Harry Potter sights in London. It's an ambitious schedule, but we are up for the challenge. Today, we focused on our tween's primary goal of searching for ALL of the Harry Potter places in London, a set up for failure right out the gate. However, we did manage to find a fair number of filming locations.
Next week, we hope to expand our search to include Harry Potter Attractions in England and Scotland. This will include Hogwarts School of Witchcraft and Wizardry, the Hogwarts Express, and the Harry Potter Studio Tour.
Harry Potter Attractions in London
• Platform 9 3/4
Our first stop was platform 9 3/4. It's at the Kings Cross station in London. If you are a Harry Potter fan, you know that only certain types can get onto the platform 9 3/4. I, unfortunately, was not one of them, and could only capture the photo as my girls departed.
Pro Tip: Look for the sign on the wall or just the long queue of people waiting for a turn. Put something into the trolley (cart), and have your "student" simulate running for a more realistic image. The magic will do the rest.

Connected to Kings Cross Station is the facade of St Pancras the Weasley's car takes flight in the second movie.
• Harry Potter bridge
We crossed the Millenium bridge from Shakespeare's Globe Theatre to St. Paul's Cathedral. You can see it here in the background, although you may know it as the Harry Potter Bridge.
• The neighbourhood around the Leaky Caldron
One of our London adventures took us in search of the streets used around the Leaky Caldron. It was marked by the two little martini glasses on a fairly useless map we had downloaded (I am not sharing it here.) We thought we recognized one of the streets. As Sarah stopped to smile on a corner for a photo, a rather drunk man joined in the photo. I told him what we were looking for and he assured us we were close, just one building off. . .
Harry Potter Attractions in England – Outside of London
• Hogwarts School of Witchcraft and Wizardry
While the model castle above was used in flying scenes, a real castle was needed for the actors. Alnwick Castle on the east coast of England in Northumberland was chosen, and many of the local teenagers were used as extras in the films.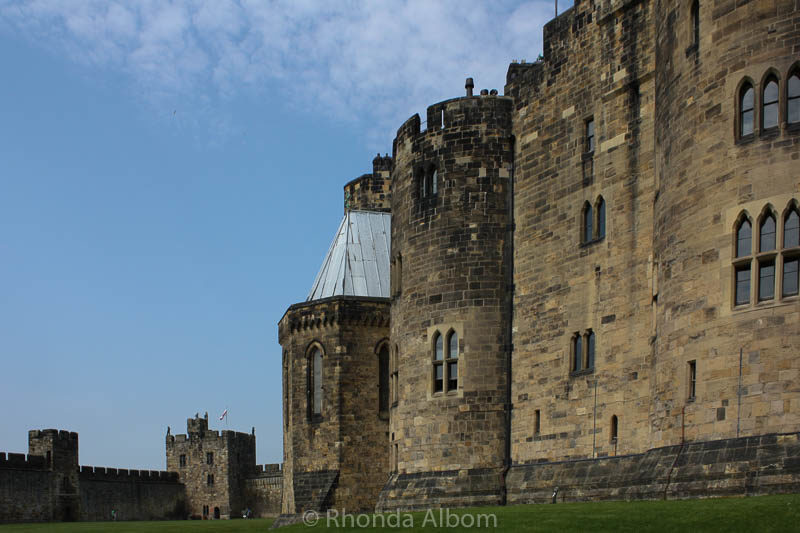 Read Next: Walking through History: Alnwick Castle (Hogwarts) in England
• Hogwarts' Infirmary
Located in Oxford England, we had two pay £2 to enter the room in Oxford University's Divinity School building as it doubled as a hospital in the infirmary scene in the first Harry Potter movie.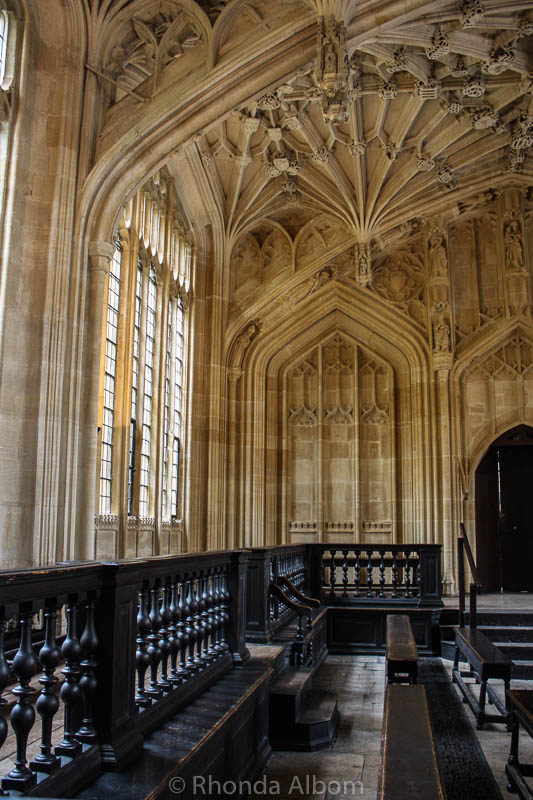 Harry Potter Attractions in Scotland
The "Hogwarts Express" is real, or at least it's a real tourist attraction in the Scottish Highlands. The train runs from Fort Williams to the north and back. Unfortunately, I was too late. Our attempt to meet the train as it returned to Fort Williams Station at 4 pm failed, as it was Sunday, the day the train doesn't run. However, we asked, and were given directions to the train yard where we got to see the Hogwarts Express.
Pro Tip: Book early if you want to ride the Hogwarts Express, as soon as you know your dates. We were there outside of the high season, and it was booked over a month in advance.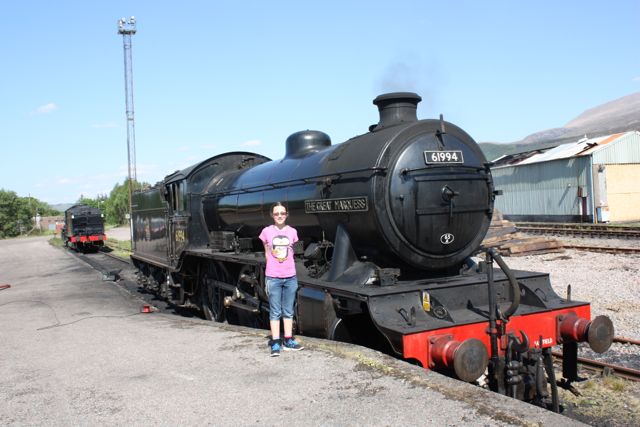 ⇒ Click here to check availability and book the Hogwarts Express tour from Edinburgh today
The Harry Potter Studio Tour
For a Hogwarts fan, every moment of the Making of Harry Potter Studio Tour screamed amazing. Located just outside London, it's a quite popular tourist attraction. The studio is split into three 'rooms' – inside props, outside props, and special effect props, respectively. We chose to pay a little more for the audio tour, and then off we went inside!
⇒ Book your tickets to the Harry Potter: Warner Brothers Studio Tour with bus from London
OR
⇒ Book a fully guided tour of the Harry Potter: Warner Brothers Studio Tour with train London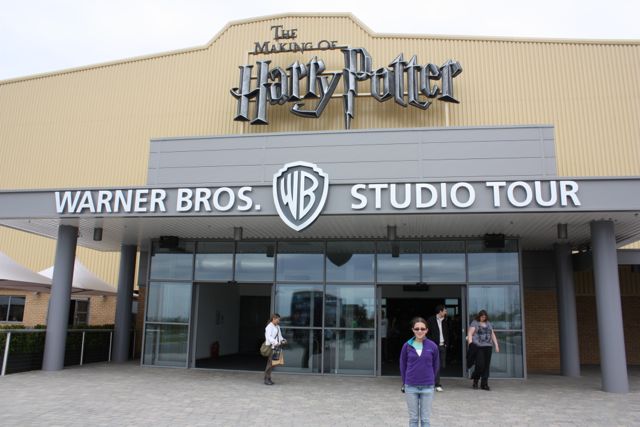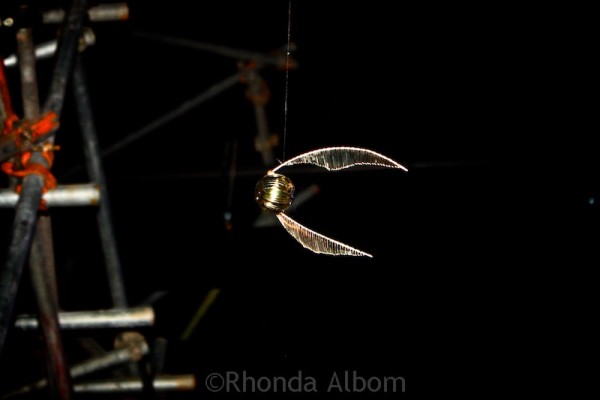 We have also toured the Warner Bros Studio in Los Angeles California where the sorting hat now lives.
• Diagon Alley
Sorry, Diagon Alley is a set, rather than an actual destination in London that we can find. However, we did get an opportunity to walk down Diagon Alley on our tour of the Harry Potter Studio just outside of London.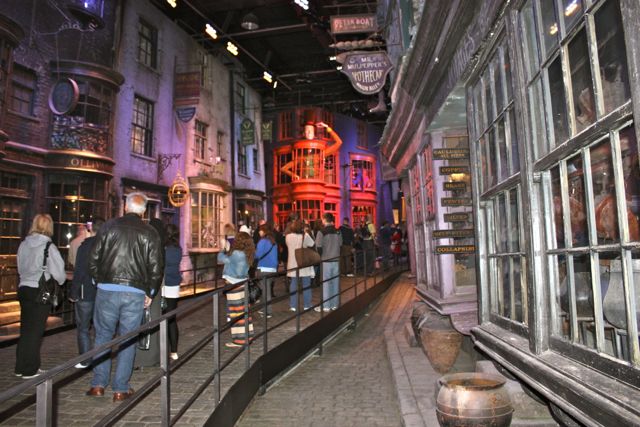 Not Yet a Harry Potter Fan?
If none of this means anything to you, maybe you should check out
⇒ Harry Potter: The Complete 8-Film Collection ⇐
Please Share:
If you enjoyed this article, please share it on social media including adding this pin to Pinterest:
Have you seen any of the sights of Harry Potter in London?
See all our tips for the UK and Ireland here.
Unless otherwise noted, all photos on this page ©Rhonda Albom. All rights reserved.