Driving the Giant's Causeway Coastal Route of Northern Ireland, we found ourselves instantly entangled in the mystery of the region. Volcanic activity created the Giant's Causeway 60 million years ago.
The entire Causeway Coastal Route runs 212 km (130 miles) from Belfast to Londonderry. We travelled only the first 155 km (96 miles) from Belfast to Dunluce Castle, spending three days in Northern Ireland.
A must-see to believe destination, the rock formations of the Giant Causeway, the implied danger of the Carrick-a-Rede bridge, the world's oldest continuously operating distillery, and the ruins of the Dunluce Castle (used in Game of Thrones) are each impressive, as are many of the other sites along the road.
And they are only a portion of the many sites and Game of Thrones filming locations featured below.
We loved and recommend taking a slow drive along the Causeway Coastal Route and stopping for the key sights along the way.
Interactive map of the Causeway Coastal Route
The interactive map provides the Causeway Coastal Route with driving directions for the portion from Belfast to Dunluce Castle. Everything on the map can be individually selected by clicking the expand / collapse icon in the upper left corner of the map.
Note: all suggested stops in this article are featured on the map either in red (on the main road) or orange (requires extra driving).
The Giant's Causeway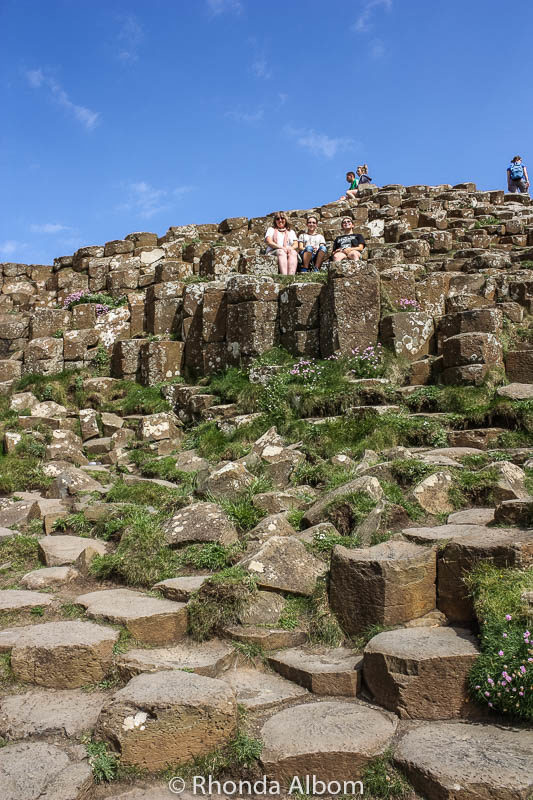 An impressive site of nature, the Giant's Causeway includes over 40,000 oddly hexagonal basalt columns, standing side by side and formed over 50 million years ago. A UNESCO World Heritage Site, they run along the coast for almost 6 kilometres (4 miles), gently dropping off into the sea.
From a distance, they are impressive, but it wasn't until I stood at its base, that I could begin to appreciate the Giant's Causeway's magnitude.
Across the Inner Seas sits its mirror, Fingal's Cave on Scotland's Isle of Staffa. The matching formations gave way to the legend of a giant's bridge once connecting the two.
This is a highlight of our Causeway Coastal Route.
We opted to get here via shuttle bus from our hotel rather than driving ourselves. However, on-site fee-based parking requires a Giant's Causeway Visitor's Center entrance ticket.
Take a tour to Giant's Causeway from Belfast
Today, I believe the best way to get here would probably be a fully guided tour from Belfast. This would fill in all the missing stories and legends we had to dig up ourselves and take us through history more interestingly.
The tour we recommend is this top-rated fully guided day trip. It not only spends time at and explaining the Giant's Causeway, but it also visits Cushendun Caves, Carnlough Harbour, The Dark Hedges, and Carrickfergus and Dunluce castles. Thus you will have seen just about everything we did without the hassle of driving yourself. (You will miss the rope bridge). Reserve your Belfast Giant's Causeway Fully Guided Day Trip here.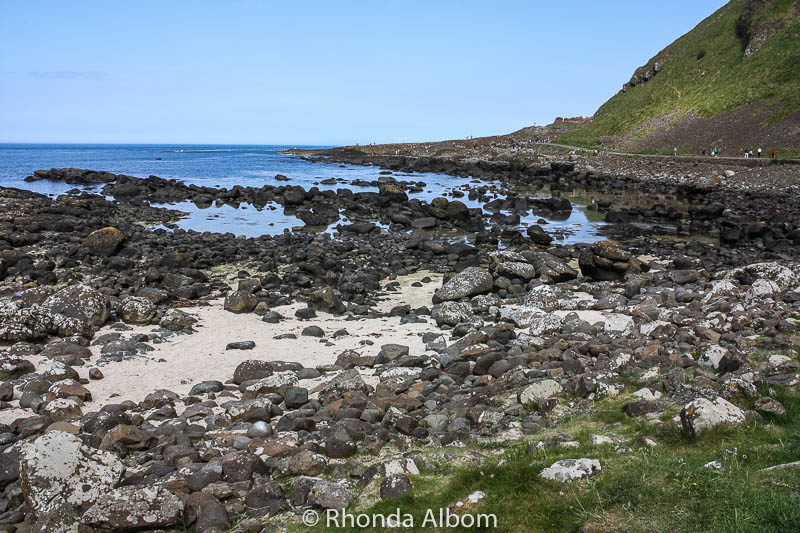 Giant's Causeway facts or legend
Staring at the giant columns, I couldn't help but wonder if the Giant's Causeway legend was true. Could it be the remains of a destroyed bridge built by the giant Finn MacCool to walk to Scotland? My favourite version of the fable is told by my daughter Sarah at A Waking of Worlds.
Carrick-a-Rede Rope Bridge
About 16 km (10 miles) to the east hangs the Carrick-A-Rede rope bridge, commonly referred to as the Giant's Causeway rope bridge.
While not nearly as long as the Capilano Suspension bridge we crossed in Vancouver, Canada, the Carrick-A-Rede bridge has only an 18-inch wide walkway surrounded by, well, nothing.
It is so narrow you can't help but look down to check your footing, but that also means looking into the swirling waters 30 metres below. Similarly, for only a moment, you wonder if you will make it across to the other side.
Despite the open space, to date, no one has fallen off this bridge (that is, no one yet).
I can't say the same for the original bridge built by salmon fishermen in 1755.
Beginning in April 2017, timed tickets are required to cross this Irish rope bridge, each with a one-hour time span. The bridge was closed for a period of time after suffering from vandalism in May 2017 but has reopened to visitors.
Old Bushmills Distillery
Despite being completely engrossed in nature, we took some time to tour the Old Bushmill Distillery (as well as touring Guinness Brewery in Dublin).
Licensed to distil by King James in 1608, Bushmills Distillery is the oldest continuously licensed distillery in the world. Located in a small village in Northern Ireland, it follows the philosophy that hand-crafting small batches is the way to produce smooth-tasting Irish whiskey.
Daily guided tours take place throughout the day. Check their website for official times: Bushmills Distillery tours.
Ruins of Dunluce Castle
The ruins of the medieval Dunluce Castle stand towards the western end of the Giant's Causeway Coastal Route.
Filled with historical intrigue, the site once held an Irish Fort and has been the battleground of early Christians and Vikings. Although, Game of Thrones fans will recognise it as the House of Greyjoy.
More Game of Thrones filming sites
The popularity of the coastal route has exploded in recent years thanks to HBO's Game of Thrones. In fact, in 2016, more people visited the Causeway Coastal Route than Belfast's Titanic Museum.
Note that many of the stops are inland.
If you are a big fan, check out this super-popular, top-rate Game of Thrones tour that also visits the Giant's Causeway. Travelling by air-conditioned bus along the stunning coast, where you will travel by Carnlough Harbour where Arya Stark swam, pass by Magharmorne Quarry where Castle Black is located, and finish at The Dark Hedges, which was Kings Road.
In addition, the tour will visit Carrickfergus Castle, travelling through the nine Glens of Antrim, view the Carrick-a-Rede Rope Bridge from a distance and explore the Giant's Causeway. Reserve your Giant's Causeway and Game of Thrones Day Tour from Belfast here.
More Key Game of Thrones stops:
Tollymore Forest Park (Westeros' Haunted Forest)
Inch Abbey (War of the Five Kings began here)
Castle Ward (Winterfell, the ancestral home of House Stark)
Cushendun Caves (where Melisandre hails her shadowy demon beneath Renly's Camp)
Murlough Bay (home to the slavers)
Dark Hedges (Kingsroad alongside the Night's Watch)
Mussenden Temple – originally built to replicate Italy's Temple of Vesta. (where Stannis Baratheon rejects the seven old gods of Westeros)
More stops along the Causeway Coastal Route
There are several other key stops worth mentioning here, both in the section we drove and the one we missed.
Belfast to Dunluce Castle
Belfast
The birthplace of the Titanic, there is plenty to see in Belfast. We recommend spending at least one night here before starting out on the Causeway Coastal Route.
The Gobbins
A cliff path passing over bridges, past caves and through a tunnel.
Glenarm Castle
A fairytale castle
Rathlin Island
A place for birdwatchers.
Dunluce Castle to Londonderry
White Rocks Beach
Another stunning beach
Royal Portrush Golf Club
Host to 2019 Irish Open
Portstewart Strand
A seaside village with a lovely beach
Londonderry City
Best known for the 17-century Derry's walls.
Driving tips for the Causeway Coastal Route
We hired a car in London and drove through England first, then road tripped around Scotland before a ferry crossing to Northern Ireland. In retrospect, we should have returned the car in Glasgow and flown to Belfast and rented a second vehicle. It would have saved us both time and money. Either way, we use Rentalcars. We have had great success every time with them. As an aggregator, they provide us with options of different vehicles from various local companies. Check out RentalCars.com here.
Traffic drives on the left in Northern Ireland.
If you drive yourself, note that it will probably take longer than anticipated.
Don't miss our general tips for visiting the UK and Ireland.
Tours are the best option if you don't want to drive on the left, or you just prefer the added bonuses inherent in a tour. For starters, you won't miss any key sites, no worries about car parking, and a knowledgeable guide adds so much to the experience.
Want more? Don't miss these 6 breathtaking coastal landmarks in the UK.
Save on your trip with these resources
These are our go-to companies when we travel. We believe this list to be the best in each category. You can't go wrong using them on your trip too.
Flights: we use Expedia for the best and cheapest flight options.
Accommodations: we use Booking.com (hotels), VRBO (self-contained), or Hostelworld (budget).
Cars (gas or electric): we use RentalCars to search for deals and dealer ratings.
Campervans or Motorhomes: we use Campstar where Albom Adventures readers get a 3% discount.
Motorcycles: we have heard good things about BikesBooking.
Private guides: we love the private guides at Tours by Locals.
Travel Insurance: while not required, we always opt for travel insurance and start at InsureMyTrip to compare coverage plans.
Check out our travel resources page for more companies that we use when you travel.
Save for later
If you enjoyed this article, please share it on social media and save it for later on Pinterest.
Which is your favourite section of the Causeway Coastal Route?
Photo Credits:
All photos on this page are either shot by our team and watermarked as such or stock images from Depositphotos.