Whether you are cruising around the island or road-tripping, there are several stunning coastal landmarks in the UK you don't want to miss. As we have only seen a few of them, we went to an expert, Kayla Gollacher, who presents her six favourite UK coastal destinations.
Planning a vacation along the UK's beaches? You're in for a treat.
Several coastal landmarks in the UK guarantee a fun holiday with great photo opportunities. So, to inspire you, we put together a list of 6 breathtaking coastal landmarks in the UK.
Stunning coastal landmarks in the UK
The Minack Theatre – Cornwall
The Green Bridge of Wales
Durdle Door on the Jurassic Coast
Giant's Causeway
Castle Sinclair Girnigoe
Bamburgh Castle – Northumberland
The Minack Theatre – Cornwall
Located in the southwestern tip of England, Cornwall is a popular sailing destination, attracting tourists and celebrities every year. If you want to experience the many wonders of this coastal region, then charter a yacht and discover what lies beyond the coast. Overall, Cornwall has much to offer tourists in search of beautiful scenery, and the Minack theatre takes this to the next level.
Few theatres in the world can boast such a splendid natural environment. The Minack Theater is a spectacular open-air theatre carved into the stunning backdrop of the Cornish cliffs. Sit in this theatre surrounded by rocky outcrops of granite stone, and enjoy a play or music concert during the summer.
Some of the country's best beaches are located in Cornwall.
Pont Werdd Cymru (The Green Bridge of Wales) – Wales
Constant erosion by the forces of sea and wind have, through the millennia, shaped the rocky cliffs on the Welsh coast into some pretty unusual natural artworks.
One such natural formation is the "Green Bridge Of Wales". This natural arch of carboniferous limestone lies within the Pembrokeshire Coast National Park.
Part of the Castlemartin military training area, this landmark is a popular tourist attraction and can be accessed from the Pembrokeshire Coast Path. Although it is on the outskirts of the domain of the Ministry of Defence, it is generally open to the public.
Durdle Door, Jurassic Coast – Dorset
Situated on the Lulworth estate along the Jurassic Coast, this natural rock formation in Dorset is one of the region's most iconic and photographed coastal landmarks.
This natural limestone arch, rising almost vertically out of the sea, is accessible via a steep path from above and some wooden steps. Close to Durdle Beach, it is an attraction worth visiting on your UK coastal trip.
Durdle Door was created when the sea forced its way through an outcrop of the Portland limestone about 10,000 years ago. This is now one of the most famous stone arch coastal landmarks in the world and a testament to the awesome forces of nature.
Castle Sinclair Girnigoe Site – Scotland
Castle Sinclair Girnigoe can be found about 3 miles north of Wick, on the east coast of Caithness in Scotland.
This site contains the ruins of two castles, considered to be one of the earliest seats of the Sinclair Clan. Castle Girnigoe, dating from the 15th century, and Castle Sinclair, dating from the early 17th century, are both owned by the Sinclair Castle Trust and are open to the public.
Giant's Causeway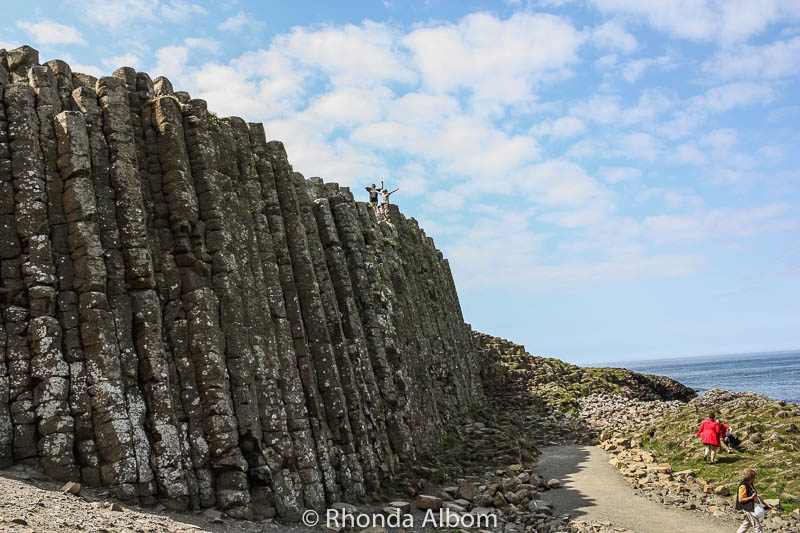 This is the only UNESCO World Heritage Site in Northern Ireland and is a true wonder of nature. This site in County Antrim features thousands of naturally formed basalt columns dating back to the Paleocene Epoch.
Of course, the local Irish legend is far more interesting, citing ancient Irish giant Fionn mac Cumhaill as the builder of this "causeway". He did so in response to a challenge to a fight by the Scottish giant Benandonner.
Either way, this impressive sight will captivate your imagination and is the perfect location for some legendary vacation pics. It makes a great stop on a Northern Ireland road trip, from Belfast to Dunluce Castle.
Bamburgh Castle – Northumberland
Northumberland is not only home to iconic film locations for Harry Potter and Downton Abbey. One of England's most famous coastal landmarks, Bamburgh castle, rises over northeast England's coastline, surrounded by grass-covered sand dunes.
The castle was inhabited from prehistoric times and was the seat of the former Kings of Northumbria. This lovely stretch of beach is by no means less impressive, but the over 9 acres of land belonging to the castle offer many other delights to the tourist.
Bamburgh Castle may have done its duty as a royal stronghold through the ages, but it is still of service to this day. Now a museum, the castle also hosts weddings and functions that guests speak of for years to come
Save on your trip with these resources
These are our go-to companies when we travel. We believe this list to be the best in each category. You can't go wrong using them on your trip too.
Flights: we use Expedia for the best and cheapest flight options.
Accommodations: we use Booking.com (hotels) or VRBO (self-contained).
Cars (gas or electric): we use RentalCars to search for deals and dealer ratings.
Campervans or Motorhomes: we use Campstar where Albom Adventures readers get a 3% discount
Private guides: we love the private guides at Tours by Locals
Travel Insurance: we start at InsureMyTrip as they are the best option to compare plans and find the right coverage for you.
Check out our travel resources page for more companies that we use when you travel.
Save for later
If you enjoyed this article, please share it on social media and save it for later on Pinterest.
Which of these coastal landmarks in the UK do you want to visit?
About the author

Kayla is a Content Marketing and SEO Manager with a passion for helping clients achieve their marketing goals. She manages a team of marketers who are pros at both on-screen and off-screen SEO. As they're a fully-remote team, they can work from anywhere in the world. Kayla recently visited the UK, where she got to explore the stunning architecture and landmarks.
Photo Credits:
All photos on this page are either shot by our team and watermarked as such or stock images from Depositphotos.