Dramatic cliffs cascade until they merge with wild ocean waves on one side while vibrant wildflowers dot lush green rolling hills on the other. Driving around Ireland is a treat for the senses.
Our Irish road trip itinerary loops from coast to coast, starting from Dublin and for us ending as we ferry to Wales. We also provide an alternative route returning to Dublin.
Somehow, each day seemed more spectacular than the one before. By the time we completed driving around Ireland, we no longer wondered why so many places claim to be the most picturesque in the country.
And there's more. Fascinating history, from tetrapod tracks to prehistoric tombs, there is no shortage of interesting things to do in Ireland.
As so much of it is outside the cities, the best way to enjoy it all is on an Irish road trip.
Our key stops when driving around Ireland
Dublin
Newgrange
Cliffs of Moher
Adare
Dingle peninsula
Killarney and the Ring of Kerry
Blarney
Rosslare Harbour to Wales or return to Dublin
Interactive Irish road trip map
The interactive map provides route options that can be individually selected by clicking the expand / collapse icon in the upper left corner of the map. All are initially active.
Also, note all suggested stops in this article are featured on the map either in red (on the main road) or orange (requires extra driving).
A few days in Dublin before driving around Ireland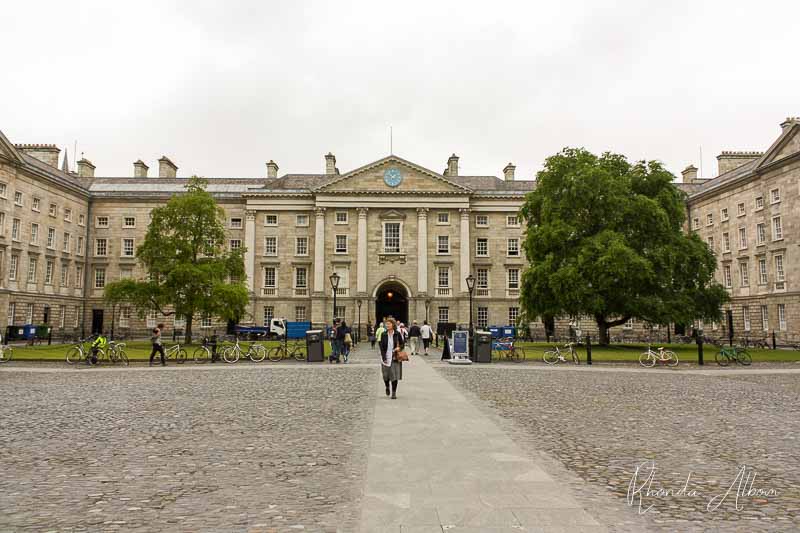 Lively, vibrant, colourful, and loaded with history, Dublin is always fun. We spent a few days here before venturing out on our Irish road trip.
To help us with our discovery of the capital, we started with a free city walking tour with Sandemans. Then we knocked things off our bucket list.
Suggested activities in Dublin:
Dublin Castle: This 13th-century castle is the former seat of British rule in Ireland with stunning gardens and grounds spanning over 11 acres.
Dublin University: One of the world's top international universities, Trinity College boasts Europe's largest vaulted library, and it's home to the ancient Book of Kells, an illuminated manuscript of the 4 Gospels of Matthew, Mark, Luke and John.
Reserve a Book of Kells and Dublin Castle tour with fast-track access here.
St. Patricks Cathedral: Founded in 1191, it was built where St Patrick himself baptized Christian converts. As Ireland's largest cathedral, the queues can be long. Reserve your skip-the-line admission ticket here.
Guinness Storehouse: Following the production process, our self-guided tour ended with a pint in the rooftop bar overlooking the city. We even saw the original license allowing Guinness to use the building for 9000 years at £45 per year. Reserve your entrance ticket here.
Temple Bar: Dublin's most famous nightlife area is a maze of narrow cobblestone streets filled with pubs, bars, and live music.
National Leprechaun Museum: It's quirky fun that makes this place so amusing. Where else but Dublin can we be shrunk to leprechaun size . . . and then set loose in a full-sized house. Be sure to bring a camera if you visit the Leprechaun Museum.
Get a Go City Pass to save up to 50% on activities. Check out the list before you purchase, as you can get a pass that covers 3, 4, 5 or 7 different activities. Reserve your Go City Dublin Pass here.
Dublin day trip: Newgrange Tomb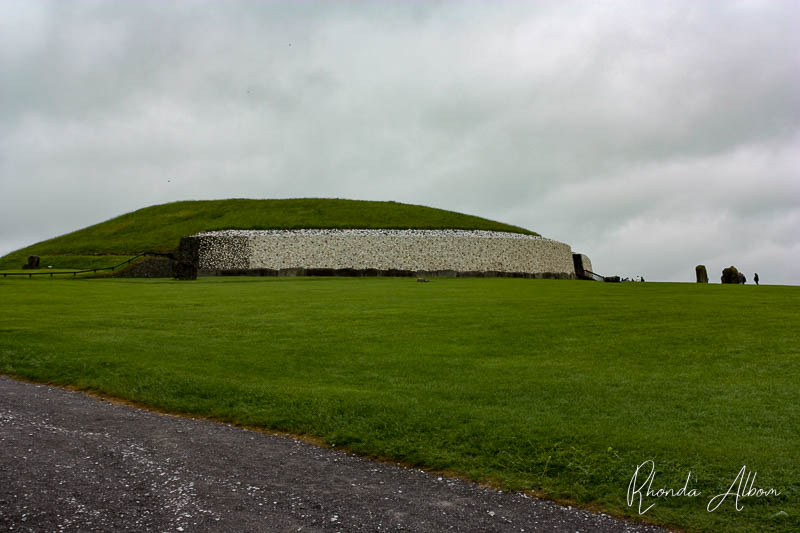 Newgrange, a huge prehistoric passage tomb enriched with astronomical elements, sits just 40 minutes north of Dublin. It is one of the most fascinating places I have seen.
Re-discovered in the 17th century, Newgrange, along with Knowth and Dowth, make up the Brú na Bóinne complex, a UNESCO World Heritage Site older than the Pyramids of Giza.
Once we got close, we could see that many of the 97 stones on the exterior have repetitive carvings.
There is one entrance to the mound leading down a long passage to a cross-shaped chamber and a single tomb. Aligned with the winter solstice, the roof box above the main passage entrance lets in a beam of sunlight for only 17 minutes on the five shortest days of the year. (Sorry, no photos allowed in the tomb)
There is a limited number of people allowed to visit each day. Advance booking is advised.
Still want more? Check out: Newgrange: Archaeology, Art and Legend
Irish road trip loop segment 1: Dublin to Cliffs of Moher
Over and over, while driving around Ireland, we experienced déjà vu, as despite being its antipodes, the Irish countryside reminded us of our New Zealand home.
Stops on the way to Cliffs of Moher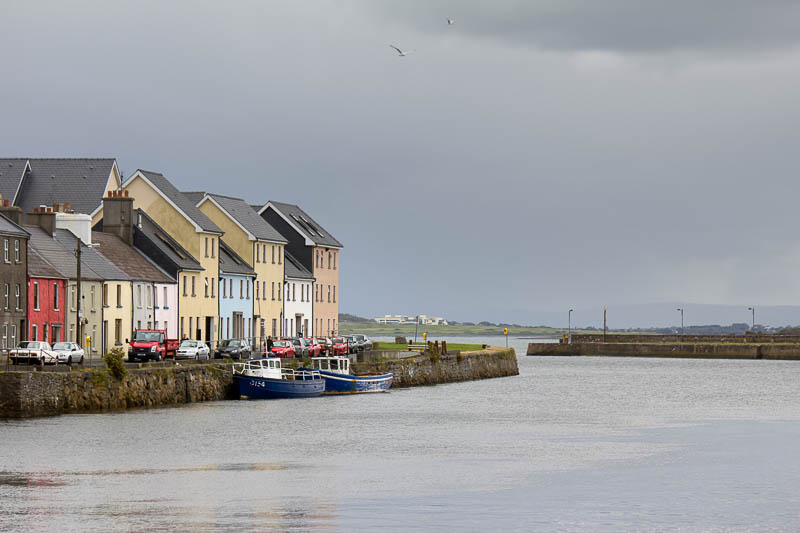 We opted not to make any stops in this segment, but if you have loads of time, or want to break up the drive, here are some ideas along the way:
Kilbeggan Distillery Visitor Centre: A former distillery, now a whiskey history museum.
Athlone Castle: This 13th-century castle now has 8 chronologically themed exhibit rooms.
Clonmacnoise: Ruins of a monastery with 7 churches, 3 huge crosses, 2 towers, and several gravel slabs.
Galway: A great choice for an overnight stop, Galway is a delightful port city. It's also a good option to grab a tour from here to the Cliffs of Moher to avoid the hassle of going on your own.
Dunguaire Castle: This beautifully restored 16th-century castle just may be the most photographed castle in Ireland.
Doolin Cave: Home to the northern hemisphere's longest stalactite at 7.3 metres, this cave is worth a stop if you have time.
Cliffs of Moher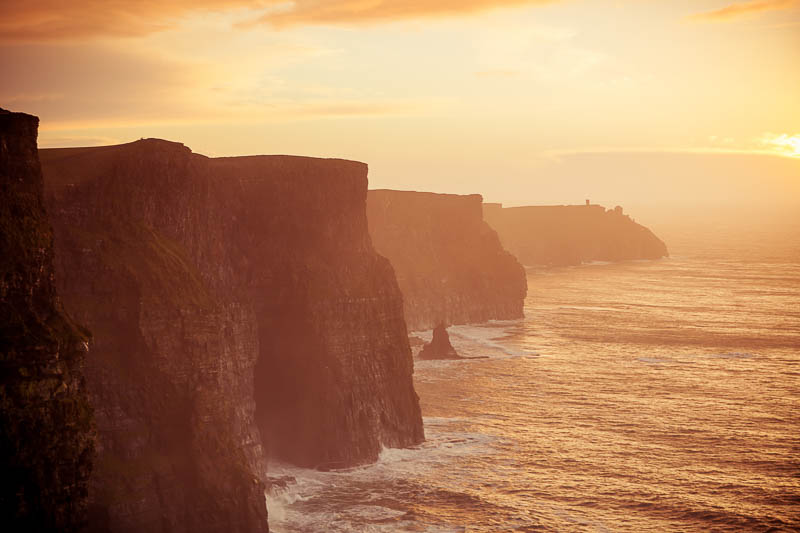 One of the most picturesque sites in Ireland, the Cliffs of Moher rise 214 meters (702 feet) out of the sea and run along the wild Atlantic Coast for about 14 kilometres. Some consider them to be the 8th wonder of the world.
They are unmistakably beautiful beyond what words or photos can portray.
While entry is free, parking isn't. From the visitor centre, one can walk in either direction, but timed entry tickets are needed. The northern walk is about 20km (4.5 hours on average), while the southern walk is 5.6km (1.5 – 2 hours on average). See Cliffs of Moher entry details here.
On a clear day, you will also enjoy views of Aran Island and may even see dolphins or whales.
Many people prefer to take a tour from Galway to avoid the hassle of parking and timed entry. Here are some options:
Driving around Ireland Segment 2: Cliffs of Moher to Killarney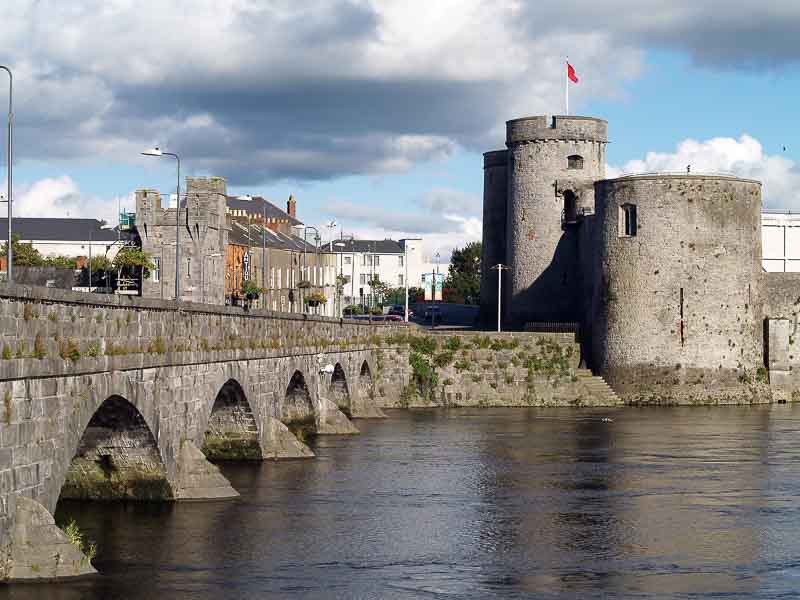 Next, we cut inland a bit and entered the county of Limerick. For many, the next stop is the city with the same name.
The highlight here is the 13th-century King John's Castle (Limerick Castle), located on an island in the river. There is also the nearby Grange stone circle.
Adare – our unplanned stop while driving around Ireland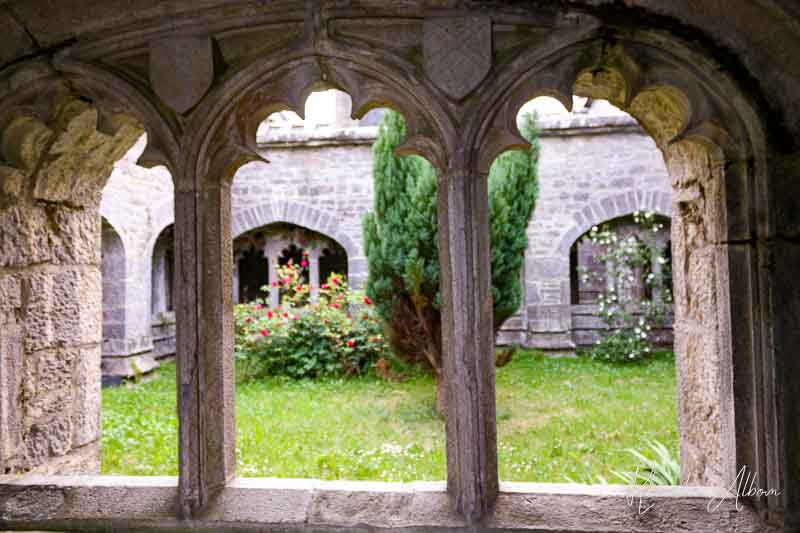 Adare's thatched roofs ( a tradition dating back to the 1830s) and the allure of the Adare manor caught us by surprise. Instantly, we suspected it was more than just another quaint village. And we were right. It's Ireland's prettiest village.
The three highlights for us were strolling through the Adare Manor gardens, exploring St. Nicholas' Church of Ireland, and seeing a framed autographed New Zealand All Blacks jersey hanging on the wall (a taste of home) in the pub while we were enjoying live music.
Popular for weddings, Adare Manor House is an expensive luxury hotel and golf club on the banks of the River Maigue. Rather than blowing the budget, we opted to stay at the charming, affordable Adare Country House, with a great location and delicious hot breakfast.
In town, we explored the former Adare Friary. Once monikered the "Black Abbey", it was founded in 1316. Today it is the St. Nicholas' Church of Ireland, a parish church with lovely grounds to explore.
Dingle Peninsula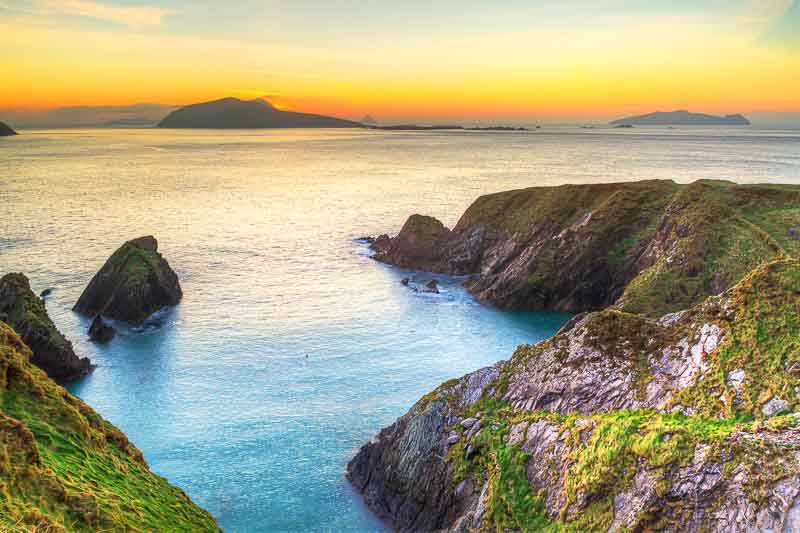 If it's a nice day, Dingle is a feast for the eyes. Nearly the entire peninsula drive is one stunning scene followed by the next.
From sweeping sea views at the base of colourful cliffs to rolling green hills, driving around Ireland on the Dingle peninsula is more about the journey than any of its destinations.
If you are stopping in colourful Dingle, don't miss St James Church.
Or, if it's a major surf beach you are looking for, you don't need to go too far to find the town of Inch Beach and its famous 5km Blue Flag beach jutting out into Dingle Bay.
Driving around Ireland segment 3: Killarney to Wales (via ferry) or back to Dublin
It won't take you long to understand why Killarney and the famous Ring of Kerry drive are also often considered Ireland's most picturesque spot.
Killarney
Centrally located, Killarney is the perfect base to enjoy the town itself, plus the Ring of Kerry and the Dingle Peninsula.
Killarney's gold star is the National Park. Its two highlights are featured above: the Ross Castle and the Torc waterfall cascading 18 metres through the wooded Friar's Glenn.
Ring of Kerry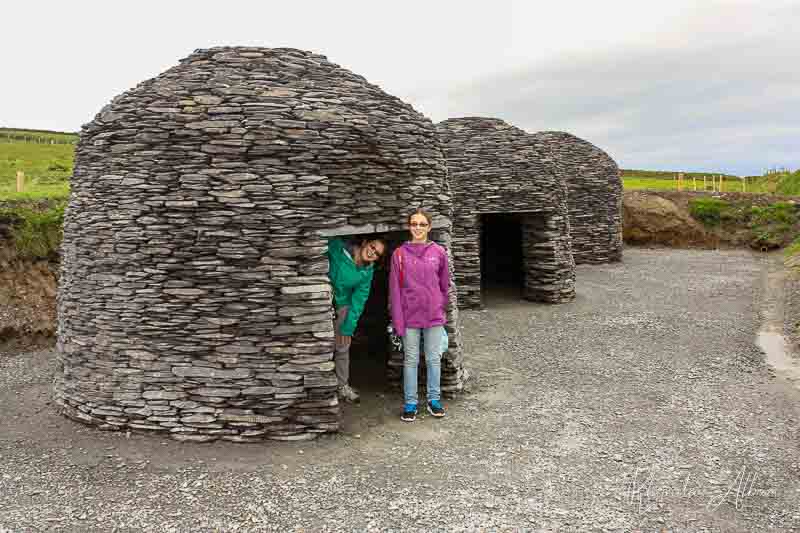 Many consider driving around Ireland's Ring of Kerry the highlight of any Irish road trip. Despite our high expectations and misty weather, the 179 km drive did not disappoint.
A largely coastal drive around the Iveragh Peninsula, it's also home to Carrauntoohil, Ireland's highest mountain.
There are endless impressive views, coastal walks, and things to see. Our recommended stops:
Gap of Dunloe: Enjoy dramatic scenery along a narrow pass in the MacGillycuddy's Reeks mountain range. One of the best ways to see it is with a 5-hour combination of walking and boat tour from Killarney. Reserve your boat tour here.
The Kerry Bog Village Museum: A chance to discover rural Ireland during the 18th century.
Ballycarbery East: From a distance, see the ruins of Ballycarberry Castle (it's on private land) and explore the Cahergall Stone Fort. We did not stop here.
Next, we crossed to Valentia Island
Tetrapod Walkway: Here, find footprints from one of the first animals to walk on earth (tetrapod), estimated to be 385 million years old.
The Grotto, Slate Quarry: The Valentia Island Slate Quarry was operated for 100 years until it was closed by a huge rock slip in 1911. There is a beautiful grotto built into the quarry's face.
Back on the Iveragh Peninsula
Kerry Cliffs: We were boldly told, "These are the most beautiful cliffs in Kerry County." From here we had fabulous views of the Skelligs Islands and got a chance to get inside some of the beehive huts that are scattered around the county.
Waterville: An enchanting village with a seafront walk overlooking Ballinskelligs Bay and the Skellig Rocks.
Staigue Fort: Scenic ruins of a 2500-year-old historic stone fort.
Killarney National Park (see section above)
Driving around Ireland, we stopped to kiss the Blarney Stone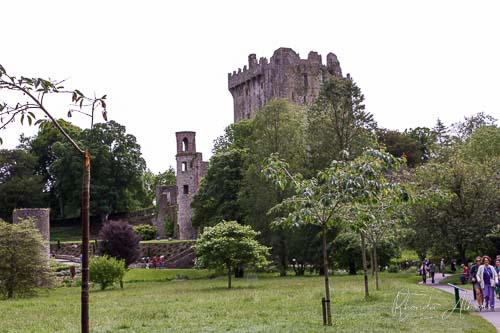 Like so many who drive around Ireland, we stopped to kiss the Blarney Stone. I'll admit, in today's world, I probably wouldn't do this, as kissing the Blarney stone tops CNN's list of the world's 'germiest' tourist attractions.
Blarney Castle was constructed in 1446. While we can tour the castle and the grounds, it's the legend of the famous Blarney Stone of Eloquence that is the draw card.
To kiss the stone, we first climb the spiral stairs to the top of the 27-metre-tall tower. Next, we each lie on our backs, hold on, and lean out. There is a staff member there to both support you and disinfect the stone between each participant.
If you are not driving around Ireland, you can take a full-day tour from Dublin. In addition to Blarney Castle, the top-rated tour we recommend stops at Cahir Castle and Rock of Cashel and drives through the beautiful Irish countryside. Reserve your Blarney Castle Full-Day Tour from Dublin here.
More stops from Blarney to Dublin along the coast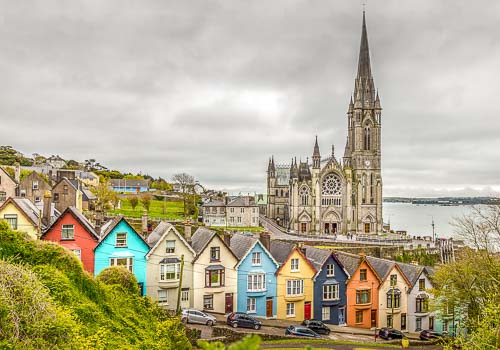 For us, Blarney was the final major stop, as we added too much time upfront and needed to get back to England to board a cruise ship to the Norwegian Fjords. Some of the key stops along the way include:
Cobh – this was the Titanic's last port of call in 1912.
Ardmore Cliff Walk – As the name implies, this 4km walk features stunning seascapes.
Waterford – Founded by the Vikings in 914, it is the country's oldest city, as well as being home to Waterford Crystal.
Hook Head Lighthouse – First constructed in 1172, their website claims it to be the oldest working lighthouse in the world. However, the oldest is actually the Tower of Hercules in La Coruña, Spain.
Wexford – An open-air museum gives you a window into the past, taking visitors from the first settlers to the 12th-century Norman Invasion.
Coolnagloose – If it's May to August, check out the Wexford Lavender Farm (60km north of the town of Wexford)
Kilkenny – With its huge castle built in 1196 and its imposing St Canice's Cathedral and the Black Abbey Dominican priory, there is plenty to see here.
Rosslare Harbour
As we passed Waterford, we had the option of continuing up to Dublin or heading east to Rosslare Harbour to take the ferry across to Wales. As our loop was actually a six-week adventure that also included all of the UK, we headed to the harbour, and this is where we left Ireland.
From here, we explored southern England. Our adventure had begun in London and then did a road trip through the English countryside. Next, we crossed into Scotland, continuing with a Scottish road trip that ended with a ferry to Northern Ireland, where we headed straight to the Giants Causeway before dropping into Ireland.
Car hire (rental) for driving around Ireland
Unless you are using your own vehicle, you will need to hire a car. We always rent from RentalCars. They offer a comprehensive list of multinational and local rental car agents, ratings on specific car types, and agency ratings. Importantly, they often have lower prices than going direct.
Whether you rent from them or not, it's still the perfect place to begin your search. Click here to compare options and check availability at RentalCars.com
Save on your trip with these resources
These are our go-to companies when we travel. We believe this list to be the best in each category. You can't go wrong using them on your trip too.
Flights: we use Expedia for the best and cheapest flight options.
Accommodations: we use Booking.com (hotels) or VRBO (self-contained).
Cars (gas or electric): we use RentalCars to search for deals and dealer ratings.
Campervans or Motorhomes: we use Campstar where Albom Adventures readers get a 3% discount
Private guides: we love the private guides at Tours by Locals
Travel Insurance: we start at InsureMyTrip as they are the best option to compare plans and find the right coverage for you.
Check out our travel resources page for more companies that we use when you travel.
Save for later
If you enjoyed this article, please share it on social media and save it for later on Pinterest.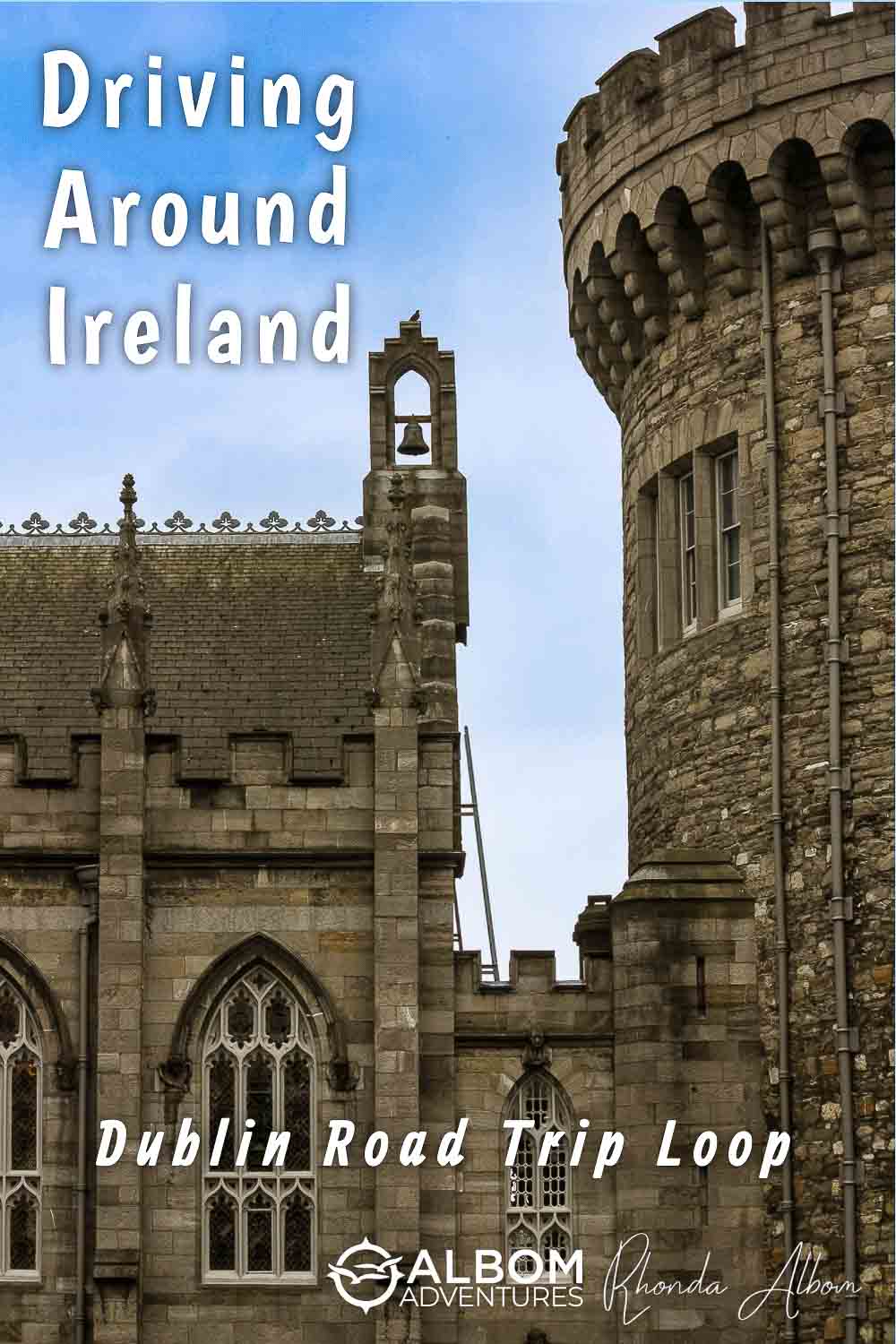 Where will you stop on your Irish road trip?
Photo Credits:
All photos on this page are either shot by our team and watermarked as such or stock images from Depositphotos.