Rievaulx Abbey captured my imagination. Now picturesque ruins, this former abbey was once one of the wealthiest monasteries in England. That is until Henry VIII of England dissolved the Cistercian abbeys in 1538.
Founded in 1132, Rievaulx Abbey was the first Cistercian abbey in the north. From the first moment I saw it, I was delighted. Captivated by the tall gothic archways of this medieval structure, I stayed far longer than my girls would have liked.
For me, Rievaulx is the favourite spot of our drive through the British countryside. In contrast, I believe our girls preferred Alnwick, the castle used to film Harry Potter.
Evident by the sky, the day deteriorated as it often does in England, but I continued to take photos: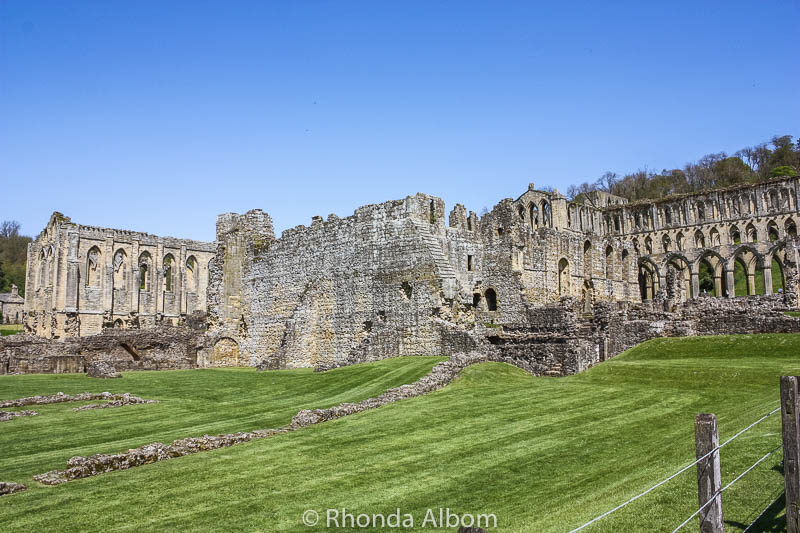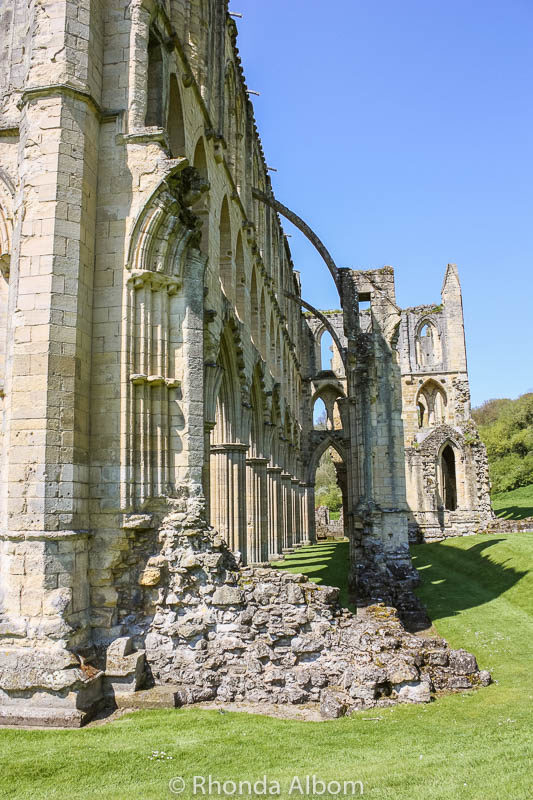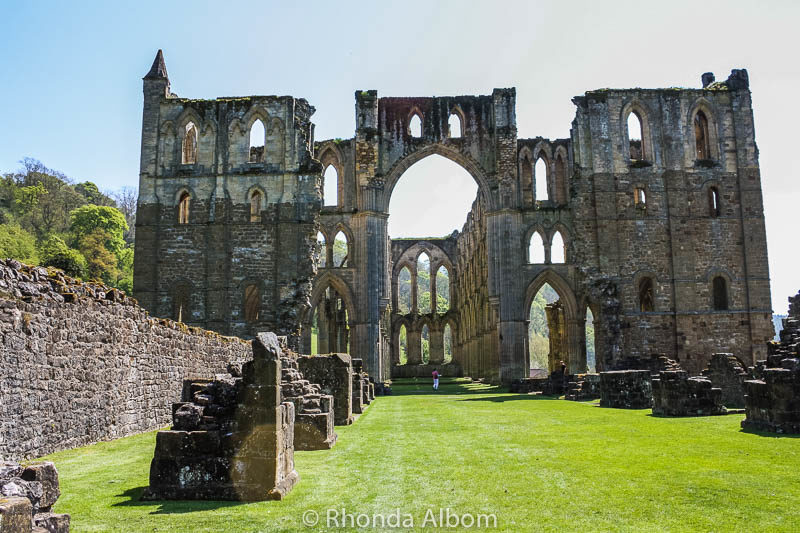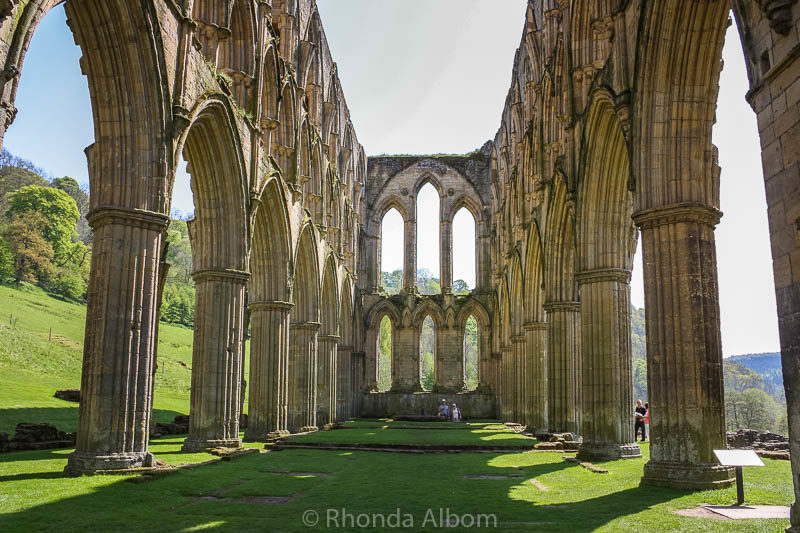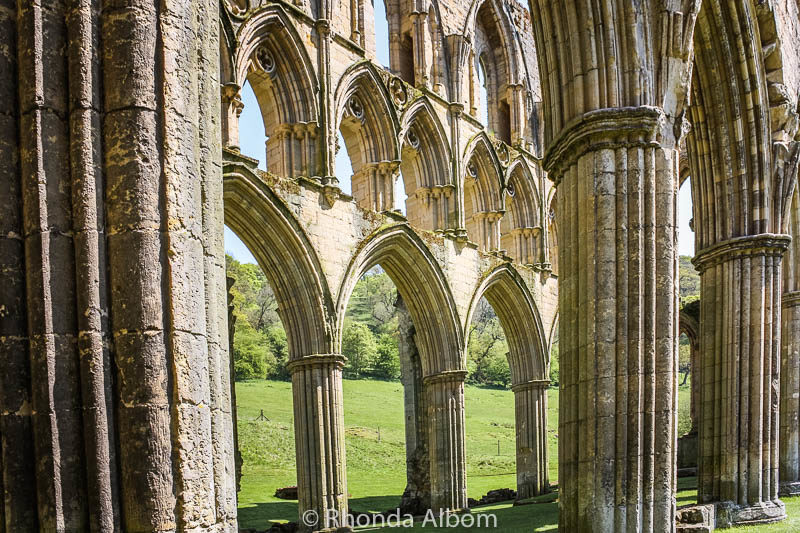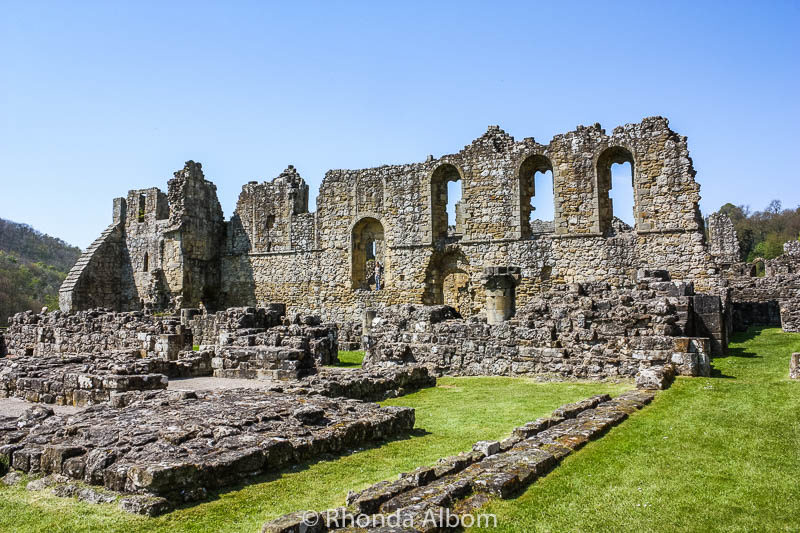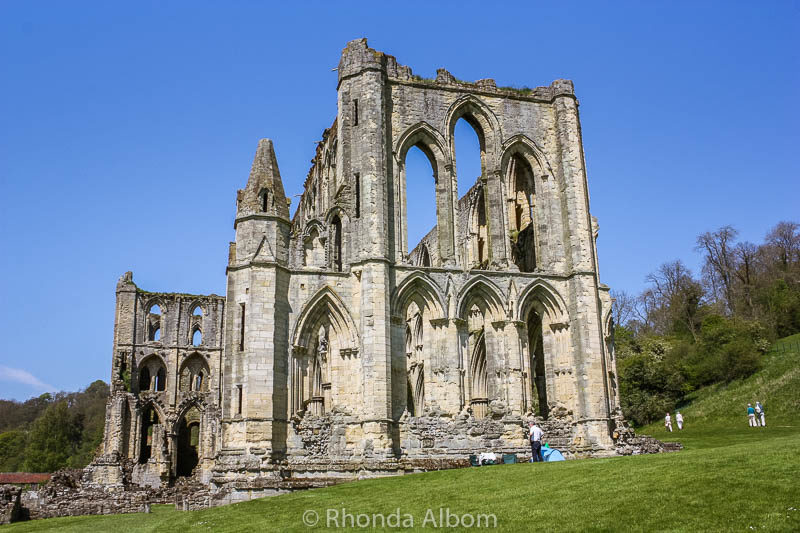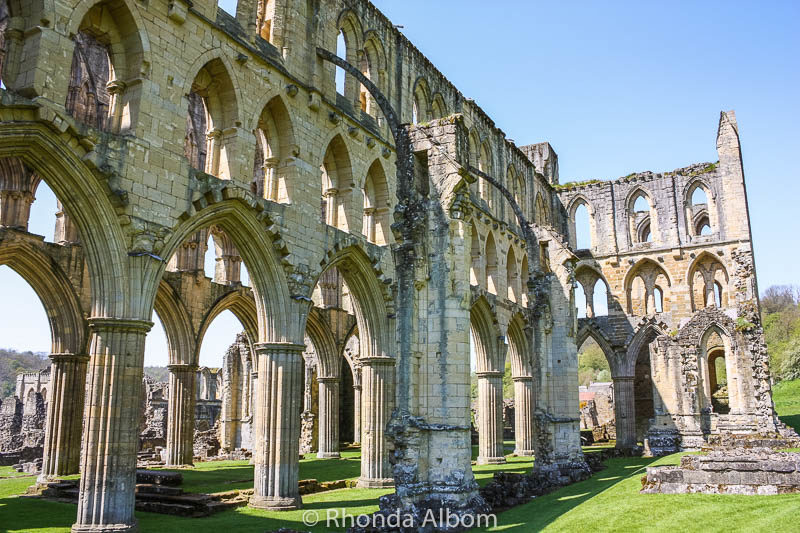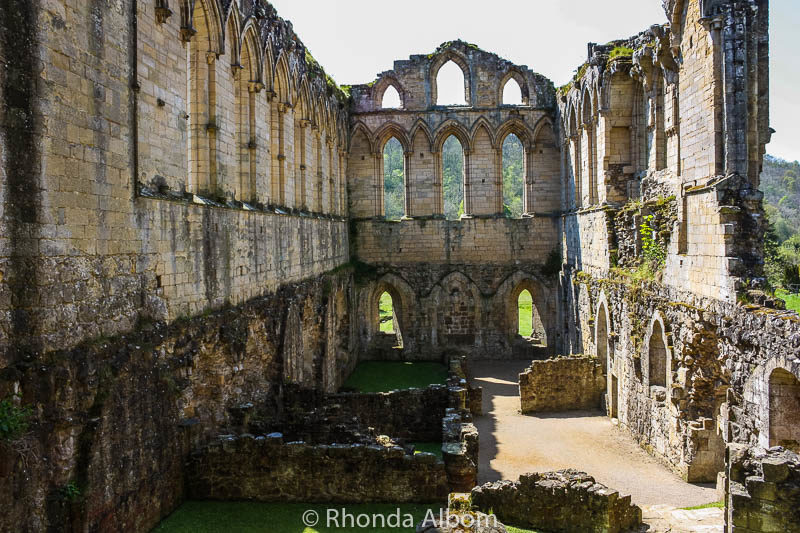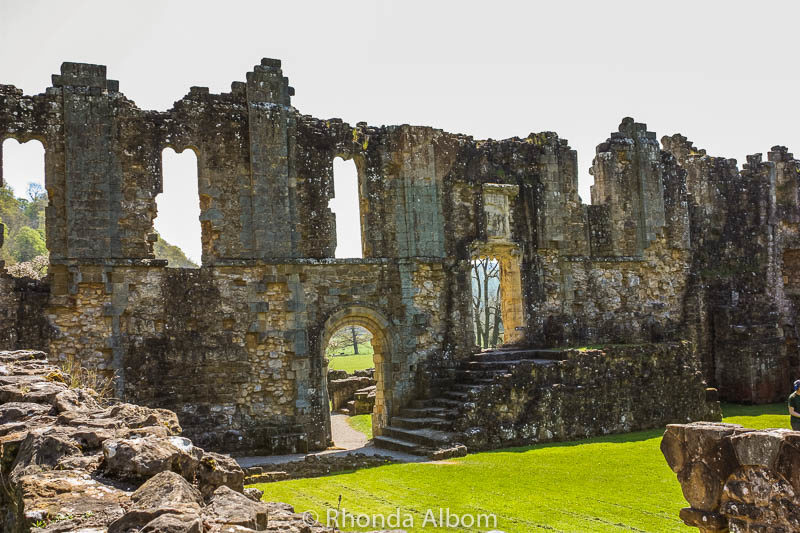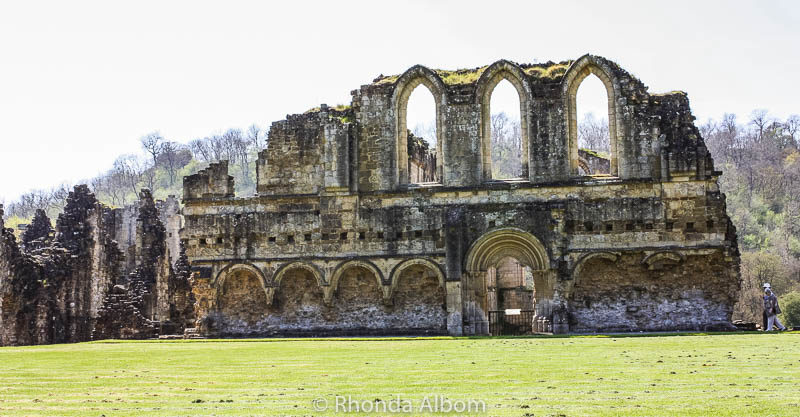 Visiting Rievaulx Abbey
Rievaulx Abbey is located in Rievaulx England, near Helmsley in the North York Moors National Park, North Yorkshire.
The name is French, as are the twelve founding monks originally from Clairvaux Abbey, a Cistercian monastery in northeastern France.
The ruins are now owned and maintained by English Heritage.
BEST TIP: If you are an overseas visitor and love castles and old ruins, be sure to get either a 9 or 16-day English Heritage Overseas Visitor Pass. It will give you unlimited access to over 100 sites across England.
Opening hours and days vary with the seasons.
Save on your trip with these resources
We use these aggregator companies to save time and money. They do the work for us by providing a list of options, prices, and reviews for anywhere we are travelling worldwide. Plus, we have personally had positive customer service experiences with all of them:
Flights: we use Expedia for the best and cheapest flight options.
Hotels: we use Booking.com as they consistently return the best rates and their reviews are from actual guests. However, for self-contained lodging, use VRBO
Cars: we use RentalCars to find the best deals and dealer ratings.
Private guides: we often hire private guides from Tours by Locals
Travel Insurance: we start at InsureMyTrip as they are the best option to compare plans and find the right coverage for you.
Before you book the rest of your trip: Check out our travel resources page for more companies that we use when you travel.
We believe this list to be the best in each category. You can't go wrong using them on your trip too.
Save for later
If you enjoyed touring Rievaulx Abbey with us, please share this article on social media including Pinterest: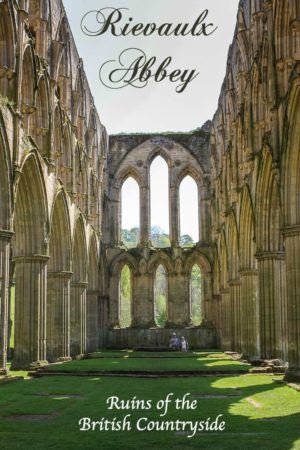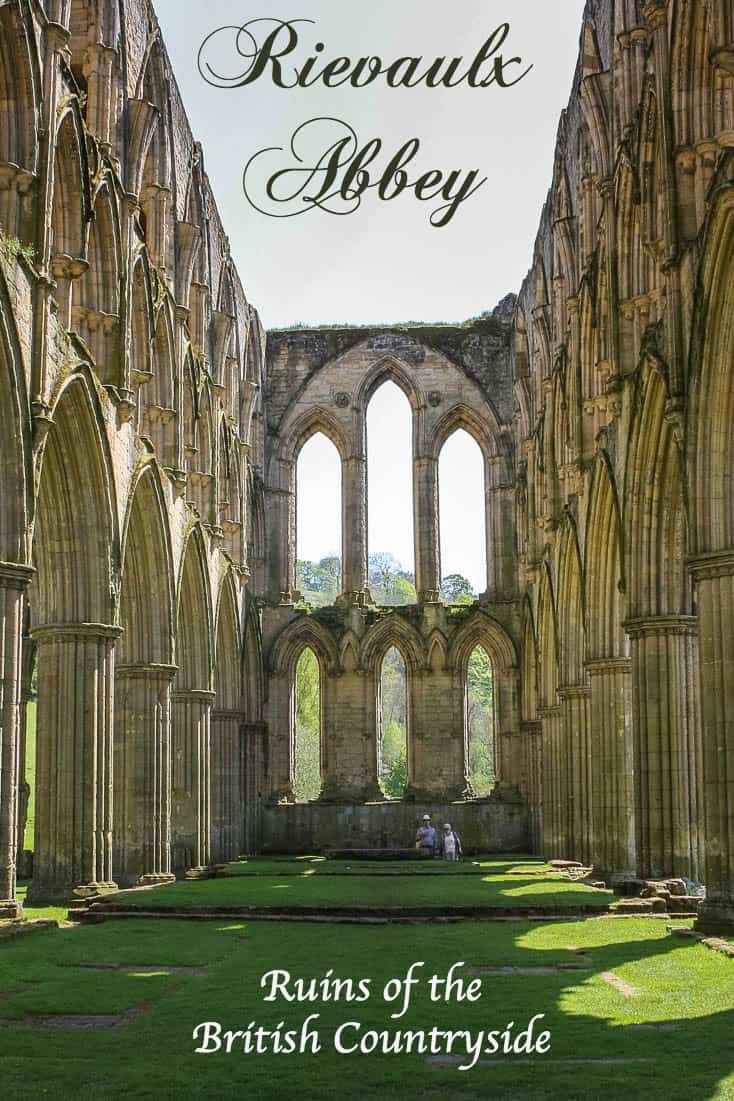 Have you been to Rievaulx Abbey?
Don't miss…