Norway sits proudly near the top of the world. It's a photographer's paradise, a country to visit slowly and savour. We found the best way to do this is by cruising the fjords and exploring the countryside at each of the majestic Norway cruise ports.
As with many ships, we started outside of Norway and, once arrived, sailed up the west coast, cruising to ports that required us to sail into several deep fjords. The soaring mountains towering over the ship humbled us.
Fjord
A long, narrow and deep arm of the sea situated between high cliffs. Fjords are created by the submergence of a glacial valley.
As we continued to cruise north along the Norwegian coast, the days got longer until it was never dark outside.
We regretted not getting a balcony cabin, as looking out our port window didn't offer us the same immersive views. At times, I wanted to enjoy the view in the middle of the night without dressing to go on deck.
While the Norway cruise ports are an unforgettable adventure, the cruise itself is part of the magic.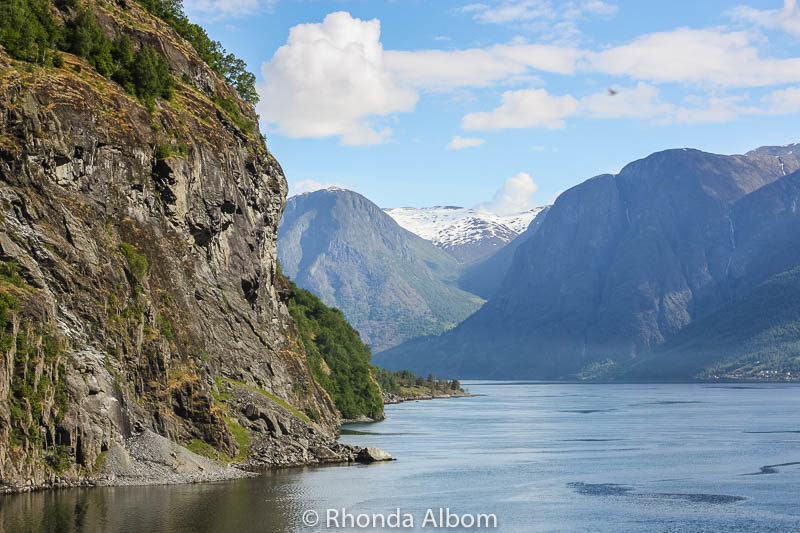 Stavanger cruise port
Stavanger is the southernmost west coast port we visited in Norway. One of the most popular things to do here is to see Pulpit Rock, either by hiking to it or cruising down Lysefjord. We opted to board a smaller boat and cruise the Lysefjord, spending our remaining time at this popular Norway cruise port walking around Stavanger.
Lysefjord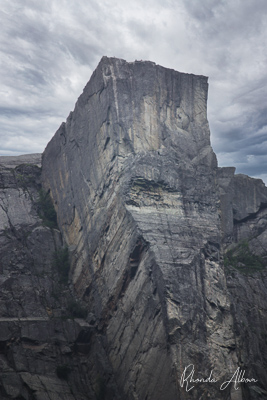 Stunning scenery surrounded us on both sides in this scantly populated mountainous region of Norway. Our day cruise sailed only a portion of the 42-kilometre (26 mi) long fjord past huge majestic cliffs, complemented by the dramatic contrast created by layers of hills.
With a square horizontal plateau, like a 'pulpit' on top of a rock, Prekestolen ('Preacher's Pulpit or 'Pulpit Rock') is one of the highlights. It rises 604m (1,982 ft) straight up from Lysefjord below. As a result, it is quite a sight to behold from the sea level, and I imagine it just as spectacular from above.
Lysefjord is about 25 kilometres east of the popular cruise ship port of Stavanger, and the smaller ships that travel here make it a great opportunity. A Lysefjord cruise is our top recommendation from the Stavanger cruise port. We like the looks of this 3-hour highly rated one with both indoor and outdoor viewing areas. Reserve your Lysefjord cruise here.
Stavanger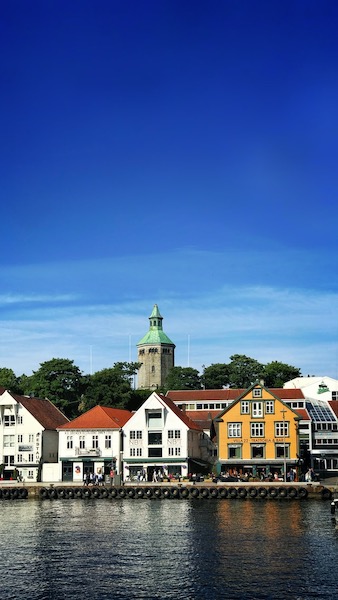 Founded in the 12th century, this former fishing village is one of Norway's oldest cities and is famous for its Viking history. Today, tourism is key, along with other fishing, boatbuilding, and oil industries.
As the majority of Stavanger port time was spent in Lysefjord, we spent about an hour in town strolling through the tourist areas as well as heading off the beaten path.
A few interesting things in Stavanger:
Bergen cruise port
Visually, we were in love with Bergen from the first moment we gazed upon the seaport. And, it only continued as we explored Bergen's highlights:
We explored the above on our own, something very easy to do here. Of course, by doing so, we missed the personal anecdotes and history that we normally get from a city guide.
If we were to visit Norway's second-largest city today, we would join this top-rated and well-priced 2-hour walking tour which hits nearly all the highlights. Therefore, after the tour, I would head over to the funicular and enjoy the views.
Cruising fjords from Bergen
Surrounded by spectacular Norwegian fjords, there are also popular smaller-boat cruise options out of Bergen. Based on price and reviews, the top two options are:
One more worth a mention for those who have a very long port time and have other plans for Flam. This highly rated 10-hour self-guided tour out of Bergen leaves at 8am and visits several local villages; takes three trains, including the famous Flamsbana, a bus, and a ferry. More specifically, you will travel by train from Bergen to Voss, and then by bus to Gudvangen. Next, ferry to Flam, ride Flamsbana to Myrdal and train back to Bergen. Reserve your all-day tour here
Flam cruise port
One of the most beautiful Noway cruise ports, the village of Flam sits on the inner tip of the Aurlandsfjord, an arm of Sognefjord.
Sognefjord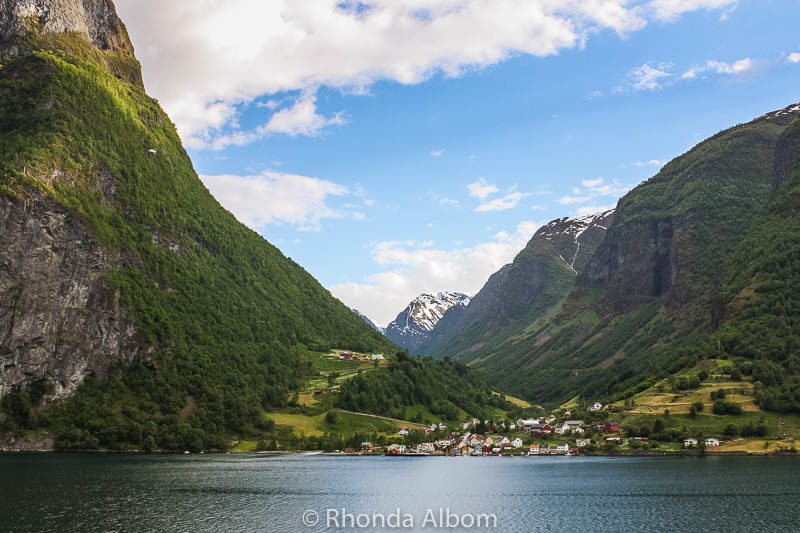 At 204 kilometres long, Sognefjord is the largest and deepest (up to 1308 metres deep) of Norway's fjords, earning itself the nickname "King of the Fjords."
We cruised along Sognefjord for several hours on our way to Flam. Snowcapped mountains, impressive waterfalls, idyllic communities, and occasional farms dotted the landscape, reminding us that in Norway, the journey is as important as the destination.
Flam
Towering mountains backdrop the deep valley as the tiny town of Flam welcomes visitors.
While a paradise in its own right, the area is best known for the Flamsbana, the old train that runs between Flam and Myrdal.
We opted for a ship's excursion, essentially overpaying for some not-so-great service (from the ship's staff), but that's a story for a different day. Our excursion included a coach trip up to Voss (stopping at Tvindefossen waterfall) and two trains back down, the second being the famous Flamsbana.
The drive to Voss and Tvindefossen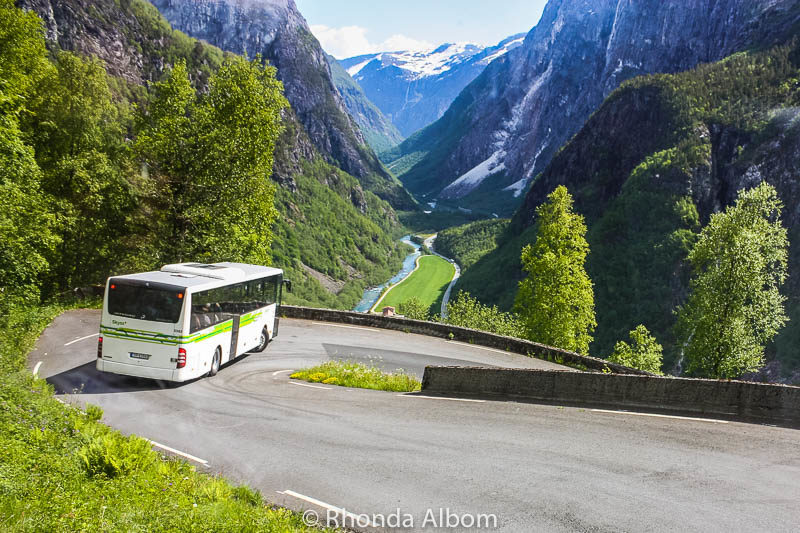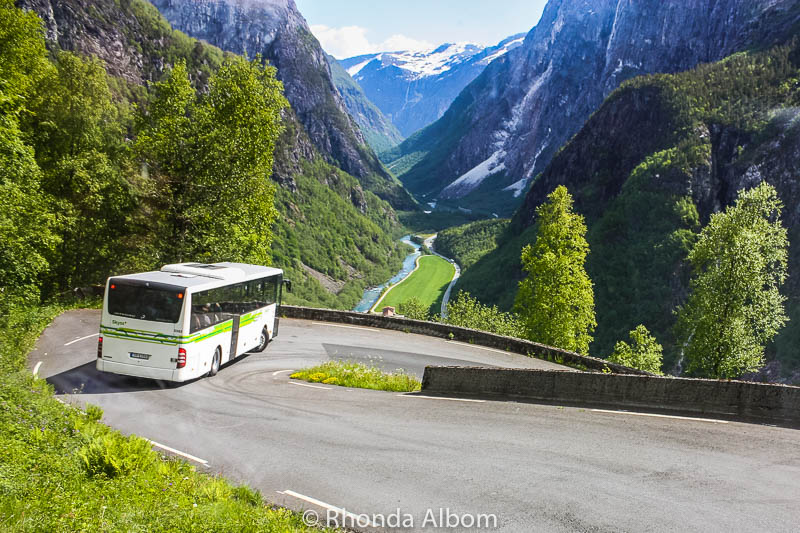 Our scenic bus tour to Voss included 13 hairpin turns on the road through Norway's Stalheim Valley.
Most of the impressive scenery was enjoyed from the bus, including the famous Tvindefossen, often thought to be the Fountain of Youth. Of course, we all know that the 16th-century Spanish explorer Juan Ponce de León found the fountain of youth in St. Augustine Florida. (I have drunk from both, just to be safe.)
We arrived in Voss with plenty of time before our train back down. Our excursion included lunch, and the rest was free time to walk around and enjoy the provincial town.
Next, we took a train from Voss to Myrdal. We believe we did this trip in the best order as we enjoyed every minute of the train's impressive views. However, they were nothing compared to what was to come next on the Flamsbana.
Flamsbana train from Myrdal to Flam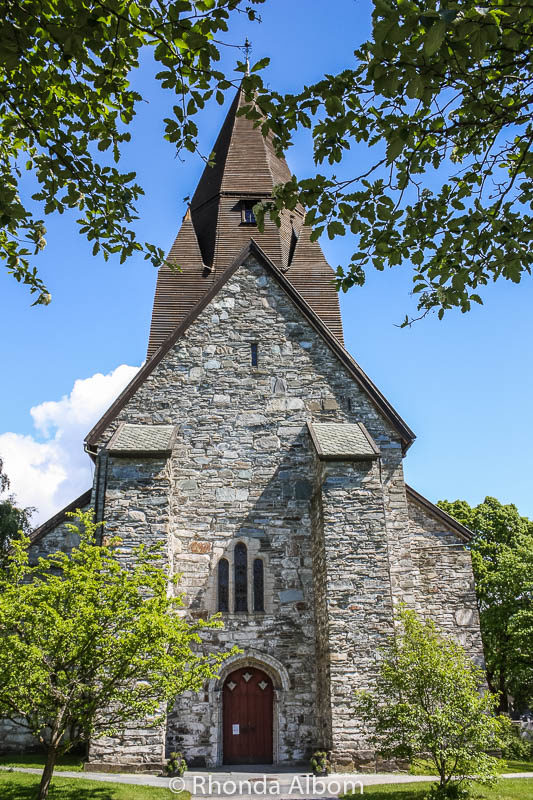 We now understand why the highlight of any visit to the charming village of Flam is often riding the Flamsbana either to or from Myrdal or Voss. There is nothing else quite like the exquisite views as it climbs steeply up or descends sharply down between Flam at sea level to Myrdal at 867 meters high over a distance of just 20 km.
We boarded Flamsbana at the Myrdal station. From here, it makes one 10-minute photo stop soon after Myrdal to see the Kjosfossen, the waterfall where the legend of the Huldra is told.
Note that the train gets quite full, especially on days when there are cruise ships in port. While any seat will reward you with spectacular views, to maximize the experience, sit on the left side of the train for the descent from Myrdal to Flam. (Similarly, if you are taking the train up from Flam to Myrdal, you will want to sit on the right side).
As seats are not pre-assigned, we were advised to arrive at least 20-30 minutes before departure to get the best seats. As a result, we sat on the left side of the train and found our continuous views to be idyllic.
The Myth of Huldra
Can you see the "Huldra" in a red dress on the lower ledge of the Kjosfossen just above? She is a mythical blond seductress with a cow's tail who tries to seduce unmarried men. She may kill the men she seduces who won't marry her or marries them, after which she loses her tail and transforms into a hideous woman with the strength of ten men.
Norway cruise ports and fjords farther North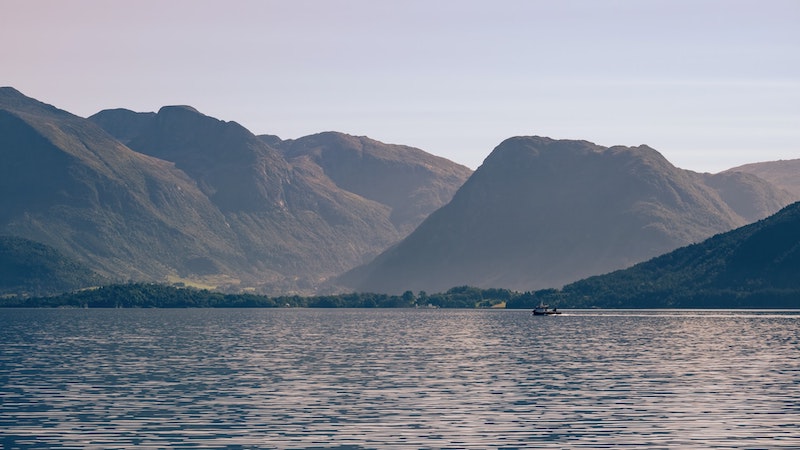 Oslo cruise port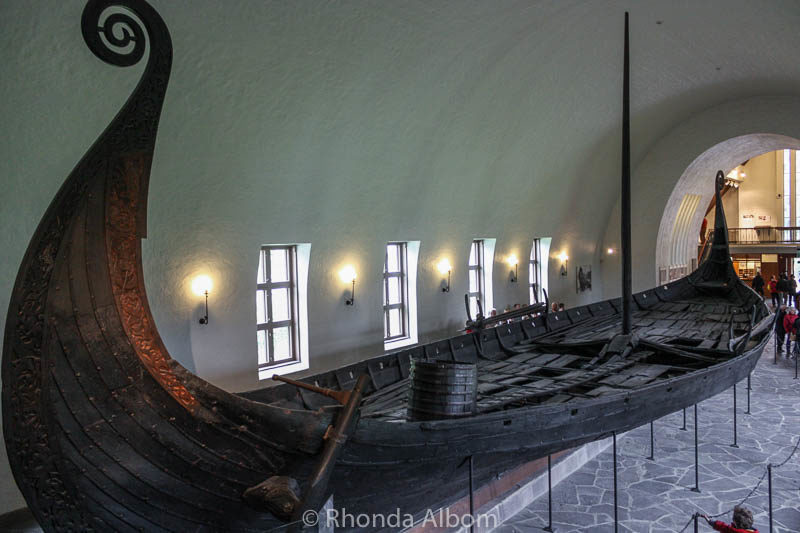 Although not on the west coast with the fjords, Oslo is often included on a Norway cruise.
Unlike the other Norway cruise ports, Oslo is the country's capital city and is loaded with options from historical to modern. While we enjoyed our in-town walking tour, our two highlights were the Viking Museum and the Holmenkollen ski slope. Don't miss our list of things to do in Oslo.
How to see these Norway cruise ports for yourself
There are many ships and cruise companies travelling up to Norway. We opted for a mainstream company. As a result, we were on a large ship (about 2,600 passengers), which limited where we could sail. Cruise Direct offers discounts on most of these ships sailing the Norway cruise ports. Check out Norwegian cruising options on Cruise Critic.
If we do it again, we will sail with Hurtigruten, the current leader in green tourism and specialists in Norway (among other locations). With smaller ships and a focus on cultural immersion rather than "generic onboard fun", I think our adventure would have been even better. Check out all that Hurtigruten has to offer.
Final thoughts
The Norwegian fjords are one of nature's masterpieces. While they can be enjoyed from the land as well as the sea, we believe cruising here is the best and most immersive option. Our best tips include:
There are fjords in Argentina, Canada, Chile, Greenland, New Zealand, Norway, and the USA (Alaska).
Save on your trip and cruise with these resources
These are our go-to companies when we cruise. We believe this list to be the best in each category. You can't go wrong using them on your trip too.
Cruise: We find great deals at Cruise Critic.
Flights: we use Expedia for the best and cheapest flight options.
Hotels: we use Booking.com (hotels at our end ports) or VRBO (self-contained).
Cars (gas or electric): we use RentalCars to search for deals and dealer ratings.
Set up private guides at the ports: Looking to maximize our limited time at a port, we often hire private guides from Tours by Locals.
Travel Insurance: our go-to is Insure My Trip
Check out our travel resources page for more companies that we use when you travel.
Don't miss our best cruise tips.
Save these Norway cruise ports for your travels
If you enjoyed this article, please share it on social media and save it for later on Pinterest.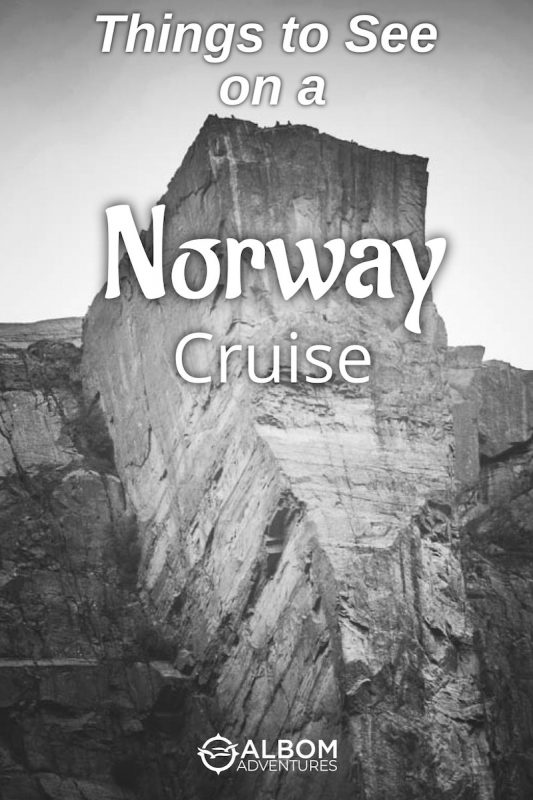 Which is your favourite of the Norway cruise ports?
Photo Credits
Photos on this page are either shot by our team and watermarked as such, in the public domain, or some stock photos were supplied by DepositPhotos.