The Ketchikan Alaska cruise port is a stop for nearly every ship sailing the inside passage. Generally the first port for on northbound cruises heading to Anchorage, Ketchikan serves as an introduction to the rugged Alaskan frontier for many visitors.A quick glance at the ship's Ketchikan shore excursions and it is clear that visitors are spoilt for choice.
The difficulty comes from trying to choose from all the unique things to do in Ketchikan Alaska. It is famous as the salmon capital of the world, as well as being home to the world's largest collection of totem poles.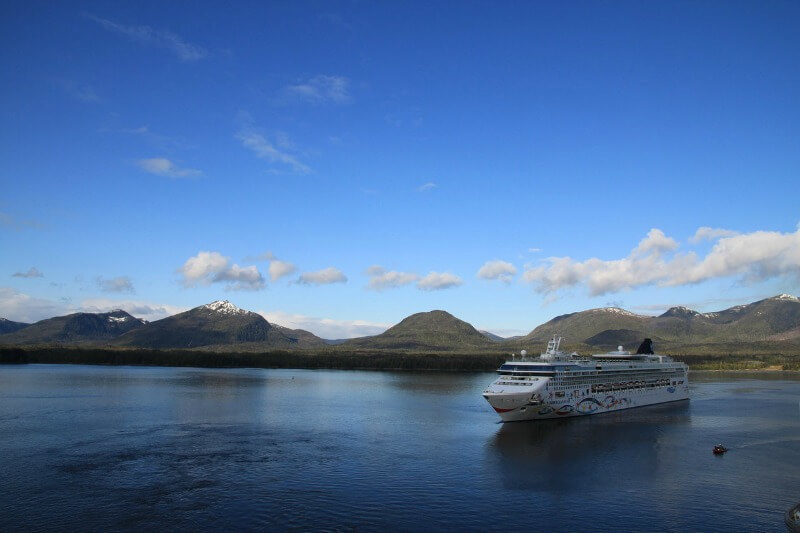 Ketchikan's an easy port to explore on your own. Walking off the ship, we were practically in town with no shortage of restaurants, shops, museums, hiking options, and bars. However, for a bit of adventure, more in-depth history, culture, or a traditional seafood feast, a Ketchikan shore excursion or tour is often needed.
The ship will tell you that you need to book with them to be assured to be back in time. While it is true that the ship will not leave passengers on its excursions, other companies like Viator offer the same worry-free shore excursion guarantee on most (not all) of their excursion options.
This site contains affiliate links to products and/or services. We may receive a commission for purchases made through these links at no additional cost to you.
Things to Do in Ketchikan Alaska
The list of what to do in Ketchikan feels endless. Adventure junkies can enjoy ziplining, kayaking, zodiac boats, 4WD adventures and hiking to incredible viewpoints. Outdoor nature enthusiasts can canoe, visit an Alaskan Rainforest Sanctuary, fly over fjords, or just head out to look for wildlife. And, that's not all. There are still plenty more things to see in Ketchikan like Alaskan totem poles, food tours, and city tours.
Things to do in Ketchikan: Walking Downtown
Whether you take a Ketchikan shore excursion from an independent company, from the cruise company, or you just walk off on your own, you will most likely have some free time to roam the city. Here are a few not to be missed attractions, starting with a free walking tour map that highlights 64 Ketchikan things to do. Created by the Ketchikan Historic Society, the map highlights both the downtown and West End. If you didn't print a copy in advance, you can pick one up at the Visitor's Bureau located on the waterfront across the street from the famous "Welcome to Ketchikan" sign.
Alaska Shore Excursions on Your Own – Download a Free Map
Creek Street
Creek Street is a picturesque boardwalk that winds alongside the Ketchikan Creek. Today, it's the place to go for souvenirs, restaurants, and art galleries.
However, Creek Street has an interesting history. It was built as a boardwalk in the days when prostitution was only legal if "business" was not conducted on dry land. In the gold rush days, these 30+ wood-framed buildings were home to over two dozen brothels. Dolly's House Museum is the former bordello of Dolly Arthur, Ketchikan's most famous "madam" (All prostitution was made illegal in 1954.)
Be sure to wander into some of the galleries as well as the shops. Check out the ulu knives. We like practical souvenirs, so we found the ulu knives the perfect thing to bring home for ourselves and as gifts.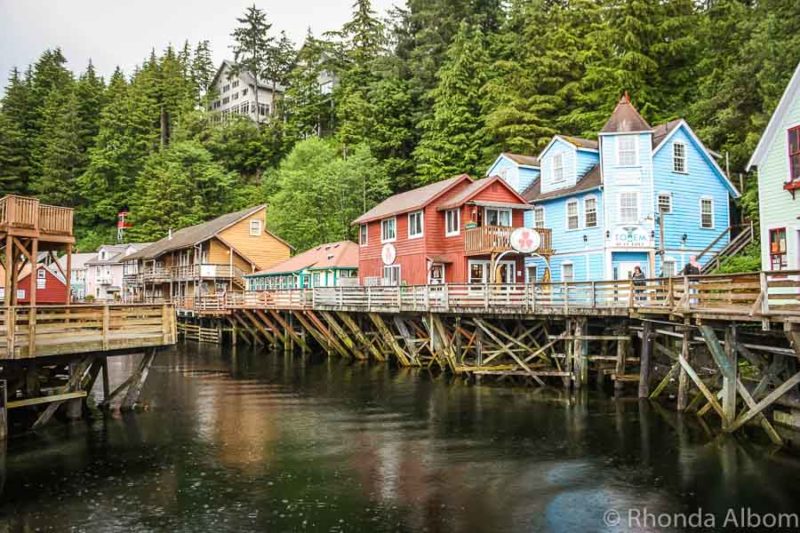 Totem Poles
Ketchikan boasts the world's largest collection of Native American totem poles. While you will see several in town, there are also a few special places worth a visit.
Totem Heritage Center (downtown museum)
Saxman Native Village (2-miles south)
Totem Bight State Historical Park (10 miles north)
Potlatch Park (very close to Totem Bight)
Hiking
There are endless hours of hiking trails from Ketchikan ranging from less than 30 minutes to multiple days. Click here to see the USDA Ketchikan Area Trails Guide.
Ketchikan Museums
A few downtown museums worth a visit:
The Southeast Alaska Discovery Center: Regional museum highlighting the Native American and economic story of Ketchikan
Totem Heritage Center: Native art and original, unrestored totem poles
Tongass Historical Museum: Learn about the area's geography and Native Alaskan heritage
Dolly's House Museum: Former brothel of Ketchikan's most famous madam
Things to Do in Ketchikan: Wildlife Viewing and Adventure
If there is one thing Alaska has, it's wildlife. From bears to eagles, the animals love Ketchikan and the surrounding areas. Many of the excursion options offer wildlife sighting opportunities, although none guarantee it. At the last update of this page, the Ketchikan shore excursions in this section all included Viator's worry-free shore excursion guarantee.
Ketchikan Shore Excursions: Wildlife Viewing and Adventure
Things to Do in Ketchikan: Outdoor Enthusiasts and Adventure
While you will probably see wildlife on these tours as well, their main focus is on the stunning scenery of the Tongass National Forest. It is the largest forest in the United States comprising 17 million acres and includes Ketchikan as well as Juneau and several other popular ports on the inside passage. Whether you explore it via plane, off-road vehicle, canoe, bicycle, or on foot, you are sure to be impressed.
Ketchikan Shore Excursions: Outdoor Enthusiasts and Adventure
EXCURSION
HIGHLIGHTS
DURATION
Off-Road Jeep and Canoe Safari
Drive a 4WD Jeep off-road in Tongass National Forest
Paddle in a Native American–style canoe
Enjoy Alaskan-style snacks
Guided rainforest walk
4 hrs
Rainforest Canoe and Nature Walk
Paddle in a Native American–style canoe in the Tongass National Forest
Short guided nature walk through the rainforest
Enjoy Alaskan-style snacks
3.5 hrs
Electric Bike and Rain Forest Hike Eco-Tour
Ride a battery-powered electric bike through Ketchikan
Hike with a guide through the lush Tongass National Forest
4 hrs
Unique Things to Do in Ketchikan
There are a few other interesting excursions options that didn't fit into the categories above, as well as several things to see on your own in the downtown area.
The Great Alaskan Lumberjack Show
Family-friendly and fun, the Great Alaskan Lumberjack Show celebrates Ketchikan's logging history. World champion lumberjacks display their skills as they compete in traditional lumberjack games like speed climbing, log rolling, chopper, sawyer, and more.
There are demonstrations and hokey jokes, which left the young and old in awe of the talent and laughing at the campy humour. Clearly a tourist show, it's designed to demonstrate the skill and talent of the athletes with humour and entertainment. It's a fun way to spend an hour in Ketchikan.
Pro Tip: The Great Alaskan Lumberjack Show is one activity that may be better if you overpay and book through your cruise ship. If you read the reviews, you will see a consistent pattern of negative reviews by those who booked on their own on days when a ship is in port, as they had poor seats (cruise ship excursion passengers get seated first).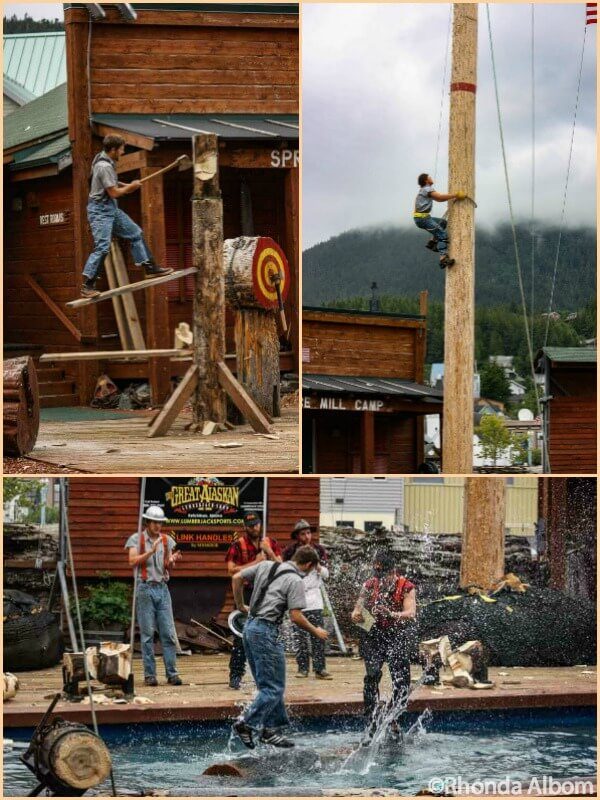 Ketchikan Shore Excursions: Unique Things to Do
EXCURSION
HIGHLIGHTS
DURATION
Silverking Lodge Adventure and Seafeast
Travel by van to the resort
Guided 40-minute boat ride
Guided 30-minute rainforest walk
\Full seafood meal
3.75 hrs
Bering Sea Crab Fisherman's Tour
Tour on boat seen on TV show Deadliest Catch
Watch fishing crew set traps and haul in the catch
Listen to stories of commercial fishermen
3 hrs
All In One
Narrated seaside tour of historic and scenic Ketchikan
See Creek Street, the salmon ladder, totem poles, Alaskan wildlife, and waterfall
2.5 hrs
Ketchikan Alaska Cruise Excursion Tips
Check your ship rules. Most allow you to pre-book excursions before you board with free cancellation policies up to 48 hours (or even less on some ships) prior to the excursion. Read more tips here: Alaska Cruise Tips: Know Before You Sail.
If you are sailing north (Started in Seattle or Vancouver) Ketchikan will be the first of your Alaska cruise ports. If you are sailing south from Anchorage (like we did) then it will your last.
The Salmon Landing market has free wifi.
We enjoyed a fabulous piece of salmon at the Crab Cracker restaurant.
Our ship had coupons for local shops, many of which offered free items with no obligation to purchase.
With so many amazing options in Ketchikan and all of the Alaska ports, there is bound to be the perfect tour for everyone. Best advice, be prepared before you go. Remember, internet access on the ship can be very expensive, and not that good.
Save for later
If you enjoyed this article, please share it on social media and save it for later on Pinterest.
Read Next: USA Adventure: Best Destinations for a USA Road Trip
With so many options, the best things to do in Ketchikan will be different for everyone. What will you do in Ketchikan?
Disclaimer: We were provided with complimentary entry to the Lumberjack Show. However, the opinions expressed here are strictly my own.