Ketchikan Alaska is a cruise stop for nearly every ship sailing the interior passage. Generally the first port on northbound cruises, Ketchikan serves as an introduction to the rugged Alaskan frontier for many visitors. Like many of the ports in the vast open space that is Alaska, visitors are spoilt for choice as there are plenty of things to do in Ketchikan.
The difficulty comes from trying to fit all the amazing and unique things to do in Ketchikan Alaska from a cruise ship into the limited time you will have at the port.
Adventure junkies can enjoy fishing, ziplining, or 4WD adventures. In contrast, nature and outdoor enthusiasts can hike to incredible viewpoints, kayak on calm waters, fly over fjords, or just head out to look for wildlife.
And that's not all. Ketchikan's an easy port town to explore on your own. Walking off the ship, we were practically in town with no shortage of restaurants, shops, museums, hiking options, bars, and fascinating history to discover. There's even a lumberjack show option.
We tend to book our tours independently rather than through the ship. This generally finds us in smaller groups, with additional or bonus experiences, usually for significantly less money.
Our best tip is that no matter what you do, keep your eyes open. There are plenty of things to see in Ketchikan, from Native American totem poles to wildlife. And never forget to look up for that bald eagle that might be passing overhead.
Be inspired …
A bit about Ketchikan Alaska
Ketchikan is located inside the Tongass National Forest, the largest forest in the United States. The forest comprises 17 million acres and includes Ketchikan as well as Juneau and several other ports on the interior passage.
Whether you explore it via plane, off-road vehicle, canoe, bicycle, or on foot, you are sure to be impressed.
Known by many nicknames, these will give you a feel for what to expect at the Ketchikan cruise port.
Salmon capital of the world
Home to the world's largest collection of totem poles
Rain capital of Alaska
Alaska's first city (this is due to its location as the first city visitors come to when travelling north through the interior passage).
Things to do in Ketchikan Alaska from a cruise ship for outdoor and nature enthusiasts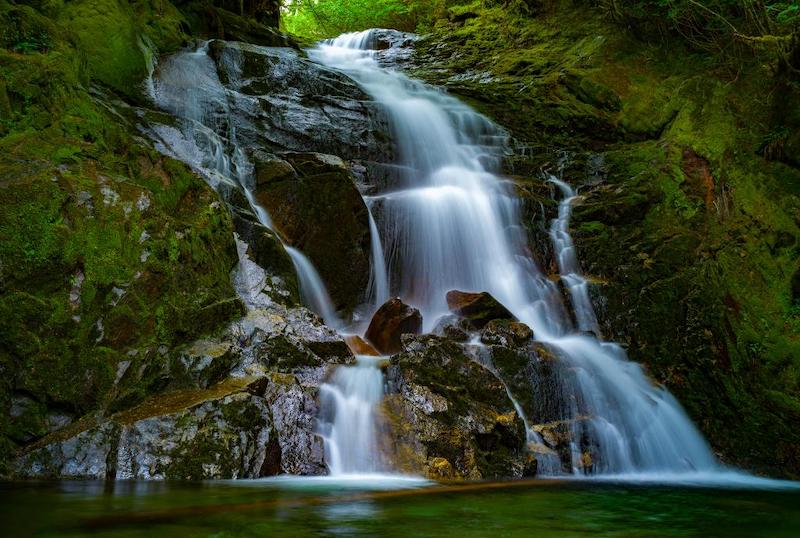 Misty Fjords seaplane tour
Misty Fjords National Monument is 2.3 million acres of roadless paradise that can really only be enjoyed from the air. Your experienced pilot will highlight some of the different levels within the deep, narrow fjords, which appear like sheer granite cliffs rising 3,500 feet above the sea. You will spot lakes, waterfalls, and wildlife. The 2.5-hour adventure also includes a water landing on either an alpine lake or calm bay followed by a quiet excursion. Read the impressive reviews and reserve your seaplane tour here.
Hiking trails
There are endless hours of hiking trails from Ketchikan, ranging from less than 30 minutes to multiple days. If you want to do any of these on your own, be sure to download a free USDA Ketchikan Area Trails Guide.
Kayaking eco-tour
Paddle through the calm waters of Clover Pass in the Tongass National Forest, keeping your eyes open for wildlife overhead, on shore, and in the water. If the timing is right, you may even spot migratory humpback whales. You will travel in small groups led by experienced guides. Reserve your kayak trip here.
Fishing tour
Tour on the boat seen on the Discovery channel's TV show Deadliest Catch. You will watch the fishing crew set traps and haul in the catch and enjoy listening to some of the stories of these commercial fishermen. This is one of the top-rated things to do in Ketchikan. Reserve your fishing tour here.
Things to do in Ketchikan for adrenaline junkies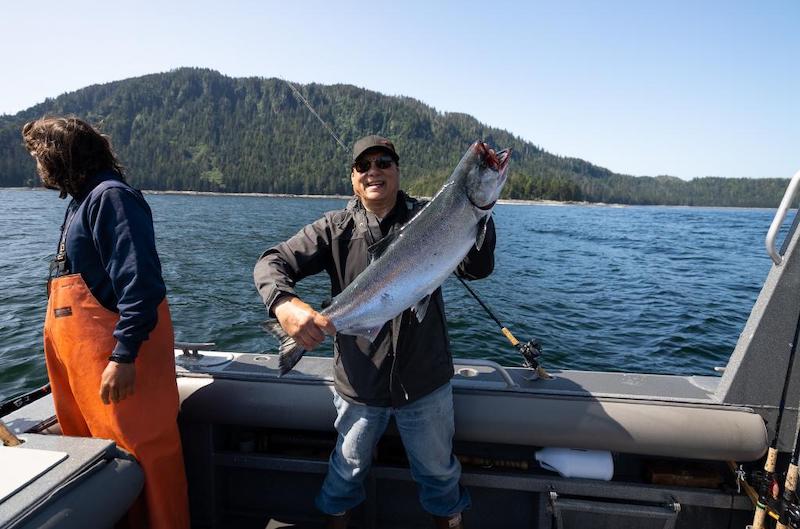 Salmon and halibut fishing (private for your group only)
Popular and highly rated, this private 4 or 6-hour (you choose when you book) salmon and fishing trip is led by an experienced captain who will customize the adventure to your group's needs. It can include fishing, wildlife spotting, or photography. A moderate level of fitness is required. Reserve your fishing adventure here.
Ziplining
With eight dual ziplines totalling 6,000 feet, your heart will be pumping as you fly over an Alaskan rainforest canopy. At a maximum height of 135 feet above the ground, you will have a unique view to spot a waterfall, estuaries, bears, soaring eagles, and more. Reserve your ziplining adventure here.
4WD adventures
Here's your chance to steer or ride in a 4WD Jeep off-road in Tongass National Forest and then afterwards to paddle in a Native American–style canoe on Lake Harriet Hunt. Your 4-hour adventure will conclude with a guided rainforest walk. Reserve your 4WD adventure here.
Things to do in Ketchikan downtown
Whether you take one of the Ketchikan shore excursions from an independent company, from the cruise company, or you just walk off on your own, you will most likely have some free time to roam the city.
Here are a few not to be missed attractions, starting with a free walking tour map that highlights 64 Ketchikan things to do. Created by the Ketchikan Historic Society, the map highlights the downtown.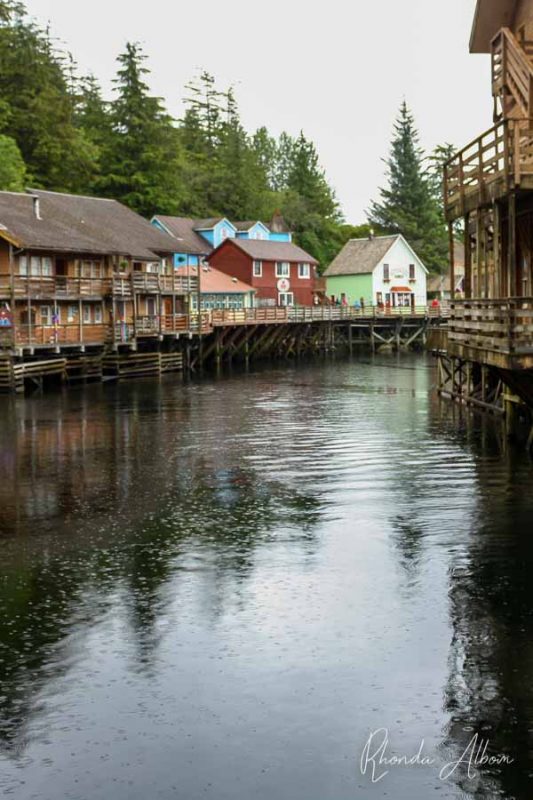 Creek Street
Creek Street is a picturesque boardwalk that winds alongside Ketchikan Creek in an area once called "Indian Town". Today, it's the place to go for souvenirs, restaurants, and art galleries.
Historically, from the gold rush days, it's been a place of prostitution, which became even more prevalent after a 1903 city ordinance banished brothels from the city center to "Indian Town". However, prostitution was made illegal in 1954 throughout Alaska.
One of the most famous still remaining is Dolly's House Museum. It is the former bordello of Dolly Arthur, Ketchikan's most famous "madam."
Be sure to save time by walking the boardwalk, checking out some of the galleries, and wandering through some of the shops. If you like practical souvenirs, don't miss the ulu knives, the perfect thing to bring home.
Totem poles
Ketchikan boasts the world's largest collection of Native American totem poles. While you will see several in town, there are also a few special places worth a visit.
The Great Alaskan Lumberjack Show and crab feast
Family-friendly and fun, the Great Alaskan Lumberjack Show celebrates Ketchikan's logging history. World champion lumberjacks display their skills as they compete in traditional lumberjack games like speed climbing, log rolling, chopper, sawyer, and more.
Filled with hokey jokes, this is a fun way to enjoy Ketchikan. Based on the reviews, we believe the best way to enjoy the show is with a tour combining it with an all-you-can-eat crab feast with sides, desserts, and drinks. Reserve your lumberjack show and guided drive to a small group crab feast here.
Note: Our experience showed that the Great Alaskan Lumberjack Show seats tour groups first, thus leaving those who book once in the Ketchikan cruise port the less desirable seats.
Ketchikan museums downtown
The Southeast Alaska Discovery Center: Regional museum highlighting the Native American and economic story of Ketchikan
Tongass Historical Museum: Learn about Native Alaskan heritage and culture
Dolly's House Museum: Former brothel of Ketchikan's most famous madam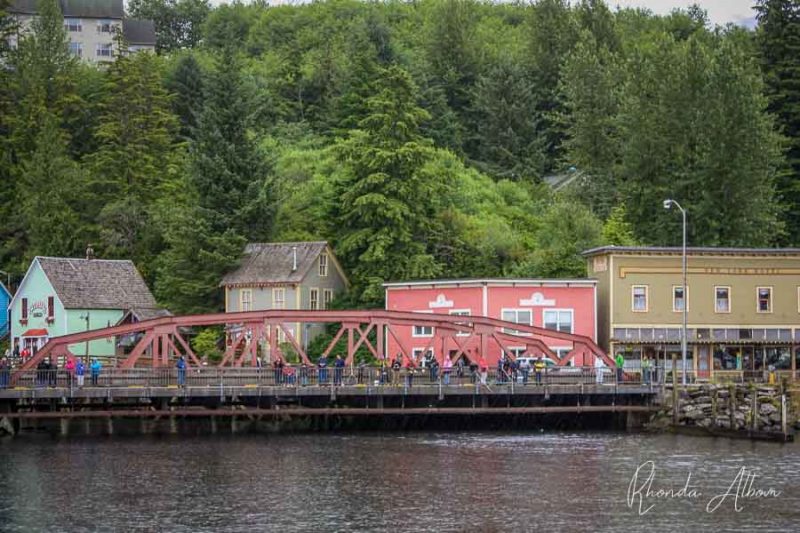 Tips for Ketchikan shore excursions
Don't miss our Alaska Cruise Tips: Know Before You Sail.
The Salmon Landing Market has free wifi.
We enjoyed a fabulous salmon lunch at the Ketchikan Crab & Grille.
Our ship had coupons for local shops, many of which offered free items with no obligation to purchase. Be sure to ask for coupons before disembarking at port.
With so many amazing options in Ketchikan and all of the Alaska ports, there is bound to be the perfect tour for everyone. Our best advice, be prepared with an idea of what you want to do before you go.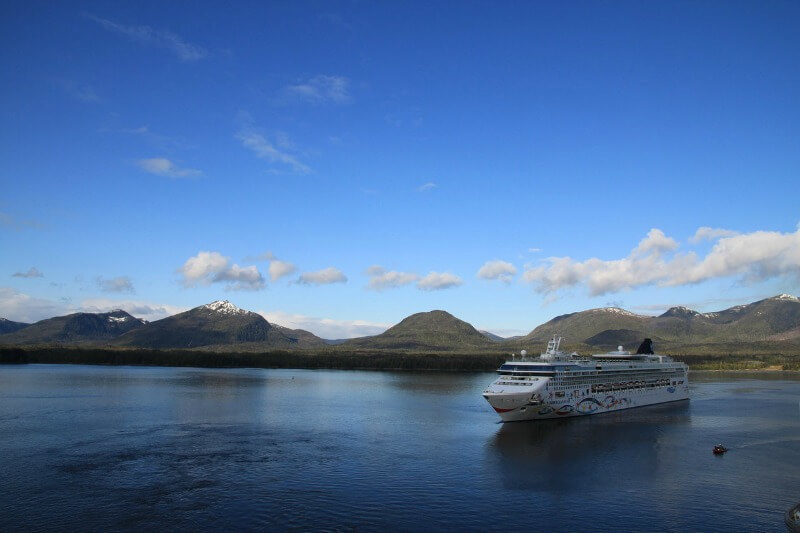 Save on your trip and cruise with these resources
These are our go-to companies when we cruise. We believe this list to be the best in each category. You can't go wrong using them on your trip too.
Check out our travel resources page for more companies that we use when you travel.
Don't miss our best cruise tips.
Save for later
If you enjoyed this article, please share it on social media and save it for later on Pinterest.
Which of these things to do in Ketchikan Alaska will be on our list?
Our recommendations at other Alaska cruise ports:
Disclaimer: We were provided with complimentary entry to the Lumberjack Show. However, the opinions expressed here are strictly my own.