Getting to Denali National Park on the Alaska railroad is nearly as much fun as being there. As the train travels from Anchorage to Denali, the huge windows allow for endless viewing of nature's unfolding masterpiece. Similarly, the return train from Denali to Anchorage brought the same emotional blend of elation and serenity.
Goldstar service passengers are seated in upper-level, luxury, full-dome rail cars, allowing us to become part of the scenery with 360º views rather than just enjoying the view. And a private outdoor area just adds to the luxury.
With private cars complete with reclining seats and a small tended bar, the Goldstar service all includes priority seating in the dining car and your meals. But it was not cheap. The question we are often asked remains, "Was the Alaska Railroad Goldstar service worth the money?"
And the short answer is that it really depends.
The train from Anchorage to Denali
The Alaska Railway has several schedules. We took the Denali Star. The train runs in both directions with several stops as follows:
Anchorage
Wasilla
Talkeetna
Denali
Fairbanks
While one can purchase tickets from any starting destination to any other destination, the most popular routes amongst Alaska tourists stop in Denali. We opted to take the train from Anchorage to Denali and then days later, back to Anchorage.
If we were doing it all again, I would have flown into Fairbanks, taken the train to Denali, and finally gone on to Anchorage.
My time would have been split to include about 2-3 nights in Fairbanks, 3-4 nights in Denali, and 3-5 nights in Anchorage before journeying to Whittier cruise port to board our Alaska cruise along the interior passage.
Our train from Denali to Anchorage
While Denali is breathtaking in its own right, the 7-hour train ride between it and Anchorage is nearly equal. For us, the weather was nicer on the way back, which is why my focus seems to be on that journey. Plus, if you follow our suggestion above, you will be on the train from Fairbanks to Denali, and then from Denali to Anchorage.
Unfortunately for us, the weather never cleared quite enough for us to see Denali from the train, although many passengers do get this honor. Denali, the highest mountain peak in North America was previously named Mt McKinley, ergo the name of the national park and the region.
Images from the Anchorage to Denali train
Here are some of my favorite shots, a mix of both directions.
Blue sky indicates I took the shot while we were traveling on the train from Denali to Anchorage.
If the clouds are dominant, we were on the Anchorage to Denali train.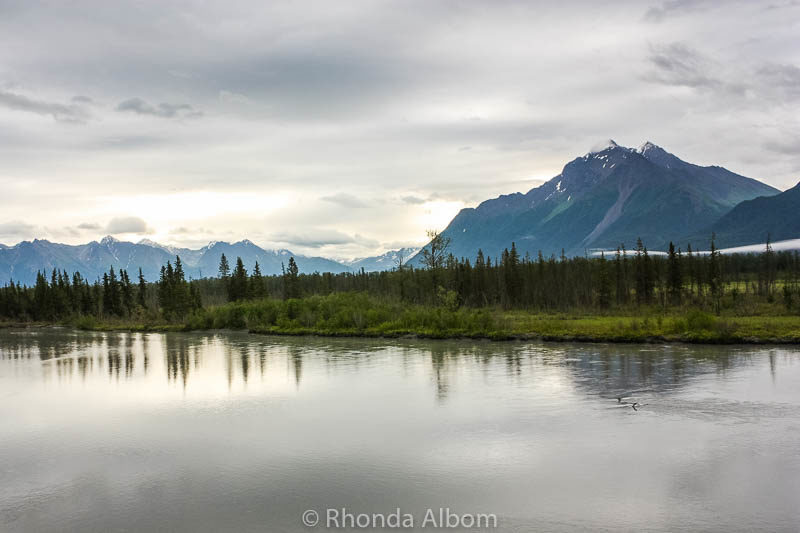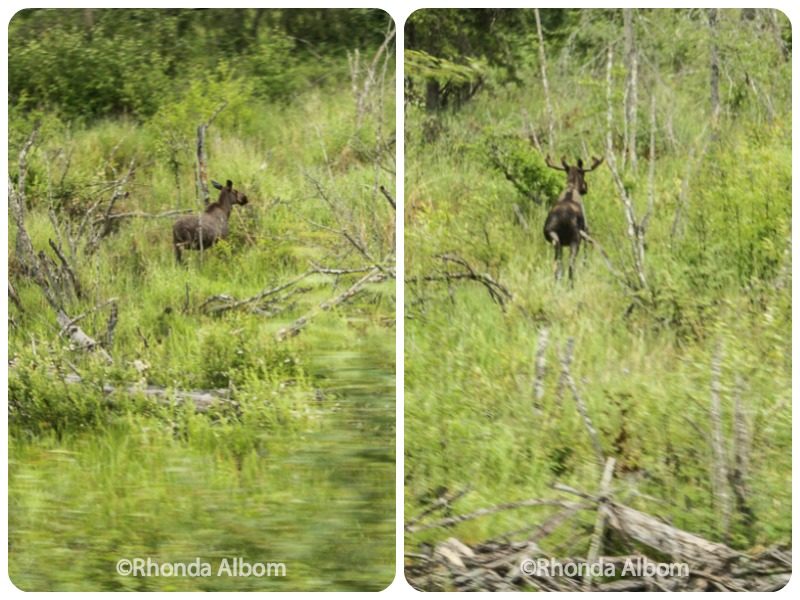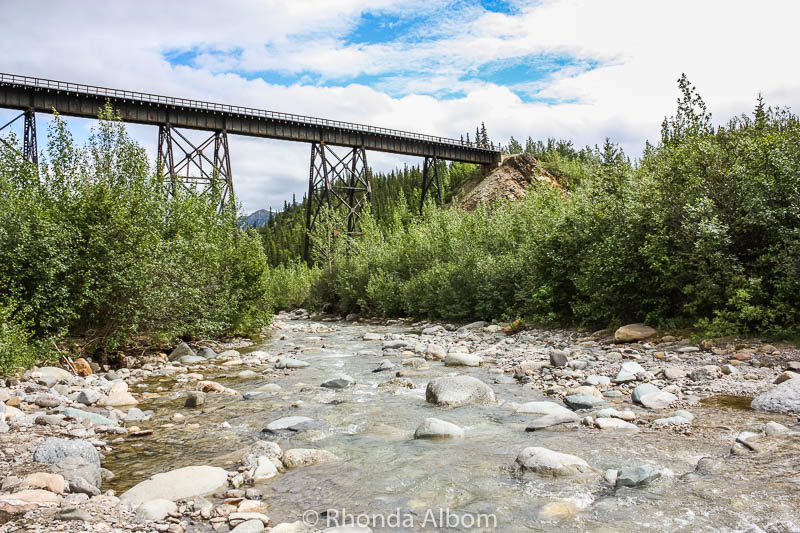 Adventure class vs Goldstar service
We opted for Goldstar service in both directions. However, I would make a different choice today.
Take a look at the dome car of Goldstar service, and you will see the immediate attraction to it.
Advantages and disadvantages of Goldstar service
With the trees and mountains growing up all around us, there is really no better way to enjoy them than the dome car. Plus, the seats are comfortable, the train is relaxing, and there is an outdoor area at the back of the car.
You are seated higher up.
A meal is included in the dining car.
Drinks are available in the dome car.
If you are like me, you want clear photos. Although washed often, as we travel the roof windows get dirtier than the sides. Therefore, I stood outside for all of my photos. In fact, I spent over half the ride outdoors.
You need to walk down a short flight of stairs on a moving train to get to the bathrooms or the dining car.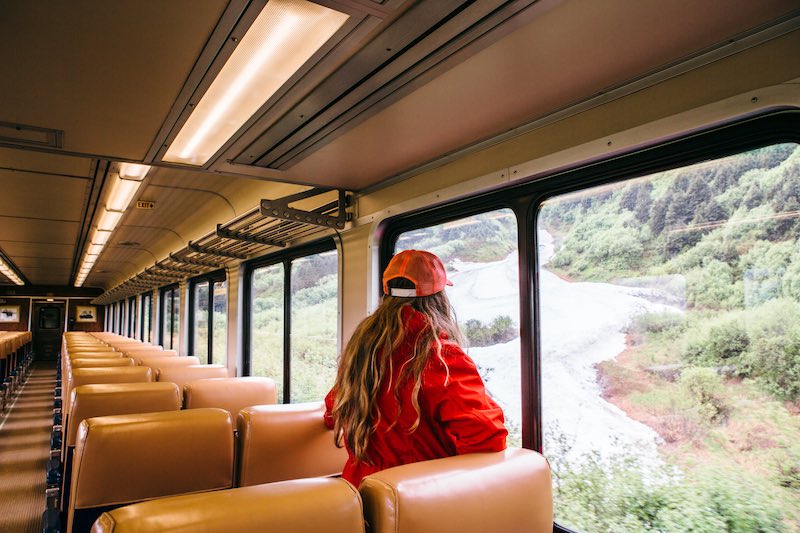 Advantages and disadvantages of Adventure Class
The obvious advantage will be felt in your pocketbook. While I am pretty sure the incremental difference was much smaller when we went, today it costs nearly twice as much for Goldstar service.
Adventure class cars have huge windows, too, just not a glass dome top. However, the train does offer a partial dome car for all passengers to share, offering better views with a twenty-minute rotation time, so everyone who wants a turn can have one.
High ceilings, comfortable seats, plenty of legroom, and lots of room for hand luggage make this "coach" feel quite a bit nicer than "standard".
Adventure Class cars are single level, and most have restrooms.
No need to climb down any stairs to get to the dining car.
If you want outdoor photos, there are limited opportunities.
If you suffer from FOMO, you might have a false sense that you missed out, but you didn't.
Practical information on travel to Denali
Other travel options from Denali to Anchorage include the bus, private flight, or private vehicles. After talking with other travelers, we believe the train to be the most relaxing and beautiful way to travel. Although renting a private vehicle is less expensive (especially for four people), it offers the flexibility to stop at some of the smaller towns along the way.
Denali is an outdoor paradise with plenty of things to see. Unlike anywhere else we have been to in the states, I only wish we had spent more time here.
Part of the Alaska railway system, the Denali Star runs from May to September.
In 2017, Anchorage was named a "Best of the World" destination for 2017 by National Geographic Traveler.
Conclusion: Is Goldstar worth the extra cost?
While I loved the Goldstar service, I am still unsure if it actually was worth the extra money. And it's certainly not needed in both directions unless you have unlimited funds. So if you want to try it out, I would get it in only your first direction.
As Goldstar, you can walk through the Adventure class cabin, and see if you agree it will be fine for the return. If not, upgrade at the train station. The risk is that it could be sold out, but the Adventure class tends to sell out first for a reason.
Please share
If you enjoyed this virtual tour from Denali to Anchorage, please share this article on social media including Pinterest: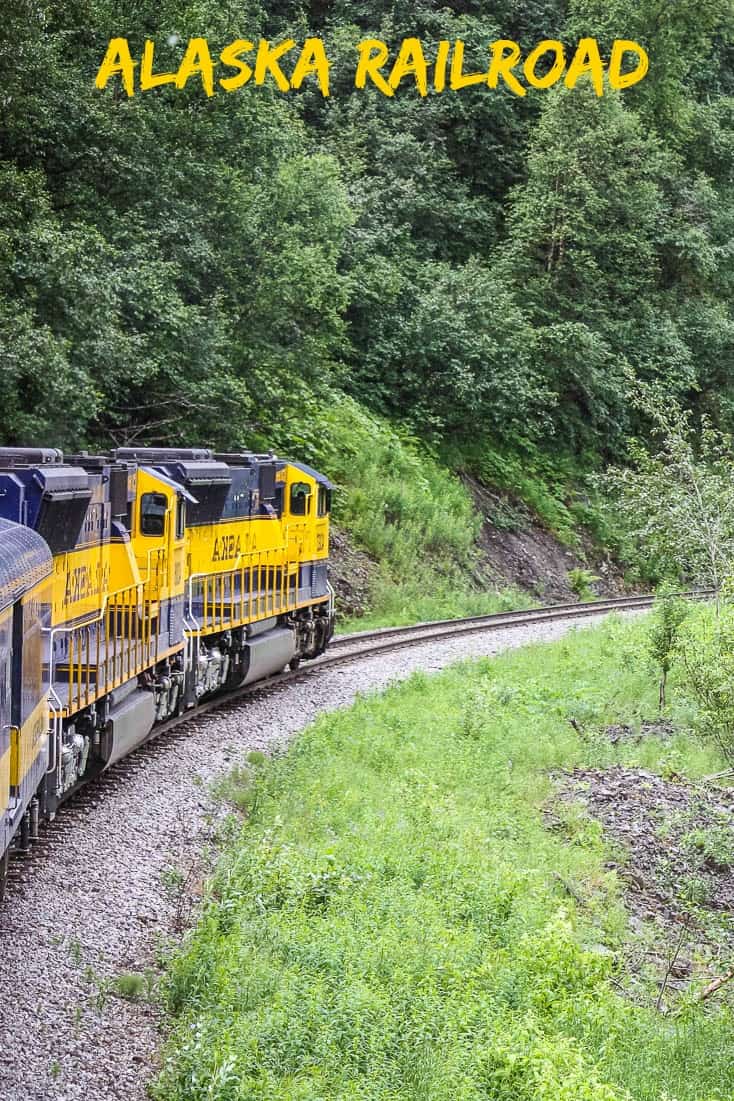 Will you travel by train from Denali to Anchorage?