Skagway is on the itinerary of just about every cruise ship sailing Alaska's interior passage. Ours was no exception. There are more things to do in Skagway than hours ashore in this former gold rush town. The options range from expensive Skagway Alaska excursions to free tours, hikes and other mini adventures.
Skagway Excursions: Arriving via Cruise Ship
Some of the best Skagway excursions include riding the famous White Pass Railroad, dogsledding, or enjoying a traditional Alaskan Salmon bake. If you don't have deep pockets, or if none of these options appeals, there are more than enough free, or nearly free things to do in Skagway.
However, if you are arriving in Skagway on a cruise ship you will want to maximize your limited time in the city. After you explore the shore excursion options provided by your ship, check out some of these independent options from Viator, a TripAdvisor company. Smaller groups and lower prices are the two primary reasons we prefer to take independent tours.  Be sure to read about Viator's worry-free shore excursion guarantee.

⇒ If you're still in the planning process click here for current specials offered by Princess Cruise lines.
15 Free or Nearly Free Things to do in Skagway
We opted to skip the excursions as we had already spent 16 hours on trains in Alaska, had landed on Fox Glacier in New Zealand a few years earlier, saw the husky dogs in Denali, and I am terrified of zip-lining.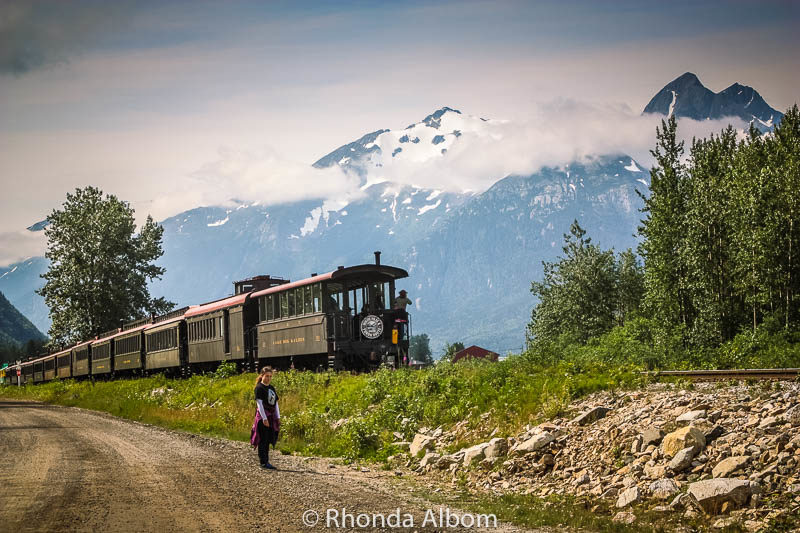 1. Have a look at the Snow and Ice Cutting Train
Sitting right at the end of Broadway it would be difficult not to see this ice cutting train car on display as you walk into town from the port of Skagway.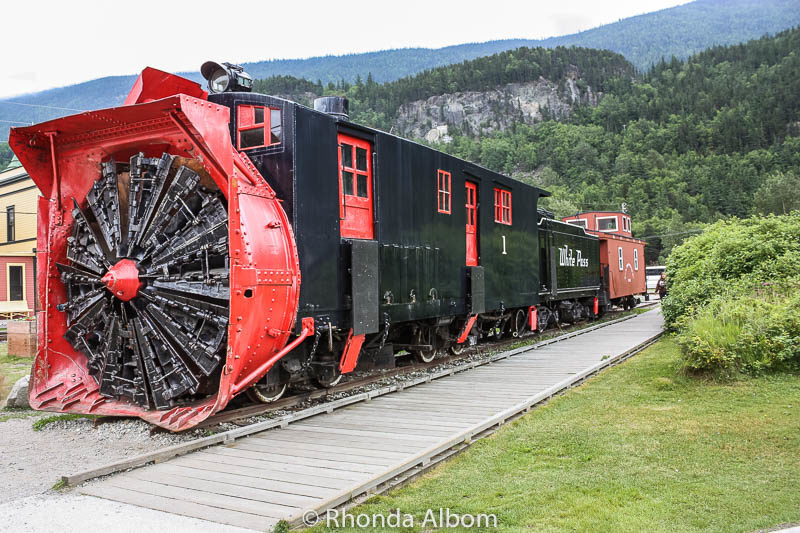 2. Photograph the Skagway Visitor Center (a.k.a. Arctic Brotherhood Hall)
Located in the historic Arctic Brotherhood Hall (Notice the AB on the front), the Skagway Visitor Center is now a destination on its own. The exterior pattern is made from over 8,000 pieces of driftwood. One look and you know why this is considered to be Alaska's most photographed building. Going inside, we were able to get maps and information on all the things to do in Skagway.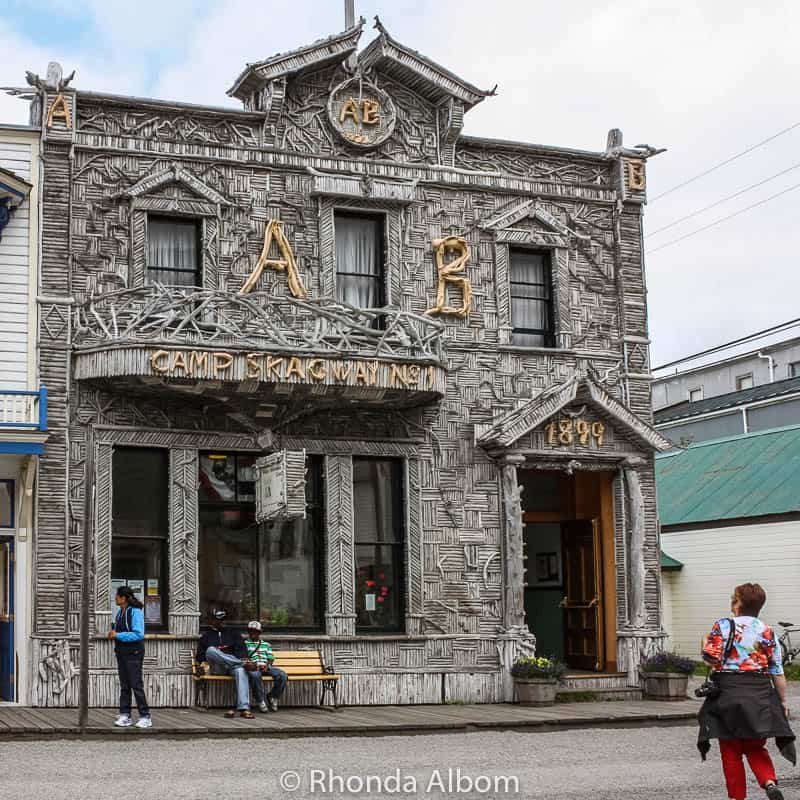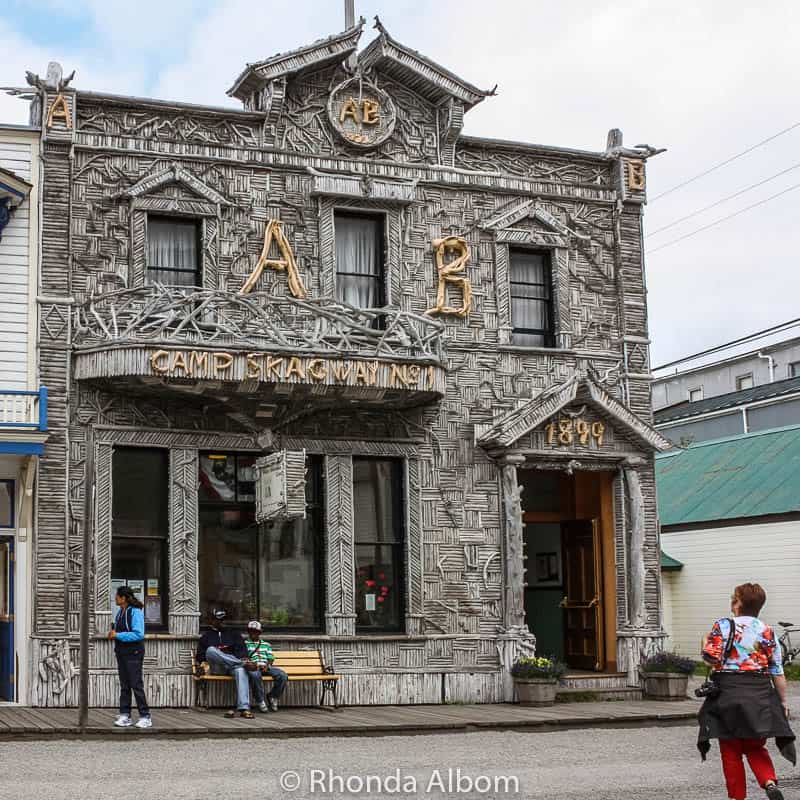 3. Learn Something New at the Daily Ranger Talks or Movie
Each morning at 10 am, the Park Rangers offer a 45-minute talk on various topics. The day we were there, the topic was Gardening in Skagway, so we opted to skip it. There is also a free daily 30-minute film on the history of Skagway. Both are at the Ranger Visitor Station (2nd and Broadway).
4. Walk the Residential Streets
We like to turn off the main streets, leave the tourist area, and get the real feel of a town. Had we not done this, we never would have seen this garage.
5. Utilise the Free Wifi at the Library
The library opens daily at noon, but the Wifi was available just outside starting at 10 am (8th and State). A crowd of locals sitting on the benches alerted us to this freebie.
6. Hike Along the Tracks and Through the Forest
The lush green forested area offers lots of hiking opportunities, my favourite of the things to do in Skagway.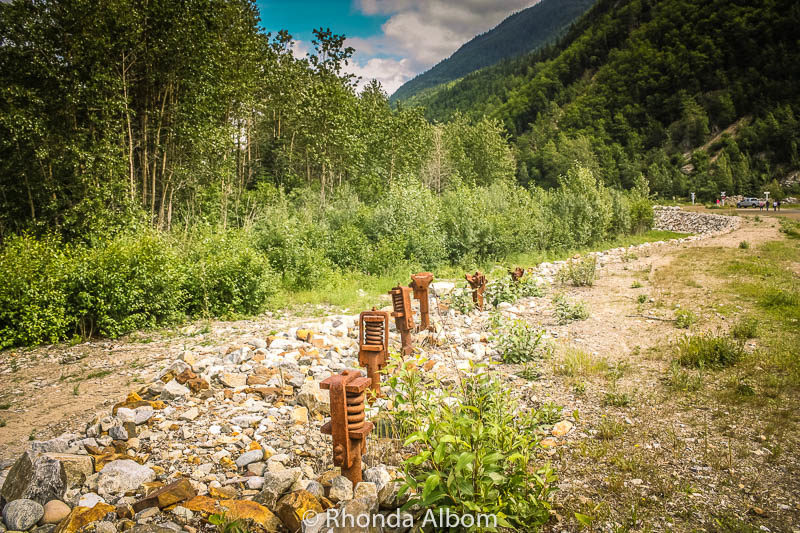 7. Hike to Yakutania Point or Dewey Lake
I am not sure why we opted to skip both of these hikes. The first, an easy walk to Yakutania Point provides a lovely view of the Skagway port and inlet as well as our cruise ship. We were told later that there were whales in the bay on the day we were docked. The hike to Dewey Lake is considered to be more challenging than Yakutania Point. However, once there it is an easy walk around Dewey Lake. Hiking is one of the great things to do in Alaska in summer.
8. Gold Rush Cemetery
Skagway was a sleepy town until word got out about gold in the late 1890s. For less than two years the town boomed, growing faster than the infrastructure and without enough doctors. Typhoid, meningitis, and lawlessness wiped out most of those buried here, and the majority of the grave markers we saw are dated 1898.  The cemetery is about 2 miles from the port of Skagway.
9. Ried Waterfall
Walking less than a half mile beyond the cemetery, we came to Ried waterfall cascading over the rocks much faster than I would have expected.
10. Pan for Gold at the Klondike Gold Fields
We did not pan for gold; we just had a look from a distance. I am sure this is not a free or near free activity, but one that we passed by as we walked to the Gold Field Cemetery. A bit farther from town is the larger Lairsville Goldrush Camp.
11. Have a Coffee, Ale or Meal at one of the Skagway Restaurants
We discovered the Klondike Cafe, a great little coffee shop. We are coffee drinkers, but others told us the most refreshing beverage in town is a Spruce Tip Ale from the Skagway Brewing Company.
12. Take a Free NPS Ranger-led Historic Walking Tour
Numbers are limited, so you need to pick up your tickets at the Ranger Visitor Station. The tour went through the heart of town and was under an hour and very educational.
13. Shopping in Skagway Alaska
We are not shoppers. We travel light and buy almost no souvenirs. However, it's always fun to window shop along Broadway, the main street. The Native American crafts are plentiful, plus we found some totem poles.
14. Skagway Museum and Sculpture Garden
More gold rush history, and gold nuggets. It was an interesting, although not terribly photogenic place to visit. We ran out of time and didn't visit the sculpture garden next door to the museum.
15. Enjoy a Meal at the Red Onion and then Tour this Former Brothel
Head upstairs in the Red Onion for an innuendo-laden tour of one of the 70 former brothels in Skagway from the days of the gold rush. Some 15,000 men flooded the town in hopes of finding their fortune. In reality, no gold was found in Skagway. The madams may have been the most well-off in the town as they kept half of the girls' earnings. The working girls charged $5 for 15 minutes of "service". This was more than a miner's daily wage. (There was a small charge for this tour).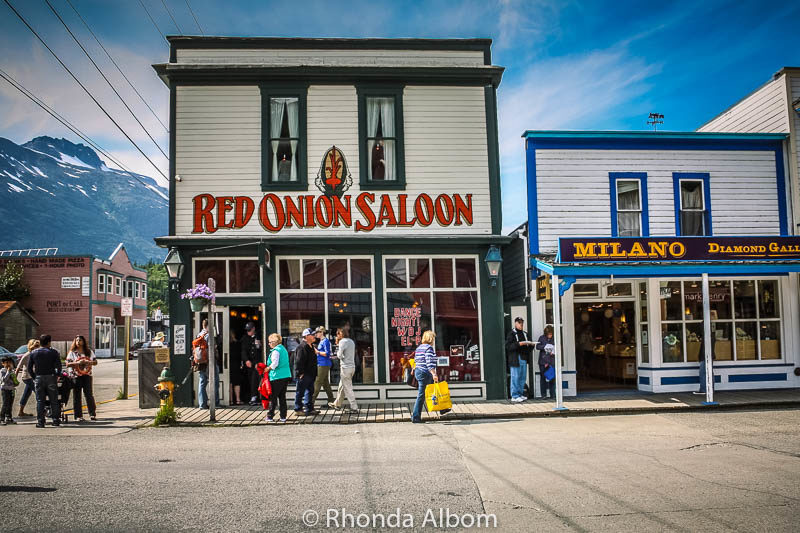 More Information and Tips for Skagway:
It's a very short walk from the Skagway cruise port into town.
There is a city shuttle bus that drives around Skagway offering $5 on/off all day.
Should you be visiting on July 4th, head to Pullen Creek for the annual Skagway Rubber Duck Derby. If you are there in salmon season, Pullen Creek is also a great place to see the salmon run.
If you are taking the White Pass Railway try to get a seat on the left side of the train for the best uphill views. Also, for the best photographs, walk out between the cars.
Don't forget to check Viator to save money on Skagway cruise excursions.
We visited Skagway as a cruise port. However, if we went back, we would stay longer. Our first choice for accommodation is the Historic Skagway Inn. This charming bed and breakfast is highly sought after so be sure to book well in advance. Our second choice would be the centrally located Westmark Skagway Inn, rated as the best value in the city.
Other Alaska Cruise Ports We Have Visited
We sailed from Anchorage (Whittier) to Vancouver. Here are our top recommendations for each port:
Read Next: 25 Tips for Cruising Everyone Should Know
If you enjoyed this article on free things to do in Skagway, please share it on social media including Pinterest: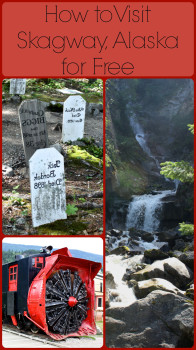 Have you been to Skagway? Are there enough things to do in Skagway to keep you busy?