When we first noticed Icy Strait Point on our Alaska cruise port itinerary, we were unsure what to expect. This unfamiliar destination turned out to be a fascinating port offering two key wildlife options that captured our imagination: Icy Strait Point whale watching or bear viewing.
Icy Strait Point is on the interior passage route of many cruise ships. It's lesser-known than some of the other ports only because all ships don't visit here. In addition, it's often called by a variety of names.
Icy Strait Point is the port location. Hoonah is a nearby village. Both are on Chichagof Island, the fourth largest island in the United States. To throw one more name into the mix, National Geographic nicknamed it "Bear Island" as it has the highest density of bears per square mile on earth.
Icy Strait Point is also the Alaskan waters that the humpback whales return to each summer. Alaska whale watching season is from May to September.
Let Alaska inspire you…
Top things to do in Icy Strait Point
Whale watching
Bear viewing
Ziplining
Kayaking
Explore on foot
Icy Strait Point whale watching
We opted for an Icy Strait Point whale watching excursion with a private company and loved every moment of it. Experts at spotting the next place the whales will emerge, our captain was quick to bring us to the spot. Reserve your wildlife adventure here
Why did we choose an independent Icy Strait Point whale watching tour over one with the ship?
While our cruise ship's staff would have us believe we needed to go with them for whale watching, we were very glad we opted to spend our time with one of the independent tour operators.
Like the excursions from the ship, our van was waiting for us at the dock. We all drove along the same beautiful stretch of road to get to Hoonah, keeping our eyes open for bald eagles and deer.
After that, the differences were clear.
The boat we were on was well equipped for whale watching, with three main viewing areas. These include the huge windows of the heated interior cabin and the fore and aft open decks.
With a maximum of 30 persons on board, there was never a lack of great view spots, and always room at the rails.
What made our choice truly memorable is the expertise and knowledge of Captain Paul and his son. They not only are aces at spotting whales, but they are also fascinating storytellers.
In contrast, we saw the Icy Strait Point whale watching excursion from the ship, which looks a bit too crowded for my taste. Take a look at the boat used for the excursions purchased through the ship.
⇒ Don't end up on the overcrowded whale watching excursion from your cruise ship.
Reserve your independent Hoonah cruise here
Chichagof Island bear viewing from Icy Strait Point
The downside of cruising is there is never enough time in port to do it all. If there had been more time I would have joined the Alaska brown bear search run by the same fabulous company that took us whale watching.
According to the information provided by the ship, there are 1-2 bears per square mile on the island, making it the ideal spot for a brown bear search. However, bears are not something I would want to encounter on my own, but only with an expert guide.
With a small group (maximum 12) guided by experts and three hours to look for wildlife, the chances of spotting bears are good. This off-the-beaten-path adventure is perfect for nature lovers.
Check price or prebook your Chichagof Island Brown Bear Search before the 12 spots fill up!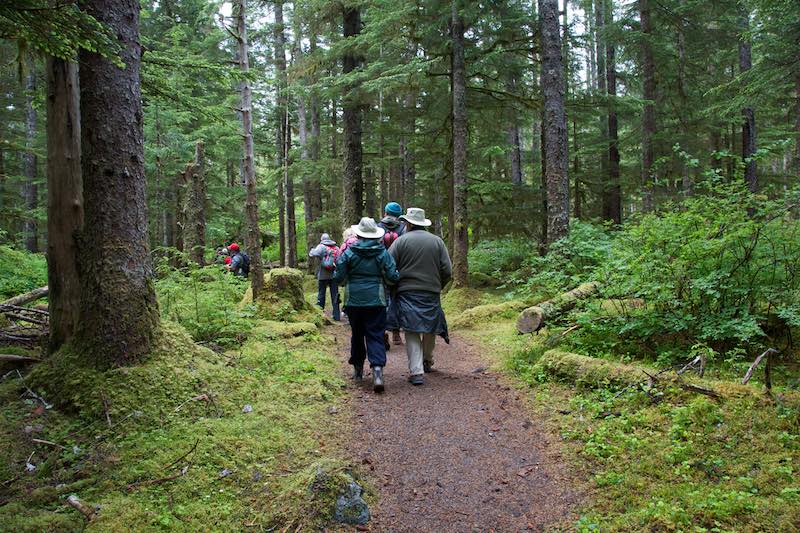 Zipline experience
Adventure-seekers are probably well aware of the zipline at Icy Strait Point. At 5,495 feet long it was the world's longest zipline when built. If that's not enough excitement on its own, you might be enticed by the verticle drop of 1,320 feet or the top speed of 65 mph.
With those distances and speeds, Ziprider is no slouch, although the title of the world's longest zipline has been bravely captured somewhere else.
Your cruise ship probably offers this as an excursion option.
Kayak adventure
If you want to explore the area from a different perspective, try a 2-3 hour kayak adventure from Hoonah. With everything provided, all you need to bring is your sense of adventure (and your waterproof camera, if you have one).
In a group of no more than 12, you will be surrounded by towering mountains as you paddle past an old logging camp, then move to what the locals call Long Island for some wildlife viewing.
Check price or prebook your kayak adventure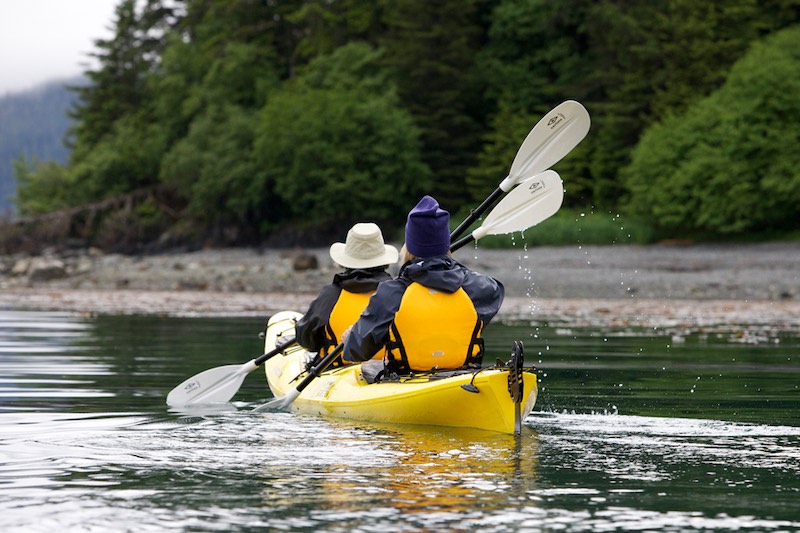 Totem pole carving in Hoonah
Before leaving Hoonah, we enjoyed the famous salmon tacos at The Fisherman's Daughter, where we met and talked with some lovely locals.
Sometimes we need to trust people on blind faith. This was one of those times.
The locals told us of a special carving underway. To see it, we needed to enter the unlabelled back door of a workshop next to the restaurant. Inside, we found a group of people who had been commissioned to carve totem poles and the back panel for a Tlingit clan house soon to be built.
Hoonah to Icy Strait Point on foot
Strolling leisurely along the beautiful coastal road, it took us about 35 minutes to walk from Hoonah back to the ship at Icy Strait Point. We had been given the option of being brought back after our whale watching event, but we had plenty of time to enjoy the town and have some lunch, and we love to walk.
On the way, we saw kids jumping off a pier, a bald eagle nested in a tree, stilted buildings, fishing boats docked and unloading, and enjoyed lovely coastal views.
More things to do in Icy Strait Point Alaska
Look down for color and up for eagles
Stop by "The Office" for a drink
Hoonah is a town with a sense of humor. As such, it offers the perfect excuse for being home late: "I was at the office."
More about Hoonah and Chichagof Island
Captain Paul (Hoonah Travel Adventures) told captivating stories and shared interesting information about Hoonah and Chichagof Island. Three of my favorite tidbits include:
Chichagof Island has no property tax as the homes were gifted by the US military after a fire destroyed Hoonah in 1944.
Paul told a personal story of his son's bear encounter. He taught us to look at the eyes of animals to see if they reflect red (this is a predator) or green (prey).
All Tlingit people are either Eagle or Raven clan matching their mother. Eagles marry ravens, ravens marry eagles. Similarly, they bury each other. We passed the Eagle Clan cemetery on the road between Hoonah and Icy Strait Point, thus reinforcing what we had learned at the Native Heritage Center in Anchorage.
Save on your trip and cruise with these resources
These are our go-to companies when we cruise. We believe this list to be the best in each category. You can't go wrong using them on your trip too.
Cruise: We find great deals at Cruise Critic.
Flights: we use Expedia for the best and cheapest flight options.
Hotels: we use Booking.com (hotels at our end ports) or VRBO (self-contained).
Cars (gas or electric): we use RentalCars to search for deals and dealer ratings.
Set up private guides at the ports: Looking to maximize our limited time at a port, we often hire private guides from Tours by Locals.
Travel Insurance: our go-to is Insure My Trip
Check out our travel resources page for more companies that we use when you travel.
Don't miss our best cruise tips.
Save for later
If you enjoyed this article on Icy Strait Point whale watching and other things to do at this cruise port, please share it on Pinterest: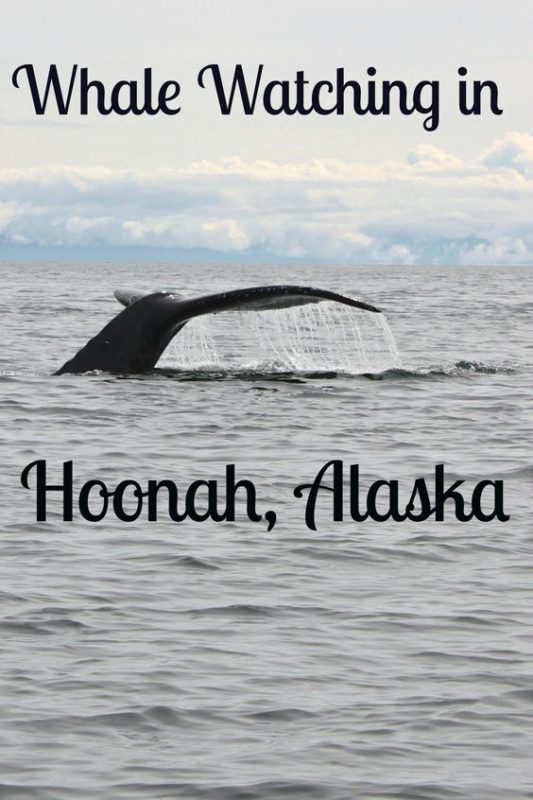 Will you choose an Icy Strait Point whale watching, bear, or another excursion?
Our recommendations at other Alaska cruise ports:
Disclaimer: The photos on this page were mostly shot by us. We would like to thank Alaska.org for supplementing us with a few additional shots, as labeled. Also, we were provided with media rates for the whale-watching tour for the purpose of this review. However, the opinions expressed here are our own.