If you are cruising in Alaska this summer, chances are pretty good that you will be visiting Alaska's capital city. Like many cities, you will be spoilt for choice and limited by time. Our family chose to split up, half of us going on a Juneau whale watching and Mendenhall Glacier viewing adventure while the rest went kayaking.
Read on, and you will find plenty of other things to do in Juneau for nature lovers, wildlife enthusiasts, adventure seekers, and tourists.
How do you decide what to do at your Juneau cruise port stop?
First, a few things to think about. Juneau Alaska is a metropolitan city surrounded by the rugged wilderness that makes Alaska famous. It is the largest US capital city by area, as well as being the only US capital NOT accessible by road.
This is a far more significant fact than one might think when arriving via ship, especially if you don't have a lot of time here. Juneau is the one port you don't want to be left at should you be late getting back to the ship.
And while people always think it will never happen to them, our ship left eight people in Juneau.
We typically recommend independent shore excursions at most cruise ports as they are generally smaller groups for less cost.
However, in the case of Juneau, pay close attention to the amount of time you have in port. If it's a limited time, we recommend using the ship's excursions unless the independent tours get back plenty early or offer a guarantee to get you back on board.
I wouldn't spend too much time worrying about this, as 900,000 of the 1 million annual Juneau visitors arrive via cruise ship; therefore it's a city used to this predicament.
Be inspired…
Things to do in Juneau
If you are visiting for a limited time, there are several options, but we believe the top two things to do in Juneau either involve whale watching or the Mendenhall Glacier.
Juneau whale watching
View or walk on Mendenhall Glacier
Salmon bake
Kayaking
Float trips
Pan for gold
Juneau whale watching
After reviewing the options, Juneau whale watching was my top pick. However, having just gone whale watching at Icy Straight Point, a previous port, this option was not so intriguing to parts of my family.
For me, whale watching is magical. My heart skips a beat with each spout of water shooting into the air as I unconsciously hold my breath and hope for a breach. On our tour day, the whales always gracefully returned to the sea, their tail breaking the surface as they descend.
Interestingly, our local guide knew the whales by name, identifying them by the pattern on the underside of their tail.
We don't get to pick the day or the weather when we cruise. While it was overcast, foggy, and a bit cold, the magic of the moment was exciting, unlike the colors in the images I was able to capture.
Pre-book a whale-watching adventure
One thing to note about cruising Alaska is that top-rated providers that offer small-group excursions sell out quickly.
If you have enough time in Juneau, a 3.5-hour independent whale-watching adventure like this one from Viator is a great choice. This top-rated tour provides views from outdoor decks or a heated cabin on a boat with no more than 38 travelers, and expert guides. Reserve your whale watching adventure here.
Another top-rated whale watching adventure adds a meal of king crab in town. Reserve your whale watching and king crab combo meal.
Other wildlife – a secondary highlight of our Juneau whale watching adventure
In addition to humpback whales, we spotted seals, sea lions, and a bald eagle. Orca whales and brown bears are often seen on the Juneau whale-watching tours.
Mendenhall Glacier
Located in the Tongass National Forest, the Mendenhall glacier measures over 12 miles long with a 1.5-mile face. Its popularity is driven by its easy accessibility from the city, and it's frequently referred to as the Juneau Glacier. It's often included in tours as it can be hiked on or viewed by rafting, kayaking, trekking, or flightseeing.
After our whale watching, we took a drive to a forest about 12 miles out of town. Here we hiked along Nugget Falls trail to the Mendenhall Glacier viewing point.
How to see the Mendenhall Glacier
Chances are good that you will spot the glacier from the road, but to get up close and personal, you will want to take a short hike, trek along the glacier, kayak, or take a float trip. While most of these options will probably be available through your cruise ship, you can probably save a good deal of money and most often be in a much smaller group if you book independently.
But again, I remind you that in Juneau, you don't want to cut the timing close and miss the ship.
Here are a few top-rated choices:
Short hike combined with a whale-watching adventure
This 4.5-hour tour is similar to the one we went on (which no longer exists). The main difference is that the time at Mendenhall Glacier is free time rather than guided, but the Nugget Creek Falls trail is well marked. The whale watching portion of this trip is two hours. Reserve this combo adventure here
Kayak
This 3.5-hour kayak trip is what the other half of my family opted for, and they all felt they made a perfect choice. Although, they both said it was more about the kayaking and the wildlife than the glacier. They paddled through Fritz Cove spotting eagles, porpoises, seals, and whales in the distance. Glacier viewing requires a clear day as it remains miles away on this trip. Prebook your kayaking here
Float trip*
A 3.5-hour river raft excursion led by an experienced guide. First, float along the foot of the glacier, then travel about five miles down the Mendenhall River. You can relax as your guide paddles, or ask for a paddle raft and follow your guide's instructions through the 1-mile stretch of class III rapids. Prebook the float trip here.
Trek*
Adventure seekers, this one is for you. This is an 8-hour challenging adventure designed for travelers who can hike on rocky terrain for about 8 miles over 6.5 hours, carrying a pack containing gear up to 15 pounds. The goal is to both enter ice caves and walk on the glacier, but safety is always placed first; therefore, neither is guaranteed. The maximum group size is 12.
Prebook this trek here.
*Last time I checked, these tours offer Viator's worry-free guarantee to return you to your ship. Be sure to read the details before booking.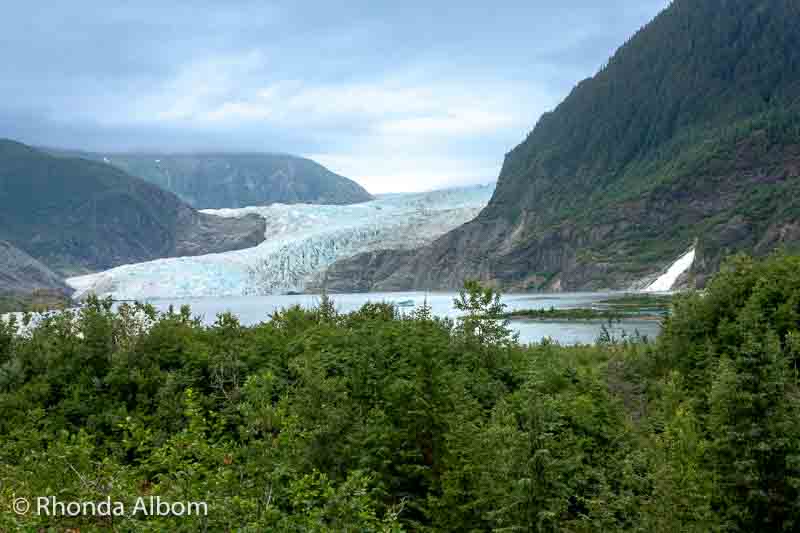 Gold panning with or without a salmon bake
A gold rush followed a major find by Joe Juneau and Richard Harris in 1880 (aided by the Tlingit chief Kowee). Therefore, it's not surprising that panning for gold is a popular tourist activity today. In fact, there might be a gold panning option on more than one of the shore excursions offered by the ship.
While it's not how we would choose to spend our time, if it's your thing, check out these two options:
A 1.5-hour historic mining and panning adventure includes a Juneau city mini-bus tour. Head to a permitted and secluded section of Gold Creek, learn how, and then try panning for gold. A lot to do in a short time, but the reviews are great. Reserve your panning adventure here.
This 3-4 hour gold panning adventure also includes a salmon bake and a totem pole carving demonstration. Reserve panning and salmon bake here.
Photography tips for Juneau whale watching or glacier viewing
When whale watching:
Use a fast shutter speed (sports mode on a point-and-shoot). We found 1/800 fast enough to stop the action and still allow the water drops to cascade off the tail.
Set your camera in burst mode, as this will give you a series of shots when you hold down the button.
You will need to set the aperture and ISO based on the conditions of the day.
For the glacier shots,
Set your aperture to a higher number like f11 or f13 (landscape/mountain mode on a point-and-shoot)
If you want to intensify the blue of the glaciers, you can set the white balance to "sun", which adds a cooling filter, whereas the "cloudy filter does the opposite, adding warmth (less blues) to the photo. Personally, I don't change the white balance in my camera, as I nearly always forget to change it back, therefore messing up other photos later in the day.
You will need to set the shutter speed (minimum speed 1/30) and ISO based on the conditions of the day.
Or check out these photography tips provided by Alaska.org
Save on your trip and cruise with these resources
These are our go-to companies when we cruise. We believe this list to be the best in each category. You can't go wrong using them on your trip too.
Cruise: We find great deals at Cruise Critic.
Flights: we use Expedia for the best and cheapest flight options.
Hotels: we use Booking.com (hotels at our end ports) or VRBO (self-contained).
Cars (gas or electric): we use RentalCars to search for deals and dealer ratings.
Set up private guides at the ports: Looking to maximize our limited time at a port, we often hire private guides from Tours by Locals.
Travel Insurance: our go-to is Insure My Trip
Check out our travel resources page for more companies that we use when you travel.
Don't miss our best cruise tips.
Save for later
If you enjoyed this article, please share it on social media and save it for later on Pinterest.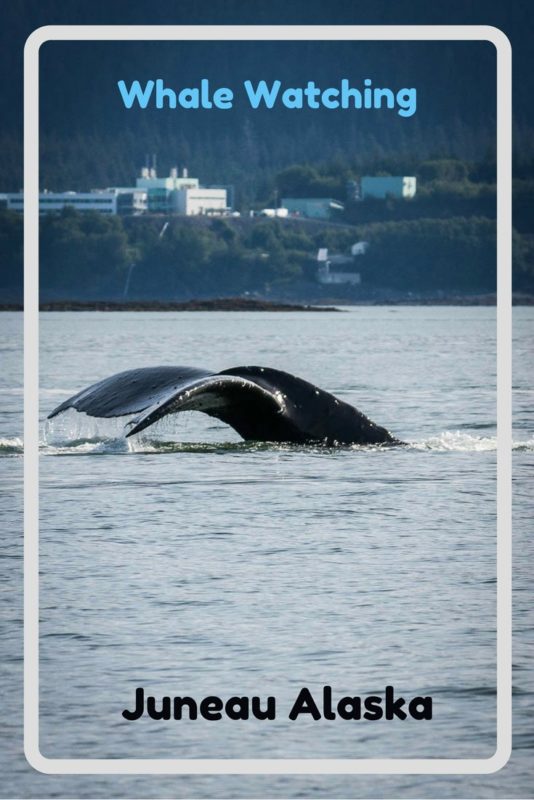 Will you choose Juneau whale watching or one of the other Juneau cruise port ideas?
Our recommendations at other Alaska cruise ports:
Read Next: Alaska Cruise Tips: Know Before You Sail