Juneau Alaska is the largest US capital city by area, yet it's also the only US capital not accessible by a road. It's a metropolitan city surrounded by the rugged wilderness that makes Alaska famous. While Juneau whale watching topped my list, there are plenty of other things to do in Juneau for nature lovers, wildlife enthusiasts, adventure seekers, and tourists.
Nearly 1 million visitors arrive in Juneau annually, 900,000 of them via cruise ship. We were no exception. After reviewing the options, our family split up. While we all went on the water, two wanted more adventure (without a camera) while I, along with one of our girls, took a Juneau whale watching and Mendenhall glacier photo safari (see images below).
This site contains affiliate links to products and/or services. We may receive a commission for purchases made through these links at no additional cost to you.
Top things to do in Juneau
Juneau whale watching
View or walk on Mendenhall glacier
Fishing
Bear viewing
Salmon Bake
Pan for gold
Dog sledding
Kayaking
Our recommended tours are below.
**We recommend taking Juneau excursions from the ship
While Juneau is an easy port to get around on your own, it is the one port you don't want to be left at should you be late getting back to the ship. And while people always think it will never happen to them, our ship left 8 people in Juneau.
Remember, Juneau is not accessible by road (although there is a car ferry). Therefore, getting to the next port to be reconnected with the ship will be very expensive. Passengers who miss the ship generally need to hire a private plane or boat.
We recommend taking a shore excursion in Juneau Alaska that includes a guarantee to return you to the ship. While the ships Juneau tours will do this, so will many independent companies. See our recommendations below. First, let's review some of the options.
Juneau Alaska Whale Watching
I love whale watching. As the spout of water shot up into the air and my heart skipped a beat. I unconsciously held my breath as I hoped this majestic whale would breach the water, jumping into the air. Instead, she gracefully returned to the sea, her tail breaking the surface as she descends.
We don't get to pick the day or the weather when we cruise. While it was overcast, foggy, and a bit cold, the magic of the moment was exciting, unlike the colours in the images I was able to capture.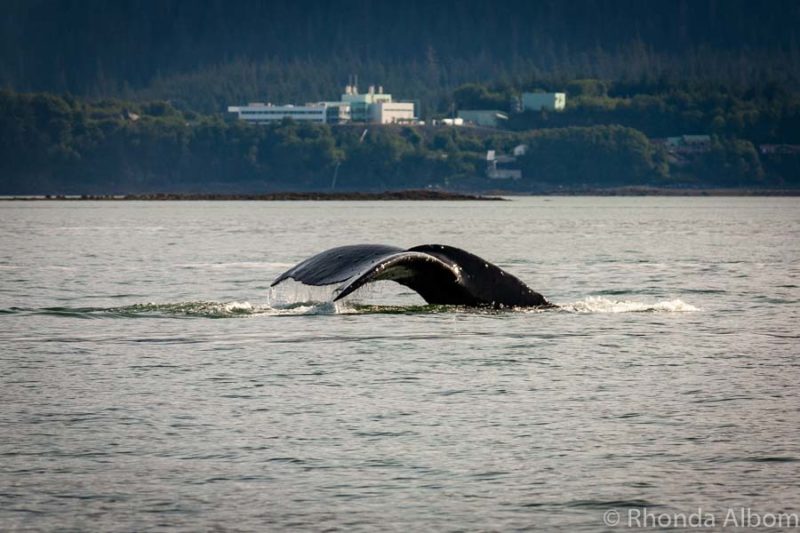 Whale Photography Tip
Basic camera settings for whale watching:
Fast shutter speed (sports mode on a point-and-shoot). By setting my shutter at 1/800 it was fast enough to stop the action. At the same time, it was not so fast that it froze the water drops as they came off the tail as this gives the appearance of dots on the photo.
Burst mode for a series of shots when you hold down the button.
Aperture and ISO set based on the day.
For more travel photo tips, sign up for our newsletter and we will send you a free copy of my e-book: Travel Photo Tips by Rhonda Albom
Juneau Wildlife Spotted
We saw Humpback whales, seals, sea lions, and a bald eagle. Orca whales and brown bears are often seen from the Juneau whale watching tours. We also successfully went whale watching in Hoonah Alaska a few days earlier.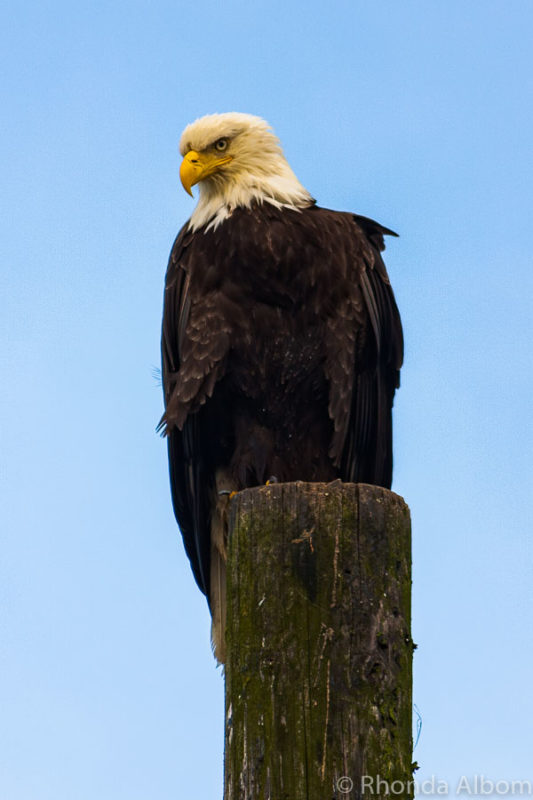 Mendenhall Glacier Watch
Next, we took a drive to a forest about 12 miles out of town. Here we hiked along Nugget Creek Falls trail to the Mendenhall Glacier viewing point. Often referred to as the Juneau glacier, it is 13.6 miles long.
Glacier Photography Tips
Like with most landscape shots, the goal is to have the maximum in focus. Therefore you will want to set your aperture to a higher number. If you are using a point and shoot, use the landscape (mountain) setting. I shoot in Raw and adjust for white balance in Lightroom. However, if you don't use post-processing software, you can adjust the camera's white balance before taking the shot. For glaciers, set the white balance to "sun", which adds a cooling filter that will intensify the blue of the glacier. I know the day we had was overcast but had I set the white balance to "cloudy" the camera would add warmth (less blues) to the photo.
Hiking in Juneau
These shots are from the Nugget Creek Falls trail, however, the falls we spotted were not the path's namesake.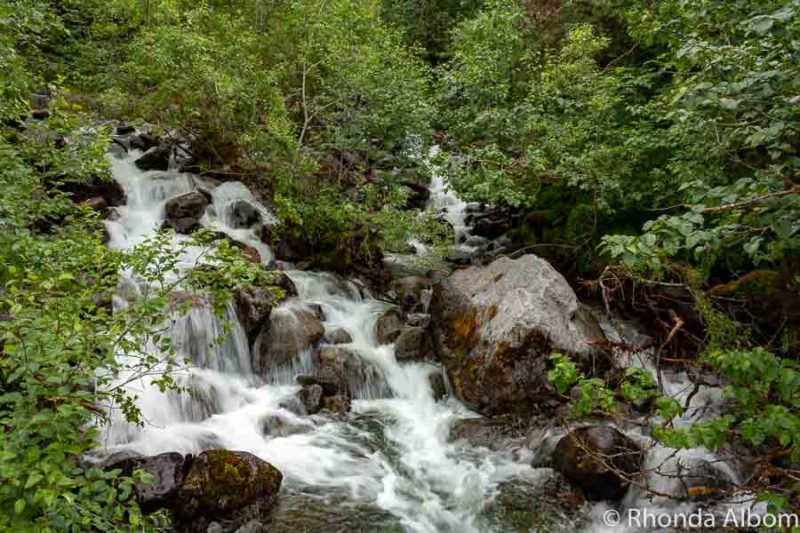 Juneau Alaska Excursions
Viator, TripAdvisor Company, offers a worry-free shore excursion guarantee. on many of their tours, including the tours listed here. They are a company we trust, with small groups, great guides, and generally, significantly lower prices than the ship can offer.
*Be sure to verify that the tour still offers the guarantee before booking.
Read Next: Alaska Cruise Tips: Know Before You Sail
Save for later
If you enjoyed this article, please share it on social media and save it for later on Pinterest.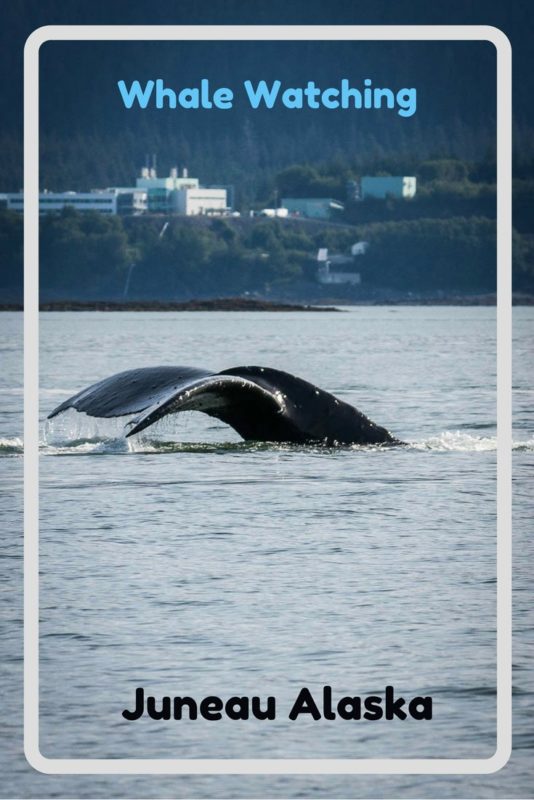 What will you do in Alaska's capital?