Alaska is like few places on earth. Rugged, scenic, and abundant with wildlife, it is a paradise. If you're cruising here, prepare to fall in love with everything about it. And while it is a once-in-a-lifetime highlight, following a few Alaska cruise tips will make it even better.
We took an inside passage cruise southbound from Anchorage to Vancouver. However, these Alaska cruise tips apply equally to northbound cruises or those that loop.
Although our Alaska cruise tips are for any time, our current crazy world does require a few extra precautions. And to make it easier for passengers to feel safe, the Center for Disease Control and Prevention (CDC) has cruising guidelines regarding vaccination, cleanliness, and capacity.
Many cruise lines go beyond the CDC guidelines and had required all guests to prove they are fully vaccinated. To find the policy of the line you are considering, check this article from Cruise Critic.
We sailed before the pandemic, but we hope it won't impede your ability to enjoy the stunning state of Alaska and your time onboard.
Top 10 Alaska cruise tips
Plan early.
Double your cruise budget.
Book a balcony cabin.
Look into travel insurance.
Allocate a day to enjoy getting to the port of embarkation.
Pack light while you pack for all seasons.
Add a land package to Denali National Park.
Prebook your Juneau excursion.
Explore independent excursion options.
Bring binoculars and carry them with you.
Highlights from our inside passage cruise in Alaska
Alaska cruise tips in detail
1. Plan early
More than other destinations, Alaska cruises tend to book up early. While we love the savings that normally come with last-minute cruising, I wouldn't risk it in Alaska.
Even booking early, there are still deals to be found, most offering additional cancellation clauses and flexibility over prior years.
2. Double your cruise budget
Alaska is expensive. Sorry, there is really no getting around this fact.
Both getting there and being there have higher-than-average costs. The ports are filled with fascinating, unique, and often costly options. Whether it's whale watching, dog sledding, or a helicopter landing on a glacier, many opportunities come around only once in a lifetime, so you won't want to miss out.
One of our favorite Alaska cruise tips: don't budget so tightly that you miss all the fun.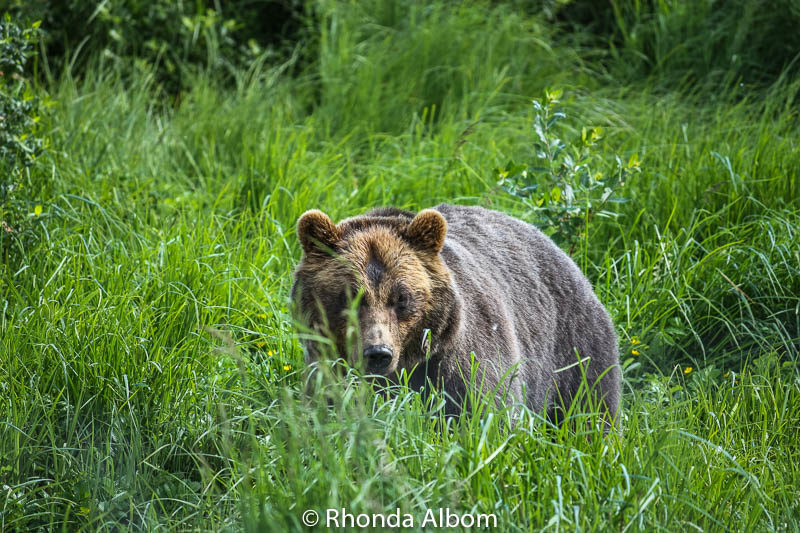 3. Book a balcony cabin
As we sailed through the inside passage, we were near land more often than on any other cruise we have been on. The ever-changing views are spectacular, and the summertime daylight hours in Alaska are long. When you can't spend time on the ship's deck, you will be glad you have a balcony.

Also, should you be quarantined for any reason, you will be glad to have outdoor access.
Find the best deals and reviews for your Alaska cruise at Cruise Critic.
4. Look into travel insurance
Alaska is far from just about anywhere. This means you probably spent more to get here, your cruise is on the high-priced end of cruise destinations, and if you need medical help or if something else goes wrong, you want to know someone has your back.
We have had our share of bad luck, landing us in hospitals on four continents. We never leave home without travel insurance, and our current go-to is InsureMyTrip. In fact, we have partnered with them, because they are the best option to compare plans and find the right coverage for you. They have thousands of travel insurance plans and a one-of-a-kind recommendation engine to help travelers find the right plan. Get a free quote from InsureMyTrip here.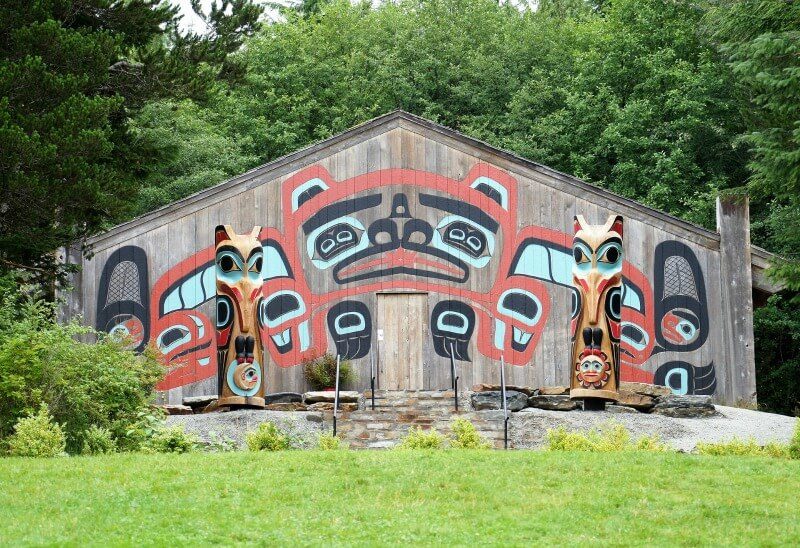 5. Allocate a day to enjoy getting to the port of embarkation
A typical southbound Alaska cruise itinerary sails from Anchorage to either Vancouver or Seattle. In reality, the ship sails from either Whittier (97 km from Anchorage) or Seward (204 km from Anchorage).
The challenge of getting to the port can be turned into an adventure. While the major cruise lines offer bus transport, you miss all the interesting things to see along the way.
Our best Alaska cruise tip for getting to the port: hire a private guide or take a tour. We hired a private guide who started our day with an Anchorage city tour and then took us to the world's largest seaplane airport, a wildlife refuge, and the Alaska Wildlife Conservation Center.
Plus, we stopped for lunch in a charming little village before we enjoyed the national forest, Portage glacier, and even a derelict building. We turned our transport from Anchorage to Whittier into a great day.
This is one of the Alaska cruise tips that will keep your journey worry-free.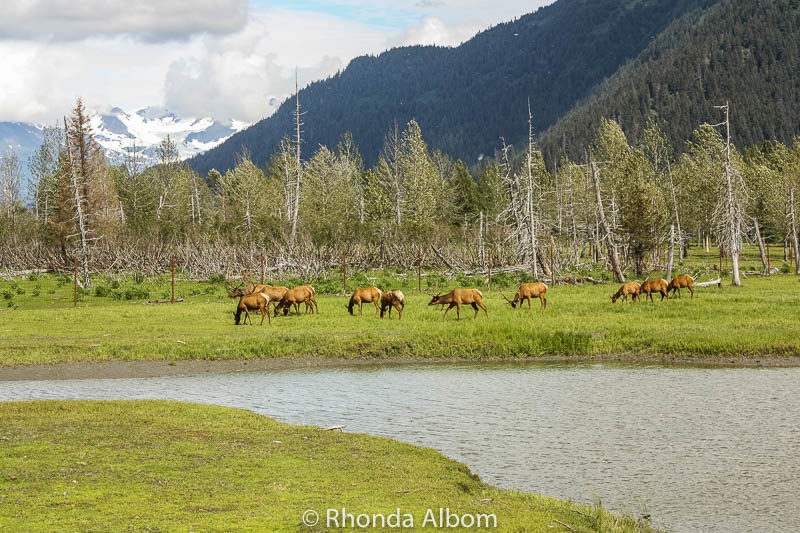 6. Pack light while you pack for all seasons
Don't let your conception of Alaska cruise weather confuse you when you pack. Alaska's summer weather frequently changes, although it's rarely hot.
The secret of what to wear on an Alaska cruise is layers. This includes a good outer layer that will protect you from wind or rain. You also won't want to forget a scarf and beanie.
For your onboard time, a mix of long and short pants, plus, depending on which cruise line you are on, you may need a more formal outfit for one night. See our best packing tips for your cruise. Or, download our free packing list when you subscribe to our mailing list.
7. Add a land package to Denali National Park
We took an extra five days and traveled by train to Denali National Park, a real highlight of our Alaska adventure. The views obtained in the dome train cars are unsurpassable. Plus, there is plenty to do in Denali with its rugged landscape, wildlife, and elusive views of Mt. Mckinley, the highest peak in North America.
Pro Tip: fly into Fairbanks, spend at least a day before taking the train to Denali, and then finally on to Anchorage. You will see more for a similar cost than by traveling roundtrip from Anchorage to Denali.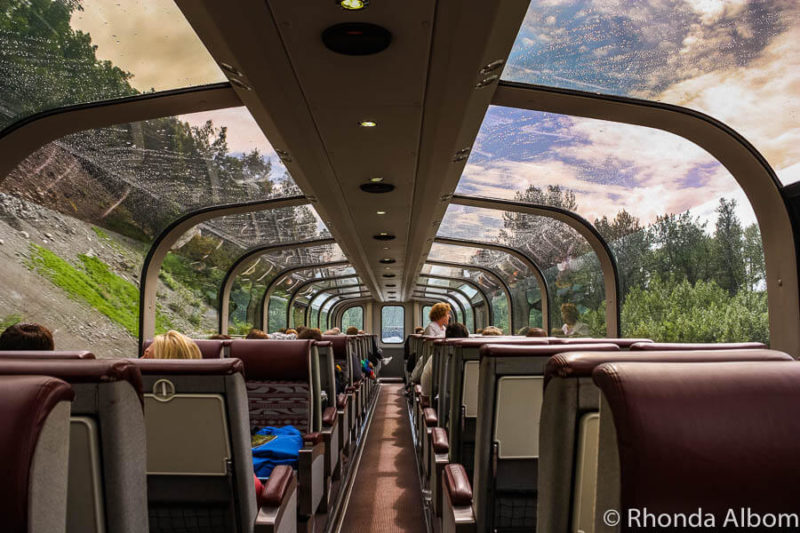 8. Prebook your Juneau excursions
Juneau is one place you do not want to be left behind. With no roads leading to the next port, if you miss the ship in Juneau, you will either need to charter a boat or a private plane to catch up to your cruise.
However, if you book Juneau Alaska cruise excursions with the ship, they guarantee to get you back. You can often find a similar worry-free guarantee on some Viator shore excursions to Juneau.
Another of the Alaska cruise tips that will keep your journey worry-free.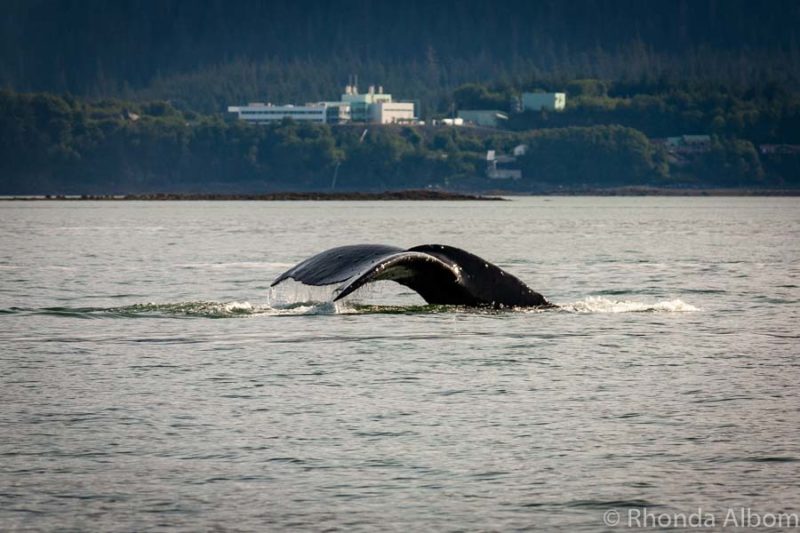 9. Explore independent excursion options
We are generally fans of doing it ourselves or getting guides independent of the ship. This allows us the flexibility to see what we want, generally puts us in smaller groups, and nearly always saves us money.
For Independent Alaska cruise excursions, we generally use Viator (a TripAdvisor company) when we want a group activity or Tour by Locals when we want a private guide.
In fact, we have recommended tours on each of our port destination pages (see below).
10. Bring binoculars and carry them with you
Wildlife seems to appear out of nowhere. One passenger spots a bear at the shore, a moose in the hills, or a whale in the sea, and suddenly everyone is pointing. Those who thought to bring binoculars got the best view.
We like compact binoculars that do a lot, like the Gosky Roof Prism binoculars, which are great for whale or even bird watching as well as stargazing. Plus they have a mount to add most mobile phones.
Alaska cruise tips: port highlights
A typical 7-day Alaska inside passage cruise will sail slowly by at least one glacier and visit Juneau, Ketchikan, and Skagway, adding one additional port that is often Sitka or Icy Strait Point. Here are the highlights of each of the Alaska cruise ports.
Anchorage
The published starting or ending point for many Alaska cruises is Anchorage, Alaska's largest city. It's an eclectic mix of culture, history, wildlife, and fun.
Whether it's your port of embarkation or debarkation, we recommend spending a few days in Anchorage. Some of the great things to do in Anchorage include the Anchorage Museum, the Native Heritage Center, Coastal Wildlife Refuge, and the Wildlife Conservation Center.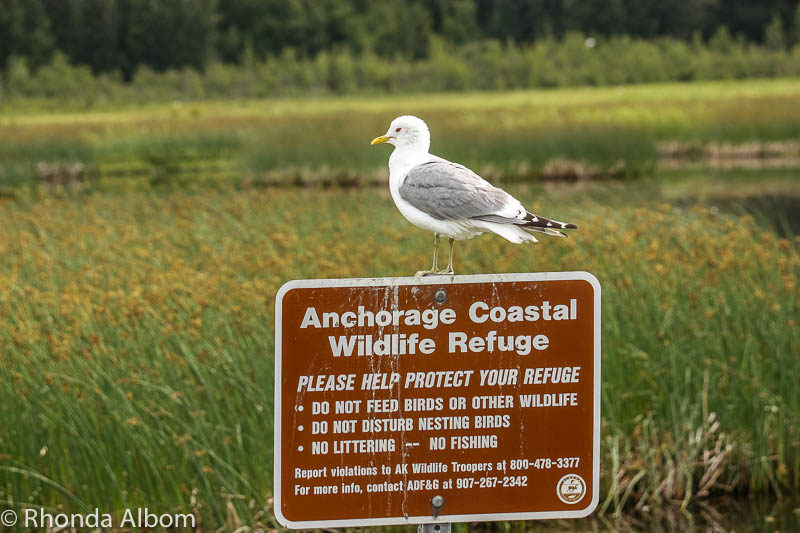 Glaciers that we saw from the ship
An opportunity to see glaciers is a highlight of any Alaska cruise itinerary. The three most popular options appear to be Hubbard Glacier, Glacier Bay, or Sawyer Glacier. We saw two of the three.
Be sure to have your camera and binoculars (recommended on the list of Alaska cruise tips above.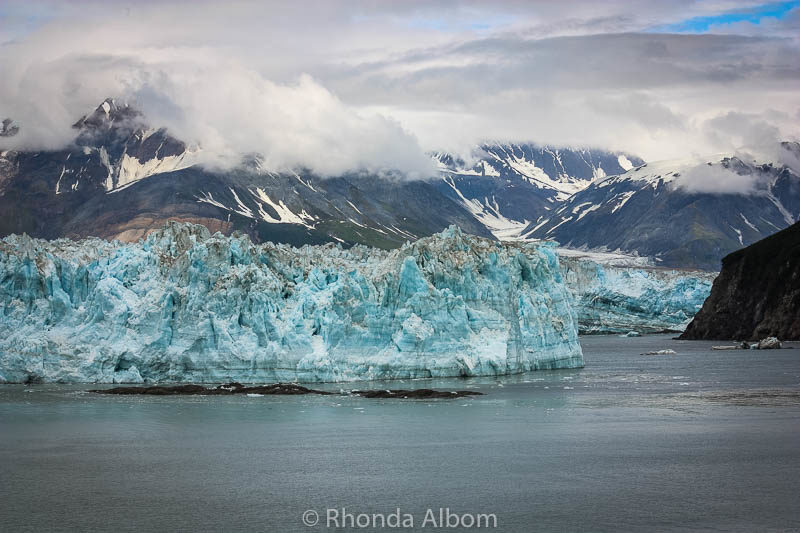 Icy Strait Point
Icy Strait Point is famous for its untouched landscapes, humpback whales, brown bears, and a former world's longest zipline. It's a port for whale watching, hiking, or discovering the culture of the native Tlingit people.
Icy Strait Point, along with nearby Hoonah, is on Chichagof Island, or "bear island," as it's been monikered by National Geographic. Chichagof has the highest density of brown bears per sq mile in the world. The difficulty with this port is choosing between whale watching or bear searching.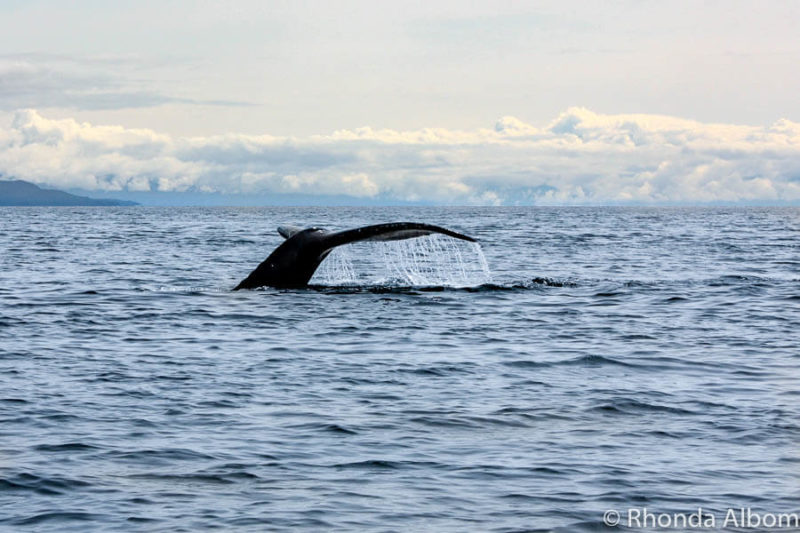 Juneau
Juneau, the capital of Alaska, offers a treasure trove of unique activities for visitors. While a walk on Mendenhall Glacier is popular, it's not the only thing to do. Ranging from nature to adventure, the key highlights include wildlife viewing (bears, whales, waterfalls), adventure sport (kayaking, rafting, zip-lining), dog sledding, glacier walks, panning for gold, and more.
And if all that isn't enough to keep you busy, Juneau is well known for its culinary options, breweries, and music scene. Just remember not to miss the ship from this port. Check out our article on Juneau whale watching and other Juneau shore excursions for more to do in this city.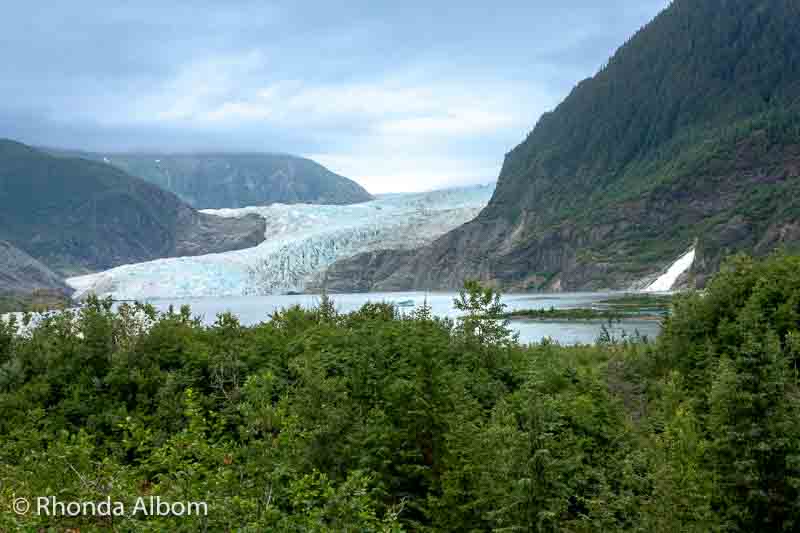 Skagway
A former gold rush town from 1896, it is the White Pass Railroad that tops most cruise passengers' must-do list. This replica gold rush era train follows the scenic route once walked by the gold miners. We, however, opted to spend our day hiking, eating, and strolling along the boardwalk edged with replica goldrush-era buildings. We discovered many free things to do in Skagway.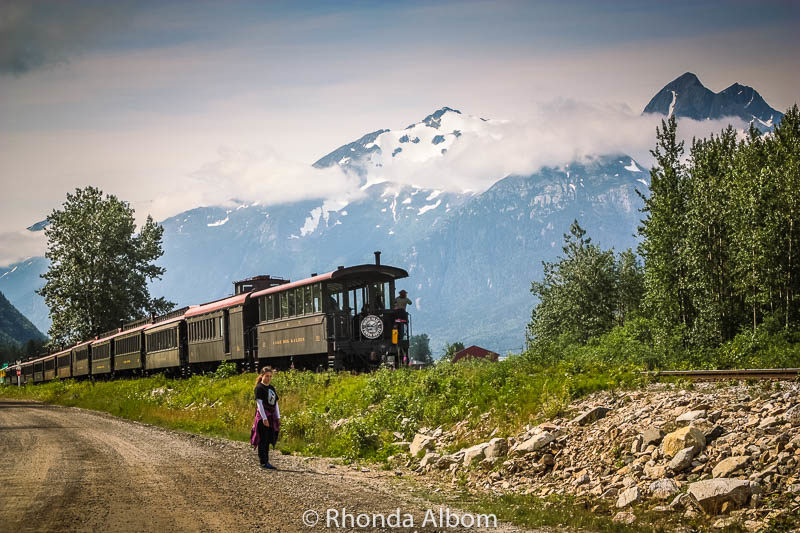 Sitka
Our Alaska cruise itinerary didn't include Sitka, a town known for its intermixing of native Alaskans and Russian immigrants. A visit to the Alaska Raptor Center (an open bird habitat and eagle flight center) is high on most visitor lists of the best things to do in Sitka. Like everywhere we visited, the port is surrounded by rugged beauty.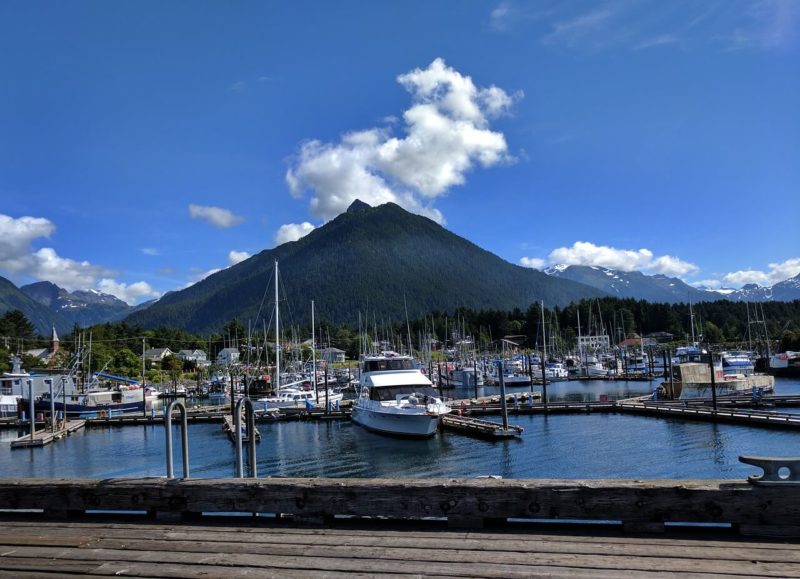 Ketchikan
Nicknamed the 'Salmon Capital of the World' for a reason, Ketchikan is one port where you might want to enjoy a meal. Note that whatever you do, bring a raincoat, as Ketchikan is the rainiest city in Alaska. Not surprisingly, the city is surrounded by lush wilderness. While kayaking, fishing, and zip-lining are popular activities, the key destinations are Tongass National Forest, Misty Fjord, or the town itself, which seems made for walking.
Regardless of what you do here, be sure to save time to visit Creek Street, where buildings stand on pilings out in the water, and visitors walk across boardwalks. This tourist shopping area was once the red-light district. See more at our favorite things to do in Ketchikan.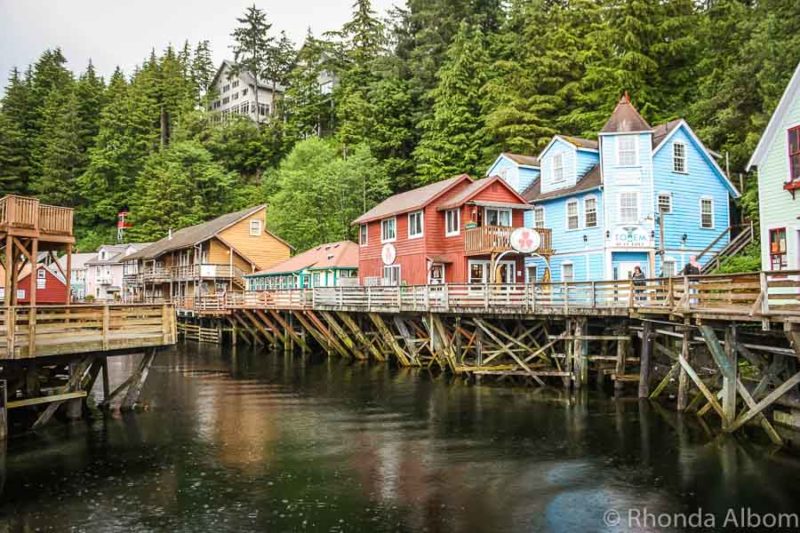 Vancouver or Seattle
If you embarked on your Alaska inside passage cruise in Anchorage, you will most likely disembark in Vancouver or Seattle. It is rare that Alaska cruises will sail without a Canadian port. In fact, only US-flagged ships can dock solely at US ports.
Although quite different from each other, we love both of these destinations. While both are cosmopolitan cities, we find ourselves attracted to Vancouver for nature and to Seattle for city life, especially the famous Pikes Place Market.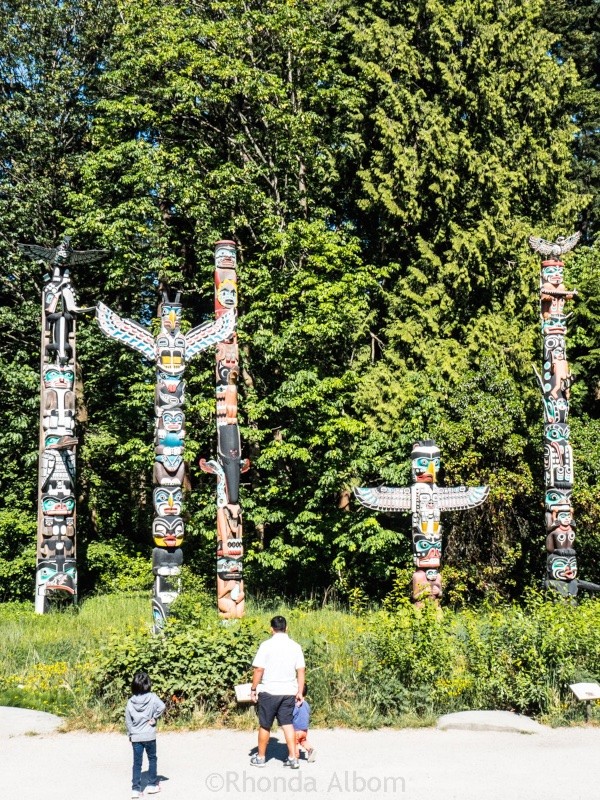 A few more Alaska cruise tips
We recommend logging off. (My apologies to teenagers.) While there is decent wifi in towns, there are far better things to do on the land. Sadly, the speed and quality of Alaska cruise wifi tops the list of negatives for many cruise lines. In addition to being extra slow, onboard wifi is expensive. Even a phone with USA service will have difficulties in spots.
While you can often save money with a shoulder season cruise (May or September), the trade-off is generally colder and more unpredictable weather than during the peak of Alaska cruise season. That's why June to August is generally considered the best time to take an Alaskan cruise.
If you are making your own way to Whittier, be aware of the one-direction-at-a-time Whittier Tunnel schedule.
Attend at least some, if not all, of the onboard Alaska lectures.
We find the best Alaska cruise deals at Cruise Critic.
Alaska is one of our favorite places we have visited in the USA.
While there, don't miss these things Alaska is famous for.
Save on your trip and cruise with these resources
These are our go-to companies when we cruise. We believe this list to be the best in each category. You can't go wrong using them on your trip too.
Check out our travel resources page for more companies that we use when you travel.
Don't miss our best cruise tips.
Don't miss our list of 25 general tips for cruising.
Save for later
If you enjoyed this article on Alaska cruise tips, please share it on social media and save it for later on Pinterest.
Did we miss anything? Add your favorite Alaska cruise tips below.