Denali National Park is a paradise featuring wildlife, tundra, spruce forests, glaciers, and North America's tallest peak. It was a highlight of our trip to Alaska. An outdoor utopia, there are plenty of things to do in Denali from discovering nature to heart-pounding adventure. Also a photographer's dream, we share some of our highlights below.
Surrounded by some of the most beautiful landscapes on the planet, our biggest decision at Denali National Park was what to do first.
Did we want to be active and adventurous, passive and observant, or something in the middle? Like everywhere we went in Alaska, there are so many things to do in Denali National Park and the surrounding area; whichever our choice, we knew we couldn't go wrong.
We had hoped to get a glimpse of its centerpiece, Mount McKinley. Standing proud at 20,310 feet (6,190 meters), it is the tallest peak in North America and the former namesake of the region.
Passionate park rangers and an abundance of open wilderness make the trip unforgettable.
First, a few regional highlights …
Where is Denali National Park?
Denali National Park is located between Anchorage and Fairbanks in Alaska, spanning over 6 million acres of Alaska's interior wilderness.
How to get to Denali National Park
There are six primary ways of getting to Denali from either Anchorage or Fairbanks. Denali may not be the easiest place to get to in the USA, but it is worth the effort.
Train
The Denali Star runs from Anchorage to Fairbanks, stopping in Denali from either end. It's fabulous, a constant view of nature's ever-changing masterpiece. We traveled both directions via train and believe the upgrade to GoldStar service with the glass-dome ceilings was worth the extra money. Check out our photos and see if you agree.
*Tip: we traveled roundtrip from Anchorage. We believe a better choice would have been to travel by train from Fairbanks to Anchorage with an extended stop in Denali.
Bus
There is a bus from Anchorage or Fairbanks to Denali. We talked to many people who took the bus in one direction and the train in the other.
Flight
A private flight to Denali from Anchorage (or a number of other cities) will get you there quickly and increase your chance of seeing Mt. McKinley along the way.
Drive
Rent a car and drive in summer or early autumn (before the snow falls). We use RentalCars.com when we travel for great prices and reliable service.
Or take a tour
Group tour
If you don't want to visit on your own, there are several tour options. If you are cruising in Alaska, there is probably a land package option that will bring you here.
Small group tour
We are a bit enchanted by this seven-day tour as it hits many amazing highlights including flight seeing and bear viewing, the Alyeska Resort tram, a day in Gridwood, and an optional return portion on the train. Note that it includes 2.5 days in Denali, which may be enough especially if you have limited time and want to explore the wider area presented by this tour. See the details and reserve your Alaska: 7-Day Brown Bear and Denali National Park Adventure here.
Things to do in Denali National Park
Plan to spend the majority of your visit inside the National Park. For outdoor enthusiasts, nature lovers, bird and wildlife seekers, and photographers, the list of what to do in Denali National Park might seem endless. From exploration to history, dog sled demonstrations to ranger lead tours, be ready for some fun.
Begin at the National Park Visitor Center
A five-minute drive into the park from the main gate, the Denali Visitor Center is the ideal first stop. Here you can:
Discuss your plans with a park ranger and ask any questions
Get maps
Sign up for tours or hikes
Understand the current weather and road conditions
Watch a free film about Denali and its history
Get a list of upcoming park ranger presentations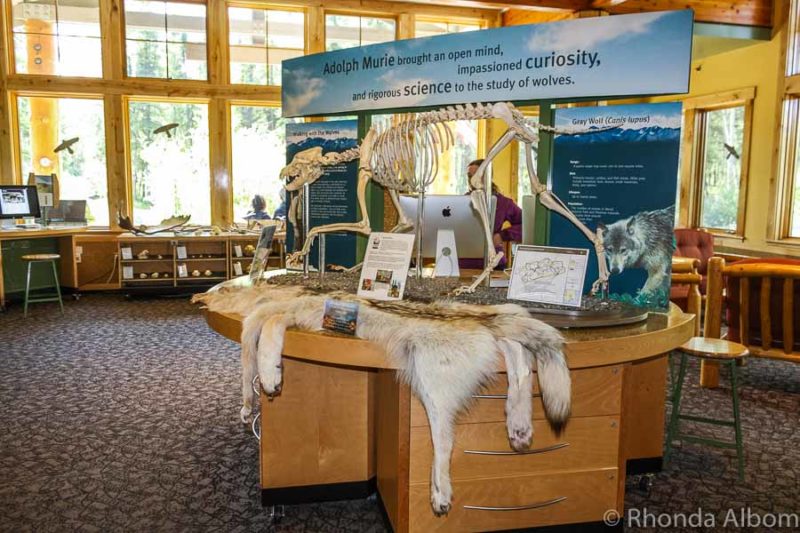 Take a bus tour inside Denali National Park
There is only one road into the park, and private cars can only go to mile marker 15.
That is worth repeating. The only way deep into the park is either on foot, on a bicycle, in a plane, or on a national park bus tour. Importantly, the Denali tours are the most popular thing to do inside the park and in peak seasons they will fill up in advance, so booking in advance is often a good idea.
Ideally, you will spot bears, moose, caribou, Dall sheep, and/or wolves. While all are commonly seen, there is no guarantee what nature will bring to your tour.
There are two basic options:
Narrated tour buses driven by trained naturalists. Passengers stay with the same driver for the duration of the tour. The parks department offers a good description of the three types of narrated tours.
Transit buses without narration allow passengers to hop on and hop-off, so if you are looking for a day hike, this is your choice. These buses also make regular restrooms and wildlife viewing stops. You can book online.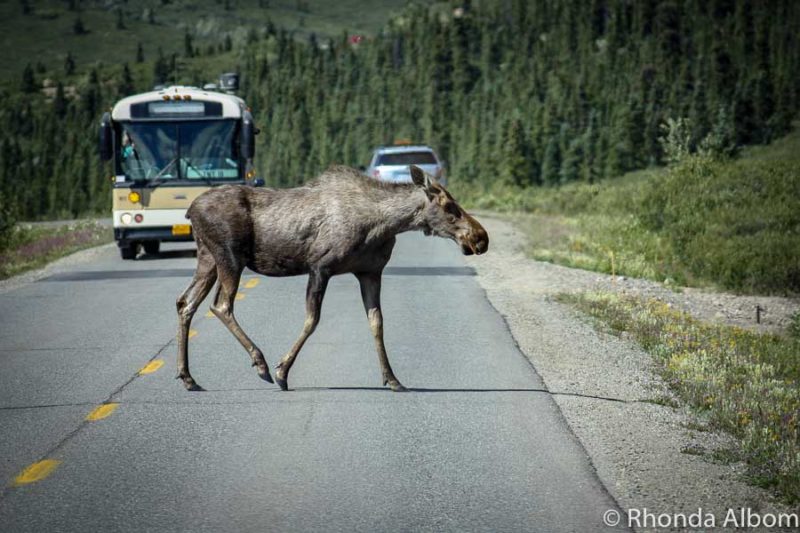 Hiking in Denali
Denali offers hiking options for everyone, from super short nature walks to backcountry adventures.
There are plenty of guided hikes available both in and out of the park. The park rangers at the Visitor Center are experts at helping to figure out the best hikes in Denali National Park for each visitor, and they can make the booking on the spot.
Backcountry hiking
Backcountry hiking and tent camping aren't for us, but if it's your thing, there are plenty of opportunities here. Just be sure to obtain the appropriate permits/tickets.
Free guided tours
We opted to join the park rangers in a free hike from the visitor center, offered daily at 10 am and 1 pm.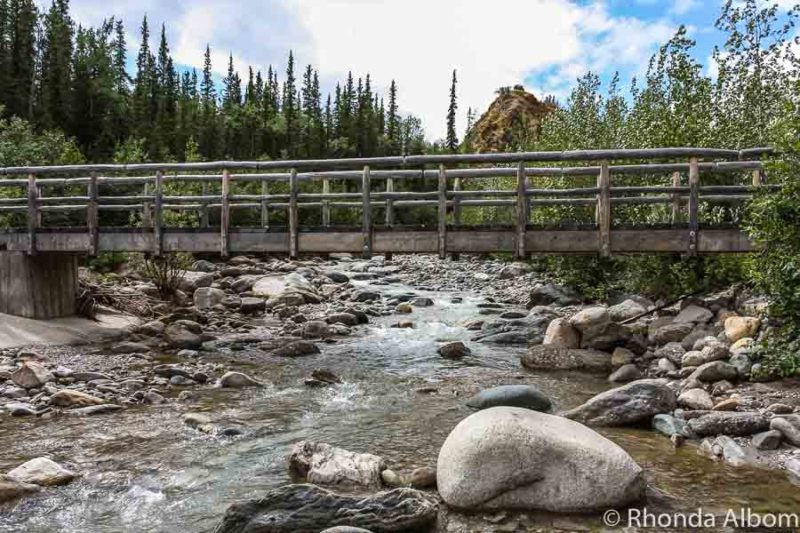 Independent day hiking (for us this is hiking Savage River)
Independently, one of our favorites was to take the free shuttle inside the park to mile marker 15 and hike alongside the beautiful Savage River. The name 'Savage' is deceptive. Rather than a wildly cascading 'Savage' river, we found more of a bubbling stream, as the river was actually named for Tom Savage.
It is an easy tundra hike hugging the river most of the time, allowing visitors to leisurely explore one side of the river, and return along the opposite bank.
Some of the oldest rock formations on the North American continent surround Savage River. Some are estimated to be 600 million to a billion years old. In some areas, it was easy to see where the river had carved a canyon between Mount Margaret, to the west, and Healy Ridge, to the east.
The Savage River trailhead marker for the 3.2 km Savage River Loop Trail sits at mile marker 15, accounting for its popularity.
Denali sled dog kennel
Animal lovers, as well as science and history buffs, will want to stop by Denali's sled dog kennel to see the beautiful and friendly Alaskan husky dogs that reside and work inside the park. In fact, they are the only working sled dog team in the US National Park Service.
Here you will find a dedicated information center. Three times daily the rangers give a short talk with a dog sled demonstration. The ranger explained the importance of dogs in assisting in transportation and monitoring during the winter months. She also explained that Alaskan huskies love to run, and it was obvious from their sense of excitement when it was time to choose dogs for the demonstration.
To our surprise and delight, not only is there no charge for visiting the Denali National Park sled dogs, but the park also offers a free shuttle bus from the Visitor Center.
The dogs appear well cared for and housed in a variety of kennels based on their personality. While socialization of the animals is essential, the dogs clearly know the boundaries where they will encounter humans and where they are safe from us.
Did you know that Alaskan huskies are not a recognized breed by the American Kennel Association?
♥ ♥ If you love puppies, click here for the Denali Puppy Cam ♥ ♥
Free things to do in Denali
Here is a summary of some of the free things to do in Denali:
There are dozens of trails through the park, each one an exciting adventure.
We stopped by the Murie Science Center to learn about the research going on in the park.
Nightly, there are ranger-led programs at the campgrounds.
If you take a paid 4-hour shuttle bus out to Eielson, there is a ranger-led hike at 1 pm daily.
Every day the park rangers take a small group on an all-day "discovery hike." You can only sign up a day or so in advance, in person at the park.
** Ranger program times are subject to change, so be sure to check the official Denali page before you head out.
Top things to do near Denali National Park
The natural beauty and adventure aren't confined to the park. There are plenty of other things to do in the region, ranging from serenely hugging puppies to adrenaline rush activities.
Take it all in
Denali flightseeing: Flying over Denali is one of the best ways to see the stunning wilderness, rugged mountains, and flowing waterways in the least amount of time. It is a great opportunity to see beautiful Mt. McKinley. There are a variety of flight options. They all have a limited passenger load. Be sure to Reserve your Denali flightseeing activity early, so you don't miss out.
See husky and Iditarod dogs: Former Iditarod champion Jeff Kings offers a commercial option to learn about some of the champion dogs and even have a cuddle with some of the puppies at Husky Homestead.
Take a horse-drawn covered wagon ride with backcountry dining: Travel like the Alaskan pioneers on this 3-hour adventure, that passes rustic cabins with a backdrop of Denali's mountains,\ before you enjoy a traditional family-style lunch. Reserve your horse-drawn covered wagon ride here.
Enjoy a midnight sun photo excursion: There aren't many places in the US where you can enjoy the dramatic colors of Denali's prolonged sunset. Reserve a midnight sun photo excursion here.
Maximum adventure
Rafting on the Nenana River: Are you ready for 11 miles of rapids? An adventure where whitewater and incredible scenery combine along the boundary of Denali National Park. Choose from being an oar rider or a paddle boat participant. Reserve your rafting adventure here.
Zipline: Located just outside the park, it's a fun way to enjoy the scenery. Reserve your three hour zipline adventure here.
Classic ATV adventure with backcountry dining: Here's a chance to drive your own ATV off–road in the wilderness of Alaska, enjoying epic scenery and followed by a massive meal. All safety gear is provided. Participants must have basic driving skills. Reserve your backcountry ATV adventure here.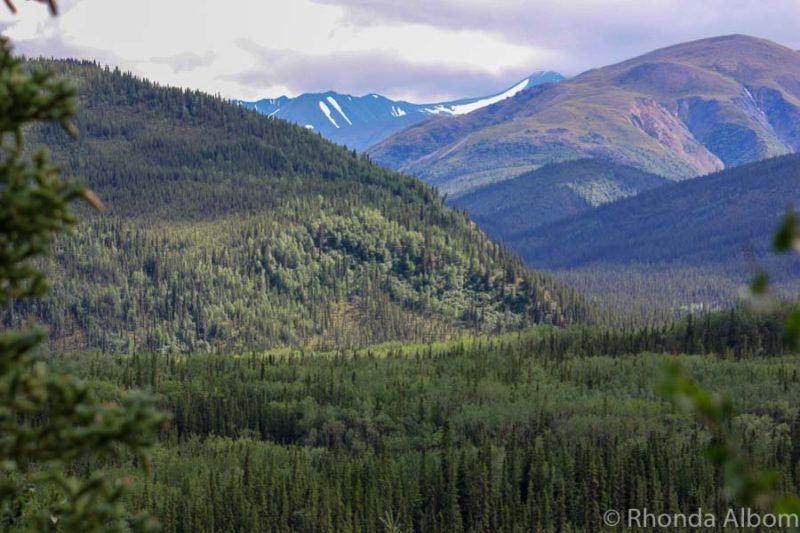 Where to stay in Denali
There are plenty of places to stay in Denali covering a full range of options and budgets.
We opted to stay just outside the park, surrounded by rustic charm and wooden accents at the McKinley Chalet Resort.
It turned out to be an outstanding choice in a great location that is a one-minute drive to the Denali National Park entrance gate. Best of all, getting to and from the park is quick and easy with the Denali shuttle bus.
There are two restaurants on the grounds and an on-site tour desk available to book flightseeing, river rafting, dinner theater, and more. Reserve your stay at McKinley Chalet Resort
Save on your trip with these resources
These are our go-to companies when we travel. We believe this list to be the best in each category. You can't go wrong using them on your trip too.
Flights: we use Expedia for the best and cheapest flight options.
Accommodations: we use Booking.com (hotels) or VRBO (self-contained).
Cars (gas or electric): we use RentalCars to search for deals and dealer ratings.
Campervans or Motorhomes: we use Campstar where Albom Adventures readers get a 3% discount
Private guides: we love the private guides at Tours by Locals
Travel Insurance: we start at InsureMyTrip as they are the best option to compare plans and find the right coverage for you.
Check out our travel resources page for more companies that we use when you travel.
Save for later
If you enjoyed this article, please share it on social media and save it for later on Pinterest.
What's your top pick of the things to do in Denali National Park?
More on our adventures in Alaska