Surrounded by some of the most beautiful landscape on the planet, our biggest decision at Denali National Park was what to do first. Did we want to be active and adventurous, passive and observant, or something in the middle? Like everywhere we went in Alaska, there are so many things to do in Denali National Park and the surrounding area. Whichever our choice, we knew we couldn't go wrong.
Things to do in Denali Region
Denali Flightseeing
Flying over Denali is the best way to see the stunning wilderness, rugged mountains, and flowing waterways, in the least amount of time. It basically guarantees a chance to see beautiful Mt. McKinley, the tallest peak in North America. Flights have limited passenger load. Be sure to book early, so you don't miss out. Check out these flightseeing tours: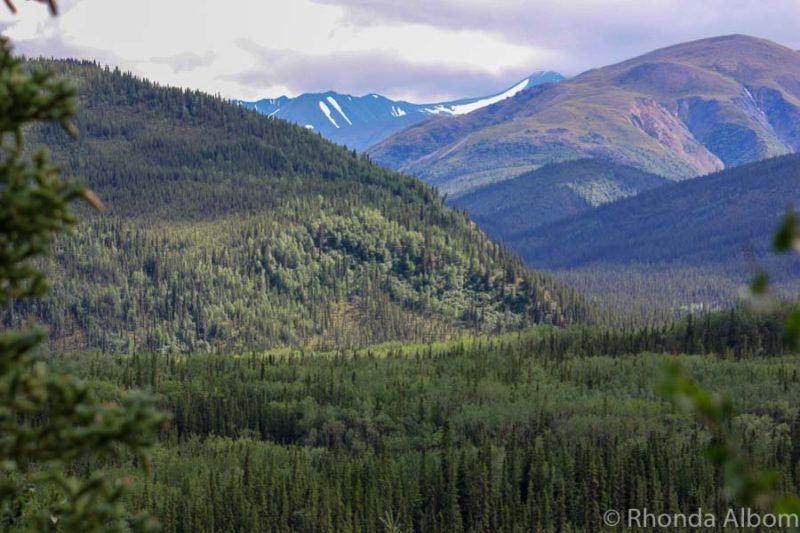 While we didn't go on a flightseeing tour in Denali, we met several people who did, and they all raved about it. However, we have enjoyed a small plane tour in the past, landing on a glacier in the South Island of New Zealand.
Adventure Tours: River Rafting, ATV, Four Wheel Drive
With ATV, four-wheel drive, and rafting adventures including wild class III and IV rivers or gentle floats down class I and II rivers, there is an adventure for everyone.
Here are a few of the top-rated options:
Things to do in Denali National Park
Begin at the Denali National Park Visitor Center
A five-minute drive into the park from the main gate, the Denali Visitor Center is most people's first stop. Here you can:
Discuss your plans with a Park Ranger and ask any questions
Get maps
Sign up for tours or hikes
Understand the current weather and road conditions
Watch a free film about Denali, and it's history
Get a list of upcoming Park Ranger presentations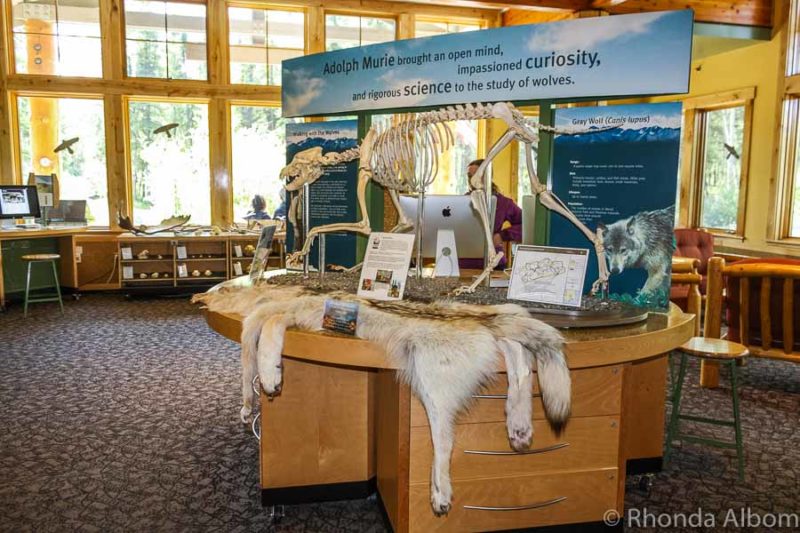 Bus Tours Inside Denali National Park
There is only one road into the park, and private cars can only go to about mile marker 15. To go beyond one must take a national park bus tour for either 4, 8, or 11 hours with the option of either a more expensive guided trip or a less expensive shuttle. The guide talks about history, vegetation, and helps to spot wildlife. The Denali tours are the most popular thing to do inside the park. According to many people we spoke with, this is a must do.
Bears, moose, caribou, Dall sheep, and wolves are commonly seen, but not always.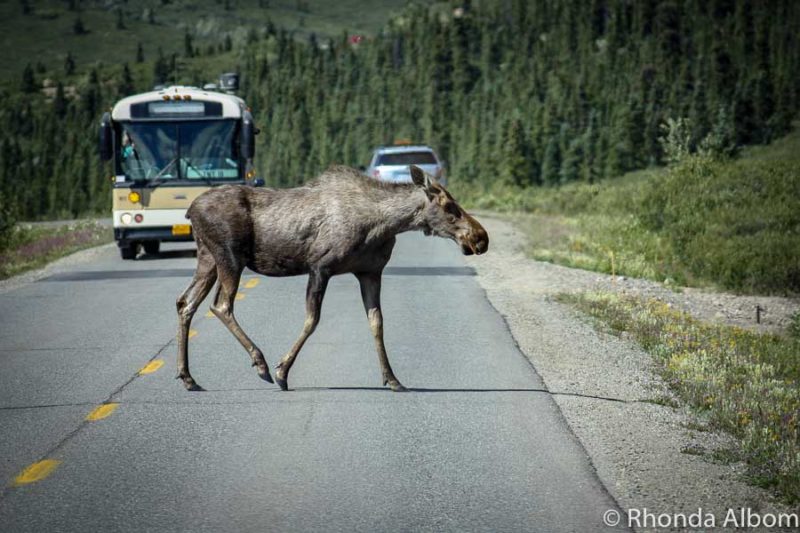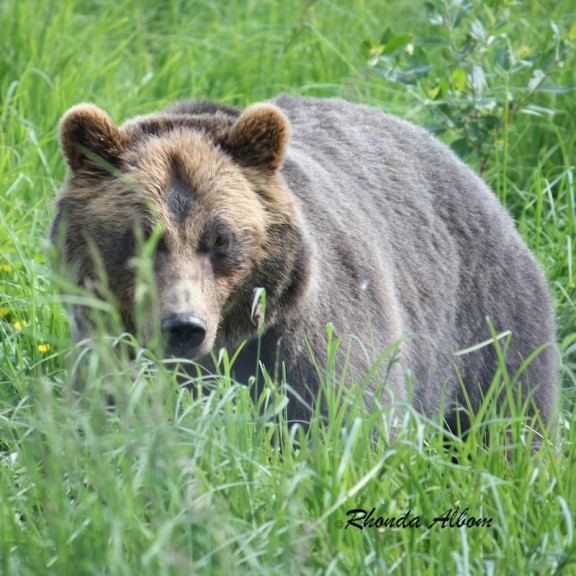 Hiking Denali
There are guided hikes available both in and out of the park. You can book Denali park tours at the Visitor Center, or we had the option to book other guided tours at the activity desk inside the McKinley Chalet Resort, where we stayed.
Note: if you take the free shuttle inside the park to mile marker 15, you can hike beautiful Savage River.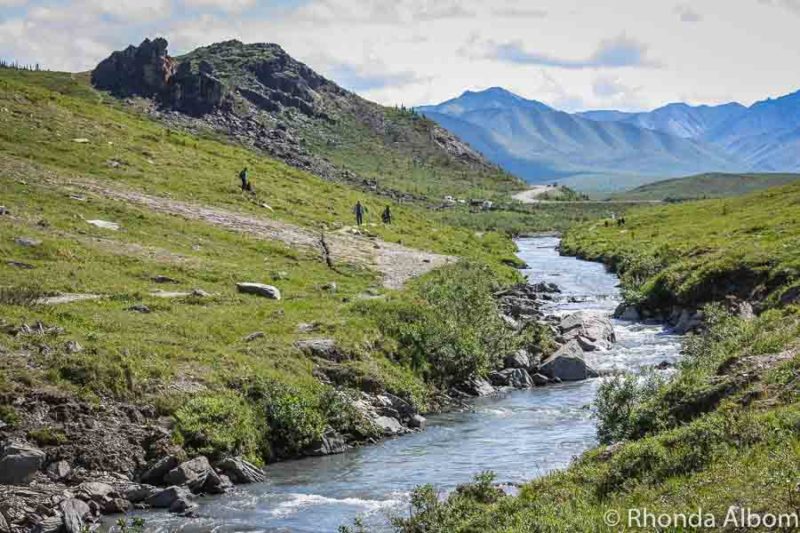 Whether free or paid, we recommend hiking inside Denali. If you are not sure which hike to choose, the park rangers are experts at helping you figure out the best hikes in Denali National Park for you.
NOTE: We went with the park rangers who offer free hikes from the visitor center daily at 10 am and 1 pm.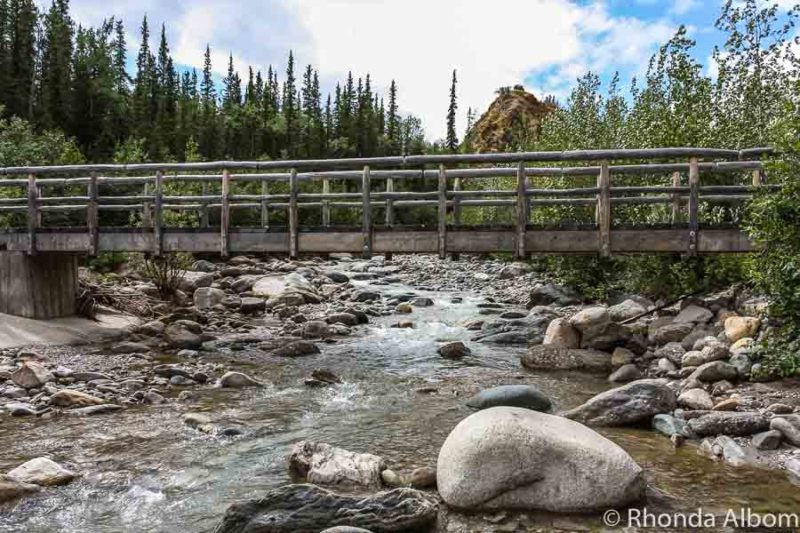 Denali Sled Dogs
There are beautiful and friendly Alaskan Husky dogs inside the park. There is a dedicated information center about the dogs and three times daily the rangers give a short talk including a dog sled demonstration. The best part, visiting Denali National Park sled dogs is free, as well as offering a free shuttle from the Visitor Center. (Commercial visits to see Husky and Iditarod dogs are available outside the park for a fee.)
Just prior to the demonstration, the ranger explained the importance of dogs in assisting in transportation and monitoring during the winter months. She also explained that Alaskan Huskies love to run, and it was obvious from their sense of excitement when it was time to choose dogs for the demonstration.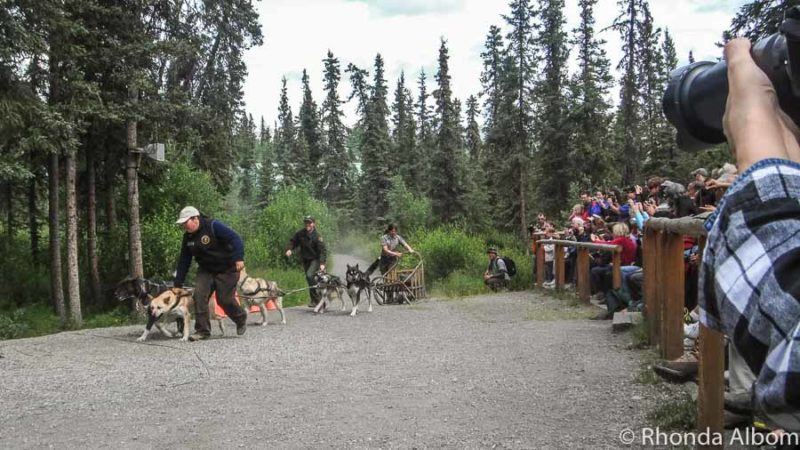 ♥ ♥ If you love puppies, click here for the Denali Puppy Cam ♥ ♥
We also had a chance to pet Alaskan Husky puppies at the Native Heritage Center in Anchorage.
Getting to Denali National Park
We traveled round trip from Anchorage to Denali on the train. In retrospect, I wish we had started in Fairbanks, traveling only one direction from Fairbanks to Denali to Anchorage.
There are four primary ways of getting to Denali Park, Alaska from either Anchorage or Fairbanks:
Denali may not be the easiest place to get to in the USA, but it is worth the effort.
We took the train from Anchorage to Denali, round trip. It is one of the most fabulous train rides I have ever experienced. Read more about it here: Panoramic Views as we Ride the Alaska Railroad from Denali to Anchorage.
There is a bus from Anchorage or Fairbanks to Denali.
Taking a private flight to Denali from Anchorage (or a number of other cities) will get you there quickly, and increase your chance of seeing Mt. McKinley.
Rent a car and drive in summer or early autumn (before the snow falls). We use RentalCars.com for great prices and reliable service.
⇒ Check pricing and availability for rentals cars in Alaska
Denali National Park Lodging
We opted to stay at the McKinley Chalet Resort and take the Denali shuttle bus. It is a quick and easy way of getting to Denali National Park.
Rustic charm and wooden accents filled our room and everywhere we went at the McKinley Chalet Resort. Two restaurants on-site offered options, and the on-site tour desk was available to book flightseeing, river rafting, dinner theater, and more. And the location is only a one minutes' drive to the Denali National Park entrance gate and a five-minute drive to the visitors center.
⇒ Check availability at McKinley Chalet Resort
OR
⇒ Check availability at other Denali National Park lodging options
General Tips and Free Things to Do in Denali
Here is a summary of some of the free things to do in Denali:
There are dozens of trails through the park, each one an exciting adventure.
We stopped by the Murie Science Center to learn about the research going on in the park.
Nightly, there are ranger-led programs at the campgrounds.
If you take a paid 4-hour shuttle bus out to Eielson, there is a ranger-led hike at 1 pm daily.
Every day the park rangers take a small group on an all day "discovery hike." You can only sign up a day or so in advance, in person at the park.
** Ranger program times subject to change so be sure to check the official Denali page before you head out.
Have you been to Alaska? If not, what's stopping you? What's your top pick of the things to do in Denali National Park?