If the Sitka cruise port is on your itinerary, you are in for a treat. Whether you're hoping to immerse yourself in the breathtaking wilderness, discover wildlife, or delve into the region's fascinating past, you will find plenty of things to do in Sitka, Alaska.
In fact, everything about our time in Alaska gave us a sense of tranquility and an undeniable connection to the natural world. The towering mountains, pristine waters, and lush forests provided a breathtaking backdrop to all our exploration.
Our Alaska cruise didn't include the town of Sitka, but oh, how we wished we had! As travel bloggers with an itinerary change, we meticulously researched the top attractions and activities in Sitka and are excited to share our findings with you.
So, whether you're fortunate enough to dock at Sitka or simply want to plan ahead for future travels, we've got you covered. Sitka offers a wealth of natural beauty, cultural treasures, and outdoor adventures that will make your visit truly memorable.
For the nature enthusiast, a history buff, or anyone simply seeking an unforgettable adventure, Sitka offers an array of experiences that will captivate your senses and leave you with cherished memories. So, join us as we dive into the wonders of Sitka, Alaska, and uncover its hidden treasures.
Find the best deals and reviews for your Alaska cruise at Cruise Critic.
Where is Sitka?
A charming coastal town nestled on the picturesque shores of Baranof Island, Sitka is a popular cruise port along the scenic Inside Passage in southeast Alaska. Many Alaskan cruise ships include either the Sitka cruise port or nearby Icy Strait Point as part of their itinerary.
The area is part of the Tongass National Forest, the largest national forest in the United States. The pristine wilderness spans millions of acres, encompassing towering old-growth forests, majestic mountains, and glimmering waterways. Other cities, such as Ketchikan, Juneau, and Petersburg, are all within the Tongass National Forest.
A bit of trivia: Sitka was Alaska's first capital. (The current capital is Juneau).
Best way to enjoy Sitka cruise port highlights
While there are plenty of things to do in Sitka, the two most popular among cruise ship passengers are to take a combination tour that goes to the Alaska Raptor Center, Fortress of the Bears, and Totem Park or to go whale watching (details on all of these activities is below). Depending on how long you are in port, it may be possible to do both, as you can select your tour time slot when you book. The trick is to book early, as these tours are top-rated, small groups, and fill up early. Our top two recommendations:
Premium Sitka Scenic Tour: Alaska Raptor Center, Fortress of the Bears, Totems
What really attracts me to this highly-rated tour is the small group with a maximum of 10 passengers. In addition to the three spots named in the title, it also visits Silver Bay, a stunning photo stop. Reserve your premium scenic tour here.
Whale Watching
Another small group option (maximum 6), so you will always be at the rails to watch the action. Head out in a 26-foot catamaran for a two-hour wildlife adventure. Reserve your whale watching adventure here
Things to do in Sitka Alaska: Animal encounters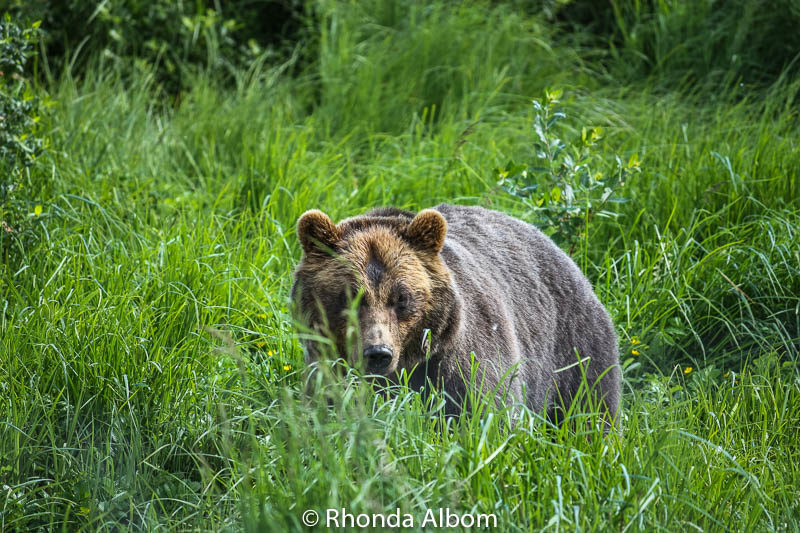 Bears, birds, and marine mammals top the list of animal encounters available in Sitka.
Fortress of the Bear
Located just a short distance from downtown Sitka, Fortress of the Bear is a non-profit rescue facility for orphaned and injured brown and black bears. The knowledgeable staff provides informative talks and guided tours, allowing visitors to witness these magnificent creatures up close.
The highlight is the observation deck, where visitors can watch the bears as they play, forage, and interact in their spacious enclosures that mimic their natural habitat. We believe the best way maximize your time at the Sitka cruise port is with a combination tour. (Included the tour we recommended above)
Alaska Raptor Center
The Alaska Raptor Center is a remarkable facility dedicated to the rehabilitation, release, and conservation of birds of prey. It treats about 200 birds annually but usually has about 20 in residence.
Situated on a beautiful forested campus, this center provides a sanctuary for injured bald and golden eagles, owls, hawks, and other raptors.
The highlight of a visit is the Flight Training Center, where visitors can see the birds in action during daily flight demonstrations. (Included the tour we recommended above)
Whale watching
The waters surrounding Sitka are known to be a habitat for both humpback whales and orcas, making it a prime location for encountering these majestic marine creatures.
In my opinion, whale watching is a must-do activity in Alaska. In fact, most cruise ships that visit Sitka offer it as an option, as well as in several of the other ports along the interior passage. I opted to go whale watching at both Hoonah and Juneau.
Similar to Sitka, we saw the majestic beauty of humpback whales in their natural habitat, playful seals, sea otters floating serenely, and even orcas. By booking with a private company, we had much more space and personal attention than those who went on the crowded excursion from the cruise company. Reserve your whale watching tour here (same tour as recommended above) or, if you have your own group of up to seven people, you can book a private whale watching adventure here.
Things to do in Sitka Alaska: Explore Totem Park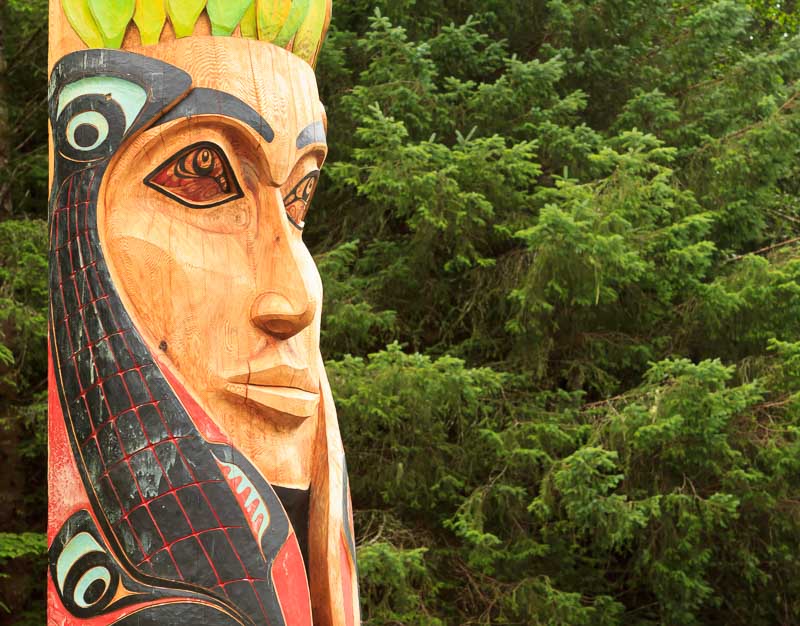 Sitka National Historical Park, also known as Totem Park, is a cultural treasure nestled amidst pristine natural surroundings in the scenic coastal forest with well-maintained trails and informative exhibits.
The highlight of the park is the authentic totem poles that showcase the rich indigenous heritage of the Tlingit people. The totem polls, along with the animal encounters above, make up the top four Sitka attractions visited. (Included the combination tour we recommended above).
Also in the park is a traditional Lingit work canoe as well as the Russian Bishop's House, a historic building offering visitors a window into the daily lives of Russian Orthodox bishops, as well as their influence on the region. It is one of the last remaining Russian colonial architecture sites in North America.
Outdoor adventurous things to do in Sitka Alaska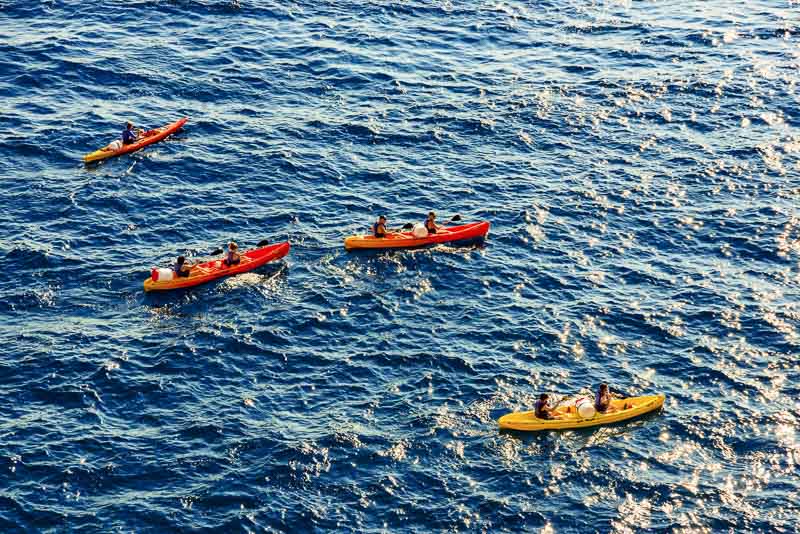 Ready for an adventure? Be warned the waters are not warm.
Snorkeling
Snorkeling in Sitka's crystal-clear waters is an adventure like no other, and we found the perfect company to do it with. Donning a 7mm wetsuit, gloves, booties, dive hood, and snorkeling gear, those braver than me are rewarded with vibrant marine life. The colorful kelp forests and rocky reefs teem with a variety of fish species.
To snorkel at Magic Island, we love the look of this top-rated tour, and they work with cruise ship passenger timing. Small groups (maximum 8) will give you lots of attention. Note: the smallest wetsuit fits an average 8-year-old child. Reserve your snorkeling tour here.
Sea kayaking adventure
Kayaking in Sitka offers a thrilling adventure amidst the stunning coastal landscapes. Although we didn't have the chance to experience it firsthand, Jeff and one of our daughters embarked on a kayaking excursion in Juneau.
The experience was nothing short of amazing for them as they paddled through calm waters, surrounded by breathtaking views of towering mountains, pristine forests, and the possibility of encountering wildlife.
If the experience in Juneau was any indication, kayaking in Sitka is an activity that will leave you with cherished memories and a deep appreciation for the natural beauty of Alaska. Best of all, this top-rated cruise kayaks out farther in one direction by providing a cruise transfer return. Reserve your half-day kayak and cruise here.
More things to do in Sitka Alaska
Sitka boasts an impressive 22 buildings that are listed in the National Register of Historic Places. On this page, it includes the first two in this section and the Russian Bishop's House.
St. Michael's Cathedral
St. Michael's Cathedral is a Russian Orthodox church that stands as a testament to Sitka's history and cultural heritage. Admire the stunning architecture with its onion dome. Inside, the interior is equally breathtaking, adorned with intricate woodwork and religious icons. Visitors can attend services or simply appreciate the serene ambiance and spiritual significance of this historic site.
Sheldon Jackson Museum
Experience the rich indigenous heritage of the oldest museum in Alaska. This renowned museum houses a remarkable collection of Native Alaskan art and artifacts, providing insight into the diverse cultures of the region.
Old Sitka State Historic Site
This site marks the spot where the first permanent Russian settlement in Alaska was established in 1799. Explore the remains of the historic fort, stroll along scenic walking trails, and visit the replica of the Russian Blockhouse. Learn about the encounters between Russian settlers and the indigenous Tlingit people, and gain insight into the early days of Sitka's colonization.
Sitka History Museum
Immerse yourself in Sitka's rich history at the Sitka Historical Museum. Discover captivating artifacts and stories that tell the tale of this vibrant Alaskan community.
Sitka Sound Science Center
Dive into the wonders of marine life at the Sitka Sound Science Center. Learn about the unique ecosystem of Sitka Sound through interactive exhibits and educational programs.
Take a city tour
Discover Sitka's rich history and vibrant culture on a guided 1-hour tour. Led by a knowledgeable local guide, explore the historic downtown area and immerse yourself in Tlingit indigenous culture. Visit iconic attractions, including totem poles, the Russian Bishop's House, and St. Michael's Orthodox Cathedral. Listen to fascinating personal stories about commercial fishing, local industry, education, and daily life in Sitka. Reserve your walking tour here.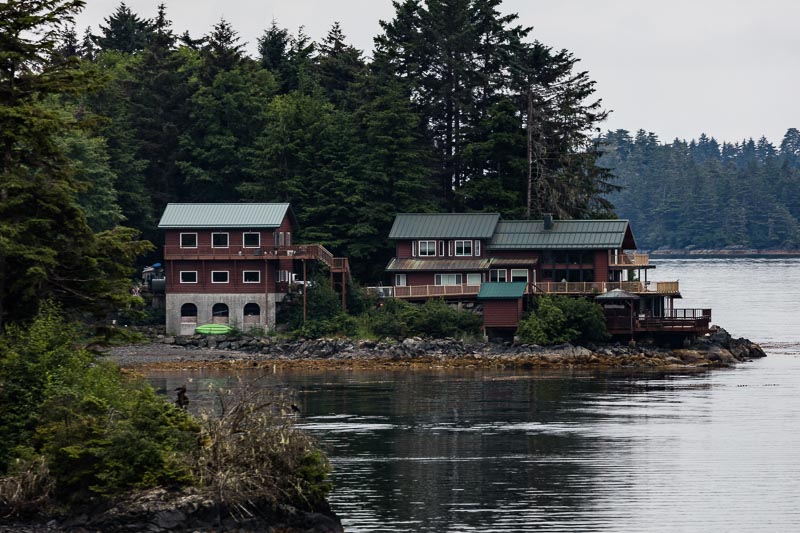 Tips for Visiting Sitka
To make the most of your visit to Sitka, here are a few helpful tips:
Dress in layers: Sitka's weather can be unpredictable, so it's best to dress in layers to adapt to changing conditions. Be prepared for both rain and sunshine.

Book in advance: Research and reserve your desired excursions ahead of time to secure availability, especially during peak cruise season.

Respect the wildlife: When encountering wildlife, maintain a respectful distance and follow the guidelines provided by tour operators or park rangers.

Sample local cuisine: Don't miss the chance to indulge in delicious Alaskan salmon, halibut, or Dungeness crab at one of the city's many seafood restaurants.

We find the best Alaska cruise deals at Cruise Critic.
Read next: 10 Essential Alaska Cruise Tips for an Amazing Journey
Save on your trip and cruise with these resources
These are our go-to companies when we cruise. We believe this list to be the best in each category. You can't go wrong using them on your trip too.
Cruise: We find great deals at Cruise Critic.
Flights: we use Expedia for the best and cheapest flight options.
Hotels: we use Booking.com (hotels at our end ports) or VRBO (self-contained).
Cars (gas or electric): we use RentalCars to search for deals and dealer ratings.
Set up private guides at the ports: Looking to maximize our limited time at a port, we often hire private guides from Tours by Locals.
Travel Insurance: our go-to is Insure My Trip
Check out our travel resources page for more companies that we use when you travel.
Don't miss our best cruise tips.
Save for later
If you enjoyed this article, please share it on social media and save it for later on Pinterest.
Which of these things to do in Sitka Alaska will make your list?
Photo Credits:
All photos on this page are either shot by our team and watermarked as such or stock images from Depositphotos.