Yes, packing light for cruise travel and having everything you need is possible. We have done it successfully multiple times. The trick is knowing the cruise essentials, including what to bring on a cruise and sticking to a packing light checklist.
It's true that one of the advantages of cruising is unpacking only once while exploring several destinations. However, you still have to lug your belongings to the airport, to the cruise terminal, and back home. Plus, we nearly always tack on days before and after our cruise. Learning how to pack light is a game changer. It makes for less hassle everywhere we go.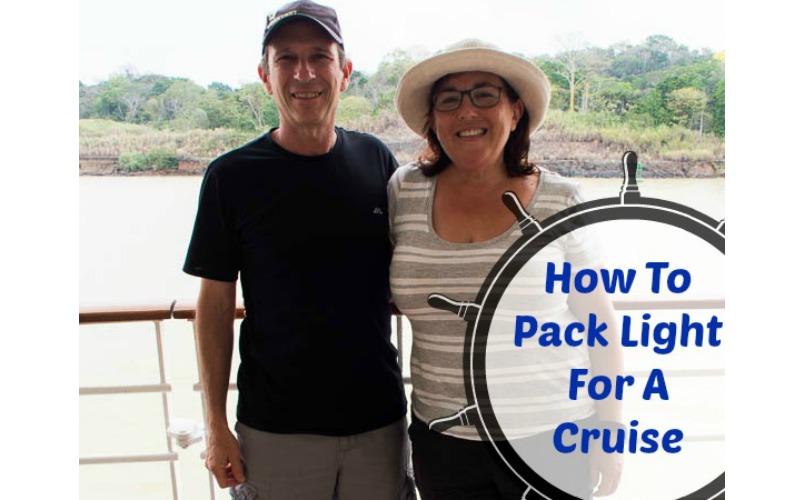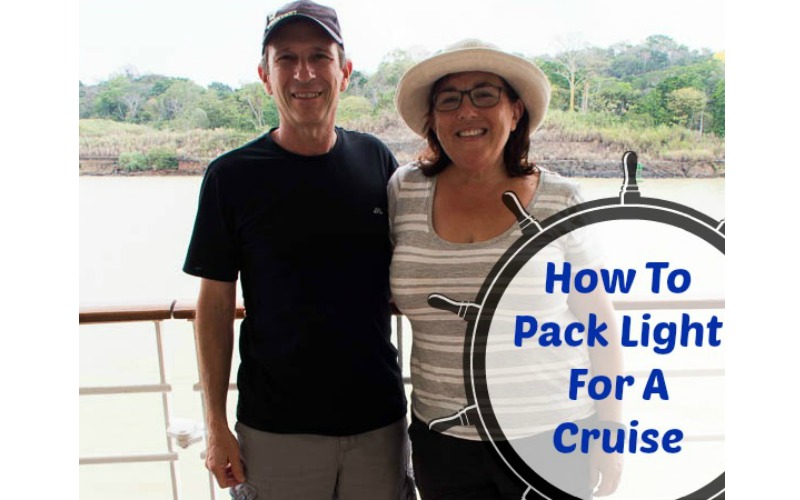 Packing Light: Without Missing any of the Cruise Essentials
Dressing for Dinners:
The dining room dress code is one area that is different on a cruise ship than on other travel. With no shorts, tank tops, swimwear or sometimes even jeans allowed, and several days labelled either "smart casual" or "formal," cruisers need to be prepared.
Dinnerwear for Women: I bring a "little black dress." For me, it is one of most important things to bring on a cruise, and a key piece of my wardrobe. To alter the look I bring a scarf, black cotton blazer, light coloured cardigan, and costume jewellery – each completely changing the look thus appearing as several cruise dresses. It can be worn to multiple dinners without appearing as if I have worn the same thing.
Dinnerwear for Men: Hubby's dinertime cruise clothing include two button-down shirts (one collarless), a solid tie, and a casual dinner jacket. All pieces are interchangeable, creating more looks than pieces of clothing.
Dressing for Everyday and at Port:
Pick a colour theme and mix and match everything you wear.
Five to six casual shirts that can layer including 2-3 tanks, 2-3 short sleeve shirts and one with long sleeves
Four pants: Men: 2 long, two short, Women: 1 long, one capris or skirt, two shorts
Sleepwear
One cardigan (women) or fleece (men) – modern ships are air-conditioned
One sun hat
Three pairs of shoes to wear on a cruise is all we need: Everyday walking shoes, sandals for pool or beach, and semi-dressy/go-anywhere shoes for dinner
A breathable rain jacket or rain poncho.
Seven day supply of socks and undergarments.
Swimwear (you can bring a cover-up, or wear the bathrobe provided in your stateroom.)
Accessories and other Non-Clothing Cruise Must-Haves
Fashion accessories: Jewellery (or buy it in port), scarves, belt, and a Fitbit Alta.
A first aid kit including sunscreen, insect repellent, vitamin C, and seasickness pills (I have never needed them while cruising, but having them gives me peace of mind). While I always travel with a fully stocked first-aid kit, it's not necessary on a cruise as there is a general store and a doctor (expensive) onboard. Our overstocked first aid kit contains the following: sunscreen, insect repellent, motion sickness tablets, paracetamol, ibuprofen, Imodium, sore throat lozenges, Cipro, Z-pack, band-aids, strapping tape, first aid ointment, and hydrocortisone cream.
Camera, street lens, extra battery, battery charger, camera raincoat, flash, tripod, extra SD cards.
Spare pair of glasses and sunglasses
Cosmetics and toiletries
Electronics including camera (I shoot with an 

Olympus OMD Em5 Mark II

), (and Sirui T-025X Carbon Fiber Tripod), phone, laptop, Kindle, and/ or iPad, backup drive, USB stick, and smartphone with charging cable. **Be sure to check with the cruise line as to the outlets and voltages on the ship and bring electrical converters as necessary.
Documentation – passports, immunisation cards, insurance cards, tickets, and credit cards (things I never travel without), pen, paper, and a highlighter (you will not regret bringing this on a cruise).
Best Packing Secret:
Our final travel packing tip is to use packing cubes.  I know, it's not much of a secret, but packing cubes keep everything neat and tidy, organized, and somehow seem to reduce the space needed for packing. They allow us to keep organized, stay focused on how much we have and find what we need quickly.  If you have never tried them, I highly recommend ebags packing cubes.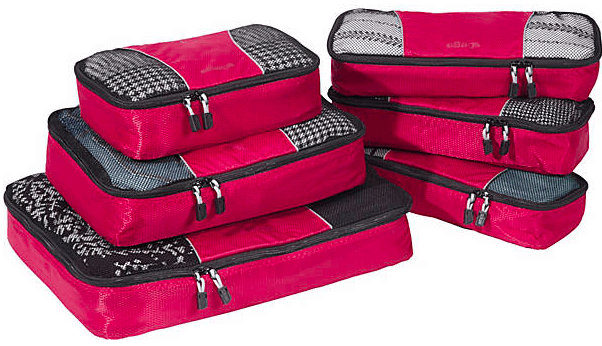 Recently, we embarked on a 16-day cruise around the top of Australia on Royal Caribbean's Radiance of the Seas. We arrived at the airport with a total of 22kg of luggage for two people, including camera gear with a tripod, two laptop computers, and backup discs. This is our second cruise this year; the first was 19-days through the Panama Canal on the Island Princess Cruise. Again, we travelled light.
⇒ Before you embark on your next cruise, read this: 25 Tips for Cruising that Everyone Should Know.
A few photos of our interchangeable cruise outfits: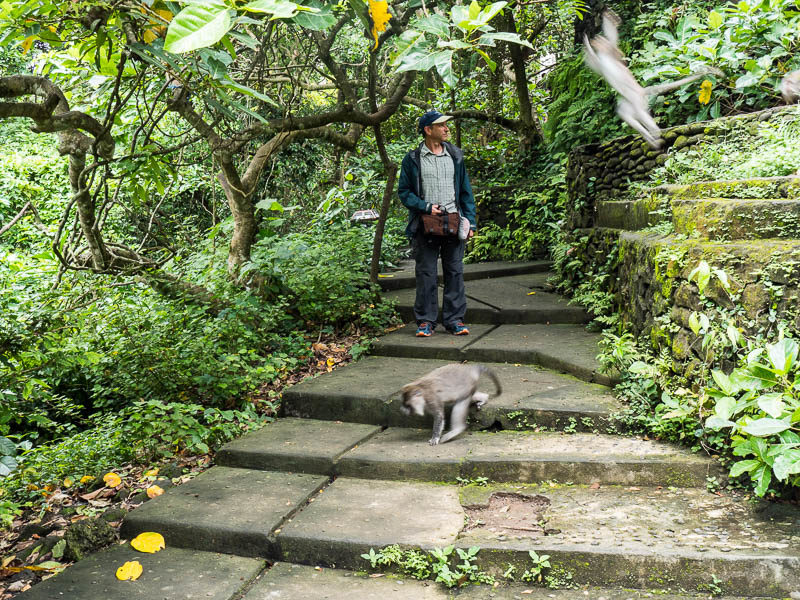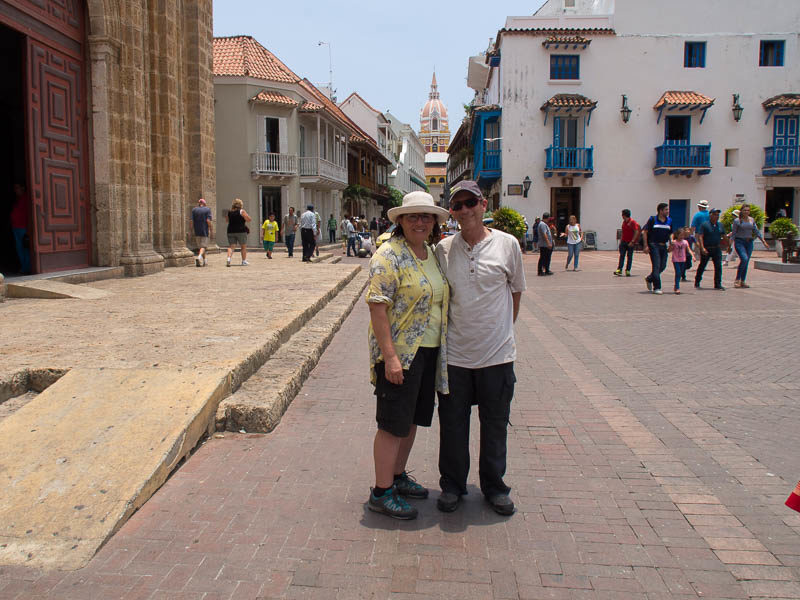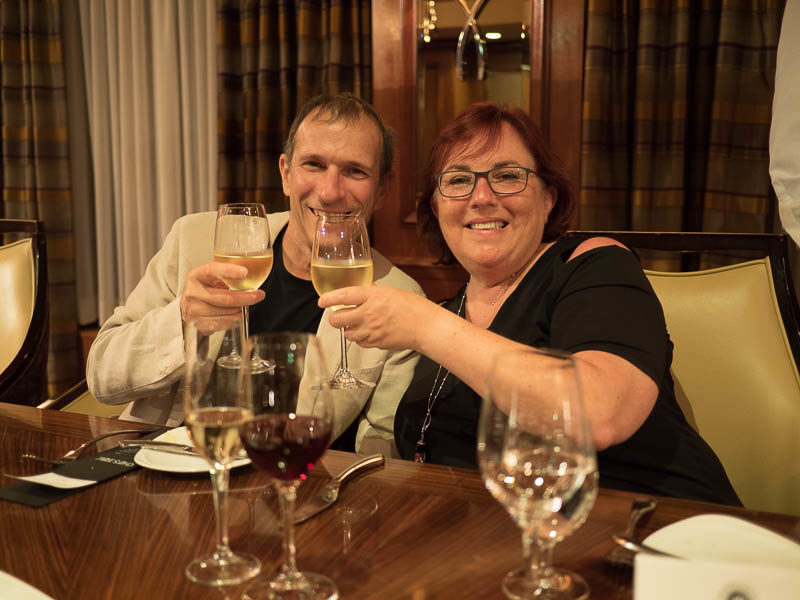 Please Share
If you found these tips useful, please share this article on social media, including Pinterest: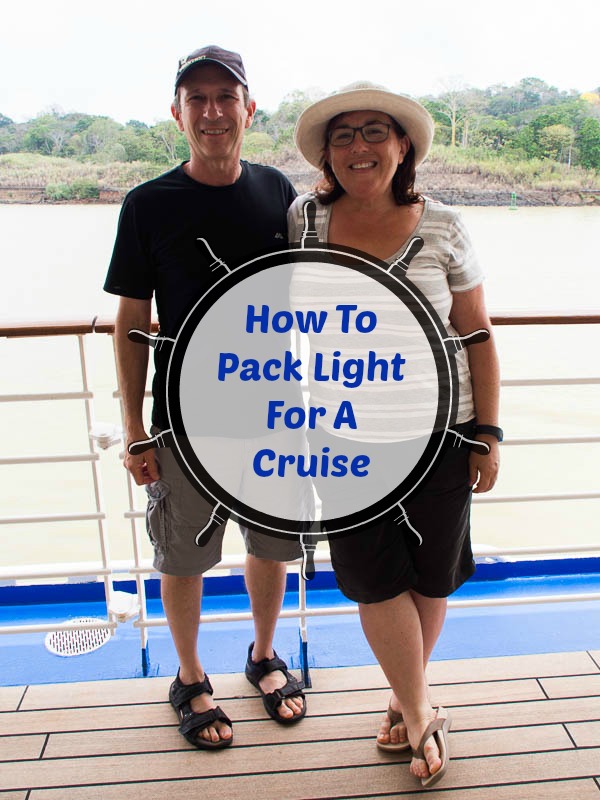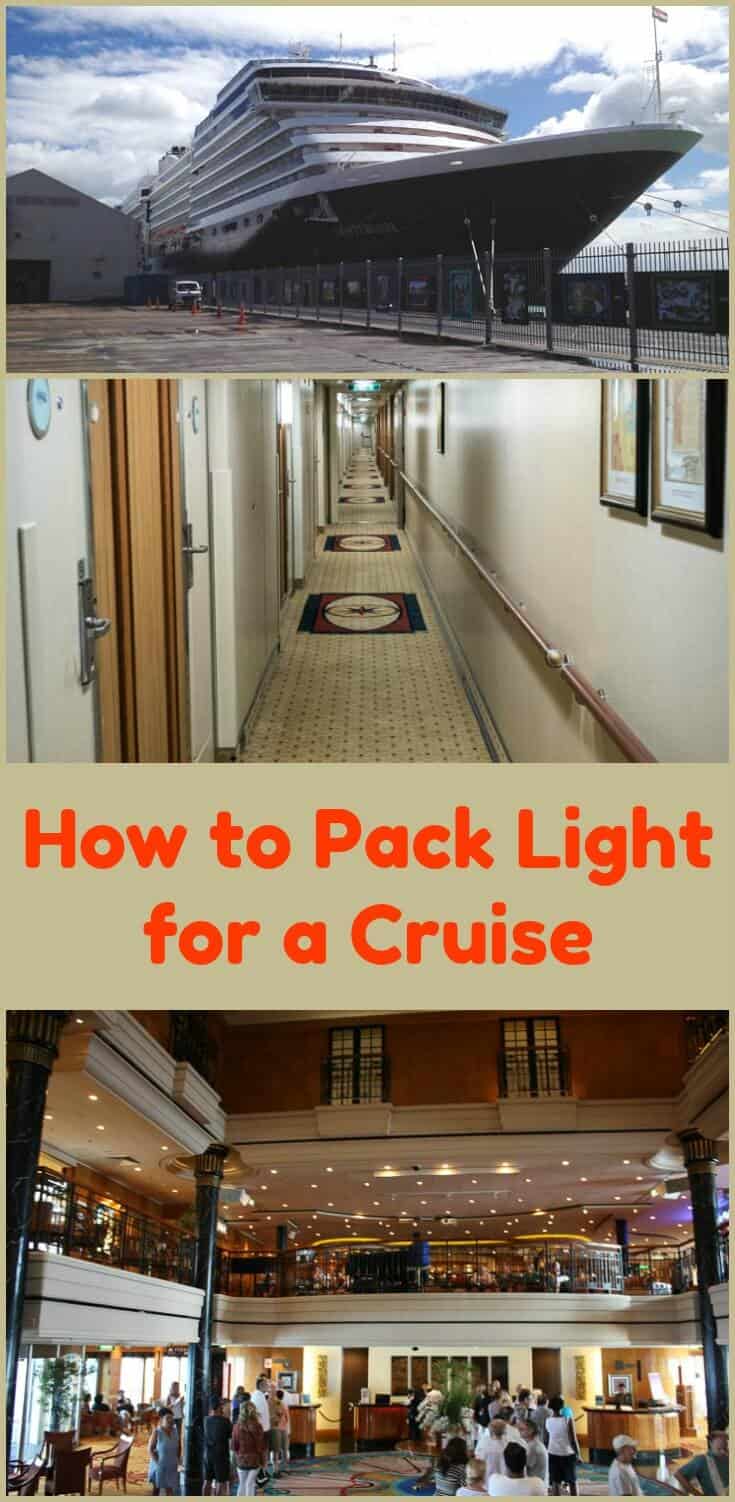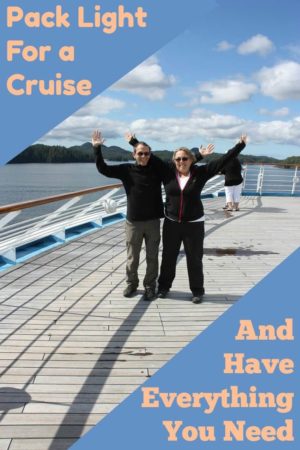 Read Next: Useful Travel Gifts for People Who Travel Light
Can pack light and have all the cruise essentials? Will you be packing light for a cruise? Or will you bring it all, just in case?