Below we share our initial impression of the Radiance of the Seas, a midsized ship in Royal Caribbean's fleet. It was initially written while still onboard a pre-pandemic cruise, one of many which make up our 160 days at sea. The updated date reflects only grammatical changes and the addition of a few extra photos, but the rest accurately reflects our experiences and is presented here as our Radiance of the Seas review.
We love cruising, and our first time out with Royal Caribbean Cruises is no exception. Currently, we are just about at the end of our two-week adventure over the top of Australia, sailing from Sydney to Perth on the Radiance of the Seas.
Her centerpiece, a seven-story atrium with glass elevators, set the expectation for our cruise quite high. The good news is that she is living up to it.
The Radiance of the Seas is lovely, filled with interesting, eclectic, and unusual artwork.
The friendly staff provides excellent service, and both our waiter and room steward make us feel special.
There are plenty of activities during the day, and at night there is live theatre, first-run movies, adult trivia, and dancing. Importantly, this ship has surprisingly fast internet (for a fee).
Reserve your Royal Caribbean Cruise at Cruise Critic
A virtual tour of the Radiance of the Seas
The ship's atrium
The stunning seven-story atrium puts a smile on my face when we pass. It's a work of art in itself and a welcome return each time we come back onboard.
The glass elevators are open to the centre, as well as out to sea, a feature we haven't seen before.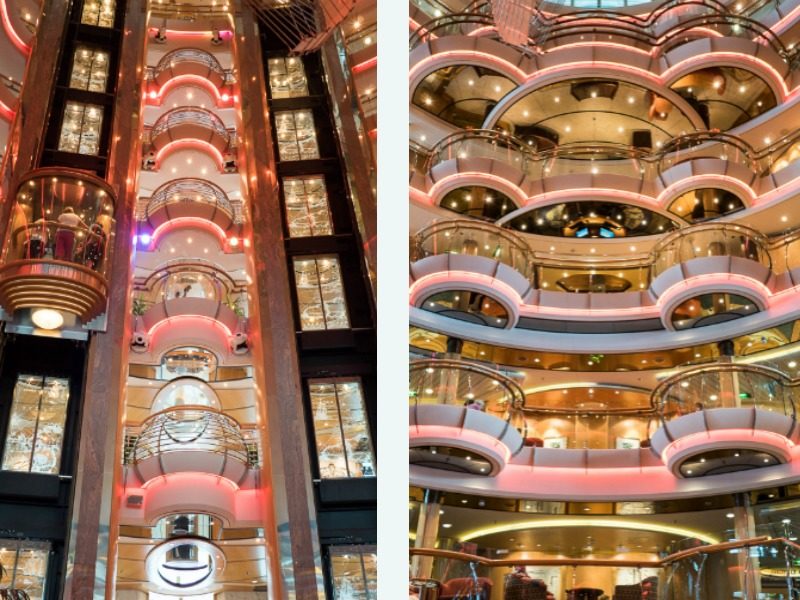 Outdoor decks on the Radiance of the Seas
We head to the pool in the late afternoon on sea days, when it tends to be less crowded.
There is only one outdoor swimming pool on Radiance of the Seas with two spa tubs. There is also an indoor pool and kids' pool. The big-screen TV is used to show movies at night, a favourite pastime of ours.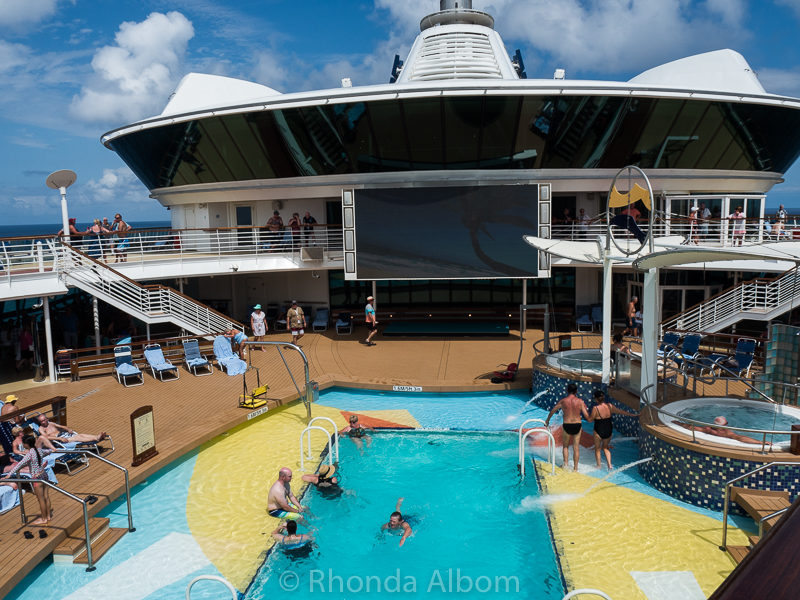 Get a massage or facial at the spa
If you have never had a hot stone massage, let me recommend it.
The spa treatment I had on the ship started with exfoliation, and then I tossed Jeff (and the camera) out of the room so I could fully relax with the stones. A treat not to be missed.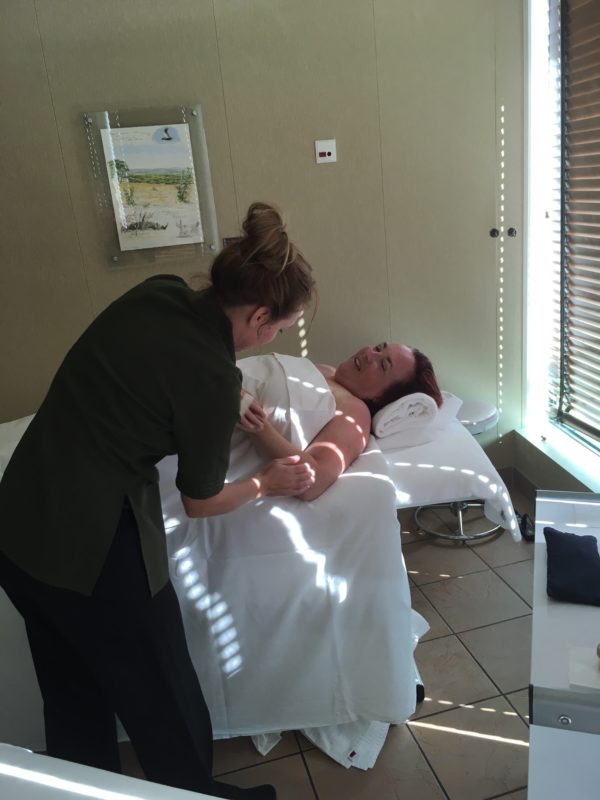 More things to do onboard the Radiance of the Seas
There is plenty to do onboard with activities that are varied and inclusive.
When we feel energetic we head to the gym, join in water aerobics, take a stretch class, walk on the track, rock climb, or join a dance class.
More often on our sea days, we seem to be seeking quiet and have discovered a number of lounges, reading nooks, bars (not always quiet), and a library. There is outdoor seating on most decks or around the pool, although the pool area is never quiet.
Getting bored is never an option. So far, we have found billiards, darts, chess, and mini-golf onboard. Plus, there is a casino, art gallery, hair salon, spa, and shopping area.
The lounges tend to be multipurpose. For instance, the Colony Club is a dance club by night, was used for a trivia quiz one afternoon (in the photo) and on another day, we enjoyed a tango lesson here.
There is never a shortage of things to do, and the days went by too quickly.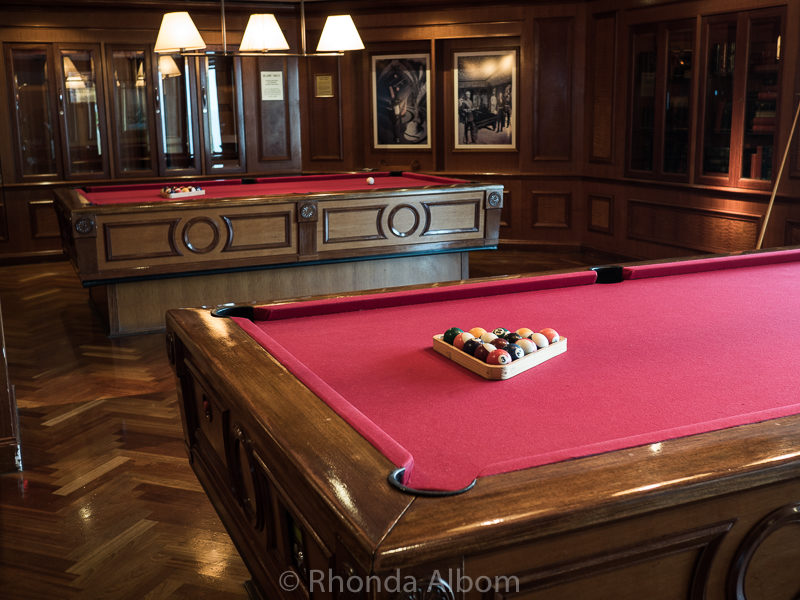 Radiance of the Seas cabins
We have an interior cabin similar in size to the other ships we have sailed on. On a positive note, this one is well laid out with lots of storage space.
Our normal preference is to have a balcony when we cruise, but on the Radiance of the Seas, we booked last minute, and balconies were already sold out. The advantage of the interior cabin is a great night's sleep, as the room is very dark with the lights out.
While some areas of the ship are beginning to show her age, overall, she is attractive.
Don't make our mistake. Book your Royal Caribbean cruise early!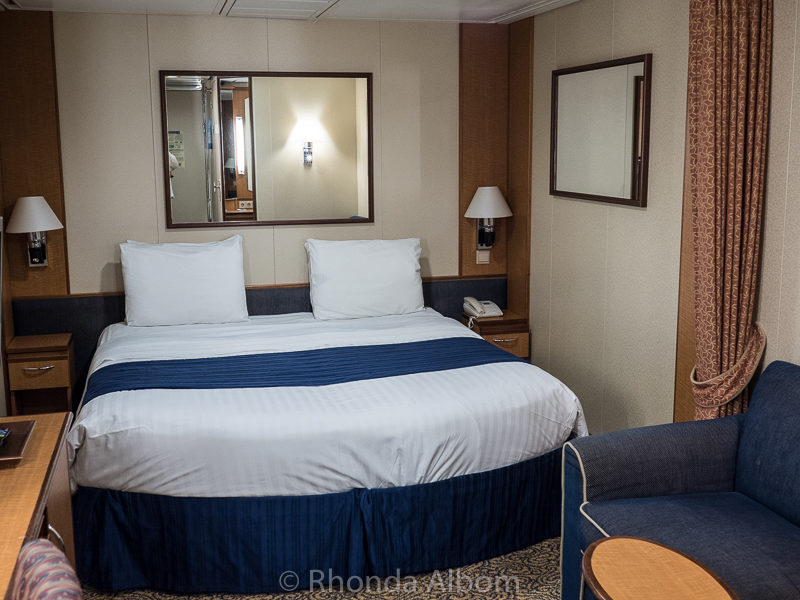 Delicious food and dining experiences
Like all mid and large-sized cruise ships, there are plenty of choices when it comes to snacks or mealtime. We have found most of the food onboard to be tasty and creative, although often lacking in presentation.
Specialty dining options have become a common feature on modern cruise ships, and Chef's Table on Royal Caribbean's Radiance of the Seas is the best we have tried to date. The days of true "all-inclusive travel" are long gone. While the cost of sailing includes meals, Royal Caribbean offers "specialty" options for a cover charge.
One thing we loved, the ship has filtered coffee in all the dining rooms (a vast improvement over other ships we have been on that serve a coffee syrup).
Included dining options
It is easy to enjoy all your meals onboard without incurring any extra costs. Options include the main dining room (breakfast, lunch, or dinner), the buffet (meals, snacks, sweets, and beverages), a Boardwalk Hot Dog House, Park Cafe (healthier choices), room service, and snacks at Starbucks' coffee (The coffee here is extra).
The main dining room offers traditional dining at an assigned table, or My Time dining, allowing us to show up when we are ready or make a booking ahead of time. Best of all, Royal Caribbean offers My Time diners the option to share a large table with other guests.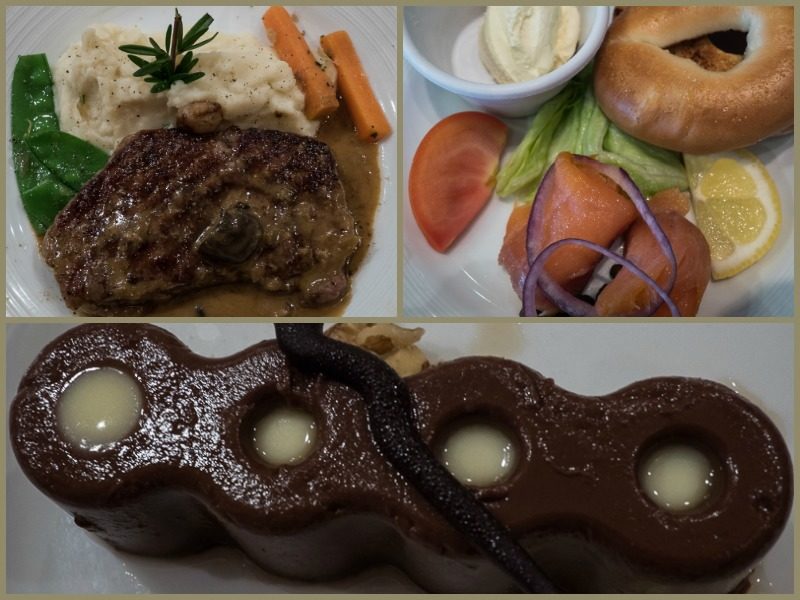 Specialty restaurants
Radiance of the Seas has four specialty restaurants featuring Italian, Japanese, and two different steakhouses. Each offers a more intimate dining experience than the main dining room.
We enjoyed the Samba Grill, a Brazilian Steak House offering what I imagine to be similar to asado in Argentina.
Reservations are available and often required for specialty restaurants. You can even make them on the website before boarding.
Chef's Table
Intimate and interactive, the Chef's Table is an exquisite five-course meal paired with appropriate wines for a maximum of 16 guests per night. The table was immaculate, the food delicate and delicious, and the presentation resplendent.
Before each of the five courses, the Chef de Cuisine whet our pallet with his detailed description of the flavours and the expert preparation methods. Then the Master Sommelier explained his fine wine pairing for the course.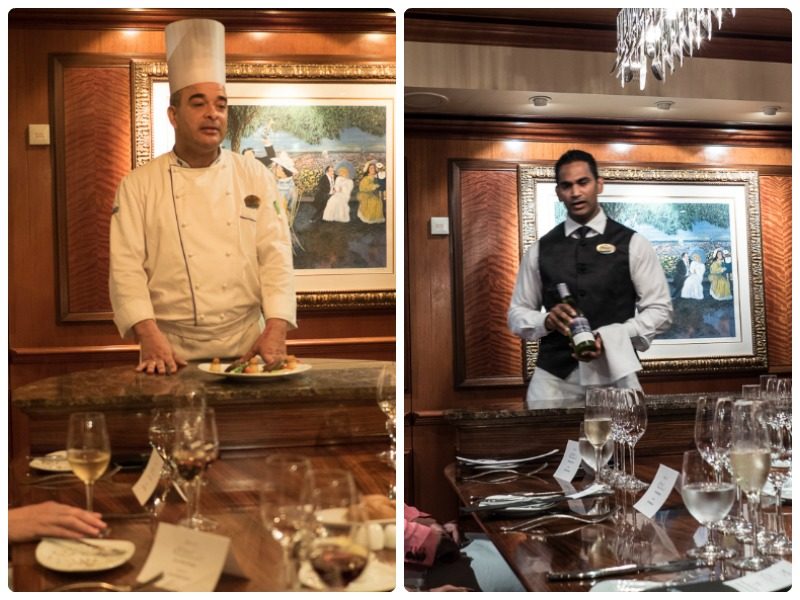 Before you panic, read: How I Easily Avoid Cruise Weight Gain While Enjoying Eating Onboard
Radiance of the Seas bridge tour
We were lucky to get invited onto the bridge of the Radiance of the Seas. I even got an opportunity to sit in the captain's chair (and touch nothing).
From the bridge, we look down at the helipad, which is a great place to enjoy the views as we sail. The people standing in front are looking out at a pod of dolphins just outside the photo.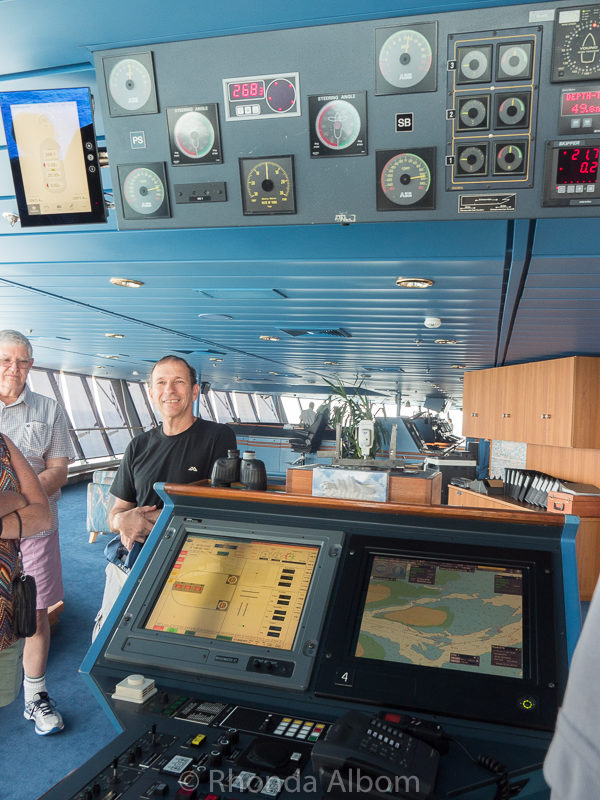 A medical emergency on the Radiance of the Seas
On our cruise, there was a medical emergency involving a patient in the gym having chest pains. There is a medical team onboard, and while they can deal with nearly everything, sometimes people need to be hospitalized.
In this case, they called for a rescue helicopter. While it was exciting for the rest of us, I am sure the patient didn't plan to end his holiday this way.
It is a grim reminder to carry travel insurance that includes evacuation and transport for both yourself if you are sick and the other members of your party who will accompany you. We start with InsureMyTrip, an aggregator that finds the best policy for each trip.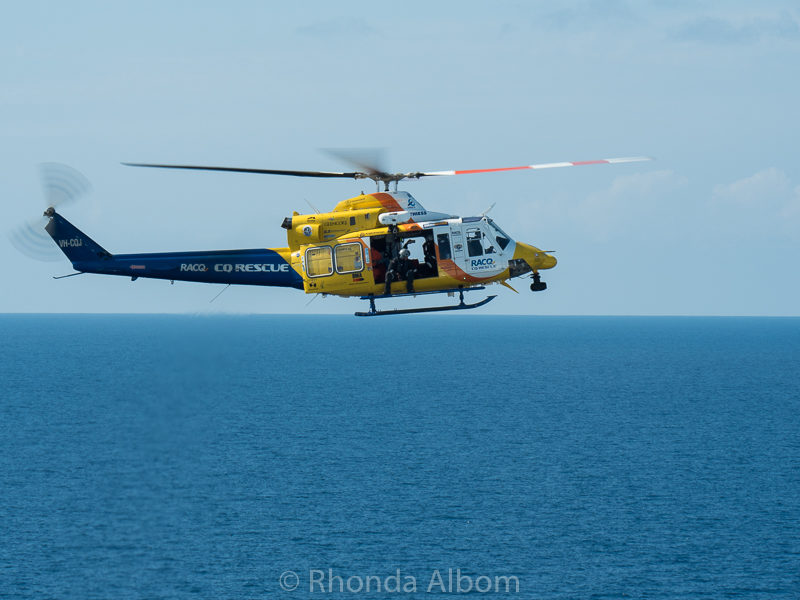 Radiance of the Seas decor
There is so much fascinating artwork around the ship, in the hallways, in the atrium, and on each stairwell landing.
In addition, there is an art and photography gallery onboard. The art gallery offers a huge collection of artworks, usually auctioned to interested passengers at receptions offering free champagne. There are over 1000 pieces of art on rotating display, from modern to classic.
While the quirky artwork always caught my eye, I also was drawn to the many glass pieces. These are some of my favourites located in various stairwell corners.
Entertainment on the Radiance of the Seas
The entertainment team is as good as any we have seen, and the special guests brought in are extremely impressive.
Radiance of the Seas itinerary for Australia
Our itinerary on this ship is a perfect mix of sea days and ports.
We will sail over the top of Australia from Sydney to Perth, stopping in five Australian ports: Brisbane and Cairns, Darwin, Port Hedlands, and Geraldton. We also crossed the Timor Sea for a stop in exotic Bali, Indonesia.
UPDATE: Read more about our ports
Final thoughts and a few tips for Radiance of the Seas
Overall, we enjoyed the ship and our cruise. If you love a mid-size ship, this is one we would recommend. However, our overall preference is for smaller cruises.
While our cabin was fine and spacious, I did miss the opportunity to have breakfast out on my own veranda. However, in saying that, I will admit, that as for interior cabins, Royal did a good job on this one.
Enjoy Endless Adventure and Explore the World on a Royal Caribbean Cruise!
Book your Royal Caribbean Cruise at Cruise Critic
Save on your trip and cruise with these resources
These are our go-to companies when we cruise. We believe this list to be the best in each category. You can't go wrong using them on your trip too.
Cruise: We find great deals at Cruise Critic.
Flights: we use Expedia for the best and cheapest flight options.
Hotels: we use Booking.com (hotels at our end ports) or VRBO (self-contained).
Cars (gas or electric): we use RentalCars to search for deals and dealer ratings.
Set up private guides at the ports: Looking to maximize our limited time at a port, we often hire private guides from Tours by Locals.
Travel Insurance: our go-to is Insure My Trip
Check out our travel resources page for more companies that we use when you travel.
Don't miss our best cruise tips.
Save for later
If you enjoyed this article, please share it on social media and save it for later on Pinterest.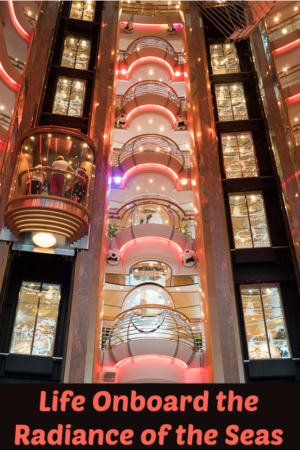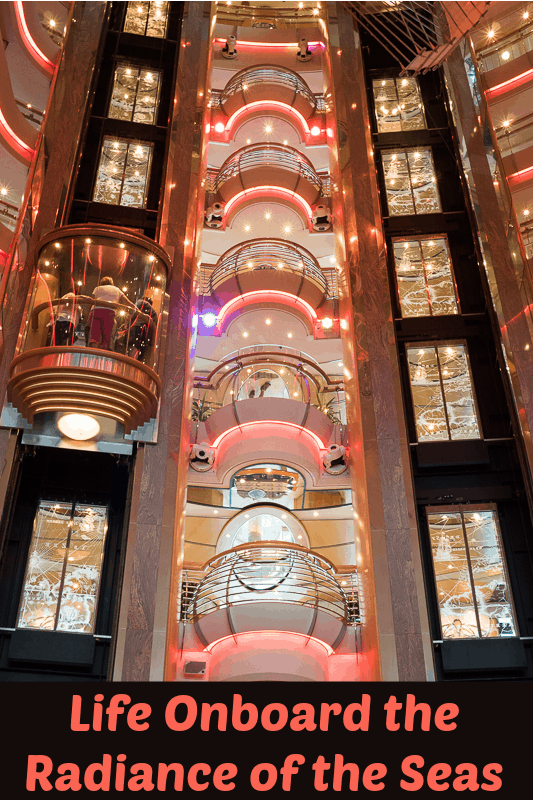 Have you cruised on Radiance of the Seas?
Disclaimer: In addition to VIP treatment onboard the Radiance of the Seas we were provided with many complimentary extras. The opinions expressed here are strictly my own.