Australia's tropical Queensland is nature's playground filled with rainforests, impressive waterfalls, distinctive wildlife, and the ruins of a unique Spanish castle. Lush green forest enveloped our day trip, as each of our stops seemed to encompass aspects of the rainforests from Cairns to Paronella Park.
Our adventure took us first across the Atherton Tablelands, then back to Cairns through the Cassowary coast. While both provide incredible scenery, the tablelands are often considered to be Australia's most scenic drive destination.
For locals, the Atherton Tablelands is an easy-to-access getaway destination into the highlands. With cooler temperatures offered by the higher elevations and frequent swimming holes, it is a paradise amidst this tropical region.
We journeyed in a day, but this left us time only for quick dips in selected water holes. A more relaxing option would have kept us in the rainforest for days, allowing us to really appreciate all it has to offer.
Our highlights below include our recommended driving route from Cairns to Paronella Park. We started inland on the Tablelands by daylight, allowing us to enjoy the castle ruins in the evening, as its air of mystery seems exaggerated after dark. And our big bonus of the day, we saw a platypus in the wild.
Cairns to Paronella Park day trip map
The map highlights our route and options. Click the expand / collapse icon in the upper left corner of the map for details.
Also, note our primary route is blue and takes about 4.5 hours of drive time to complete. The two options in yellow require an extra 1.25 hours of driving in total, while the orange markers highlight other things to do in Cairns.
Heading south from Cairns to Paronella Park on the inland road
Ideally, you want to time your day to arrive at Paronella Park at least an hour before sunset. While it's impressive and mysterious in the daylight, it is captivating after dark.
Key stops include:
Cairns
Lake Eacham
Curtain Fig National Park
Malanda Falls
Two optional stops that add extra drive time: Nerada Tea Factory and Millstream Falls
Waterfall Circuit (Millaa Millaa Waterfall, Zillie Falls, and Ellinjaa Falls)
Paronella Park
To calculate your start time following our basic suggestions, you will arrive at Paronella Park about 6.5 hours after you start out. This includes about 3 hours of drive time along our suggested route, plus 2.5 hours for basic stops. Plus, we included an hour for a picnic lunch.
You will also need to allow time for each swim you plan to take. And if you want to add either optional stop, add 1.25 hours for each, which includes drive and visit time.
Note the return drive is about 1.5 hours
Stops from Cairns to Paronella Park
Lake Eacham
(Drive time from Cairns to Lake Eacham: 1 hour, 12 minutes)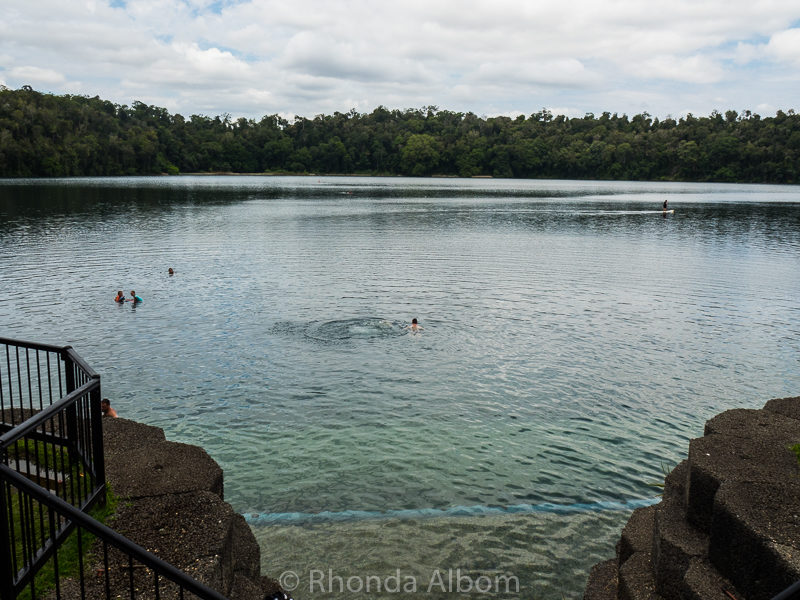 Our first stop is a local's favourite, Lake Eacham in Crater National Park. We opted for a swim, but if you are more energetic, there is a somewhat shady 3km rainforest loop track around the lake, best known for its bird life and for musky rat-kangaroos.
It's also a lovely picnic spot, but depending on your start time, it may be too early, even for morning tea.
It's one of two lakes in the park we could have chosen. Lake Barrine is home to the King Fern trees, which boast the world's longest fern fronds. (Up to 7 meters).
Both blue lakes fill the craters of an extinct volcano that last erupted over 10,000 years ago.
Yungaburra platypus viewing platform
(Drive time from Lake Eacham to Yungaburra platypus viewing platform: 8 minutes)
Even amongst Australia's unusual wildlife selections, the platypus stands out for its uniqueness. Seeing these elusive creatures in the wild is a rarity, and we have been lucky enough to see them twice.
After standing at the Yungaburra platypus viewing platform for a while, to no avail, we opted to stroll along the Peterson Creek Walking track. We were lucky, we didn't have to go far along the 3.4km (out and back) track before we spotted a platypus in the creek.
To be honest, we spotted another photographer who knew the location of the platypus, and we just stood quietly and waited.
This is probably the coolest thing we saw from Cairns to Paronella Park.
Curtain Fig National Park
(Drive time from Yungaburra platypus viewing platform to Curtain Fig National Park: 1 minute)
There are two primary things to see in Curtain Fig National Park. First is the endangered mabi forest. The second (in the photo) is the aerial roots that drop from a large fig tree, creating a curtain effect as they reach almost 15 metres to the forest floor.
The signage explains the process in more detail and welcomes visitors to the land.
Malanda Falls
(Drive time from Curtain Fig National Park to Malanda Falls: 8 minutes)

Great for families, this one is quite close to the car park, surrounded by lush rainforest remnants, and features two short and well-signed posted educational walks. There is a visitor's centre here where you can learn more about the area.
Wildlife spotters will want to keep their eyes focused in the trees for Lumholtz's tree kangaroos.
Two options off our main route on our Cairns to Paronella Park drive
Nerada Tea Plantation (Adds 15 min to the total drive time)
Tea lovers may want to enjoy a cup of tea at the Nerada Tea rooms or go behind the scenes for a farm tour to discover how tea is grown and processed.
Millstream Falls (Adds 1 hour to the total drive time)
Australia's widest single-drop waterfall is certainly an impressive sight to stand in front of but does add a lot of time to an already long day. Formed from the Tableland's volcanic past, the water cascades over an old basalt lava flow.
Waterfall circuit
Leaving the main Cairns to Paronella Park road at the sign pointing to Millaa Millaa Falls, just after the small town of the same name, we drove a loop and explored three striking waterfalls. The heavy water flow of each is one of the benefits of the rainforest.
Millaa Millaa Falls (Drive time from Malanda Falls to Millaa Millaa Falls: 21 minutes)
This 18m plunge waterfall just might be Australia's most photographed waterfall. If you don't believe me, a quick look on Instagram will have you convinced. Cool and refreshing, the cascade's pool is an ideal swimmable opportunity to cool off. We have also read there is occasionally platypi here, but we have been multiple times and never saw one.
Zillie Falls (Drive time from Millaa Millaa to Zillie Falls: 8 minutes)
Bigger, louder and seemingly more powerful than Millaa Millaa, we enjoyed Zillie Falls from the viewing platform. While we have read there are rock pools at the bottom, we saw no way down. Be on the lookout for flying foxes (we didn't see any).
Ellinjaa Falls (Drive time from Zillie to Ellinjaa Falls: 2 minutes)
Although not the most popular, watching the water cascade over a series of lava columns made Ellinjaa falls my favourite of the three. The relatively shallow pool is not deep enough for swimming, but one can wade in and sit behind the falls and enjoy it from a different perspective.
Paronella Park
(Drive time from Ellinjaa Falls to Paronella Park: 48 minutes)
The ruins of this old Spanish castle, surrounded by tropical rainforest, are now covered in moss, yet the magic and romance that once dominated this fortress are apparent. It is no wonder this site has won so many awards.
Following a dream to bring people together with a castle and adventure park, Jose Paronella built this masterpiece on 5ha of land alongside Mena Creek Falls, opening it to the public in 1935. A Spanish immigrant, his park was well received, and tourists enjoyed his pools, tennis courts, and tea gardens.
Through a series of events, the park was ultimately left abandoned for 15 years, but new owners helped to re-establish it as a destination. Best of all, entry includes a tour where you will learn some of the fascinating history of the place, as I left out most of the details here. Reserve your Paronella Park tickets here.
Paronella Park at night …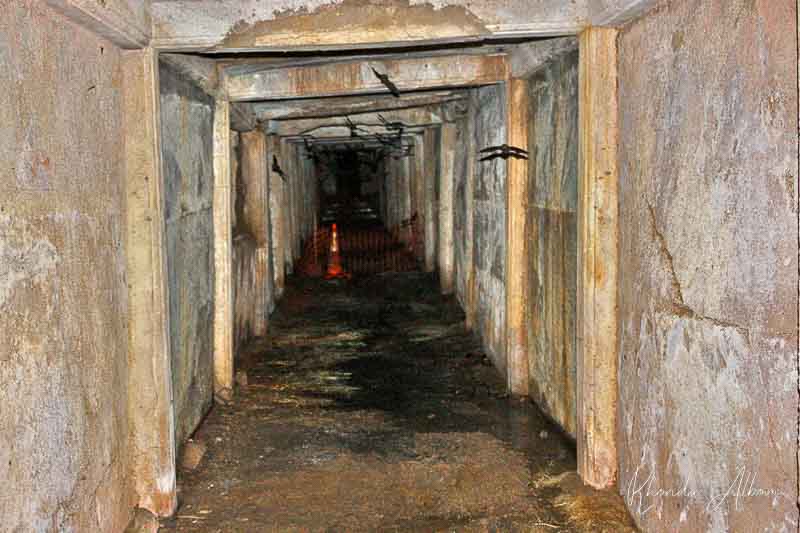 Still in awe of this place in the daytime, the nighttime lighting resulted in a dramatic change as an eerily mysterious aura enveloped the place. Instantly, it became my highlight of our time in Cairns.
Visiting Paronella Park at night is like walking through a dream.
More about Cairns
Originally founded following an 1876 gold discovery, Cairns didn't grow as a tourism destination until marlin fishing became popular after World War II.
Today, it's known as the gateway to the Great Barrier Reef, wetlands, and rainforests.
The best time to visit Cairns is during the winter months of June to August. Monsoon season is from December to March, and with it comes heavy rains, high temperatures, extreme humidity, and cyclones.
Today, it is also a popular cruise ship port, although many ships, like the Radiance of the Sea that brought us here for one of our visits, dropped anchor in Yorkey's Knob, just north of Cairns.
Other things to do in Cairns
There is no shortage of things to do in Cairns. Some of the most popular include:
Head out to the Great Barrier Reef. Discovered in the 1970s, it's the world's largest reef measuring 2300km long and up to 250km wide, making it also the world's largest UNESCO World Heritage Area. Here there are soft and hard corals, jellyfish, plus 1625 types of fish, including 133 varieties of sharks and rays. Reserve one of these top-rated tours to get you to the reef.
Take the Skyrail cableway to Kuranda.
Check out the impressive Aquarium.
Day trip to the north and visit Daintree, Mossman Gorge, or Cape Tribulation.
Within the city, don't miss the man-made saltwater swimming lagoon, the artificial beach located on the esplanade, or the impressive aquarium.
Save on your Australia trip with these resources
These are our go-to companies when we travel. We believe this list to be the best in each category. You can't go wrong using them on your trip too.
Flights: we use Expedia for the best and cheapest flight options.
Accommodations: we use Booking.com (hotels), VRBO (self-contained), or Hostelworld (budget).
Cars (gas or electric): we use RentalCars to search for deals and dealer ratings.
Campervans or Motorhomes: we use Campstar where Albom Adventures readers get a 3% discount
Motorcycles: we have heard good things about BikesBooking.
Activity discounts: we check Bookme.com for discounts of up to 70% on activities.
Private guides: we love the private guides at Tours by Locals.
Travel Insurance: while not required, we always opt for travel insurance and start at InsureMyTrip to compare coverage plans.
Check out our travel resources page for more companies that we use when you travel.
Save for later
If you enjoyed this article, please share it on social media and save it for later on Pinterest.
Are you ready for a day trip from Cairns to Paronella Park?
More from Australia that you might enjoy
Photo Credits:
All photos on this page are either shot by our team and watermarked as such or stock images from Depositphotos.