As the Radiance of the Seas pulled into the port of Darwin, I really didn't know what to expect from this tropical capital of the Northern Territories. The ship offered options like a boat tour to see jumping crocodiles, a discovery of the untamed countryside of Litchfield Park, an interactive eco-adventure tour, as well as other buses, walking, or harbour cruise tours. We opted to visit Darwin on our own with the Darwin Explorer hop on hop off bus.
We disembarked and hopped on the bus at stop 11 conveniently located outside the cruise ship terminal, making it an ideal option for anyone not wanting to take a ship's excursion. The bus makes 11 stops around the city and offers fascinating commentary as we travel. With one bus every 20-25 minutes, we can hop off at any stop, stay as long as we want, and then board another bus to continue the loop.
Here are some of our highlights:
We spent a large amount of time at the city centre (stop 1) having a coffee in the mall (a modern outdoor shopping area), walking a self-guided Darwin city heritage walk, and listening to a street performer. (We could have easily walked to this spot from the ship.)
The Darwin Explorer makes a 90-minute loop stopping at:
City Center and Tourist Information
Crocosaurus Cove
Doctor's Gully Aquascene Fish Feeding
Cullen Bay Jetty
Cullen Bay Apts
Casino and Botanic Gardens
Museum and Art Gallery of Nothern Territory and then on to East Point Reserve
Parap Parap Markets (open only on Saturday)
Stokes Hill Wharf and Military Museum
Waterfront Precinct
Fort Hill Wharf (Cruise Terminal)
We opted to board and then completed one loop so we could hear all of the history and options of where to stop. I think a better option would be to get off at each location of interest, therefore completing only one lap of the bus route.
More About Darwin:
During much of the year, swimming in the ocean is not recommended due to crocodiles, box jellies, and Irukandji.
Cullen Bay is a registered cyclone haven for small to medium sized ships.
Cyclone Tracey devastated Darwin destroying more than 70% of its buildings on Christmas day 1974.
Darwin was bombed in WWII on 19 February 1942 by the same planes that bombed Pearl Harbor.
Darwin's population of only 142, 300 is half of the population of the Northern Territory.
The Northern Territory is equivalent to the size of France, Spain, and Italy combined.
Darwin is situated on the Timor Sea in the Indian Ocean. It has two seasons, dry season (May 1 to October 1) and the wet season.
Darwin is a former frontier outpost and the gateway to Kakadu National Park.
**We are currently cruising on Royal Caribbean's Radiance of the Seas. She is a lovely ship that is taking us around the top side of Australia from Sydney to Perth, with port stops in Brisbane, Cairns, Darwin, Bali (Indonesia), Port Hedlands, and Geraldton.
Have you been to Darwin? Will you take the Darwin Explorer Bus when you visit?
If you enjoyed this post, please sure it on social media such as Pinterest: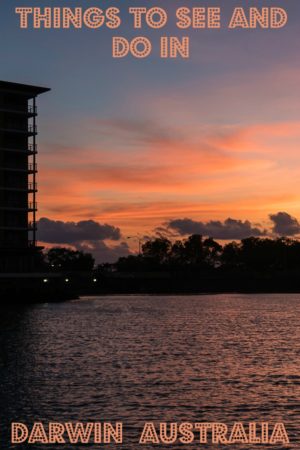 Disclaimer: We were provided with a complimentary Darwin Explorer tour for the purpose of this review. In addition, Royal Caribbean has provided VIP treatment onboard the Radiance of the Seas as well as many complimentary extras. The opinions expressed here are strictly my own.
Grammarly proofread this article. (Try it for free)
Seven ridiculously simple tips that WILL improve your photos
Whether you shoot with a phone or a DSLR, let me share my secrets.
Subscribe to Albom Adventure's Travel Tips newsletter and download our free ebook: Take Better Travel Photos By Rhonda Albom