Located in tropical Western Australia, Port Hedland isn't one of those classic Australian tourist towns. Instead, it's a dynamic mining town, and there are several interesting and unique things to do in Port Hedland.
Port Hedland is approximately 1,600km north of Perth or 200km north of Karratha via the roads. It covers a large area encompassing 11,844 square kilometres of the Pilbara region.
The town is known for iron ore processing, super long trains, and huge salt piles. It is also a multicultural hub, a breeding ground for flatback turtles, and one of the few places in the world to spot the staircase to the moon.
For us, it was a port stop as we circumnavigated Australia, and to my surprise, there was more to do in Port Headland than we could cover in a single day.
The three most popular things to do in Port Hedland would be to tour BH Billiton iron ore processing facility, tour Rio Tinto salt processing, or take a Seafarers port tour of Australia's largest export port.
I'll admit, I wasn't exceedingly enthusiastic when I initially saw this mining town on our cruise port itinerary list. But, it turned out to be a fascinating stop.
Things to do in Port Hedland: Industry
Port Hedland is usually hot, with average temperatures ranging from 27.1 °C (80.8 °F) in winter to 36.4 (95.5 °F) in the summer. More importantly, it gets only about 13 days of rain per year. Therefore, it is the ideal climate for both iron ore and salt processing.
If you arrive via cruise ship and want to tour BHP Billiton Iron Ore, you will need to do it with a ship excursion. Billiton does not offer public tours on days cruise ships are in port.
BHP Billiton tour – iron ore processing
Iron ore is mined in the ranges outside of town and processed in Port Hedland. To my surprise, the facility is fully automated and controlled remotely from Perth, 1320 km away (the way the crow flies).
All BHP Billiton tours are via bus, and passengers do not get off. Similarly, there are strict safety gear requirements for employees. So rigid, in fact, that if an employee gets injured while not wearing gloves, they are not insured.
Highlight photos include:
The conveying structure at the "spaghetti junction" of BHP Billiton.
Iron ore is moved by trains up to 2.9 km in length that carry up to 32,000 tonnes of iron ore. The filling of the cars is also automated out of Perth.
Part of the dust-reducing system at the plant.
The block at the end of the top arm is a counterweight to support the machinery. A bucket wheel (hidden in the photo) scoops the iron ore onto the conveyor, and the end at the left pours it into piles.
This ship will carry iron ore. Once filled, it will sit almost 20 metres lower in the water than when empty. It can only leave the harbour at high tide.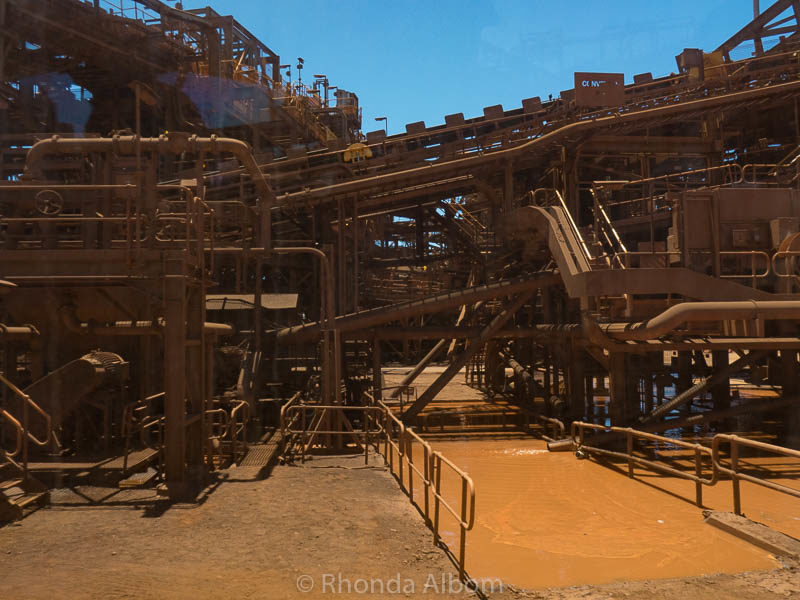 More images from our tour
Refurbished train wheels.
Nearly everything in town has a reddish tint from the iron ore, seen clearly on this manmade lake.
A sample section of the tunnel under the harbour, with room for pedestrians and conveyors.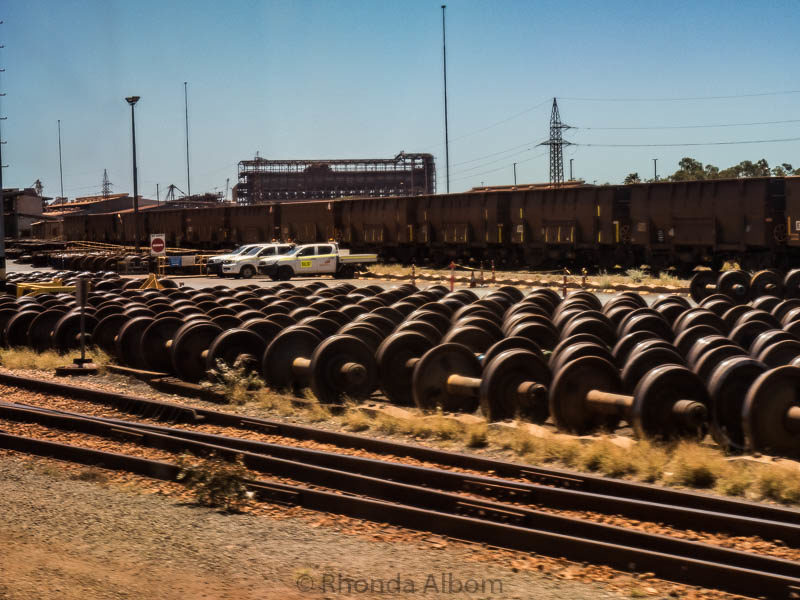 Dampier/Rio Tinto Salt mining tour
Rio Tinto owns the majority of Dampier Salt, another mass producer in Port Hedland. Whether you take a tour or not, it's hard not to notice the huge white salt mounds.
The salt is produced at evaporation ponds just outside of town.
We did not do this tour.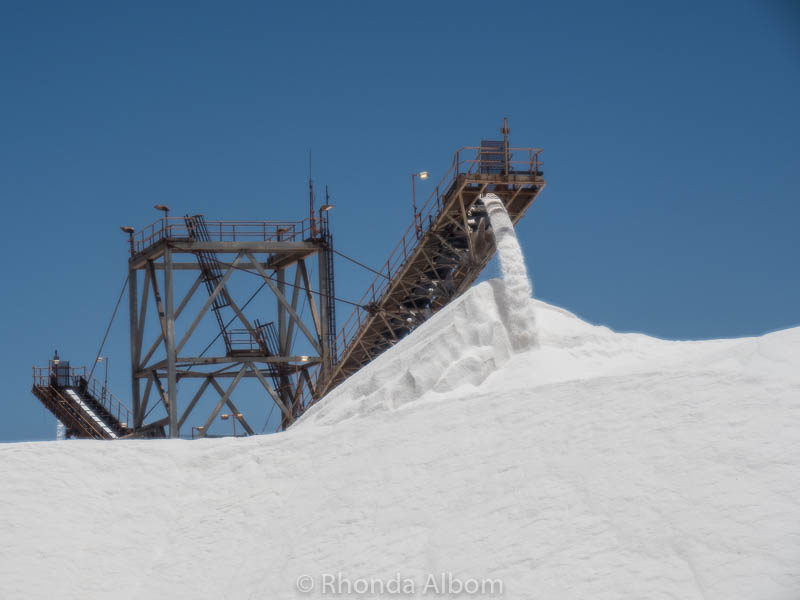 Port Hedland Harbour tour
There is really no other way to fully appreciate the massive size of some of these ships and the harbour than getting onboard one of the Seafarer's Launch Service boats and taking a lap around the harbour.
If I ever return to this town, a harbour tour will top my must-do in Port Hedland list. See more about it.
Things to do in Port Hedland: historical
There are bits of history all over this town. Here are a few that caught our eye:
Esplanade Hotel
Still a great place to stay if you are spending the night, this historic building first opened in 1904 as McKenzie's. Reserve your room at the Esplanade Hotel
Iron Ore boulder
This simple display in town helped me to visualize iron ore.
The Wall – Port Hedland RSL War Memorial
A memorial wall commemorating the people of the Pilbara who served in various conflicts. The foundation stone was laid in 1988 on ANZAC Day.
Dalgety House Museum
This local museum is run by passionate volunteers. It gives us insight into the impact that the white settlement had on the Kariyarra Aboriginal people of the Pilbara.
Things to do in Port Hedland: outdoors and nature
The generally hot dry weather makes outdoor options available all year. The two most unique outdoor things to do in Port Hedland happen only occasionally. These are observing the nesting and hatching turtles or the staircase to the moon.
Discover turtles on the beach
Flatback turtles breed and nest here from October to January, with hatchings seen in Port Hedland from December to March.
'Staircase to the Moon'
Seen only in this corner of Western Australia for three consecutive days each month around the full moon. The moon's reflection of the rippling sand through standing tidal water creates a band of light that looks like a staircase.
More outdoor things to do in Port Headland
Discover something new as you read the interpretive signage along the port walk.
Have a picnic on the grass in Marapikurrinya Park.
Enjoy the coastal walk from Marapikurrinya Park.
Fish off the pier or along the rocky shore.
Relax by the beach (and look for turtles, remembering to keep your distance). Note that the beaches are not so great for swimming.
And we stuck our toes in the Indian Ocean.
Things to do in Port Hedland: art
Street sculpture
This particular sculpture is a memorial tribute to the multicultural community and their collective fundraising efforts for various community groups. Annually, teams across the Pilbara region compete in a fundraising race by pushing a wheelbarrow of iron ore over 120km.
Street art
Colourful and creative, the piece below was one of my favourites. Street art fans can pick up a free map highlighting the West End street art at the Visitor Centre or download the map here.
Aboriginal Art Gallery
There are several art galleries and places displaying Aboriginal art in town, and I am not sure in which one I shot this.
Cruising over the top of Australia
Port Hedland is the fifth port as we sail from Sydney to Perth around the top of Australia on the Radiance of the Seas. She is a midsized ship in the Royal Caribbean fleet and the favourite of many people we met on board.
We visited Bali (Indonesia) just prior to Port Hedland, and from here, we went to Geraldton, Australia. We love cruising and share our best cruising tips here.
Save on your Australia trip with these resources
These are our go-to companies when we travel. We believe this list to be the best in each category. You can't go wrong using them on your trip too.
Flights: we use Expedia for the best and cheapest flight options.
Accommodations: we use Booking.com (hotels) or VRBO (self-contained).
Cars (gas or electric): we use RentalCars to search for deals and dealer ratings.
Campervans or Motorhomes: we use Campstar where Albom Adventures readers get a 3% discount
Activity discounts: we check Bookme.com for discounts of up to 70% on activities.
Private guides: we love the private guides at Tours by Locals
Travel Insurance: we start at InsureMyTrip as they are the best option to compare plans and find the right coverage for you.
Check out our travel resources page for more companies that we use when you travel.
Please share
If you enjoyed this article, please share it on social media, including Pinterest.
Which of these things to do in Port Hedland interest you?
Disclaimer: In addition to VIP treatment onboard the Radiance of the Seas we were provided with many complimentary extras including this excursion. The opinions expressed here are strictly my own.