Typically, the time of year to visit Geraldton Australia is when wildflowers are in bloom. However, we cruised outside of wildflower season and enjoyed a day discovering the hidden charms of this Western Australia town. With only a few major sites to visit, it was easy to tick off everything on our things to do in Geraldton list in a day.
Top Things to Do in Geraldton: HMAS Sydney II Memorial
HMAS Sydney II was the only Australian ship that lost its entire crew in an attack during WWII. The memorial is up on a hill and seen from much of the town. Its most prominent feature is the Dome of Souls with 645 birds, one for each crew member who died. The design has each bird touching two others for friendship.
Volunteers are available daily at the memorial and offer fascinating free tours.
The Wall of Remembrance list the names of those who perished in alphabetical order, rather than rank order, as there is no rank in death
The "Waiting Women" was added in 2001, seven years before they found the ship's remains in 2008. Oddly, the statue looks out in a direction off by only 0.25 degrees from where the ship remains were discovered.
It's about a 20-minute walk from the dock to the memorial at the top of a hill. However, Royal Caribbean offered a shuttle bus for a small fee that stopped at the memorial, at the cathedral, in town, and back at the port. While we opted to take the shuttle, I am not sure it was a good use of our money.
For more on the story of how the German's sunk the Sydney II check out: False Flags: Disguised German Raiders of World War II.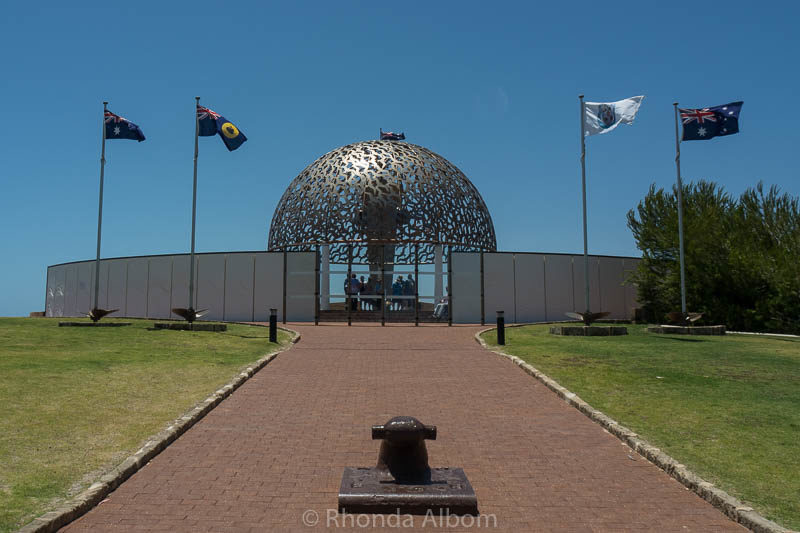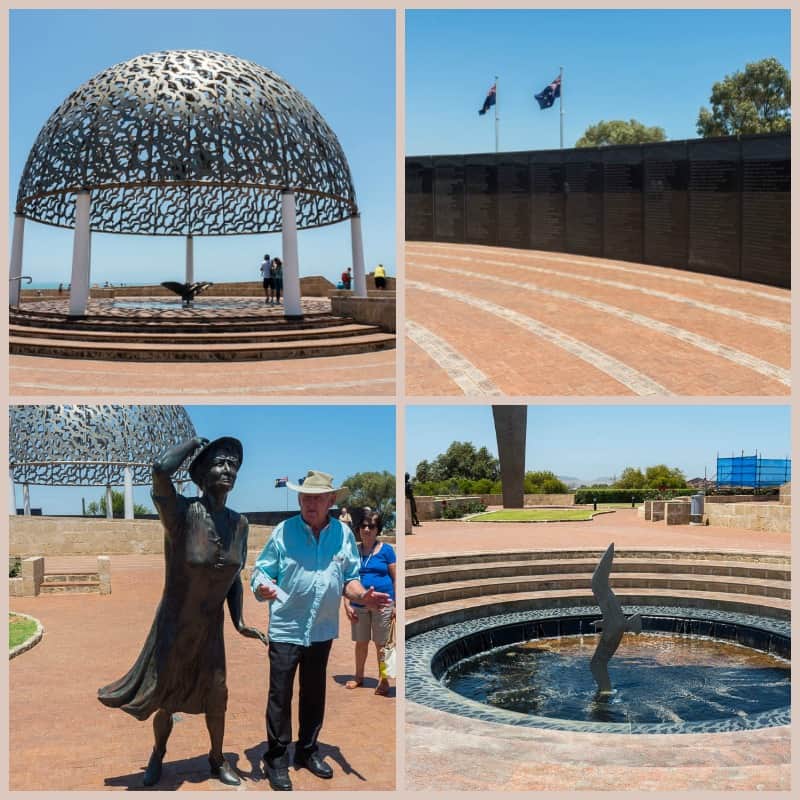 Top Things to Do in Geraldton: St. Francis Xavier Cathedral
More commonly referred to as the Geraldton Cathedral, the St. Francic Xavier Cathedral is the primary place of Catholic worship in Geraldton. Inside took us by surprise, a bit of deja vu. The church offers tours on Monday and Friday mornings (10 am) and Friday afternoons (4 pm).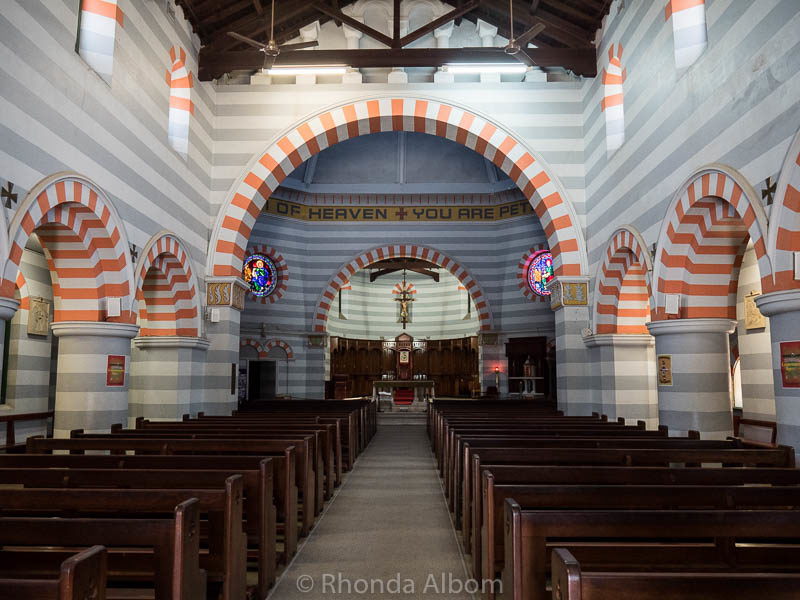 Relax or Play at Geraldton Beaches
Floating pontoons offer swimmers a place to rest or jump. The choppy water didn't seem to bother the kids. Everyone in the water seemed to be having fun.
Geraldton is a watersports paradise, complete with sea lions on the rocks (and sometimes swimming in the water).
Fun Things to Do in Geraldton:
Things to See in Geraldton: Rubik's Cube Public Toilets
Things to See in Geraldton: Museums
The Western Australian Museum (Geraldton Museum) closes at 3 pm daily. The old Gaol (jail) closes at 3.30. Be sure to plan your day in the proper order to visit these sites early.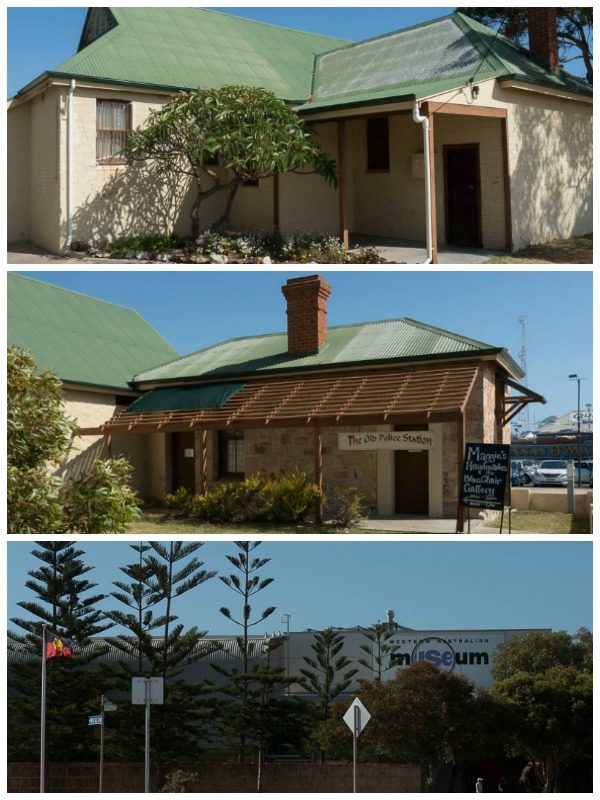 Street Art in Geraldton
Geraldton Port
Geraldton port is not big enough for the mid-sized cruise ship that we arrived on. Therefore, the ship drops an anchor and shuttles passengers to shore. The downside is waiting for a tender (boat to bring you to shore, complicated on this day by a medical emergency.
For us, it was another reminder to carry travel insurance whenever we leave our home country. Being sick or injured while we travel is bad enough, but I can't imagine being hit with a huge bill for being evacuated from a ship. We always start with a quote from World Nomads.
Geraldton was one of six ports as we sailed around the top of Australia on Royal Caribbean's Radiance of the Seas. The prior stop was Port Hedlands, and we will disembark at the next port which is Perth, Australia.
⇒ Don't Miss: 25 Tips for Cruising Everyone Should Know
More on Visiting Geraldton
Just a warning, there are lots of flies in Geraldton in late spring.
If I were to go back, I would add a fly over to either Abrolhos Island or the Pink Lake of Hutt Lagoon, and still have time to visit just about everything I listed above.
⇒ Check availability for a 90-minute scenic flight over the Abrolhos Islands from Geraldton
⇒ Check availability for 70-minute Pink Lake and Port Gregory scenic flight from Geraldton
Have you been to Geraldton? Did you see the wildflowers or visit at another time of year?
If you enjoyed this article, please pin it:
Disclaimer: In addition to VIP treatment onboard the Radiance of the Seas we were provided with many complimentary extras. The opinions expressed here are strictly my own.