Street art crosses cultures, language, and continental barriers. I love all of it, although I tend to gravitate towards the brighter, happier images. Today I share a collection of interesting New Zealand and Australia street art. It is part of a travel blogger collaborative series highlighting street art from around the world.
Wellington, New Zealand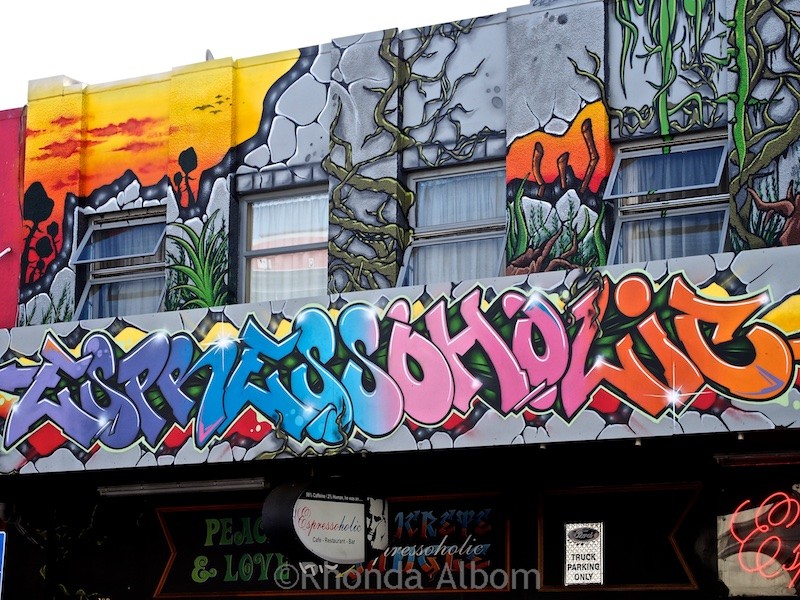 Colourful graffiti art is so prevalent in Wellington; it is sometimes used for retail signage.
I took this shot on a weekend getaway. See more at Wellington Photos: 20 Reasons It's My Favorite NZ Getaway.
Melbourne, Australia
Street art scene in Melbourne is huge. All the art that people see one day may change very quickly and be covered with another masterpiece the very next day. Frequent walks around the are CBD recommended.
Photo contributed by Aga Kozmic of A Matter of Taste. See more at Melbourne CBD Street Art Walk.
Melbourne is home to a vibrant street art culture. Hidden laneways such as Hosier, Rutledge and Union Lane showcase the talents of these incredible artists. Photo contributed by Kerri McConnel of Beer and Croissants.
Cairns, Australia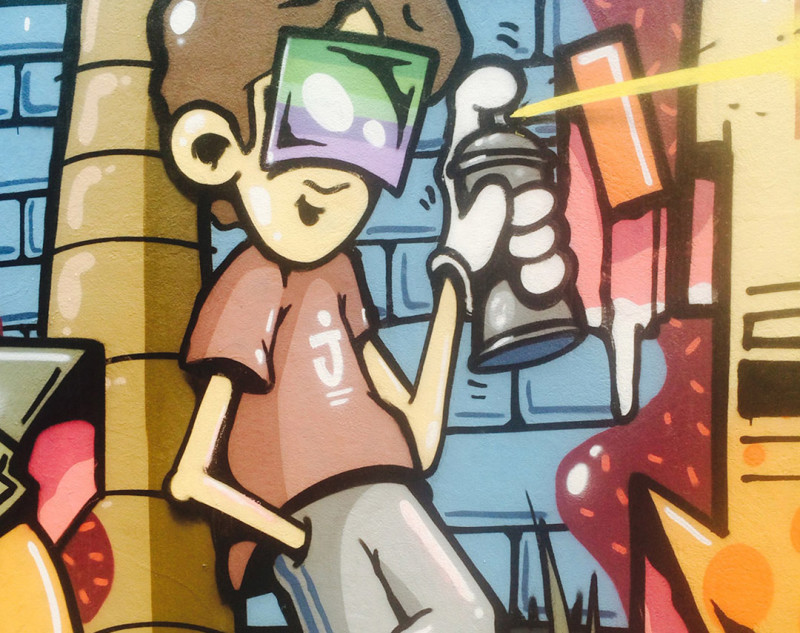 A fun example of Australia street art. Photo contributed by Paula McInerney of Contented Traveller. See more at: Explore the City of Cairns Itself.
Sydney, Australia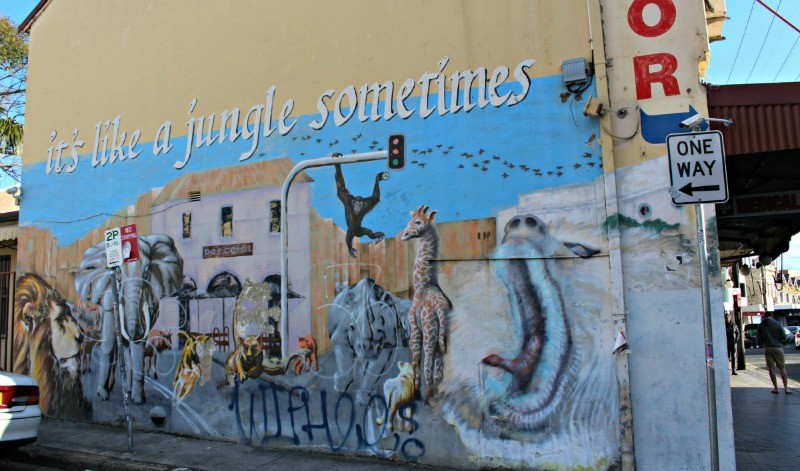 This work by Colin Bebe has been around for quite a few years. It depicts the large intersection at King Street and Enmore Road. Photo contributed by Paula Morgan of Sydney Expert. See more at Inner West Self-Guided Street Art Walk
Auckland, New Zealand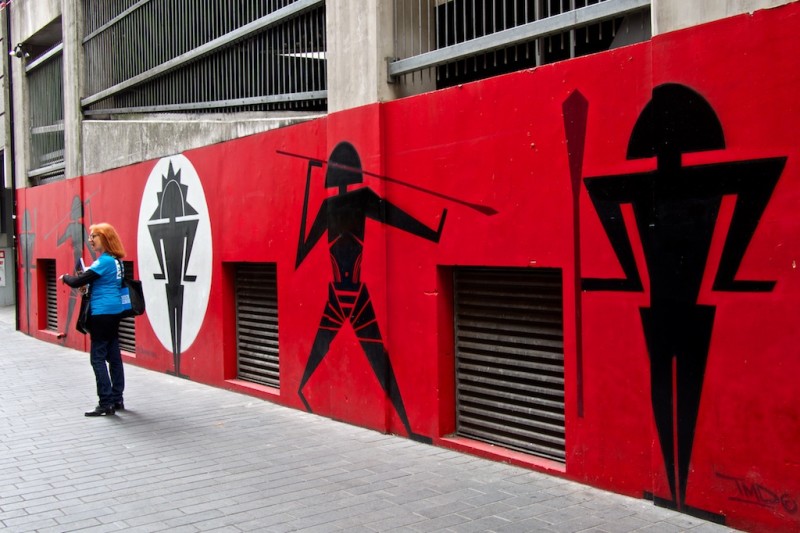 This Tongan-influenced piece by Benjamin Work is entitled: Tu'i 'o e ngaahi Tu'i. I took this during a street art tour in the city. See more at A Virtual Tour of Central Auckland Street Art.
Perth, Australia
This Fremantle Power Station shot is taken in the abandoned and ruined Fremantle Power Station. There is a new working station right next to it, but the old one seems to be a place for young and old street artists alike to go in and practice their skills. Although the new station is under guard, they seem to turn a blind eye to us entering through the broken fence and climbing through an unbarred window into the abandoned aerosol atmosphere of a very characterful old building. This staircase is a famous picture of this building. Photo contributed by Mike Roberson of A Wandering Fifer.
Canberra, Australia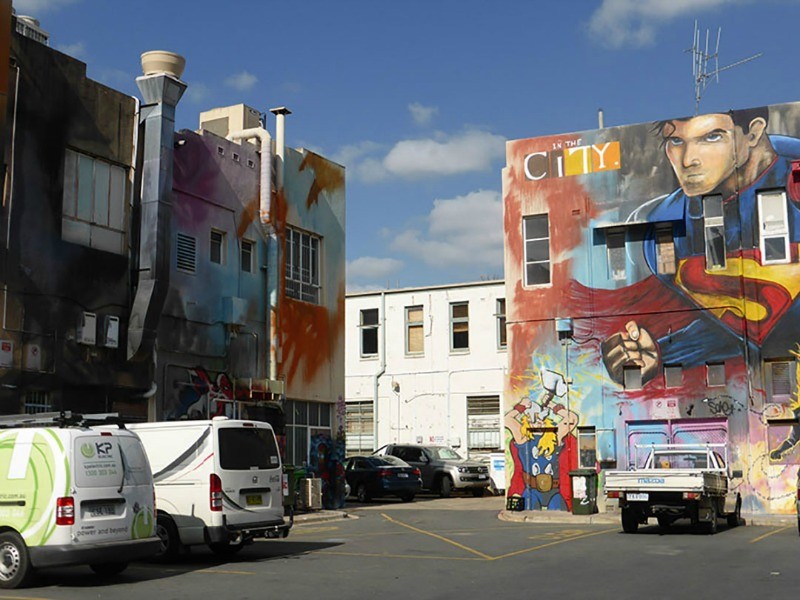 One of many superhero street art examples on Tocumwal Lane in Canberra. Photo contributed by Paula McInerney of Contented Traveller. See more at Superhero's at Tocumwal Lane, Canberra.
Brisbane, Australia
Taken just off of Boundary Street this is a colourful and very beautiful piece of inspirational art. You can be anything you want. Photo contributed by Mike Roberson of A Wandering Fifer
Auckland, New Zealand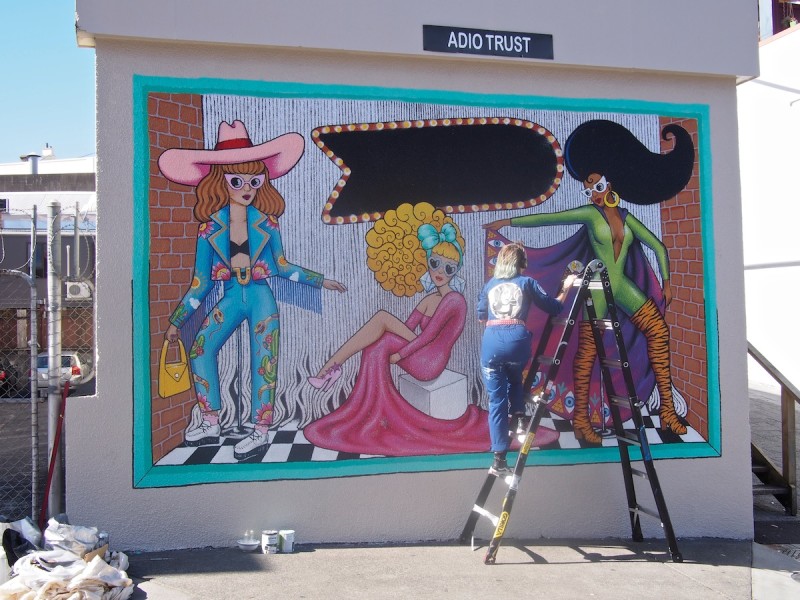 It was a nice treat to see an in-progress work by Artist Xoe Hall. This one is just off of Karangahape Road. I took this shot during a street art festival. See more at K Road Urban Art in Progress
Thinking about becoming a street artist?
Often larger than life, creating street art takes a certain set of skills. If you're thinking about becoming a street artist, this "cookbook" might be useful: Street Art Cookbook: Street Art Cookbook: A Guide to Techniques and Materials.
Save on your trip with these resources
These are our go-to companies when we travel. We believe this list to be the best in each category. You can't go wrong using them on your trip too.
Flights: we use Expedia for the best and cheapest flight options.
Accommodations: we use Booking.com (hotels), VRBO (self-contained), or Hostelworld (budget).
Cars (gas or electric): we use RentalCars to search for deals and dealer ratings.
Campervans or Motorhomes: we use Campstar where Albom Adventures readers get a 3% discount.
Motorcycles: we have heard good things about BikesBooking.
Private guides: we love the private guides at Tours by Locals.
Travel Insurance: while not required, we always opt for travel insurance and start at InsureMyTrip to compare coverage plans.
Check out our travel resources page for more companies that we use when you travel.
Are you a fan of New Zealand and Australia street art? Do you have a favourite artwork or artist?
If you enjoyed this page, please share it on social media including Pinterest: