The street art of Asia is playful, creative, and fun. This is the fifth and final in the collaborative series of Street Art Around the World. The first shot is my own; the others were taken by top travel bloggers.
I found the street art of Asia to be the most unique of the collections. Have a look and see if you agree.
Street Art of Asia: Southeast Asia
Malaysia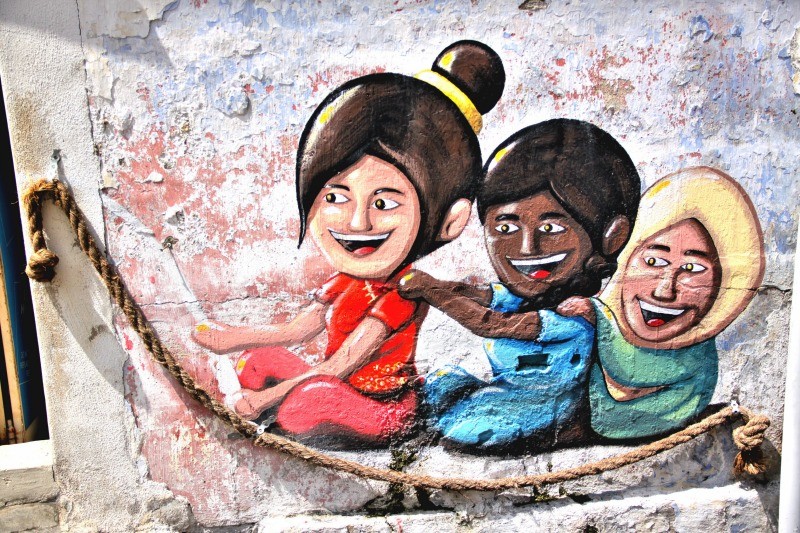 We found this amazing street art in Seremban, a small town in Malaysia that is forgotten by the tourists. We love it! It shows the cultural diversity of this country. Malay Muslim girl, Hindu boy and Chinese immigrants, sitting together on the magic carpet and having fun. One painting show more than thousand words. Love, tolerance and acceptance are the clues to happiness not only in Malaysia but in any other country in the world. Photo contributed by Karolina of Karolina and Patryk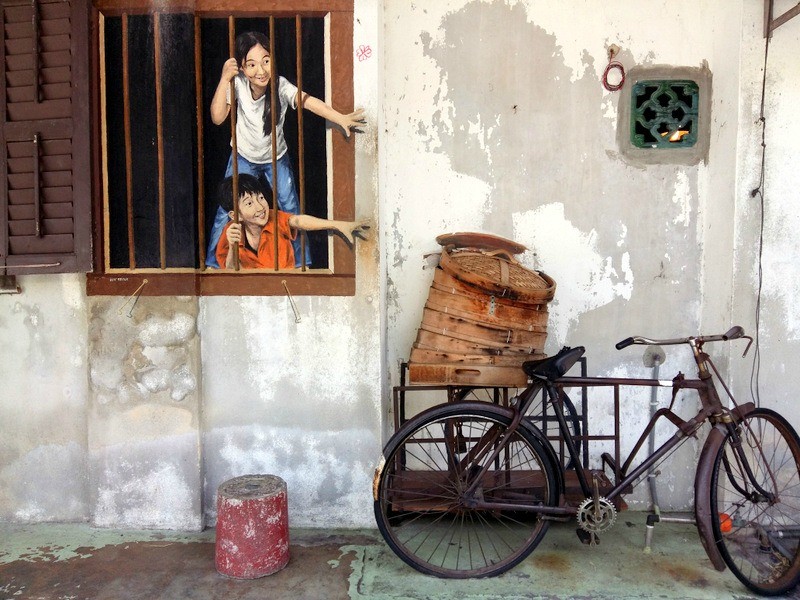 The famous 'I Want Pau' kids of George Town are probably gracing many a family album and Instagram account as they are as iconic as they come when it comes to Penang's street art. But this arty gem has a bit of family history. In fact, these two cheeky kids grace the outer wall of the Ming Xiang Tai Pastry Shop on Armenian Street. The children are the son and daughter of the pastry shop's owner and the mural was painted by family friend WK Setor, who named the painting 'Childhood'. The mural was completed on Chinese New Year, 2014 and is more commonly referred to as the 'I Want Pau' Mural. Photo contributed by Vanessa Workman of The Island Drum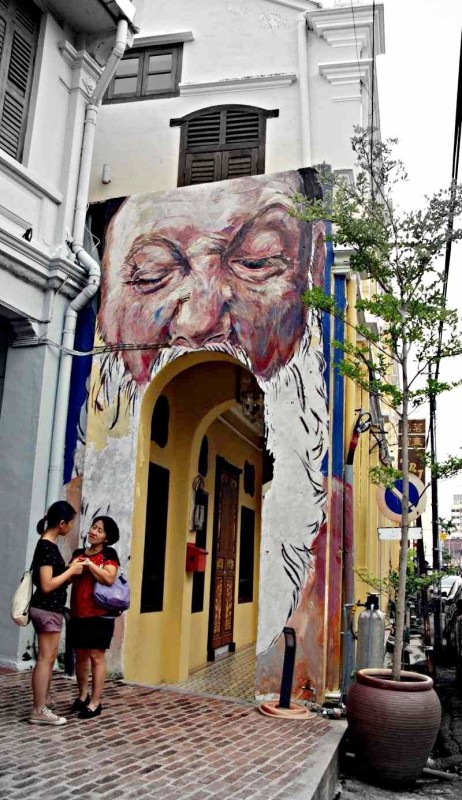 Mural "Big mouth" or "The bearded face" was painted by British artist Gabriel Pitcher in conjunction with the "Different Strokes" street art festival in Penang. You can find it in Muntri Street (beside Ryokan Muntri Boutique hostel), George Town, Penang island, Malaysia. Photo contributed by Ria of Life in Big Tent. See more at: Disappearing and resurgent street art in Penang
Singapore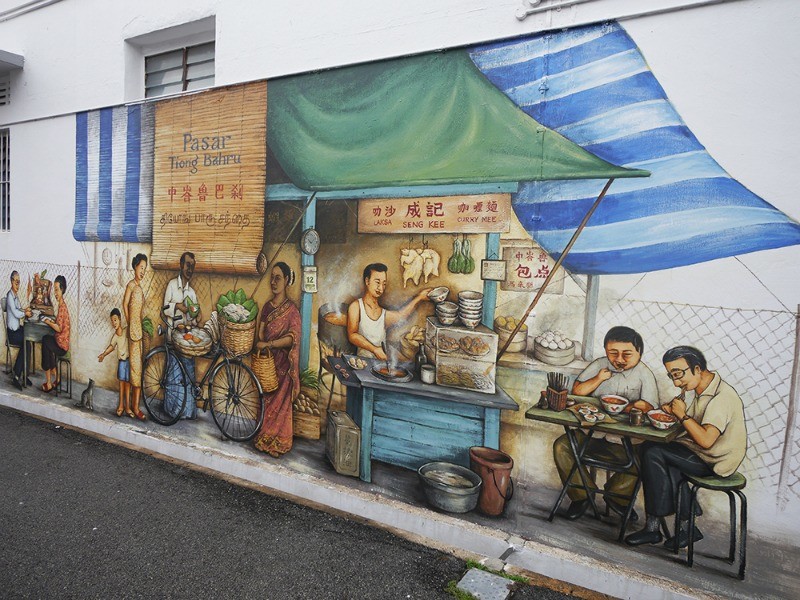 Tiong Bahru in SIngapore. Photo contributed by Mar Pages of Once in a Lifetime Journey
Cambodia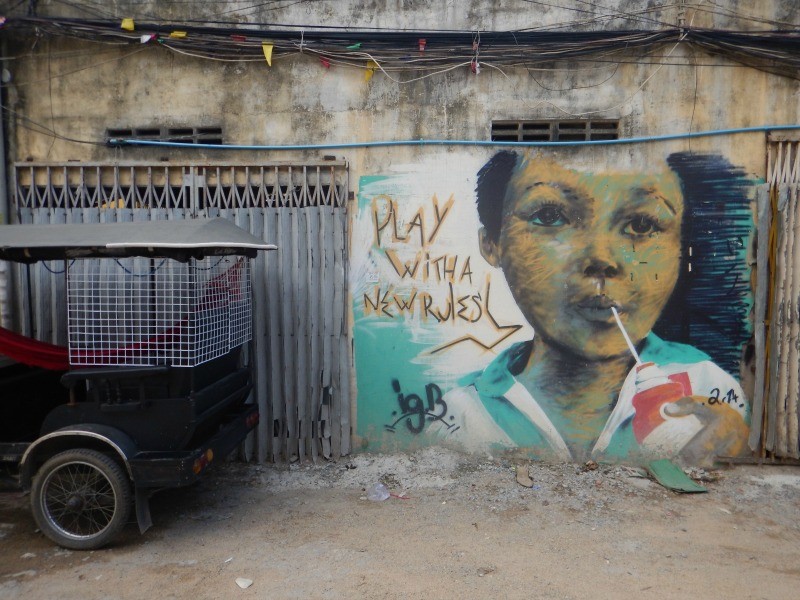 Boeung Kak, the former lakeside area in Phnom Penh, was once a hub of activity for locals and travellers. The government sold off the land in 2007, and tragically the lake was filled in, destroying the natural beauty of the area. Hundreds of local families were displaced and thousands of people, who depended on income from fishing in the lake and who owned businesses in the area, were out of work. In the past few years, Boeung Kak has transformed into a thriving art scene, with local artists, expats and visitors looking to beautify the neighbourhoods and create opportunities and outlets for youth and the arts in the city. It is well worth visiting the area to see the unique, constantly changing street art, and to glimpse a side of Phnom Penh few travellers experience. Photo contributed by Jen Joslin of Two Can Travel
Thailand
There is a deluge of street art scattered throughout Chiang Mai, Thailand. I am a huge fan of street art and have been tracking it down all over the globe. Photo contributed by Matthew of Travelationship
India
The Hindu god Ganesh. Photo contributed by Shyr Gelber, a traveller and co-founder of Forty Thieves, the fantastic nut butter company we sampled at the Food Show.
Another photo contributed by Shyr Gelber.
Street Art of Asia: East Asia
Taiwan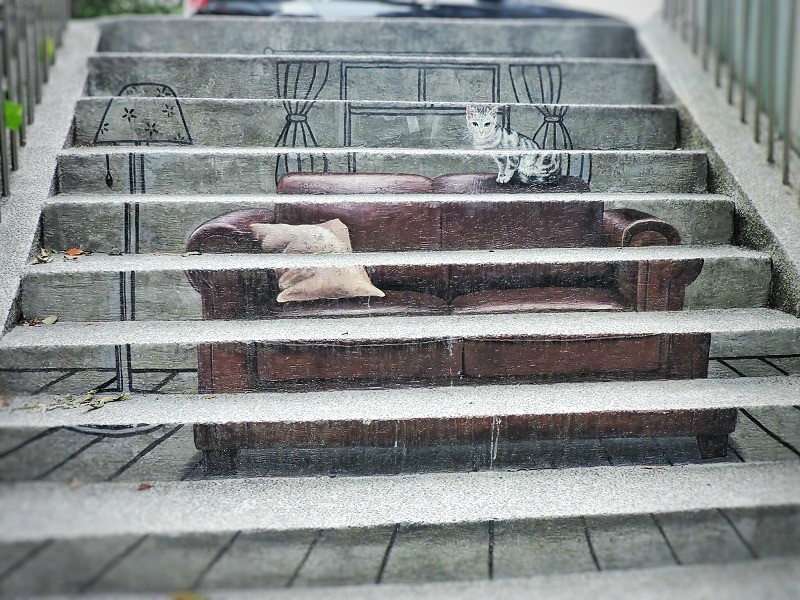 Street art in Taipei, Taiwan is taken to a new level. While often subtle and unobtrusive, it can be seen in many forms, on many surfaces, throughout the city. From walls to electrical boxes, even on steps, the city truly is a canvas on which artists may ply their trade. Photos contributed by Carolann & Macrae of One Modern Couple.
South Korea
Seoul is such a great city for contemporary art. The Bukchon neighbourhood, located just beside the traditional Hanok Village is full of little galleries, creative spaces and street art. This huge mural was particularly impressive. The colours are gorgeous, and the girl's gaze is fierce yet soft. Photo contributed by Catherine Benoit of The Go Fever.
Street Art of Asia: Middle East
United Arab Emirates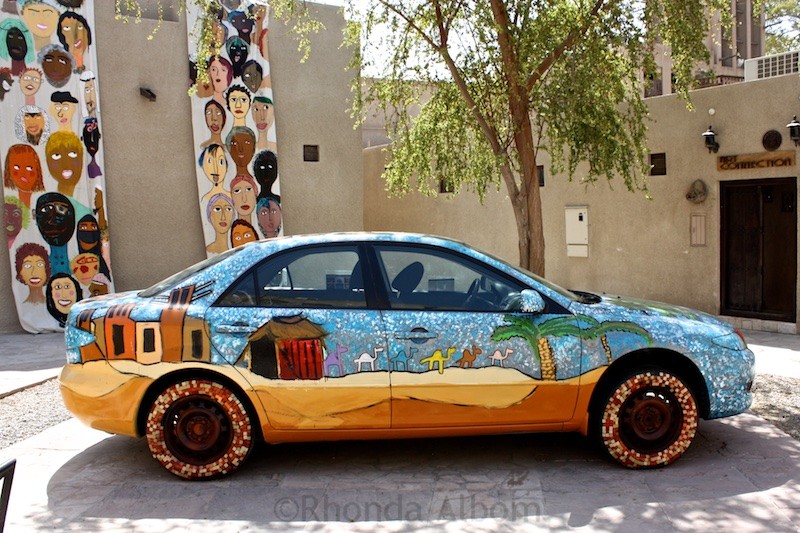 This car made an unusual canvas for street art in historical Bastakiya in Dubai. I took this shot a few years ago and wonder if this car is still there. See more at Bastakiya and the Old Souqs in Dubai.
Thinking about becoming a street artist?
Often larger than life, creating street art takes a certain set of skills. If you're thinking about becoming a street artist, this "cookbook" might be useful: Street Art Cookbook: Street Art Cookbook: A Guide to Techniques and Materials.
Save on your trip with these resources
These are our go-to companies when we travel. We believe this list to be the best in each category. You can't go wrong using them on your trip too.
Check out our travel resources page for more companies that we use when you travel.
Save for later
If you enjoyed this article, please share it on social media and save it for later on Pinterest.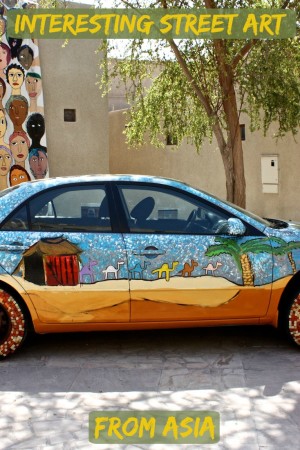 Were you surprised by these examples of the street art of Asia?