K-Road is a mix of alternative and traditional. Its real name, Karangahape Road, is rarely used. Even first-time visitors to Auckland, New Zealand, often know of K-Road's flamboyant reputation. Cafes and shopping dominate it by day, while nighttime is filled with lively fun.
If you look on a map, you will find K-Road in Auckland's Central Business and financial district, but it is anything but your typical city centre.
Shopping covers the gambit from high-end to second-hand. It's an ideal neighbourhood for boutique gifts, clothing, and accessories. And you won't go hungry while you are here. Enjoy culinary delights ranging from fine dining to takeaway, with a number of vegetarian and vegan restaurants in the mix.
Normally, it's nighttime when K-Road really comes to life. But recently, we attended a street art festival during the daylight hours.
On a weekend in early April 2015, K-Road hosted All Fresco, a public art festival in which 10 artists were each allocated a wall or other giant canvas to produce their own style of urban art.
Let us tempt you with a bit of Auckland
K-Road urban artwork weekend
Seeing so many well-known street artists in action and the huge variety in the manner in which they paint were the real highlights for me of the urban artwork weekend. Now, whenever I walk through the neighbourhood, it's the artwork itself that makes me smile. That, and the memory of this day's photoshoot.
I thought about updating these photos with the completed works, but I love the idea of having the artist and the in-progress work. A walk down K-road and some of the side streets, and you can find them all.
Xoe Hall (artist)
We watched Xoe Hall paint from the ladder for a while, then she took a step back to have a look at her artwork in progress. This one is on a side street off of K-Road.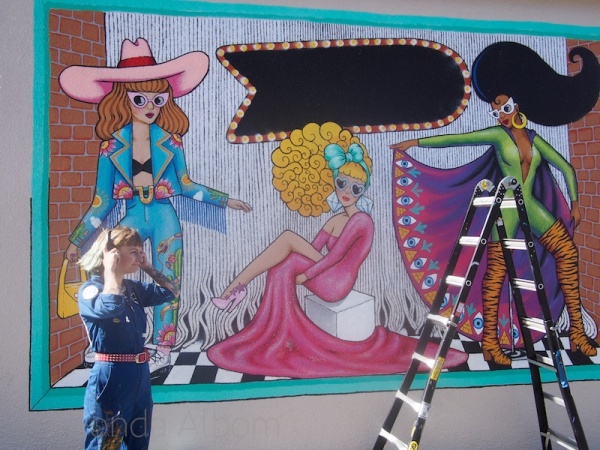 Tanija Jade (artist)
Although most of the artists had walls to paint, Tanija Jade had a smaller space. Here she paints directly onto an electrical box on K Road.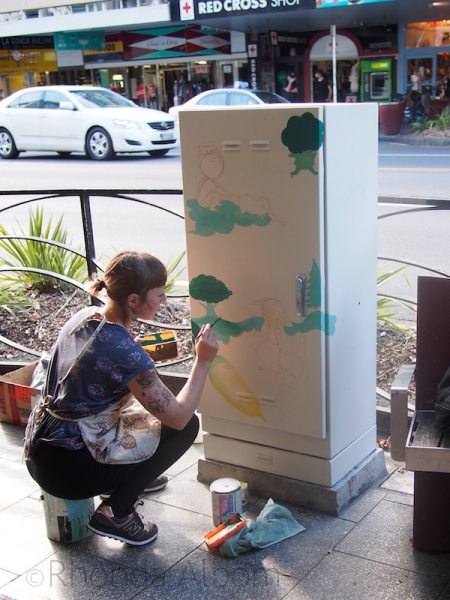 Askew One (artist)
Artist Askew One stands with friends in front of his completed wall. This is the only finished work we saw, as we were there on Saturday, and artists had one more day to complete their masterpieces. This one is on Mercury Lane, facing the motorway.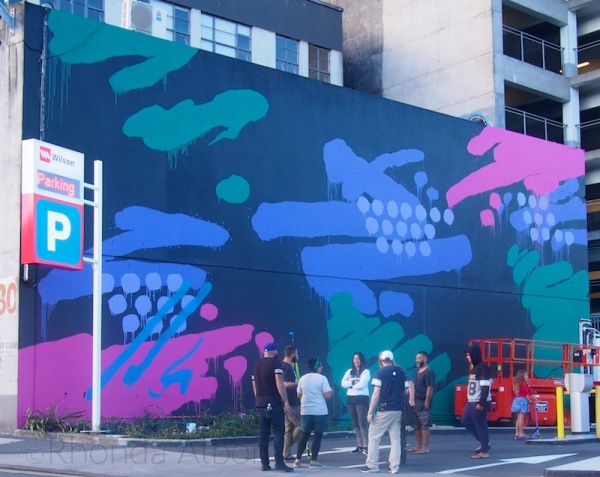 Jon Drypnz (artist)
Artist Jon Drypnz is on an electric scissors lift painting this huge work which can be seen from the motorway.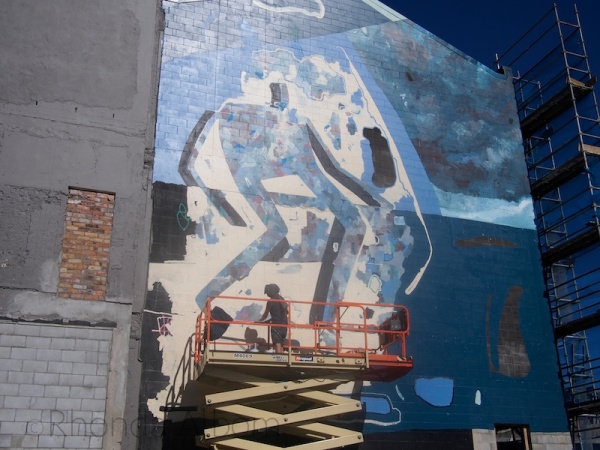 Cinzah and Elliot Francis Stewart (artists who painted the same wall)
We watched artist Cinzah creating with spray paint on the Ponsonby wall at the corner with Karangahape Road (K-Road). At the other end of the wall is an existing work by Elliot Francis Stewart.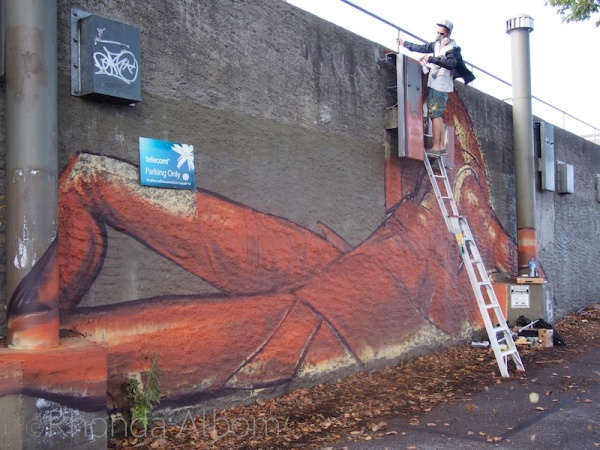 Owen Dippie (artist)
Another huge artwork requiring a lift to complete, here Owen Dippie puts on the final touches on this masterpiece seen today from the motorway.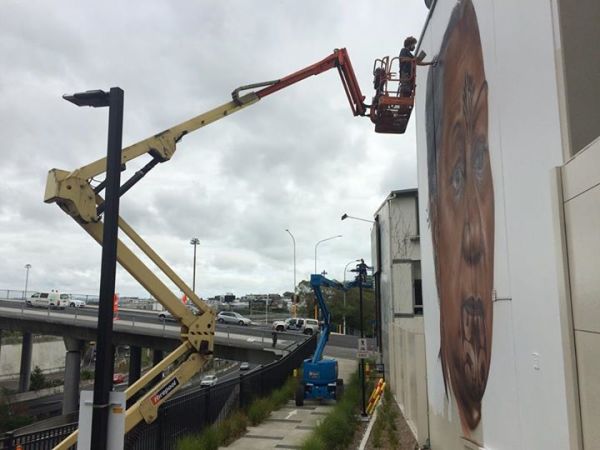 These artworks are just a sample of the diverse street art found in both New Zealand and Australia.
K-Road in more than just art
An eclectic mix of alternative lifestyles, k-road is full of life and has an energy all its own. Home to locals and frequented by visitors, K-Road is a gathering place filled with artists, students, writers, musicians and others seeking an alternative lifestyle.
Resisting gentrification, it is the place to find anything from modern fashion to second-hand. Or if it's vintage or retro you are looking for, K-road is also your place.
Hungry? K-road features plenty of vegan and vegetarian cafes and restaurants (plus plenty of gluten-free options). And the range of flavours highlights the multicultural flair of the neighbourhood. We have enjoyed Mexican, Middle Eastern, Asian, Indian, Italian, and even New Zealand cuisines.
Day and night have a different feel to them. After dark, K-road finds some of the most outrageous nightlife in Auckland, especially if you hang out here on Halloween. Loaded with bars, nightclubs, strip clubs, and even sex toy shops.
The area is well known for gay bars and even has a really fun drag queen cabaret-style restaurant.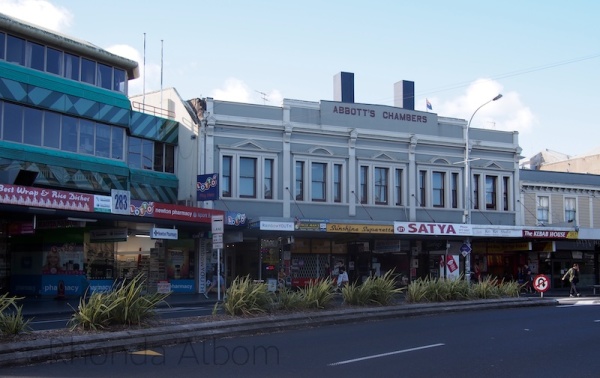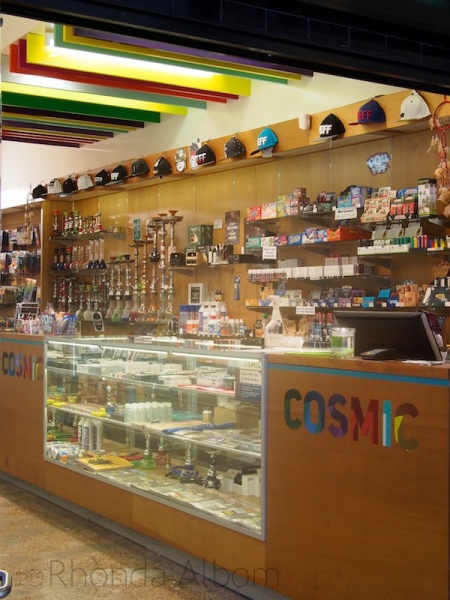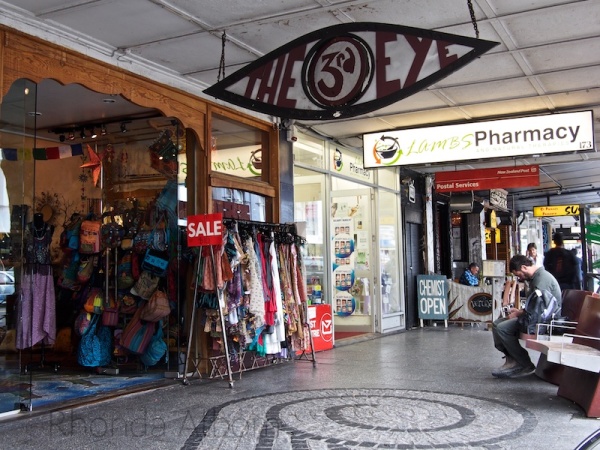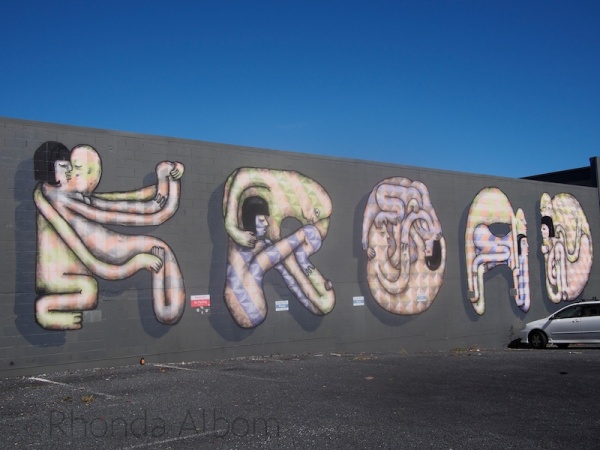 Where is K Road?
Save on your NZ trip with these resources
These are our go-to companies when we travel. We believe this list to be the best in each category. You can't go wrong using them on your trip too.
Flights: we use Expedia for the best and cheapest flight options.
Accommodations: we use Booking.com (hotels), Bookabach (self-contained in NZ) or Hostelworld (budget).
Cars (gas or electric): we use RentalCars to search for deals and dealer ratings.
Motorcycles: we have heard good things about BikesBooking.
Campervans or Motorhomes: we use Campstar where Albom Adventures readers get a 3% discount.
Activity discounts: we check Bookme.com for discounts of up to 70% on activities.
Private guides: we love the private guides at Tours by Locals.
Travel Insurance: while not required, we always opt for travel insurance and start at InsureMyTrip to compare coverage plans.
Check out our travel resources page for more companies that we use when you travel.
Have you been to K Road?