A flashback to a late night Halloween, Auckland,New Zealand, 2015
A few years have passed now, and the world seems to have changed quite a bit, but back in 2015, we found ourselves enjoying a late-night Halloween stroll through the Auckland CBD.
Friendly and fun, the people we met really got into the spirit of the holiday.
To be honest, the entire evening was a real eye-opener for me. In the 12 years that I had lived in Auckland at the time, I have been incorrectly referring to Halloween as a "children's" holiday in New Zealand.
That particular late-night Halloween brought out the creativity and ingenuity that New Zealand is known for.
Before I go on, let the city inspire you on its own.
Halloween in Auckland
Most often ignored, Halloween is a bit of a fringe holiday in New Zealand. There are a few daytime events and some family-friendly nighttime events at places like MOTAT where we have enjoyed Halloween on multiple years. Their cleverly orchestrated evenings have well-thought-out names like Olde Hallow's Eve or A Twisted Victorian Tale.
But a late night on K-Road and on Queen Street is for the adults to play.
A musical LARP
There was everything young people could want in a public event. We even knew of a musical LARP, in which my daughter was one of the un-dead children.
Late night Halloween on K-Road
We started our walk on colourful K-Road, just out of curiosity. It was pushing 10 pm, yet the streets were empty. Not what I expected, but we thought it might be due to the early morning Rugby World Cup Finals (and now another celebration as New Zealand remained the world champions).
On our way back to Queen Street we came upon a few of the fascinating characters out promoting their upcoming drag show entitled "Disco Blood Bath: Dungeons and Drag Queens" at the Whammy Bar. I did get a few pre-event photos. (Sorry, the funniest one was a bit too non-PC to share here).
Late night Halloween on Queen Street
Turning off of K-Road, we headed back to the church where the LARP was taking place via Queen Street, and that's when the party mood seemed to pick up.
Even some of the shopkeepers got into the late night Halloween spirit.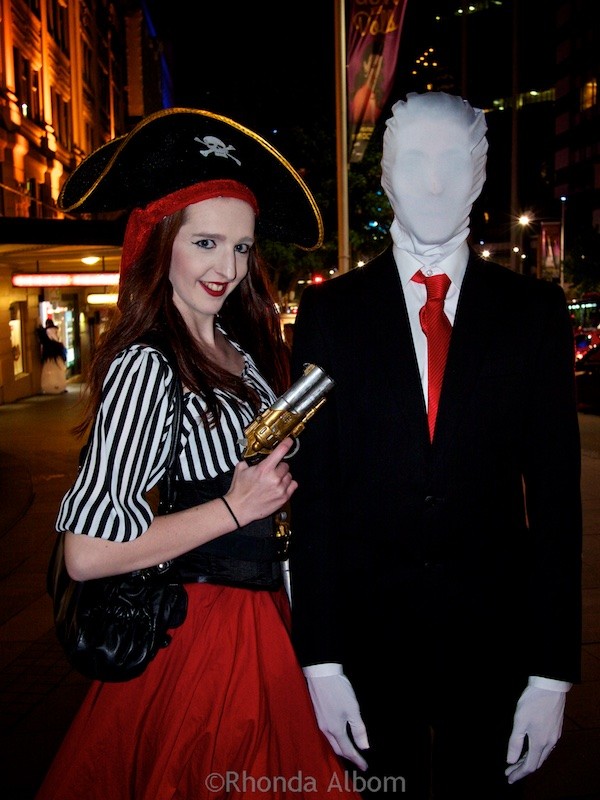 Student hangouts
Next, we headed to Darby Lane, a well-known student hangout featuring several fun bars and clubs. While we knew they were popular, for some reason the massive queues for Bar 101 and Habana Joes caught us by surprise.
The late-night Halloween spirit had come alive here, and my daughter was still in her creepy undead costume. I was just glad I brought my camera.
Despite being young, my daughter managed to scare a few people with her un-dead look and voice, usually raising her bear Bernard, "Don't worry, the teddy bear can't eat you. I sewed his mouth shut."
The other costumes ranged from just a mask to standards like the mummy, or to classic middle earth like Gandalf from Lord of the Rings.
From elaborate to simple, it was all here. One of my favorites was a girl dressed in normal street closes wearing a simple sign reading, "Nudist on Strike."
Police presence
A strong police presence gave an air of safety to the evening, or should we say early morning.
Discover more in New Zealand
Looking for help planning a New Zealand adventure? We invite you to join Explore New Zealand Facebook Group to ask questions or share photos, stories, or anything about New Zealand.
What is late night Halloween like in your town?