Every major city has a street that does it all; in Auckland, this is Queen Street. This main thoroughfare was once a dirty canal leading out to sea. Today, Queen Street Auckland is the heart of the central business district (CBD), a shopper's paradise, and a tourist destination. And, unbeknownst to many, the canal still runs deep underneath the street.
If you know where to look, you will discover more secrets and other evidence of Queen Street's rich history as you walk the three-kilometre up to Karangahape Road. Many of my favourite quirky Auckland fun facts are on Queen Street.
Self-guided walking tour up Queen Street Auckland
Britomart Transportation hub
Queen Street begins at Britomart which is across the street from the Ferry Building (located on Quay Street at the water's edge). Britomart is the city's central transportation hub for both rail and bus. Don't let the current construction phase you; pedestrians can easily pass. Underneath the construction covers, this iconic building was once the city's post office.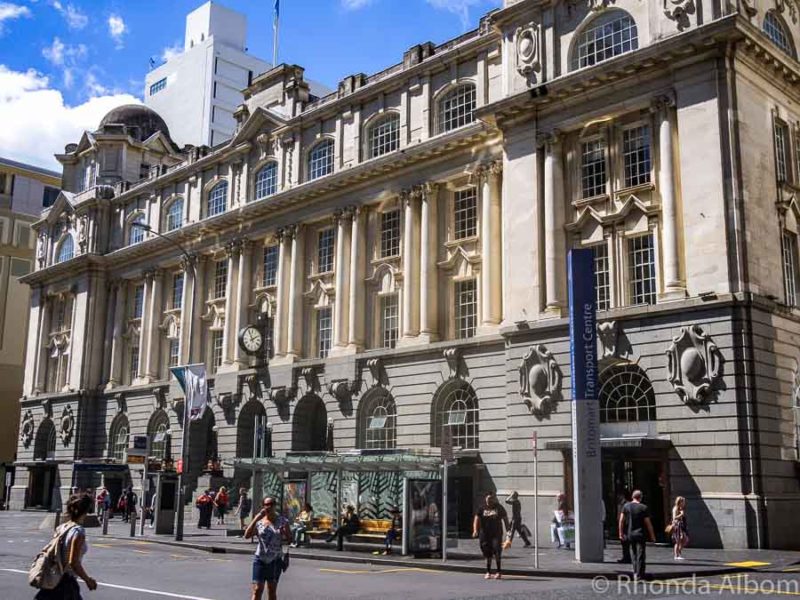 An unfinished canal gate
The Dilworth building stands proudly at the next corner, an unfinished concept. If you look at its curved corner, imagine a mirrored image on the other side of Queen Street. This was the original design, matching buildings forming a gate at the base of the canal.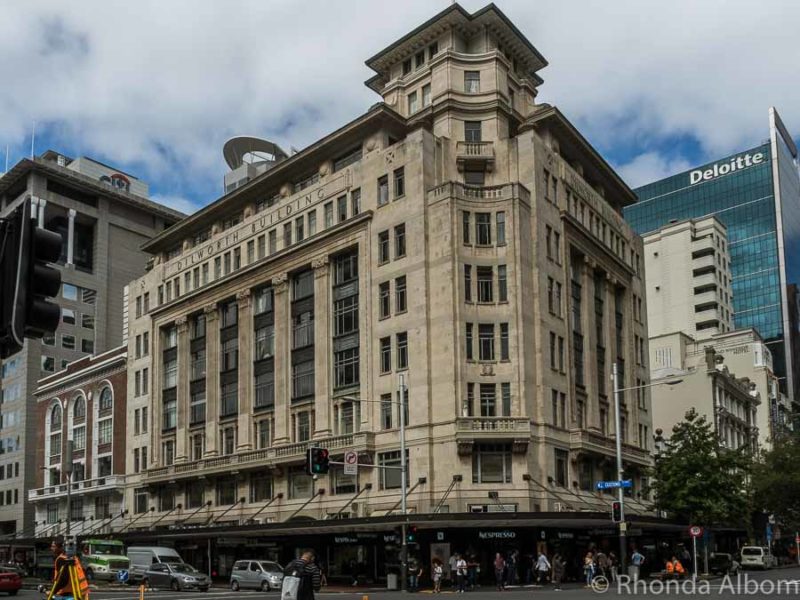 Queen Street: an Auckland shopping and restaurant district
Beginning just after Customs Street, the Queen Street shops cover the full range of value and quality. Ranging from high-end designers like Gucci to souvenir shops, there is something for everyone. Queen Street restaurants offer a similar range of options from a $40 steak to Burger King, and many are amongst our favourite Auckland restaurants.
Foodies, you may want to check out this well-rated Queen Street food tour. This three-hour walking tour features multicultural cuisine, local artisan produce, and information about the city architecture. It's a morning tour leaving your afternoons free.
⇒ Check prices and reviews for the Queens Street Food Tour.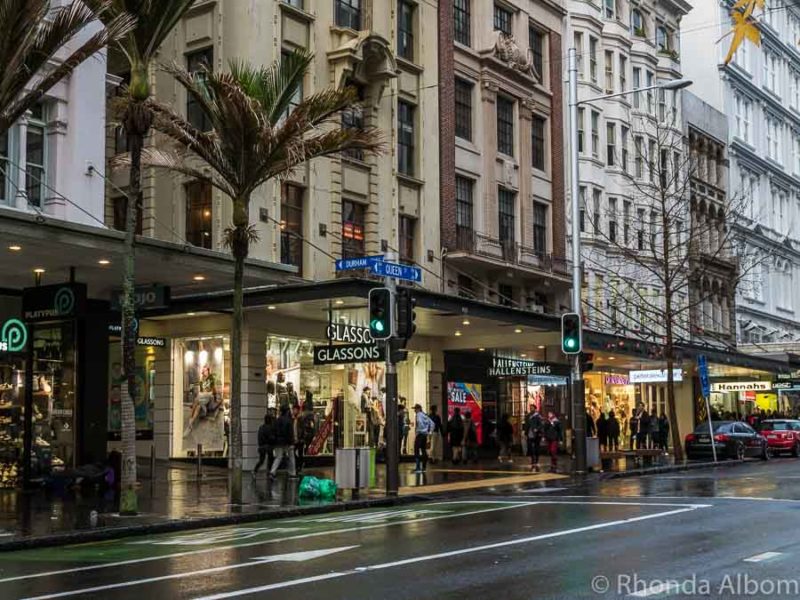 Remnants of the former Royal and Queen's theatres
Another block and just passed the Queen's Arcade is the entrance to Everybody's Bar (44 Queen Street), originally built between 1886 and 1911. Once home to two theatres, it now houses an eatery and is a pass-through to Fort Lane. The sloping cobblestone floor leads towards the former movie screen.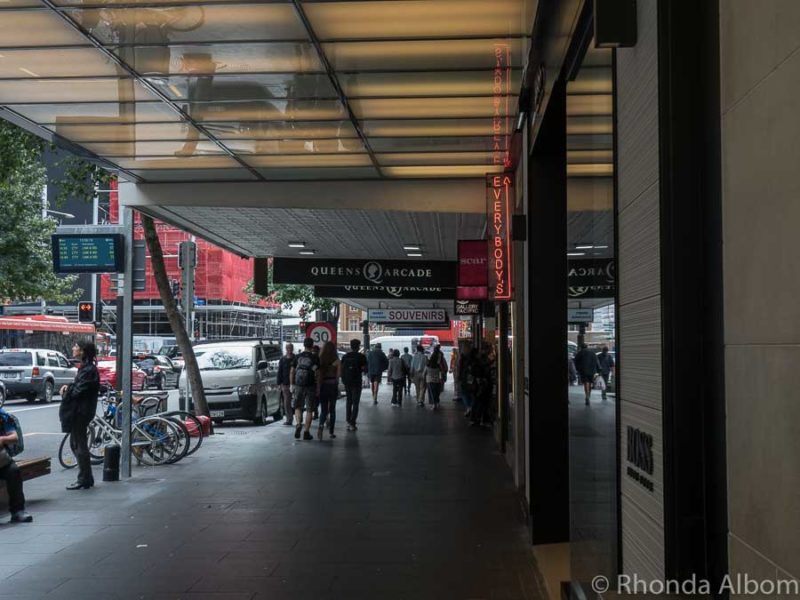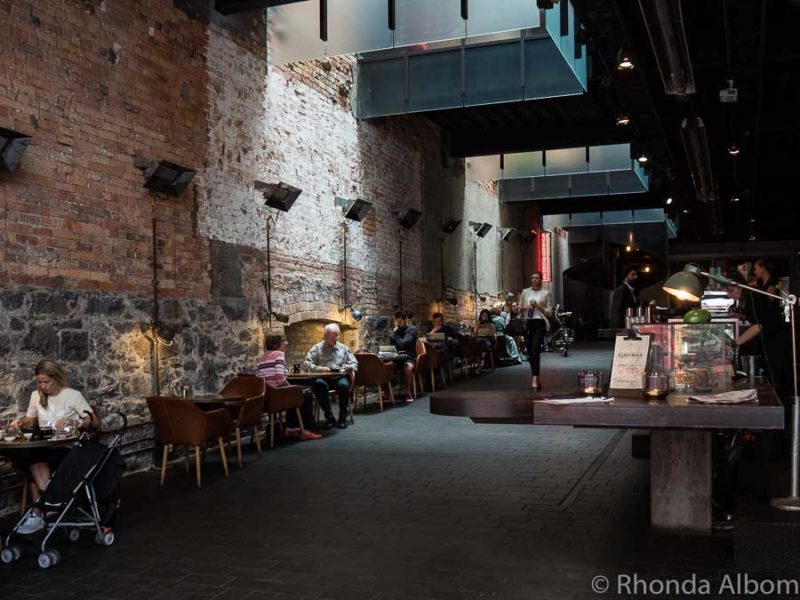 Fort Street: the former coastline
When you reach Fort Street, imagine life a few hundred years ago. You are no longer on landfill and are now standing at would have been a cliff top at the intersection of the dirty canal (now Queen Street) with the ocean. Looking along Fort Street, you would have seen a row of heads impaled on posts along this foreshore. (The original Maori name Te One Panea translates to "beach of the heads in line").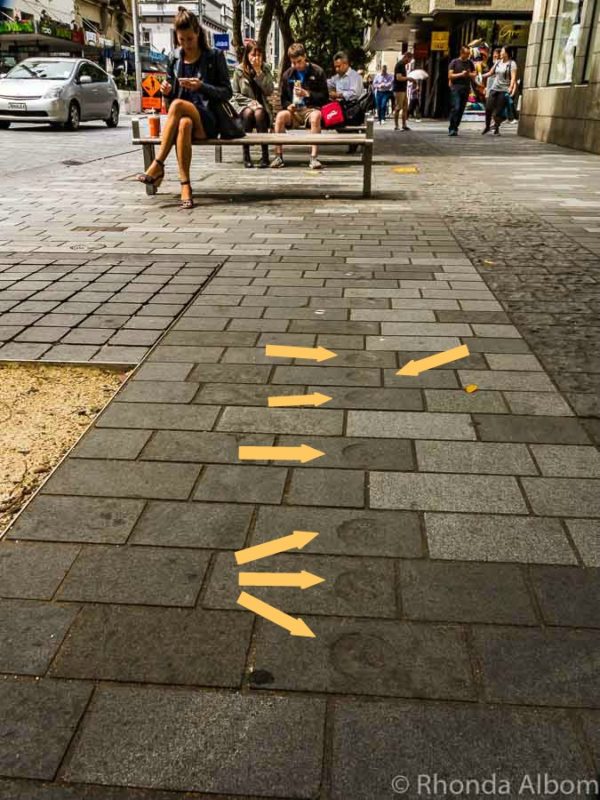 A haunted hotel
Another 100 metres up Queen Street and you are at Vulcan Lane. It earned notoriety from the drunken sailors who spent their on-shore time here. The Queens Ferry Hotel built in 1860, now the Urchin and Amber restaurant on the ground level and a Gin Bar on the first floor, is reputed to be haunted. Stop in for a drink, and ask questions. Some of the longer-term employees have interesting stories to share. The "friendly" ghost only appears occasionally on the third floor.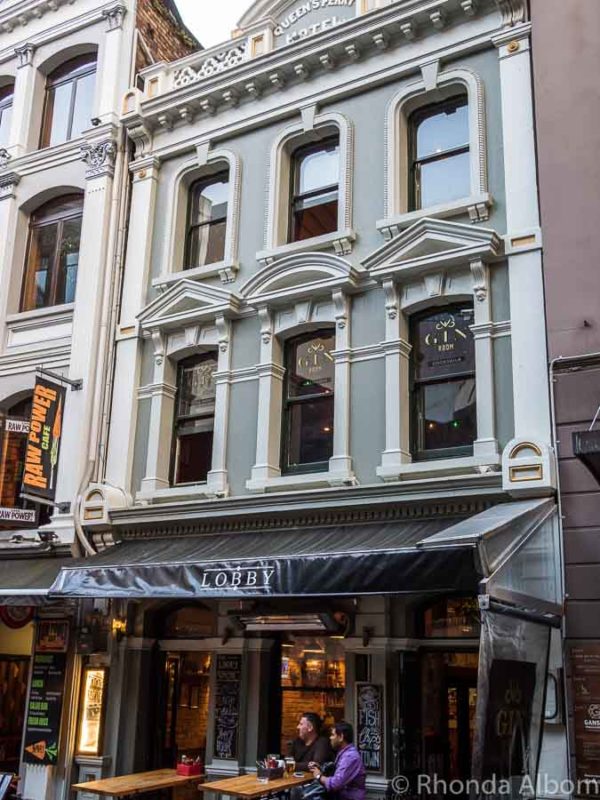 A leaning building
Auckland's leaning building is also on Vulcan Lane. Not famous like the Leaning Tower in Pisa, or as unnerving as the over 600 leaning buildings on the coastline of Santos Brazil, Auckland's Occidental Hotel has a leaning first floor. Attempting to balance the building, engineers added a second and third floor.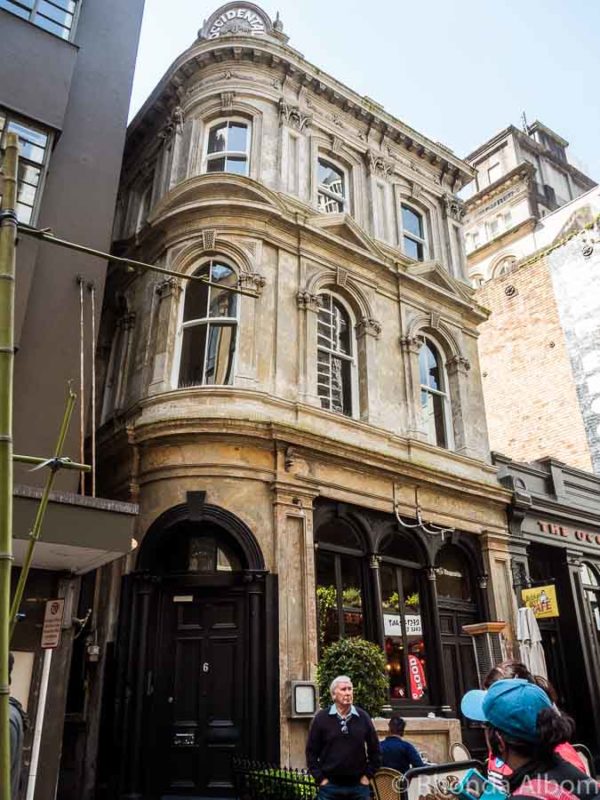 An atmospheric theatre (one of the few left in the world)
At Wellesley Street stands Queen Street Auckland's most intricate and iconic building, the Civic Theatre. It is one of a few dozen remaining "atmospheric theatres" in the world.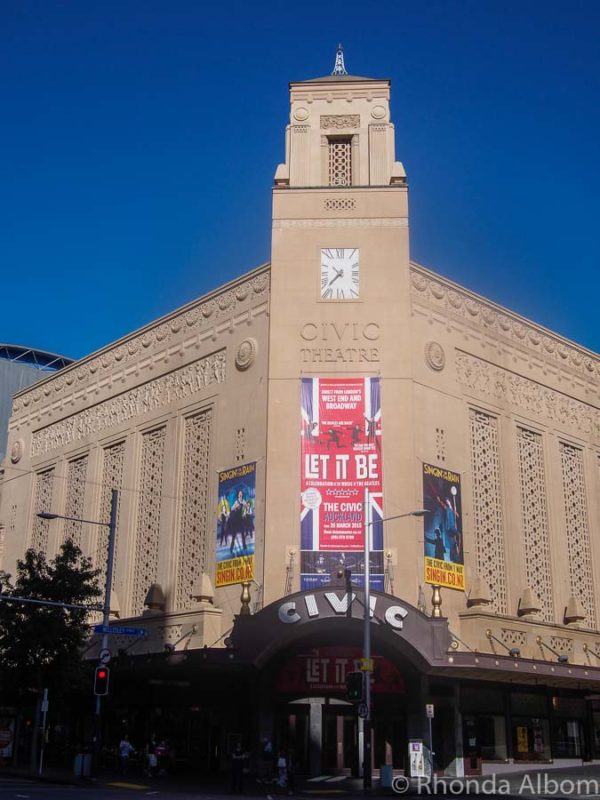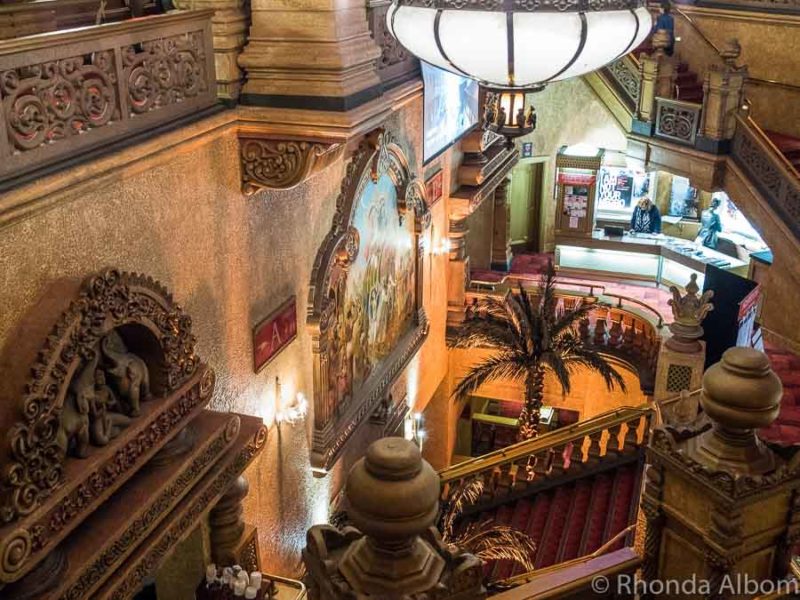 The world's creepiest Christmas ornament
I am not sure that this is an honour Auckland city is proud to claim. Yet in 2011 Cracked.com named the giant Santa on Queen and Victoria Streets as the world's creepiest Christmas ornament. Oddly, two years earlier (2009), a 'Santa makeover' resulted in the static eye and finger we see today. (These were the features generally thought of by locals as his creepiest).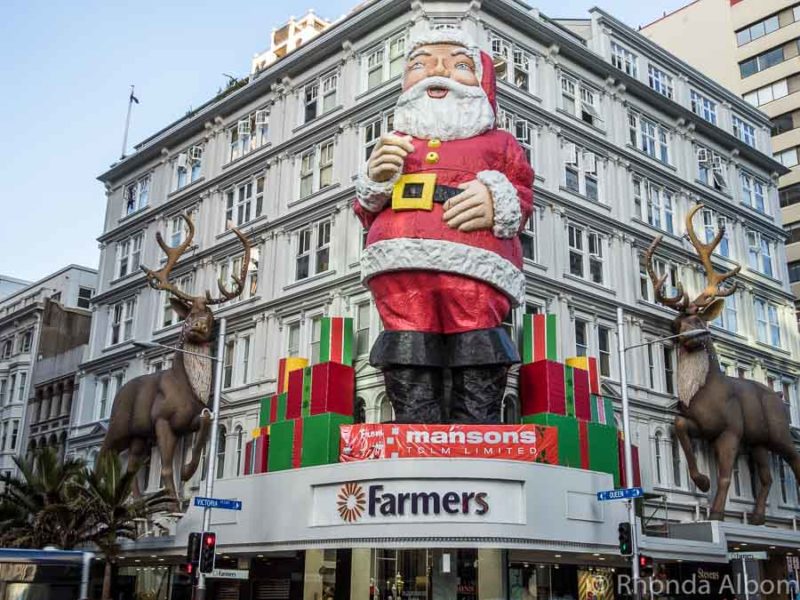 Waharoa in Aotea Square
Walk one more block to Aotea Square and you have reached the Waharoa, meaning "gateway" in Māori. This is the separating point between lower and upper Queen Street. Māori sculptor Selwyn Muru carved the wood and copper Waharoa by with chainsaw and chisel.
The five symbols across the top are Whetu me te Marama (representing heavenly spheres), Tawhiri Matea (God of the Elements), Tane Mahuta (God of the Forest), Tangaroa (God of the Sea), and Tama nui te Ra (God of the Sun). It also contains elements like the nuclear disarmament symbol, reflecting the modern influences on New Zealand art.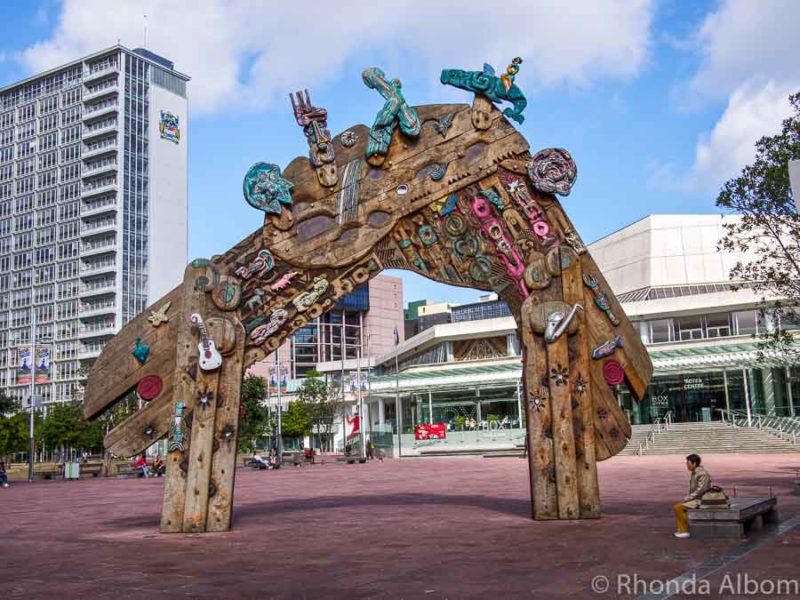 Lord Auckland, the city's founder
At the back of Aotea Square, a statue of Lord Auckland (George Eden, the first Earl of Auckland) stands proudly, overlooking the city that is his namesake. Mount Eden is also named after him.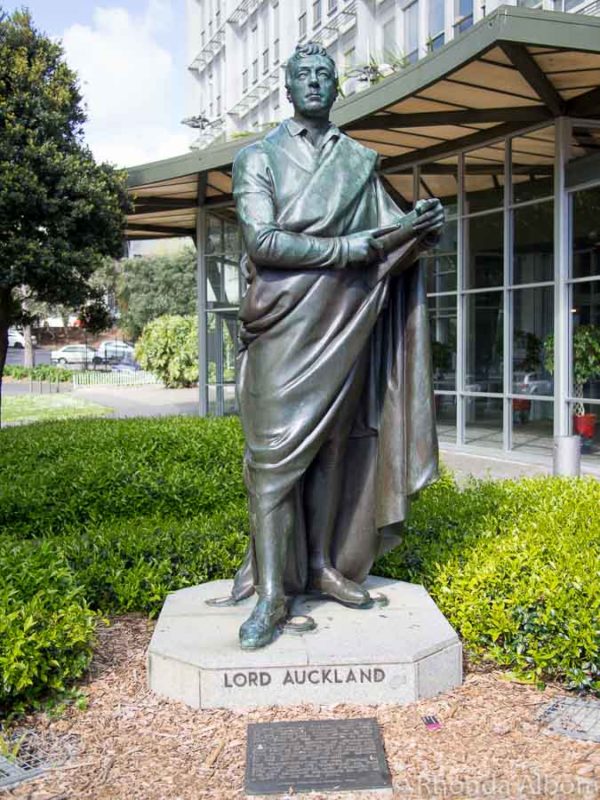 I had no idea there was a Lord Auckland. The plaque reads:
In 1840 Governor Hobson named this city after Lord Auckland from whom he had received command of H.M.S. Rattlesnake when Lord Auckland was first Lord of the Admiralty in 1834. Lord Auckland served as Governor-General of India from 1835 to 1842 and this statue of him stood in Calcutta from 1848 to 1969 when it was presented by the government of West Bangal to the city of Auckland.

The transportation of the statute to Auckland and its erection on this site was arranged and financed by the New Zealand insurance Co. LTD. as a gift to its home city."
Interestingly, there was also a ship also called the Lord Auckland that was used to bring immigrants to New Zealand and then later to bring convicts to Australia.
Town Hall
The Town Hall is just ahead (the building with the clock tower).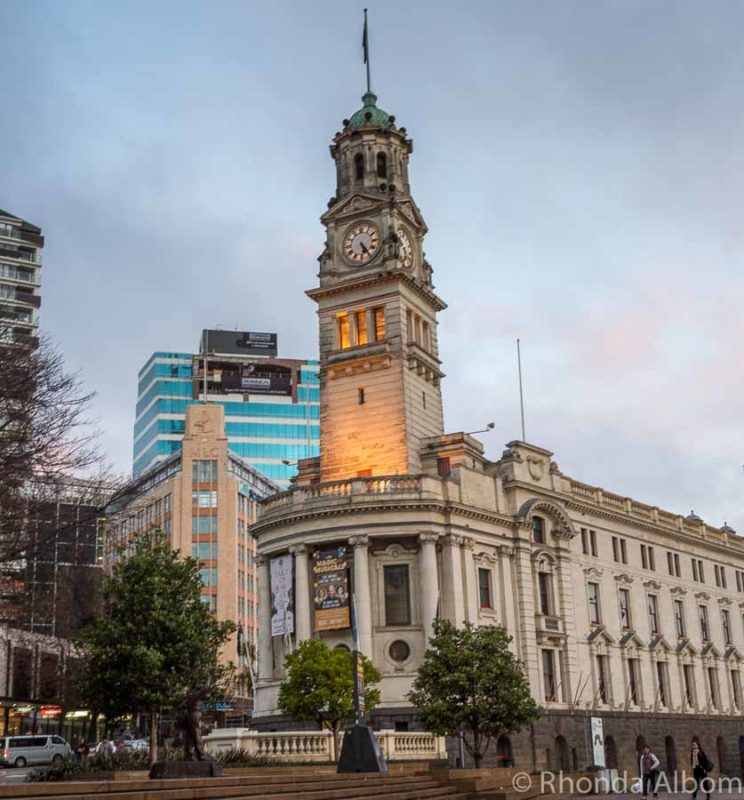 From here the neighbourhood becomes less touristy as it leads up to the alternative and funky Karangahape Road, more commonly referred to as K-Road.
General information on visiting Auckland
Save for later
If you discovered something new about Auckland that you didn't already know, please share this social media including Pinterest:
Want more?
Sign up for our email newsletter and we will send you a free copy of our New Zealand packing light checklist
We invite you to join our New Zealand Facebook group at Explore NZ to ask questions, share photos, and discover tips.
First-time visitors to New Zealand: don't miss these New Zealand travel tips.
Have you been to Auckland's Queen Street? Did anything here surprise you?