Did you know . . . New Zealand may be a small country, but it is fascinating. It's here that you will find the world's smallest penguin, heaviest insect, and even the world's longest place name. That's just the beginning – below, you can find over 30 interesting facts about New Zealand.
Aside from being one of the most beautiful countries in the world, New Zealand is diverse and ever-changing. Where else can you find surf beaches, calm waters, glaciers, geysers, rain forests, plains, mountains, ski fields, and bubbling mud, all in one small country?
There is also a plethora of unique and endangered wildlife, from tuatara to kiwi birds. New Zealand has it all. Or does it? There are plenty of things it doesn't have, like high governmental corruption or snakes. Read on and see if we can surprise you with some of these fun facts about New Zealand, our home and favourite country in the world.
Fun facts about New Zealand
Did you know . . .
Queen Elizabeth II, New Zealand's former Head of State, is the longest-reigning queen ever, ruling from Feb 6, 1952, to September 8, 2022 (70 years, 214 days). As queen of the UK, she was also the queen of 15 countries (including NZ) that were once part of the British Empire. Currently, King Charles is the Head of State.
In 2020 New Zealand tied with Denmark as the least corrupt country in the world.
Wellington is the world's southernmost capital city.
The Royal New Zealand Yacht Squadron is the current holder of the America's Cup, the world's oldest and most prestigious sporting trophy.
Aotearoa is the Māori name for New Zealand, translating to "The Land of the Long White Cloud."
There are no land snakes in New Zealand, not even in our zoos or reptile parks.
Auckland's iconic Sky Tower is the tallest free-standing structure in the Southern Hemisphere at 328 metres, making it just taller than Paris' Eiffel Tower which stands at 324 metres.
No matter where you are in New Zealand, you are not more than 119.44 km (74.22 miles) from the ocean. In fact, the furthest inland point is about 8km northeast from the town of Cromwell on the South Island.
Here's an interesting fact about New Zealand that surprised me, as New Zealand and Australia are separate countries. However, the Australian constitution lists New Zealand as a state of Australia. As a result, if NZ chooses to, it can join the Australian Confederation.
Check out New Zealand
New Zealand trivia and firsts
New Zealand was the first country in the world to give women the vote.
NZ is the first country in the world to see each new day. It is spotted first at Mount Hikurangi in the East Cape, only a few seconds before it breaks the horizon in Gisborne.
Kelly Tarlton's Sea Life Aquarium in Auckland is home to the world's first acrylic tunnels, allowing visitors to pass through while enjoying the sea life around them.
Interesting facts about NZ animals
Kākāpō is the world's largest flightless parrot. Once living throughout the country, they are now critically endangered and found mostly on three protected offshore islands.
Wētāpunga, the giant weta, is the world's heaviest adult insect and is found on Little Barrier Island.
Kea is the world's only alpine parrot. A cheeky bird, they are well known for biting the rubber mouldings on your car.
Hoiho (Yellow-eyed penguin) is considered the world's rarest penguin. They live on the south-east coast of the South Island, Stewart Island, and its outliers.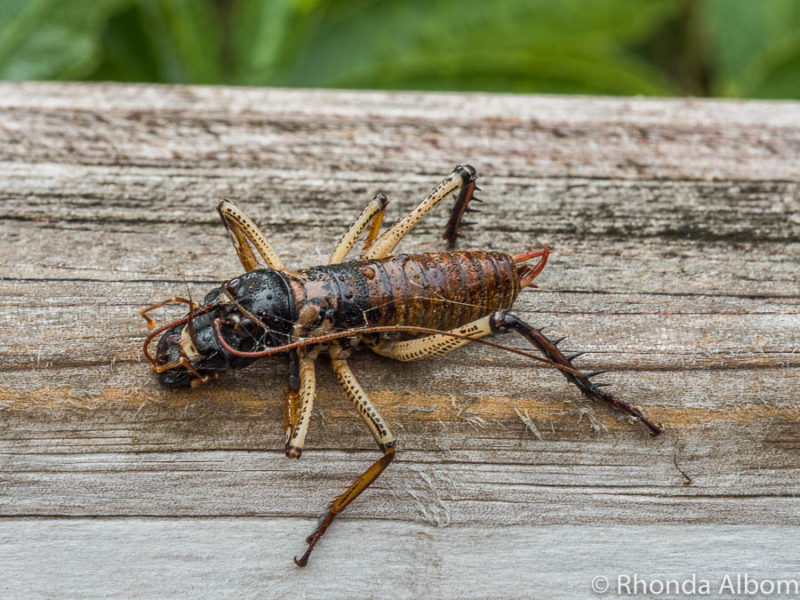 Hector's dolphins are the world's smallest dolphin breed. You can swim with them in Akaroa near Christchurch.
Bats are New Zealand's only native land mammals.
Little Blues (kororā), now officially called Little Penguins, are the world's smallest penguins. Here's some optional locations to see them and other penguins in the wild.
The world's largest mainland gannet colony is in Hawkes Bay at Cape Kidnappers.
Interesting facts about New Zealand destinations
Cathedral Caves in the Catlins is the world's largest sea cave by length. It is 1.54km long. It's only accessible from October to May, and even then, only during the 1 ½ hours before or 1 hour after low tide.
New Zealand is home to the world's longest place name. It's a hill near Porangahau in the Hawkes Bay region. We added about an hour to our drive from Wellington to Napier just to see the sign. You can learn more about it here.
Baldwin Street in Dunedin is the world's steepest residential street. From 2001 to 2017, the annual jaffas race rolled 1000s of chocolate-coated lollies down the street. You can watch a video of the jaffas race from 2014 here.
Waimangu is considered the world's youngest geothermal system. It's a fascinating destination located just south of Rotorua. It's also home to Frying Pan Lake, currently the world's largest hot spring.
Blue Lake in Nelson (South Island) holds the world's clearest water, with visibility down to 80 metres deep.
At Karangahake Gorge, we saw the remains of the Crown Goldmining Company's cyanide treatment plant. In 1889, it was the world's first commercial user of potassium cyanide for extracting gold from the crushed ore.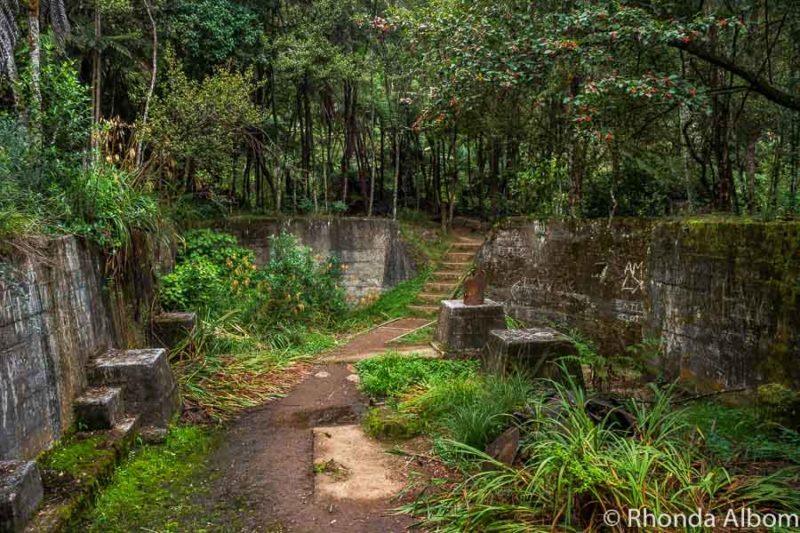 Thought of as an adventure capital, here are more fun facts about New Zealand
The world's first permanent commercial bungy jump site is off the Kawarau Bridge near Queenstown. It was opened in 1988 by A J Hackett, a name well known today for extreme sport in NZ. However, the Nevis Bungy, near Queenstown, is the highest bungee jump in New Zealand at 134m.
Wanaka is home to the world's highest waterfall cable climb up 350 metres of vertical rungs, crossing multiple spectacular pools and heart-pumping suspension bridges. Finally, the climb concludes at the base of a stunning 60m waterfall.
Skyline Luge in Rotorua is the world's first gravity-fueled three-wheeled luge ride.
More cool things about New Zealand
Would you believe New Zealand is home to the world's coolest McDonald's? Okay, I will admit, this isn't an official record, but tell me if you know of a more unique McDonald's than this one outside of Taupo. – Unfortunately, it wasn't there the last time we drove by.
Another personal opinion. New Zealand is home to the world's best and most creative ice creams. Taking it to a work of art, Giapo is a must-visit destination in Auckland. And if fabulous isn't enough to get you there, Giapo is 100% gluten-free.
Auckland's Holy Trinity Cathedral is the world's only example of a Pacific-gothic revival church. Plus, the acoustics are incredible. If you can visit during a performance or even a choral practice, I recommend it.
Think about this one for a while. . . The flightless kiwi bird is the logo for New Zealand's airforce.
Image: Aotearoa – RNZAF B-757.
Save on your NZ trip with these resources
These are our go-to companies when we travel. We believe this list to be the best in each category. You can't go wrong using them on your trip too.
Flights: we use Expedia for the best and cheapest flight options.
Accommodations: we use Booking.com (hotels), Bookabach (self-contained in NZ) or Hostelworld (budget).
Cars (gas or electric): we use RentalCars to search for deals and dealer ratings.
Motorcycles: we have heard good things about BikesBooking.
Campervans or Motorhomes: we use Campstar where Albom Adventures readers get a 3% discount.
Activity discounts: we check Bookme.com for discounts of up to 70% on activities.
Private guides: we love the private guides at Tours by Locals.
Travel Insurance: while not required, we always opt for travel insurance and start at InsureMyTrip to compare coverage plans.
Check out our travel resources page for more companies that we use when you travel.
Save for later
If you enjoyed this article, please share it on social media and save it for later on Pinterest.
How many of these interesting facts about New Zealand are new to you?