While many consider Stewart Island to be New Zealand's third island, others barely know that it exists. Located only 30 km off of the southern coast of the mainland (South Island), it's another piece of paradise and New Zealand's ultimate ecotourism destination.
Here, you will find impressive hiking and abundant wildlife ranging from sea lions to kiwi birds.
It takes a bit of planning to get to Stewart Island, but according to my friend and neighbour, Pam Clarke, it's well worth the effort. So much so, in fact, Pam has chosen to share her story with us.
Pam's 3-day Stewart Island itinerary hit most of the key things to do in Stewart Island. We added a few island facts at the bottom of this article.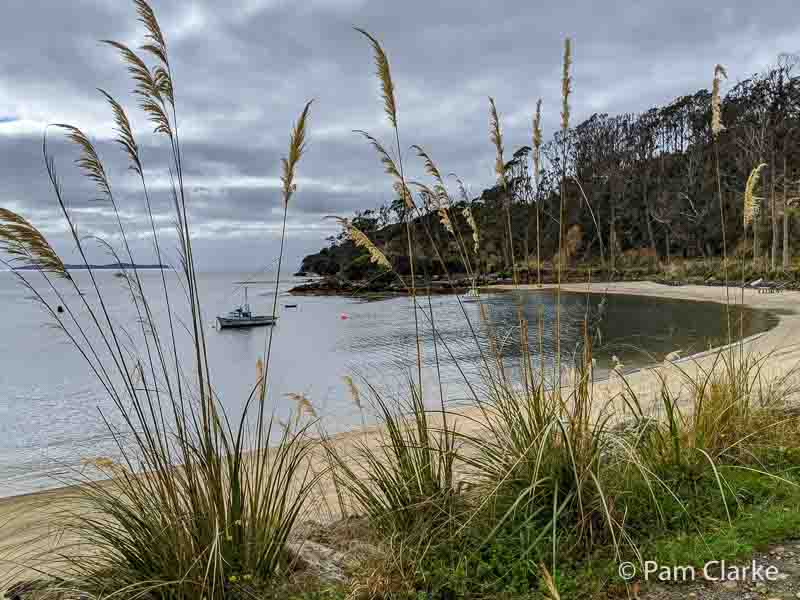 A fabulous 3-day Stewart Island itinerary
Contributed by Pam Clarke
At the beginning of March this year (just before lockdown!), two friends and I went to Stewart Island.
We started our trip with an Air New Zealand flight from Auckland to Invercargill, where we then took a plane with Stewart Island Flights to the island. The flight is worth doing in itself, a tiny 8-seater plane with sheepskin covers on the seats that gave us fantastic views from the air!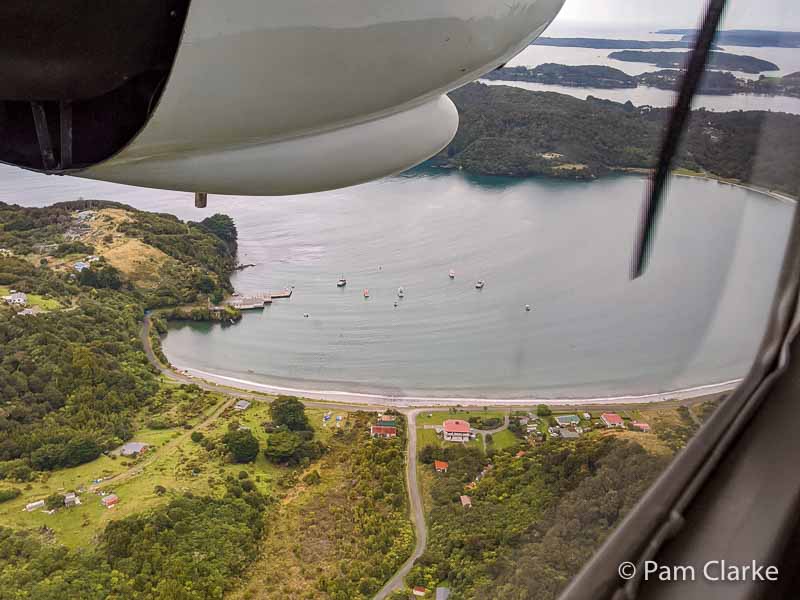 After landing, a minibus took us into the centre of Oban, the only town on the island. We were then collected by the manager of our B&B. He drove us around the town, showing us landmarks and important places like the pub, museum, and Four Square, before dropping us at our Stewart Island accommodation.
We stayed at Breakaway Holiday homes, which we booked through Airbnb. It was a lovely, comfortable house with two bedrooms, a kitchen, lounge, bathroom, and gorgeous views of the town and harbour.
Day 1: Ulva Island birds, beach, walking tracks
The first morning we woke to see a kaka peering in the kitchen window. The bird was very tame. Even when we opened the door to get closer photos, he just sat and looked at us, hoping for some food maybe!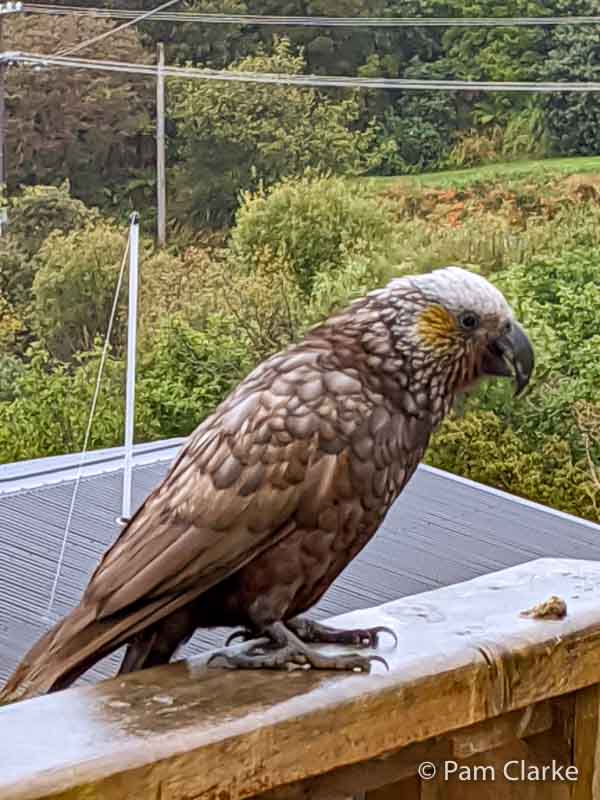 We took the short ferry ride to Ulva Island, a predator-free open island sanctuary managed by the Department of Conservation and the Ulva Island Charitable Trust.
The easy walking tracks and beaches cover the island, enabling you to see rare and endangered birds, including South Island Saddleback, Yellowhead, Rifleman, Stewart Island Robin, and Stewart Island Brown Kiwi.
We were lucky enough to see all of these, including the kiwi, who ambled out of the bush right in front of us before busying himself foraging for food in the undergrowth right next to us! It was a really magical experience.
We watched him for a long time. Then, he trotted out onto the path, up beside us, and off into the bush!
Pam caught the Stewart Island kiwi bird on video …
On the beaches, we were able to see lots of weka feasting on the delicacies that they find in the seaweed along the shoreline. While waiting for the ferry back and chatting with other travellers, we discovered that a few of us had seen kiwis.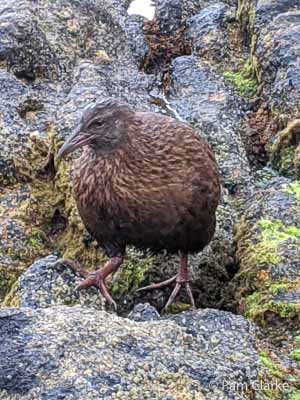 In the evening, we went to the popular Church Hill restaurant. We were extremely lucky to get a booking for that night and enjoyed a wonderful meal. Deb and Christine tried the muttonbird dumplings, apparently a must-do when in Stewart Island. I stuck with the Stewart Island salmon, which was delicious.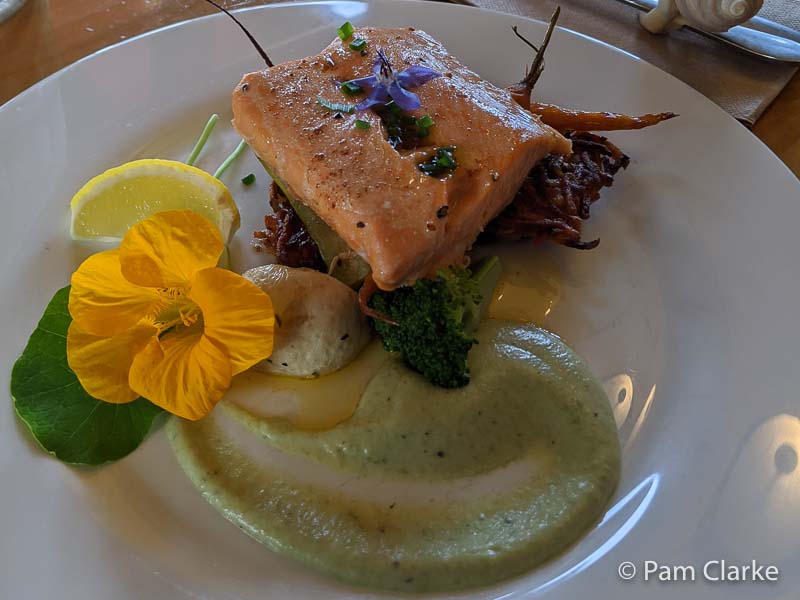 Day 2: Hiking a section of the Rakiura track, Stewart Island
We took the Rakiura Water Taxi from Oban to Port William to walk the section of the Rakiura Track back to Lee Bay, which is around 8 km. We passed through some lovely bays. The track is relatively easy with one low swing bridge and a few sets of steps, but the majority of it is easy walking with amazing views.
We passed several serious trampers with loaded backpacks who were doing the entire 3-day track, staying at the huts along the way. As you arrive at Maori Bay, it's worth taking the very short side track to see what was once the site of a Maori village and a sawmill. The old rusted machinery is now abandoned, and nature is taking it over.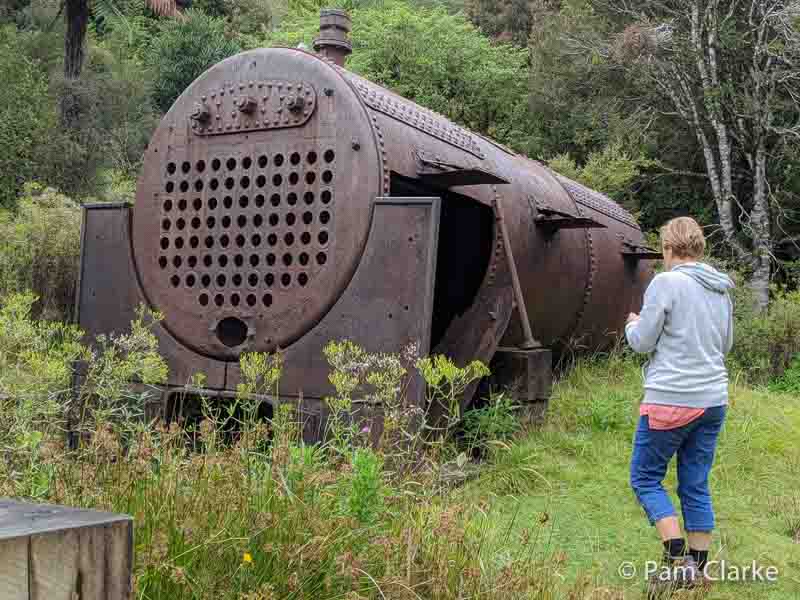 When we arrived at Lee Bay, we realised we were still 6 km from Oban, something we had failed to check! Those last six kilometres following the road over the hills is definitely the least pleasant part, and next time we will arrange to be collected from Lee Bay.
When we finally arrived back in Oban, we hobbled into the cafe for coffee and cakes! After refuelling, we went to the tiny Bunkhouse Theatre to watch the movie "A Locals Tail."
As we entered, all with our various limps and groans, we were asked if we had just finished the track. When we had to answer just one day of it, we couldn't help but fall about laughing! The dog Lola, who is the star of the movie theatre, greets you in the foyer and rings the bell when it is time to go in! Definitely worth a visit, a very interesting and amusing movie.
Day 3: Discovering more things to do on Stewart Island
We went to the Raikura museum, which has lots of very interesting items and photographs of Stewart Island's early history, including information about muttonbirds. We then walked to see Ackers Cottage, which is the oldest stone house in New Zealand and has a fascinating story attached to it.
Deb's existing foot injury was causing her a lot of pain after yesterday's walk, so she hired an e-bike from Stewart Island Electric Bikes. She said it was amazing to ride and really reasonable too. As Christine and I slogged up the hills on foot, she went sailing past us on the bike!
Stewart Island kiwi night tour
In the evening, we went to the pub for dinner and had some very good fish, mussels, and chips, then headed to the wharf to go on the Kiwi night tour (check for discount). The boat takes you out from Halfmoon Bay and across Paterson Inlet to Little Glory Cove. Along the way, we stopped to see sea lions basking on the rocks and penguins on the shore. We also had an albatross come bob alongside the boat and pose for photographs.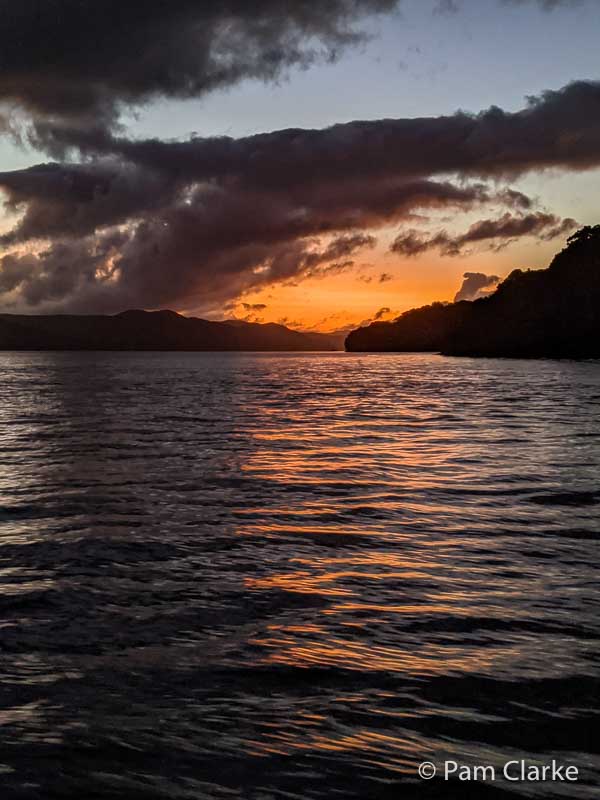 Once at the cove, everyone was given a torch and instructions. Then, the guide led us along the paths through the bush and out to the beach. In a single file silent line, we followed each other in the darkness. Every now and then the guide would stop, the torch beams would all disappear, and the red beam of the guide's torch would scour the bush.
On the way through the bush, we didn't manage to see any kiwi birds, but once on the beach, after one of the guides had checked the area for sea lions, we silently walked along and there we found a Southern brown kiwi feeding amongst the seaweed. We watched him for a long time snuffling about and feasting, completely unbothered by our presence.
On the walk back through the bush to the boat, we also saw another couple of kiwis. One of them came really close to our group. We all stood frozen, holding our breath watching him until he scuttled back deeper into the bush. On the boat trip back to Halfmoon Bay, we enjoyed complimentary hot drinks as we talked about the experience.
Final morning – saying goodbye
It was time to say goodbye to Stewart Island. Our accommodation manager picked us up and dropped us off at the flight office in Oban. Here, we waited to be taken by the minibus to the airfield for our flight back to Invercargill and the next leg of our travels.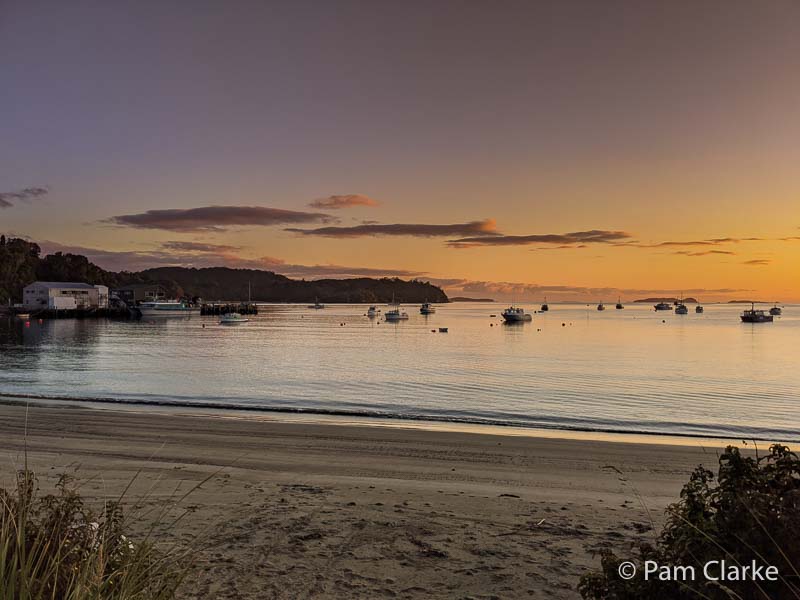 Where is Stewart Island?
Stewart Island sits just below the South Island at 47º south latitude. It's about 30 km south of the mainland across the Foveaux Strait.
How to get to Stewart Island
Getting to Stewart Island is easy. It's a great add-on to a Catlins holiday or any larger South Island road trip.
Flights from Invercargill: There are daily flights from Auckland, Wellington, and Christchurch to Invercargill. From there, it's a 20-minute flight with Stewart Island Flights. As you read above, this is Pam's recommended transport method.
Stewart Island ferry from Bluff: With up to three sailings daily in each direction (two in winter), the Bluff-Stewart Island ferry service is an easy way to transit. There is parking available in Bluff (for a fee), as there is no Stewart Island car ferry.
Stewart Island accommodations
Stewart Island tramping
The Stewart Island Rakiura track is one of the New Zealand Great Walks. It is a 32 km, 3-day hike that is suitable for anyone with moderate fitness. There are two DOC huts along the way, and bookings should be made in advance. Click here for booking information and everything you need to know from DOC.
Pro Tip: In case you missed it above, Pam and her friend opted to do an 8km section of the track from Port William to Lee Bay. Their recommendation: Before you begin your hike, arrange for transport from Lee Bay back to Oban.
For true hiking enthusiasts, there is also a 9 to 11-day, 125 km North-West Circuit Stewart Island hike with 10 DOC hikes along the way.
More facts about Stewart Island
While Rakiura is the Māori name for Stewart Island, it literally translates to "glowing skies".
There are around 20,000 Brown Kiwi on Stewart Island, all in their natural habitat.
Stewart Island weather is more temperate than most of New Zealand, with summer temperatures that climb into the 20s (average 16.5ºC-18ºC), while winter temperatures sit around 10ºC to 11ºC.
Save on your NZ trip with these resources
These are our go-to companies when we travel. We believe this list to be the best in each category. You can't go wrong using them on your trip too.
Check out our travel resources page for more companies that we use when you travel.
*World Nomads provides travel insurance for travellers in over 100 countries. As an affiliate, we receive a fee when you get a quote from World Nomads using this link. We do not represent World Nomads. This is information only and not a recommendation to buy travel insurance.
Save for later
If you enjoyed this article, please share it on social media and save it for later on Pinterest.
What will be your favourite things to do on Stewart Island?
About Pam Clarke

Pam Clarke moved to NZ from the UK 20 years ago and resides on the Hibiscus Coast, where she works in childcare. She enjoys travelling, especially taking short breaks to explore different areas of New Zealand.