The South Island of New Zealand is nature's playground. It's filled with breathtaking scenery, adrenaline-pumping activities, and unique experiences. In fact, we have discovered heaps of things to do in the South Island.
For five years, we split our life between the South and North Islands, spending anywhere from one to six months at a time at our base in Wanaka. And each time we drove slowly between the two islands, allowing plenty of time to discover new things to do in the South Island.
The South Island's striking contrasts offer something for everyone, from the towering Southern Alps to the rugged coastlines and pristine lakes.
Whether you love hiking, wildlife, culture, or relaxation, there are plenty of extraordinary things to do. Below are eighteen must-try experiences, many of which will take you off the beaten track and help you discover the beauty, diversity, and spirit of the area.
As creators of New Zealand's largest Facebook travel group, we are frequently asked for a list of the best things to do in the South Island. And while we have written over 100 articles highlighting different areas, culinary recommendations, and road trip itineraries, we thought we would share the most extraordinary things to do in New Zealand South Island in one place.
18 Things to do in the South Island
The 18 best things to do in the South Island are featured on the map in red, while other incredible attractions on the South Island are marked in yellow. Click the expand / collapse icon in the upper left corner of the map for the details.
Whale watching in Kaikoura
See Christchurch, the South Island's largest city
Stare in wonder at the Moeraki Boulders
Go back to the Victorian era in Oamaru
Discover wildlife on the Otago peninsula
Admire the lake and dark sky at Lake Tekapo
Hike in Mount Cook
Walk through the Clay Cliffs in Omarama
Drive through the Catlins
Experience Milford or Doubtful Sounds
Have an adventure in Queenstown
Hike or just hang out in Wanaka
Drive the west coast… slowly
Walk on a glacier
Carve your own pounamu in Hokitika
View the pancake rocks at Punakaiki
Head up to Farewell Spit
Explore Abel Tasman National Park
Before we get into the details, be inspired…
The best things to do in the South Island in more detail
Whale watching in Kaikoura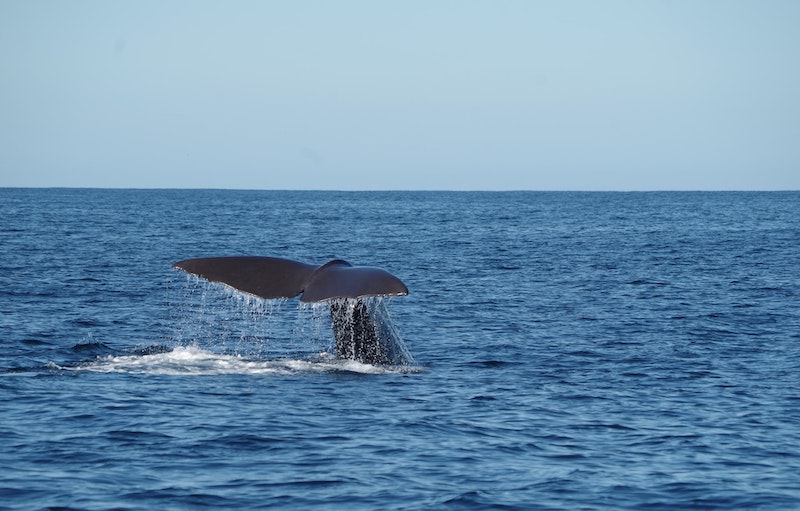 Whale watching in Kaikoura is truly an incredible experience. This small coastal town nestled between the Pacific Ocean and the Kaikoura ranges provides stunning scenery as well as a chance to see these magnificent creatures up close.
It's one of the few places in the world where you can see sperm whales year-round. Additionally, there's a high chance of seeing humpback whales, orcas, and rare blue whales.
The town's focus on sustainable tourism practices also means that whale-watching tours are conducted with minimal impact on the environment, making it an ideal destination for eco-tourists. Check for discounts and reserve your whale-watching adventure here.
See Christchurch, the South Island's largest city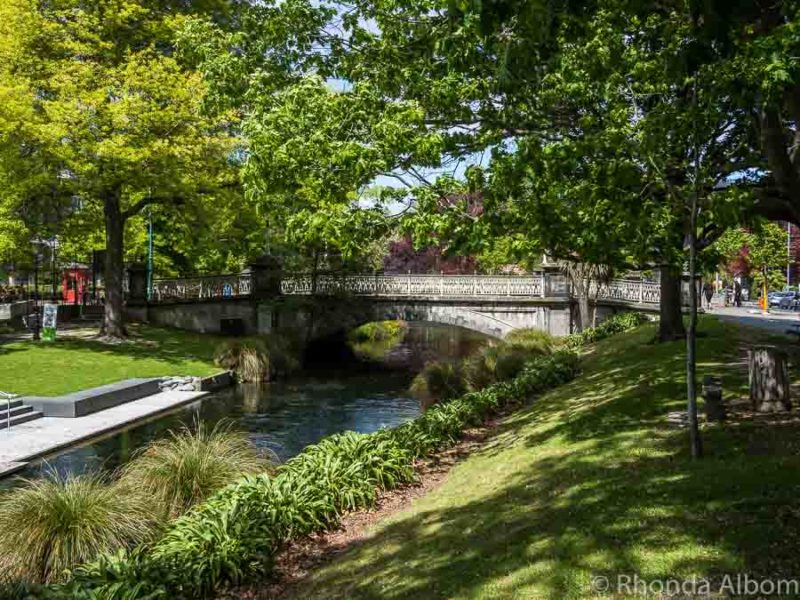 While Christchurch faced a devastating earthquake in 2011, the city has rebuilt itself into a hub of creativity and innovation, with numerous street art displays and lively markets to explore.
We tend to base ourselves here for a few days, see the sites, enjoy some culinary treats, and do a bit of hiking in the surrounding hills.
All our favourite things to do in Christchurch are detailed here, but the three that top our list are a visit to the International Antarctic Centre, punting on the Avon River (check for discounts here), and exploring Orana Wildlife Park (check for discount tickets).
Stare in wonder at the Moeraki Boulders
I can't explain the attraction, but there is something about the Moeraki Boulders that captivates my attention. While others show up and take a quick photo and are on their way, I tend to linger for just a bit longer than my family's patience (especially when the kids were really young).
The large spherical boulders are scattered along a stretch of Koekohe beach. While they used to charge for entry, on our last visit, there was a donation box at the top of the stairs.
While the boulders were most likely formed over millions of years through a process of erosion, sedimentation, and cementation, legend and folklore tell a different story. Stopping here is one of my favourite things to do in the South Island.
Go back to the Victorian era in Oamaru
Oamaru may not be on everyone's list of the best things to do in South Island, but it's one of my favourite towns, so I couldn't leave it off.
From the moment we step out of the car, it feels as if we have stepped back in time to the Victorian era in all its glory.
Dubbed the Steampunk capital of New Zealand, this charming town is renowned for its well-preserved 19th-century limestone architecture. We like to simply stroll through the streets, admire the ornate buildings, and marvel at the immaculately restored penny-farthings randomly about.
Discover wildlife on the Otago peninsula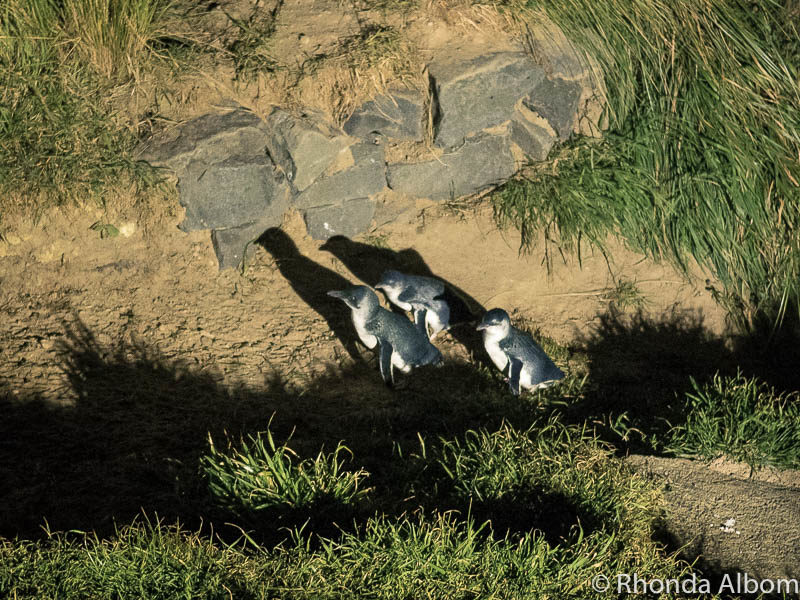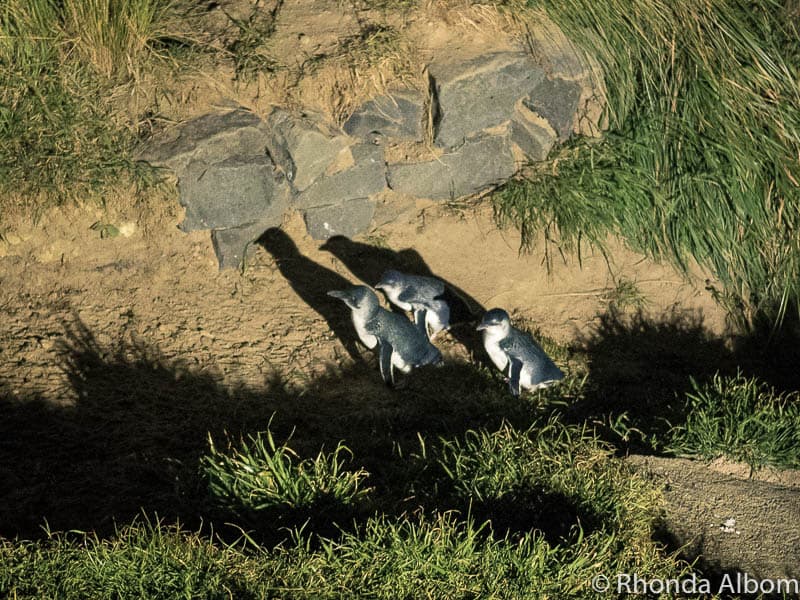 While we see wildlife everywhere, one of my favourite places for wildlife spotting is the Otago Peninsula. It's a bit of a nature lover's paradise right outside the Scotish-influenced city of Dunedin.
This area is home to a variety of marine animals, and we have seen sea lions, majestic albatross, endangered yellow-eyed penguins, and a raft of adorable little blue penguins coming in for the night. In fact, I believe it's one of the best places in New Zealand to see penguins.
In addition to driving the peninsula, we really loved the Monarch Wildlife Cruise, as the crew is amazing at spotting things that we might have missed. Reserve and enjoy the Monarch cruise here.
Admire the lake and dark sky at Lake Tekapo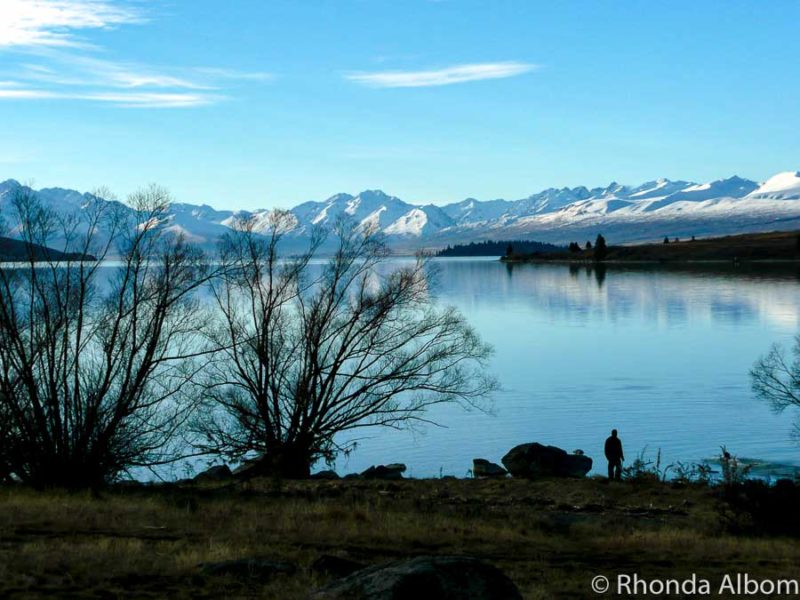 Stopping for at least a short walk and a long view at Lake Tekapo is one of the things to do in the South Island that we never miss if we are nearby. The picturesque lake with its incredible shade of milky-turquoise reflects the sky and surrounding snowcapped mountains.
However, spending the night allows for a new kind of magic, as Lake Tekapo is a part of the world's largest dark sky reserve offering a unique glimpse into the star-filled skies that have been largely obscured by the presence of urban areas around the world. The area also provides fabulous opportunities for stargazing tours and night sky experiences.
Book in advance so you don't miss out on the Summit Experience, a nearly two-hour stargazing tour from Mt John Observatory. Reserve your Summit Experience here. Or, enjoy stargazing from a hot tub. Check for discounts at Tekapo Springs.
Hike in Mt Cook
Aoraki/Mount Cook National Park is part of Te Wāhipounamu, a UNESCO World Heritage Site, and is probably on every list of things to do in the South Island.
One of the best things to do at Mount Cook is hiking, with a wide array of trails for all skill levels. The 3-hour Hooker Valley Track is a must-do, featuring breathtaking views of the Southern Alps and Mount Cook itself.
Another popular attraction is Lake Pukaki, with its crystal-clear turquoise waters and peaceful surroundings. For those seeking a physical challenge, we have heard summiting New Zealand's tallest mountain is an unforgettable experience.
Wildlife enthusiasts will also delight in the cheeky and intelligent keas, who are known to frequent the area. We flew over Mt. Cook as part of our helicopter tour from the west coast glaciers.
Walk through the Clay Cliffs in Omarama
This is one of the extraordinary things to do in the South Island that is still on our bucket list. However, many of our friends have, and we have been told that walking through the Clay Cliffs in Omarama is a truly unique experience.
There is magic to the awe-inspiring beauty of being surrounded by the towering pinnacles of clay and rock. Winding through narrow canyons and steep pathways, we have been told the terrain is rugged and challenging, but the rewards are more than worth it.
Drive through the Catlins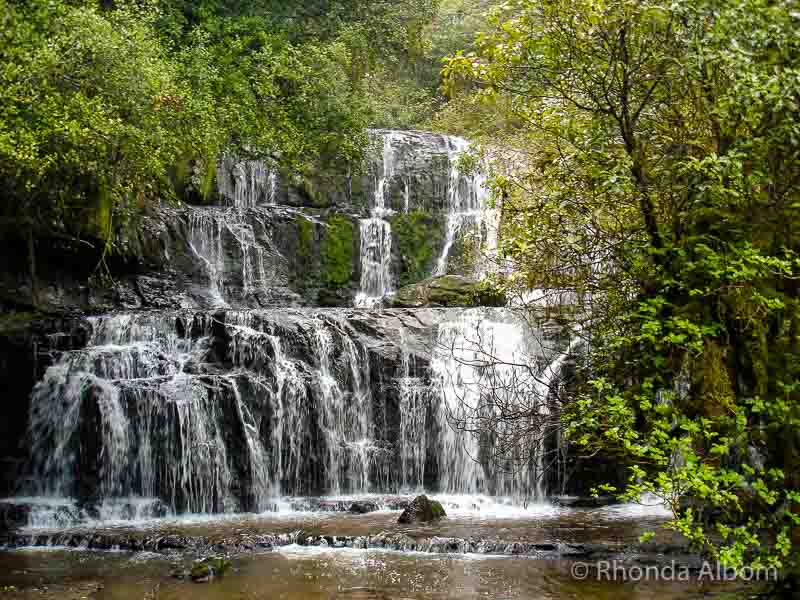 We opted to drive through the Catlins slowly, over multiple days. Stopping frequently, we did several small hikes, staring in wonder at impressive waterfalls, such as Purakaunui Falls, McLean Falls, and Matai Falls.
We learned a bit of history at the iconic Nugget Point Lighthouse, which has been operational since 1870. But unfortunately, we timed the tides wrong and missed the walk through Cathedral Cove and its stunning cliffs and rocky arches.
One of the big highlights for us was the opportunity to see wildlife up close. We waited at dusk for some yellow-eyed penguin spotting at Curio Bay.
Experience Milford or Doubtful Sounds
Another question we get asked all the time is, "should I visit Milford Sound or Doubtful Sound?"
To be honest, they are two of the most breathtaking natural wonders that New Zealand has to offer, so whichever you pick, you can't go wrong. Milford Sound is known for its towering cliffs, cascading waterfalls, and abundant wildlife. On the other hand, Doubtful Sound is a deeper, more remote fiord known for its pristine wilderness and tranquil beauty.
Have an adventure in Queenstown
Queenstown is often referred to as the adventure capital of New Zealand for good reason. Situated alongside Lake Wakatipu in a picturesque alpine setting, it's also a place to relax. We used to live less than an hour away, and firmly believe Queenstown needs to be on any list of things to do in the South Island. If I had to pick the top two thrill-seeker activities, they would be bungy jumping off the Kawarau Bridge in the summer and hitting the slopes in the winter.
Kawarau Bridge is the world's first commercial bungy jumping site, established in 1988 by AJ Hackett. Jumping off the bridge, which stands at 43 metres above the beautiful Kawarau River, is not for the faint-hearted. In fact, I am almost embarrassed to admit that I am not brave enough. Of course, my family members are a different story.
In the winter, Queenstown is all about the slopes. Taking advantage of the mountainous terrain and groomed trails, this buzzing town is an ideal destination for skiers and snowboarders alike. We know this all too well, as we have two former national competitors in the family. Everything you need to know to hit the NZ slopes this winter is here.
And, that's not even close to all. If you can, spend some serious time here. Our recommended highlights are based on the season: things to do in Queenstown in the winter OR things to do in the summer.
Hike or just hang out in Wanaka
With stunning lake views surrounded by the majestic Southern Alps and Mount Aspiring National Park, Wanaka was our second home for years.
Not-to-be-missed highlights include hiking to Roy's Peak, wine tasting at Rippon Winery, summer cycling, winter skiing, and tackling the giant maze at Puzzling World (check for discounts.) The Roy's Peak trail is challenging, taking hikers up 1,578 meters to the summit, but the panoramic views of the lake and mountains are well worth the effort.
And, Instagrammers won't want to miss their opportunity to get a shockingly popular photo of #thatwanakatree.
Adrenaline junkies will also want to do the world's highest waterfall cable climb.
Drive the west coast … slowly
Leaving Wanaka and driving north along the west coast is one of my favourite things to do in the South Island. The ever-changing scenery is breathtaking, with stunning views of the Tasman Sea and towering mountains.
We like to take it slow, and nearly always spend the night in Haast. There are just too many waterfalls and stunning hikes along the way to be in a rush. It's a perfect spot for a nature lover.
Along the next segment, the beaches are wild and rugged, stretching for miles and home to an array of animals, including seals, penguins, and dolphins. After the glaciers, which loom large against the mountains in the distance, there are a number of caves to explore that offer insight into the unique geological formations of this part of the world.
While often a once-in-a-lifetime opportunity, an advantage of splitting our year is that we have done the drive multiple times.
Walking on a glacier was one of the best things to do in the South Island
One of the most remarkable experiences of my life was flying over and landing on Fox Glacier in a helicopter. The entire experience boasted endless views, but it was the breathtaking sight of blue ice that glistened in the sunlight that is unforgettable.
We landed on Fox Glacier and stepped out onto the ice – a strange and exhilarating feeling. The helicopter also flew over to Franz Josef Glacier and Mount Cook, two more stunning sights. Seeing these natural wonders up close was magical, and it gave me a newfound respect for the magnificence of nature.
While there are many ways to enjoy the glacier, we believe we picked one of the best and therefore, recommend a sightseeing helicopter tour with a glacier landing. For the more adventurous, there is a glacier heli-hiking option.
Carve your own pounamu in Hokitika
Hokitika is known for many things, one of them being expertise in carving pounamu or greenstone. We booked a session with a local carver at Bonz and Stonz, to learn the art firsthand. He offered the options of pounamu (also called New Zealand jade or greenstone) or bone, and my daughter, in the photo above, opted for bone.
Either way, he talked of the significance of pounamu in Māori culture and the importance of respecting the stone. It was a humbling experience to create something meaningful with our own hands. It's one of the really unique things to do in the South Island.
Also while there, we explored the stunning Hokitika Gorge, marvelling at the intense turquoise waters and lush green surroundings.
View the pancake rocks at Punakaiki
The Pancake Rocks at Punakaiki are a stunning geological wonder located on the west coast. These unique rocks are made up of stacks of limestone that have been eroded by the sea and wind over time, resulting in a picturesque formation that resembles a stack of pancakes.
One of the highlights here is the blowhole, which shoots up at high tide. It always amazes me, but somehow, we have never seen it. Either we passed through on the wrong tide, or the wind was low, and the water almost a glassy calm.
On the bright side, it leaves us something to look forward to next time.
We are frequently asked by people who are either taking the transalpine train or driving across the island over Arthur's Pass and then heading south to Queenstown if we think it is worth the detour to visit Punakiaki. We believe it is, even at low tide.
Head up to Farewell Spit
We have only gone up to Golden Bay and Farewell Spit at the top of the island one time. Yet, it was an unforgettable experience. The walk from the car park passed huge sand dunes, and the golden sand looked like a never-ending paradise.
There was a pristine gentleness to the huge rock formations rising from the sea. They were so large in fact, some of them were given island names. One of my personal highlights was watching, from a safe distance, the sea lions which were lying lazily on the rocks just off the beach.
Explore Abel Tasman National Park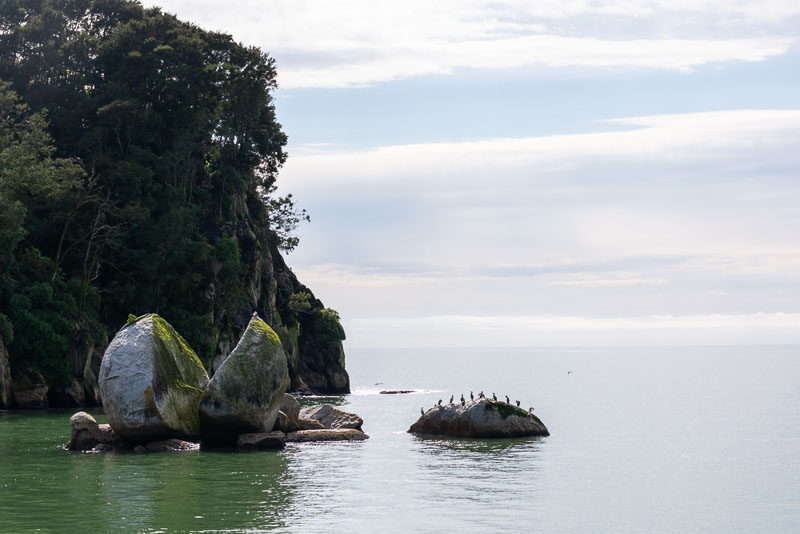 Golden sands, coastal forest hikes, and granite cliffs mark Abel Tasman, a national park named for the first European to discover New Zealand in 1642.
Avid hikers can explore this gorgeous coastline by walking along the Abel Tasman Coast Track, which stretches for over 60 kilometres along the shores of the park. The trail takes hikers through lush forests, past secluded coves, and over crystal-clear streams. There are sleeping huts along the way, as well as plenty of opportunities to stop and take a dip in the inviting waters.
We opted for a coastal cruise into Tonga Island Marine Reserve with the option (which we took) for a coastal walk in sections, meeting back up with the boat later. Click here to reserve your tour.
Other popular things to do in South Island
Having travelled extensively, I found it really difficult to choose only 18 extraordinary things to do in the South Island. Here is the next tier, all fabulous if you have the time.
South Island itinerary and road trip details
We have written detailed road trip itineraries between all of the places on this page, each covering smaller sections, but collectively looping the island. Check them out here:
Save on your NZ trip with these resources
These are our go-to companies when we travel. We believe this list to be the best in each category. You can't go wrong using them on your trip too.
Flights: we use Expedia for the best and cheapest flight options.
Accommodations: we use Booking.com (hotels), Bookabach (self-contained in NZ) or Hostelworld (budget).
Cars (gas or electric): we use RentalCars to search for deals and dealer ratings.
Motorcycles: we have heard good things about BikesBooking.
Campervans or Motorhomes: we use Campstar where Albom Adventures readers get a 3% discount.
Activity discounts: we check Bookme.com for discounts of up to 70% on activities.
Private guides: we love the private guides at Tours by Locals.
Travel Insurance: while not required, we always opt for travel insurance and start at InsureMyTrip to compare coverage plans.
Check out our travel resources page for more companies that we use when you travel.
Save for later
If you enjoyed this article on things to do in the South Island, please share it on social media and save it for later on Pinterest.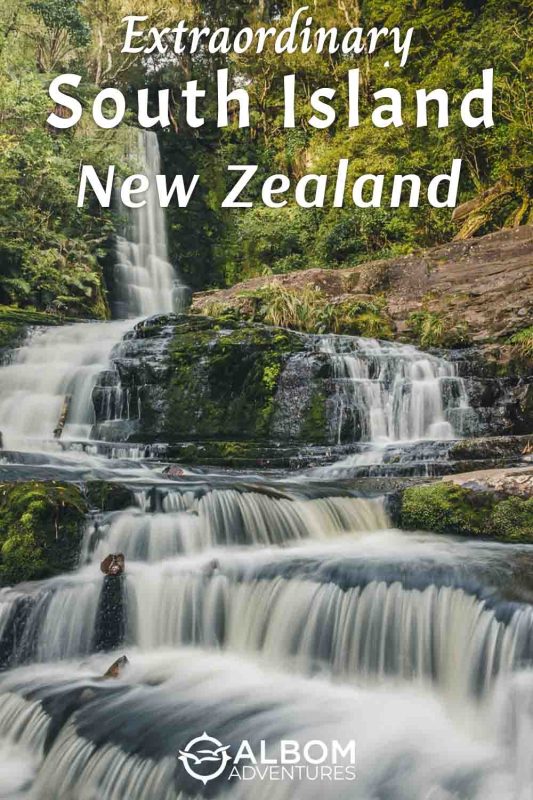 Which of these things to do in the South Island will be on your bucket list?
Photo Credits:
All photos on this page are either shot by our team and watermarked as such or stock images from Depositphotos.